Unblocked Games galore. So assuming your school has restricted you from playing games on your favourite portal, here are the best unblocked games websites to utilize right now.
I know, filtering internet content by blocking certain websites is "undoubtedly" one of the best ways to "shield" students from harmful contents online. But you'd know that all work and no play makes Jack a dull boy. Studies have showned that instead of becoming "dumber", playing video games can help students become better learners. It do improve their problem-solving skills and will likely make them become more creative.
It is so laughably lame that schools are hell-bent on preventing students from accessing certain "contents" online. Blacklisting social networking as well as pornography and some adult-related games like Summertime Saga is totally explainable, but including flash games on the lists is something I can't fathom.
Also Checkout: The Best Hacked Games to Play Right Now
While these are been carried out in a bit to make students concentrate in class and not procrastinate or slack behind, schools should at least look beyond the negative effects and see through the bright side. Flash games are simplistic in nature. They can cause little or no harm to kids but instead improve their productivity and educate them at the same time.
Now for folks unaware, unblocked games sites are websites hosting tons of flash games that has not been blocked by your school. There are a slew of them of course – utilizing the flash player plugin, but a few have started crawling out and their games are now based completely on HTML5.
Now assuming you are looking to play Happy Wheels, Run 3 and other popular flash games during your spare time in school, then here's a list of the best unblocked games sites to utilize when school sucks or when you're bored.
1. Tyrone's Unblocked Games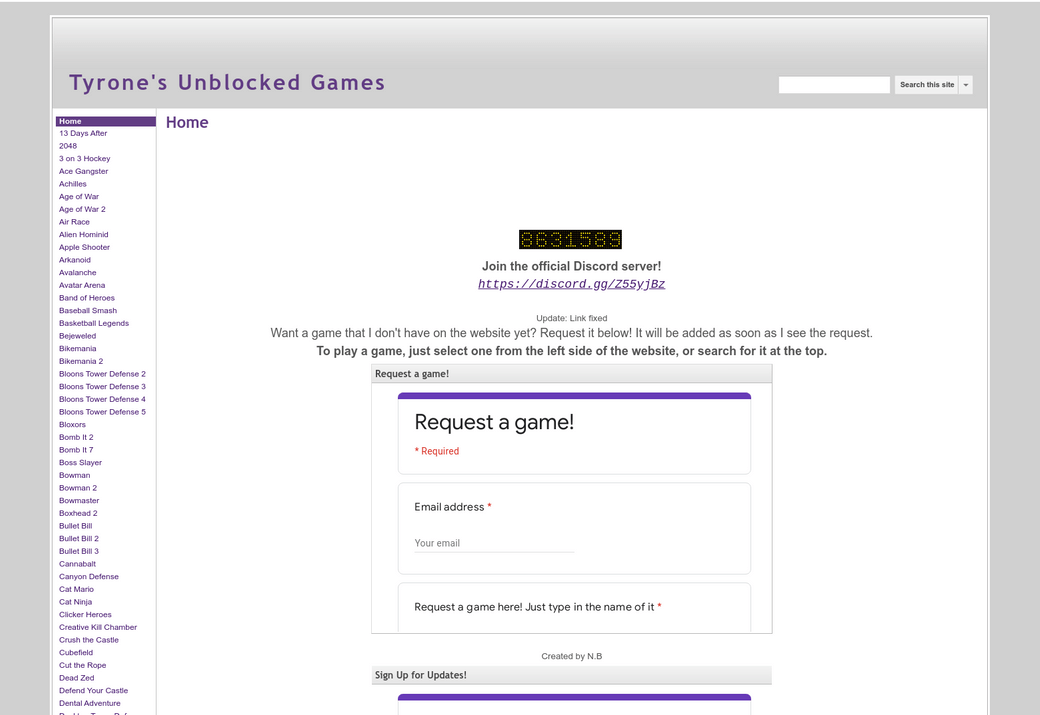 From Bloons Tower Defense to 2048, there are a obviously a 'colossal number' of games you do find on Tyrone's Unblocked Games website. The site's simple navigation and easy-to-use user interface as well as its "generosity" is perhaps the best things that makes it stand-out from its competitors. Playing most of your favourite games within the platform is as easy as ABC as all you are required to do is to select one from the left pane and you'd be good to go.
There's also a search bar present on the site and you can easily request for a game to be added and the developers will get it done as soon as your message gets to them.
2. All Unblocked Games 77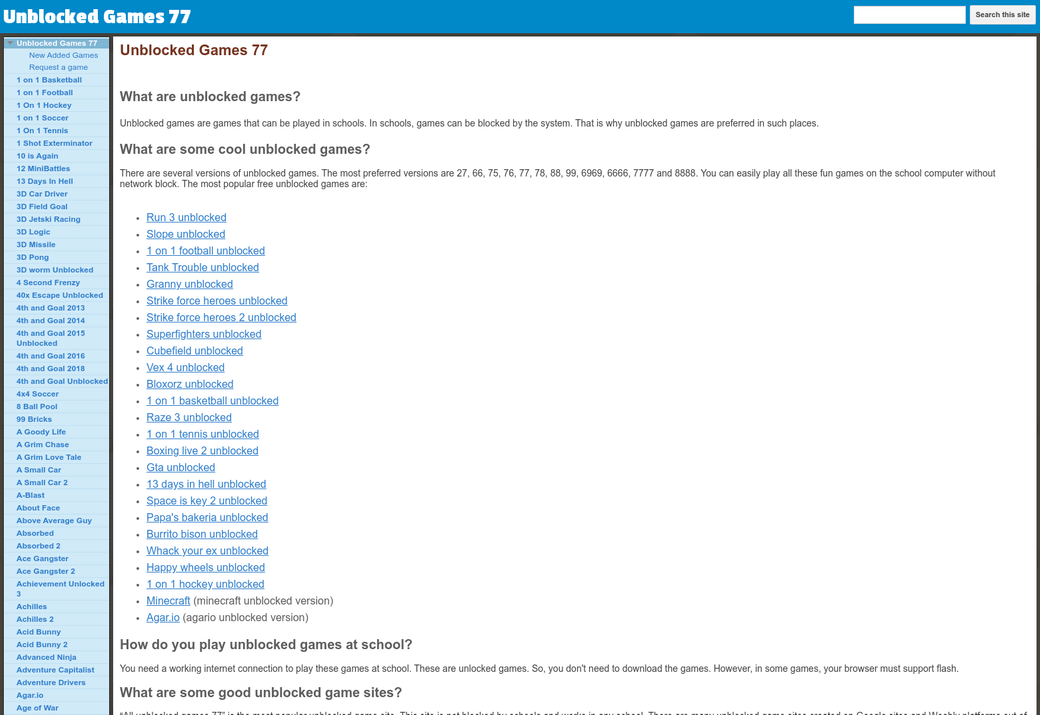 All Unblocked Games 77 pouts itself as the most popular unblocked games site on the internet and the developers weren't joking when they made that statement. Unlike most unblocked games sites created on Google sites and on Weebly platforms, unblocked games 77 has proved to be the fastest amongst all. It offers hundreds if not thousands of games such as Gunblood, Learn to Fly, Minecraft and more in the highest possible quality – and they're all free to play.
All that is require obviously is an active and strong internet connection and you can easily play every single game on the platform on your school PC without qualms.
3. Unblock Games 66 EZ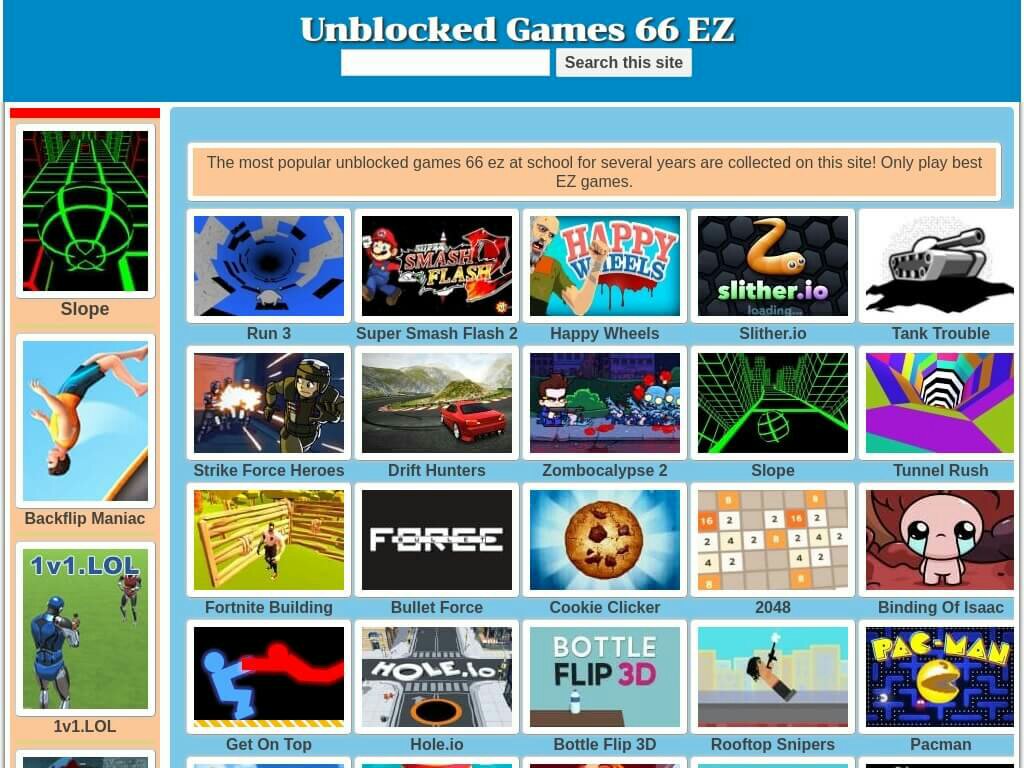 If these lists where to be ranked, then Cool Math Games will most likely be at the top. It is hands-down the best unblocked games website ever liveth. Hosting strictly non-violent and educational games, Unblocked Games 66 EZ has been visited by many students in the US with ease. From logic to puzzle genre, the site hosts more than 100,000 games on its platform and it has been doing this for a very long time.
Without doubt, Unblocked Games 66 EZ is a brain-training portal. It's a website where logic and thinking meet fun and games. Games without violence are non-existent on the platform however you'll find a slew of games with challenges that will make you forget that school sucks at times.
4. Unblocked Games 66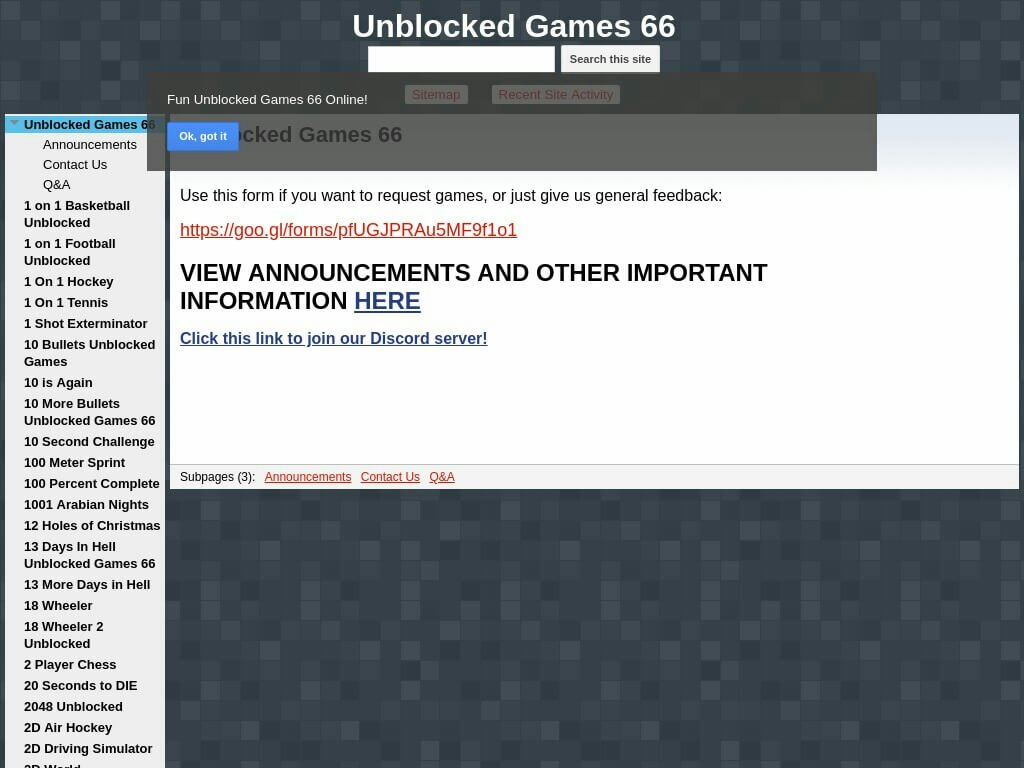 An initial visit to Unblocked Games 66 will perhaps turn you off and this is probably because the site doesn't present its list of games in grid on the homepage but if you can forgive the design and make one more click on the door-like icon beneath the search bar, you do be amazed.
Unblocked Games 66 library of flash games is plethora. The site exist solely for students. To enable them play most of their favourite flash games at school and it was purposely built on Google Sites since schools can't block anything Google related.
5. Unblocked Games 99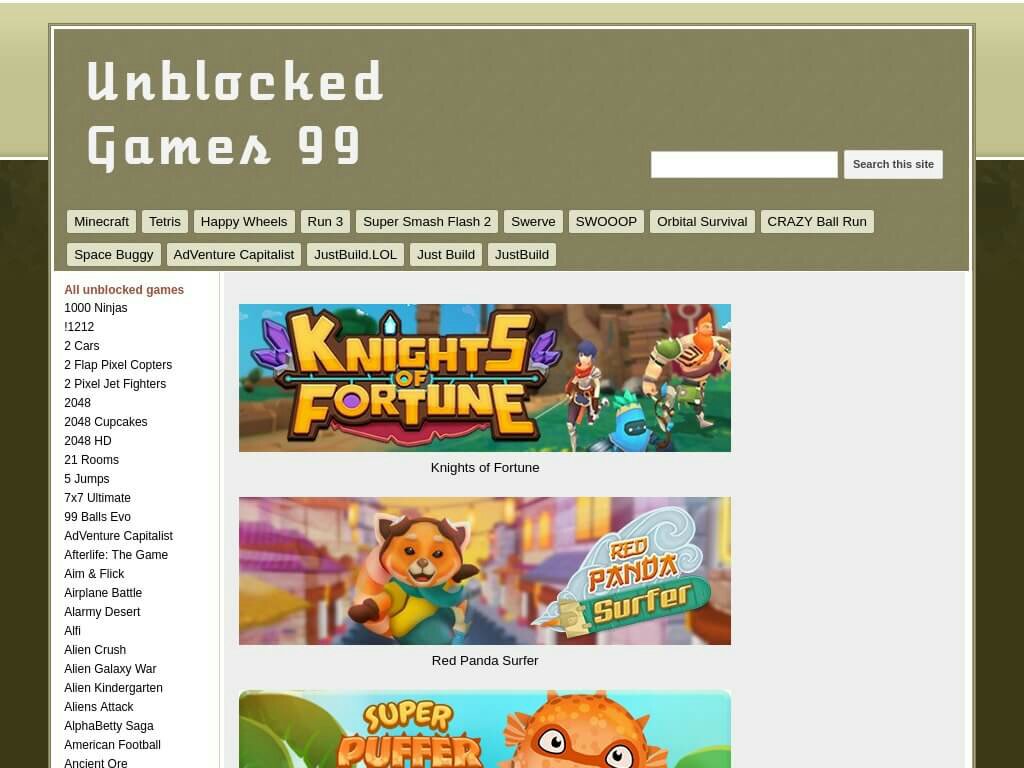 First I do like to commend the brains behind this site. Unlike Unblocked Games 66, they did a very good job by adding a few games as well as their thumbnails on the homepage. Unblocked Games 99 similar to the aforementioned features the same navigation. But what makes it more advanced is its huge catalogue of games.
From the ever popular stick fight to candy crush, then there's road fury, solitaire and more. There are a plethora number of unblocked games on the platform and they're all accessible and playable for free.
6. Scratch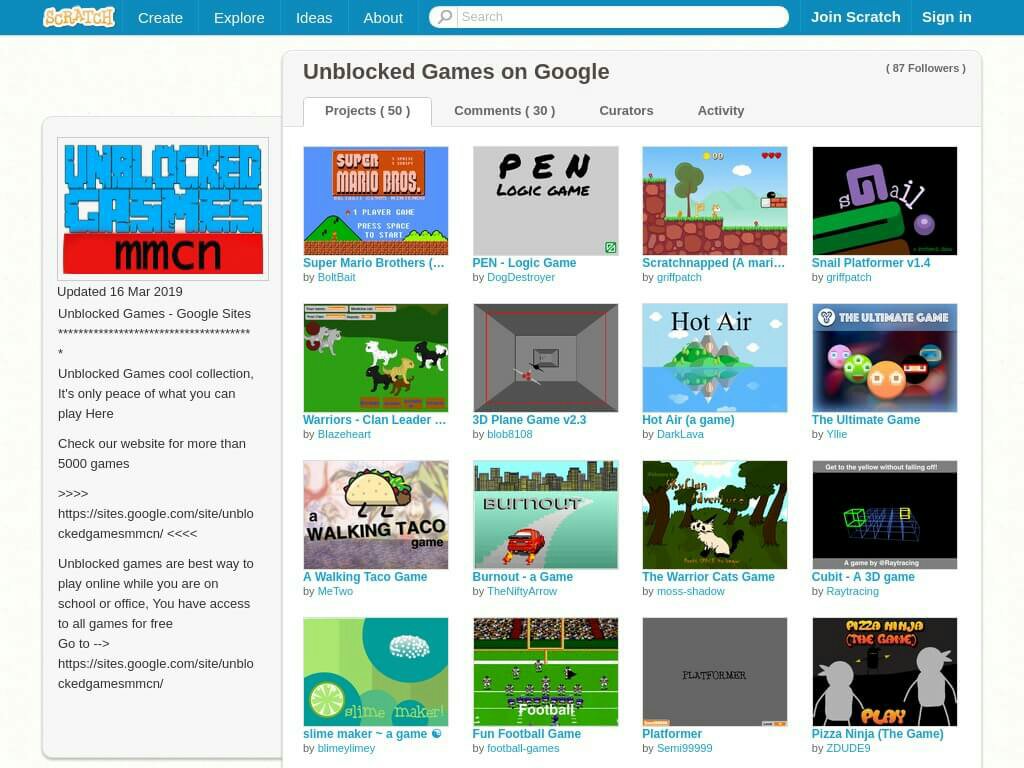 Scratch also known as scratch.mit.edu is in one word unequivocal. It was specifically created to help young minds think creatively, reason systematically and work collaboratively and it does all these stuffs using games. With over 5,000 unblocked games, scratch has proven to be the best way to play online while you are at school or office. It gives you access to tons of flash games and ask nothing in return.
Unlike several unblocked games website out there, you do hardly find intrusive ads on Scratch and its library of games is truly exceptional.
7. Unblocked Games 24h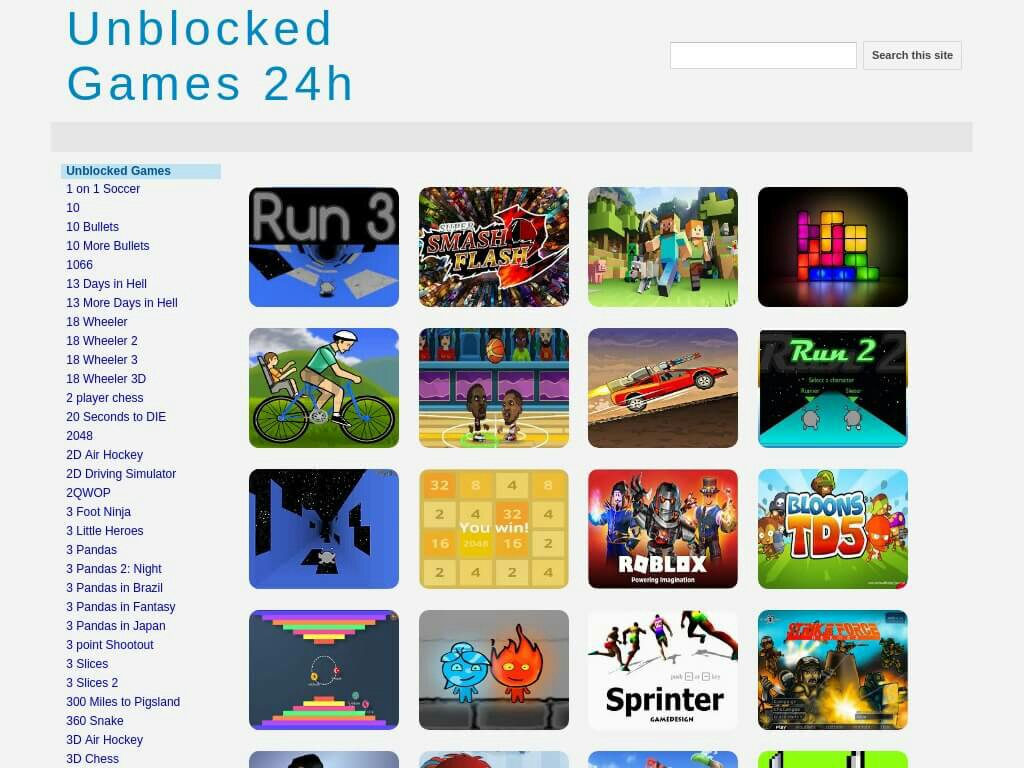 In addition to "stressful" education, students should have a "healthy" place to play and have fun. With that in mind, Unblocked Games 24h "spawned" with one aim and that is to bring the playground to the little ones. It's literally an inexhaustible source of online fun. Offering thousands of awesome unblocked games for students to play at school during break and that too for free.
The site's intuitive UI is pretty amazing and there are lots of addictive unblocked games such as Slither.io, Agar.io and more visible on the platform.
8. Unblocked Games 6969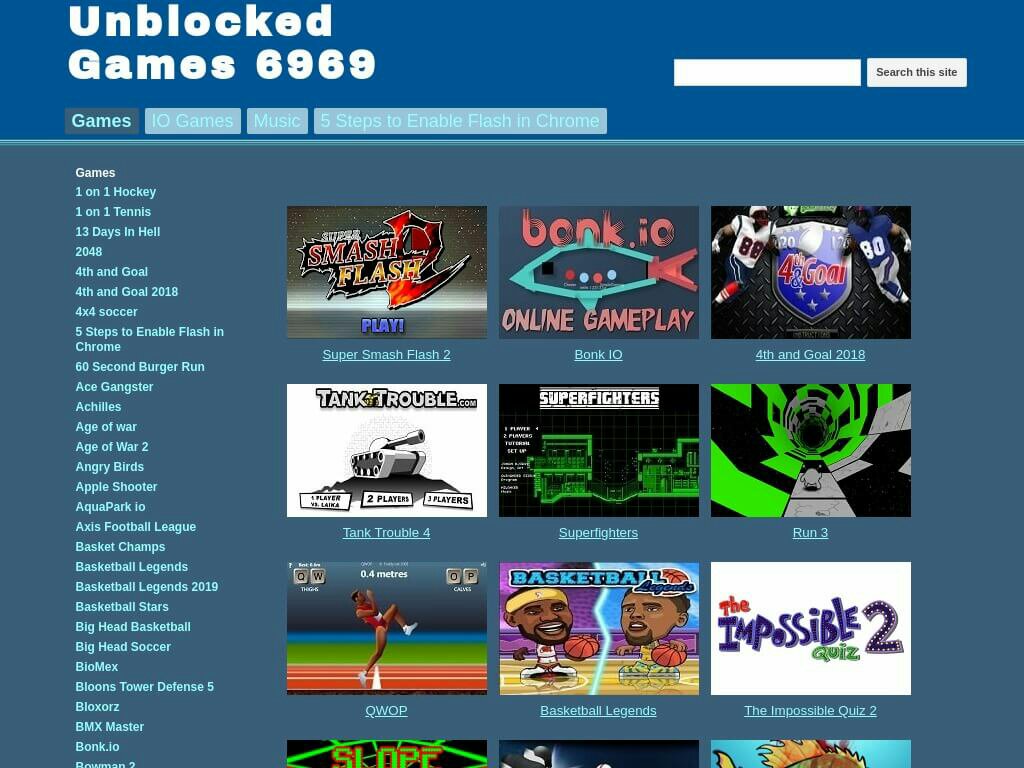 In order to be irreplaceable one must always be different. Unblocked Games 6969 is certainly unique and thus can't be replaced. It's a one of a kind and feature-rich unblocked games site you'd ever find on the web. Its extraordinary benefits isn't the colossal number of educative games it hosts neither is it the simple and perhaps straightforward user interface.
What makes Unblocked Games 6969 unique is undoubtedly the fact that it offers music to its users. From Alan Walker's Alone to Naron's Imagination, you'd discover a sheer amount of MP3s to play on the site.
9. Unblocked Games Pod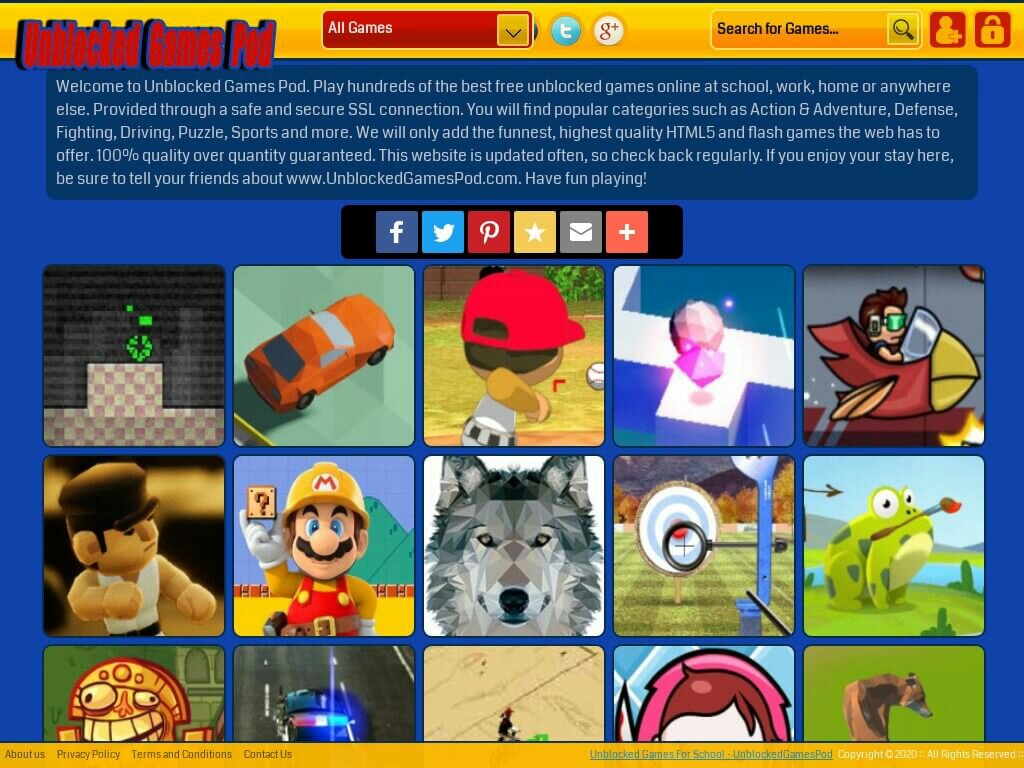 Assuming you are bored at school or at work and probably looking to play hundreds of the best free unblocked games online – provided through a safe and secure SSL connection, then you should really frequent Unblocked Games Pod. It's a very popular web portal that offers tons of HTML5 as well as flash games in high quality.
From Action to Adventure down to Defense, Fighting, Driving, Sports, Puzzle and more, there are a slew of unblocked games from different categories that you can discover on the site. Featuring an attractive UI, Unblocked Games Pod library of games are updated regularly and they're free as usual.
10. Unblocked Games World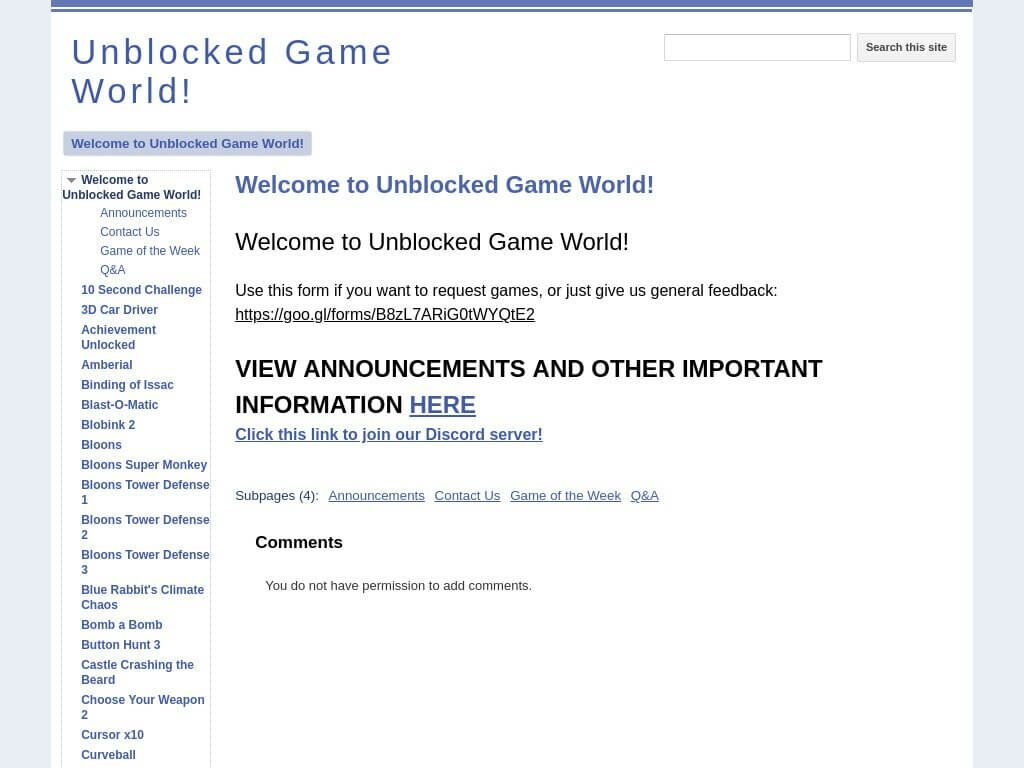 Finally, we have unblocked games world. It is in all ramifications similar to Tyrone's Unblocked Games portal but a little bit better. Initially known as My Unblocked Games with Grow Island the first game ever to be added on the site, Unblocked Games World has evolved to become a very popular sites. It offers all the flash games you'd ever think of and users can even request for more.
One of the things that allures me to the portal is probably the fact that it's free of ads. So you can go ahead and utilize it. Playing unblocked games without interruptions and during breaks at school has never been this easier.
Wrapping Up
Schools keep handing out tablets and laptops to students and within a day or two, the genius minds among them are most likely to circumvent the filters meant to block them from accessing games and non-educational contents. While this is mostly achieved using various proxy servers, it can be cumbersome. Hence we decided to list the above unblocked games websites to make things easier. But do note that this is for educational purpose only. Your studies should come first.