If you think cowboys aren't seeing the difficult side of life, then play the highly acclaimed Gunblood game.

Gunblood is one hell of a western shootout game. Instead of going the "dialogue" way, players are meant to solve their dispute in the tradition of a western duel. The game's theme is very simple, you begin by choosing from one of ten wild west characters and then you jump into the mission of challenging nine deadly cowboys to a bloody gunfight to the death.

Can you swiftly reload and pull that trigger before your opponent does? Do you want to emerge as the fastest gunslinger? Well your survival totally depends on if you can outshoot your opponent before he does. As a flash game specially developed by Wolf Games, Gunblood is really addictive.
Also Checkout: Happy Wheels, The Game to Play On PC Right Now
Speed and aim accuracy determines how well you score in the game but aside from that, you'd be able to train with your assistant by shooting birds, bottles and knives. The main mission equips you with a revolver limited to six shots, so ensure to make them count.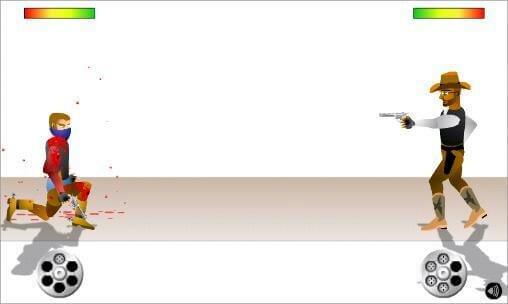 Gunblood features a plethora number of levels that are full of interesting missions. But they can be difficult to complete, so we recommend you use cheats to simplify your gameplay. So if you're looking to go invincible, get unlimited ammo and shoot more quickly and accurately, then here are the best Gunblood cheats you can use.
Gunblood Cheats
The process of entering cheats in Gunblood can be done within the character selection screen. There, you will find a box labeled Cheats. That is where you'll type the below Gunblood Cheats.
FASTFIRE – This gives you the ability to shoot faster than your opponent, thus guaranteeing a win.
POINTER – Once you enter this cheat, it do add laser pointer to your gun which makes it easy to aim your shots.
NOHIT – This one is used to activate invincible mode. Your opponent will surely end up confused.
MOREAMMO – Gives you unlimited ammo that can be used to send your opponent to the world beyond.
Wrapping Up
So these are the list of all available Gunblood cheats. For some gameplay tips that's necessary if you're looking to get instant kill, we recommend you aim for the chest. Headshot is more preferably since it does more damages. Go ahead and experience the difficulties of being a cowboy in a world without law and order.