Ever wondered how to cheat in Kahoot? If yes, then continue reading the article below as we walk you through the steps on how to get Kahoot auto answer cheat for free.
Gamification is a buzz word in education right now and while the likes of Quizizz which allows users to create game-style competition that makes learning so much fun may seem engaging, Kahoot! simply standout for its easy-to-use nature.
Launched in 2013, Kahoot! is simply a game-based learning platform that allows users to create trivia quizzes on any subject and in any language of their choice.
Also Checkout: Kahoot Winner Unblocked for School
Unlike its competitors, the platform itself increases interaction by allowing users to include videos, photos and diagrams to their queries.
It is widely used in a variety of institutes and is often said to be the grandaddy of gamified student-response systems.
Now assuming you are looking to pass your exams and/or assignments, or to ace your online classes, then we have got a pretty good tool that can help you with that.
So without further delay, here's how to cheat in Kahoot.
How to Cheat in Kahoot
Cheaters never prosper they say, but you may pass your exams if you use Pxtrez cheat network.
Said to have the most powerful cheats on the Internet, Pxtrez Cheat Network is simply a tool that allows users to get answers for platforms such as Kahoot.
Also Checkout: The Best Kahoot Winner Bots
It is literally the best way to complete school assignments and exams and one of its strong points is that it lets users search quiz answers either by name or by quizID.
Now assuming you aren't familiar with the tool, then read on as we walk you through on how to cheat in Kahoot using Pxtrez cheat network.
To begin with, ensure you already have a quizID at hand. This can be found in the address bar of an on-going Kahoot session.
For the uninformed, Kahoot quizID is simply a string of random characters that identifies a specific Kahoot session and let's users receive answers freely. For instance, an active Kahoot host URL looks something like this;
https://play.kahoot.it/#/QuizId=4f5b0897-e66f-4ba9-b060-370bc0906c5f
Now from the URL above, you can easily tell that the string below is the quizID.
4f5b0897-e66f-4ba9-b060-370bc0906c5f
With the quizID now in your custody, simply head over to the following URL https://pxtrez.com/kahoot and paste the quizID on your clipboard into the provided box.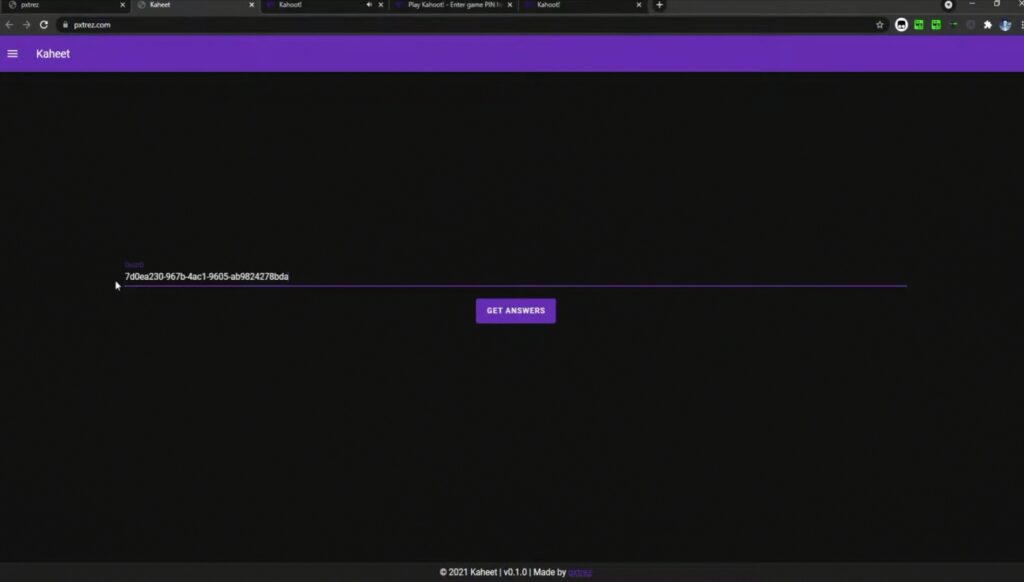 Once this is done, click on the button that says Get answers! and the tool will automatically scan Kahoot API to get answers for you.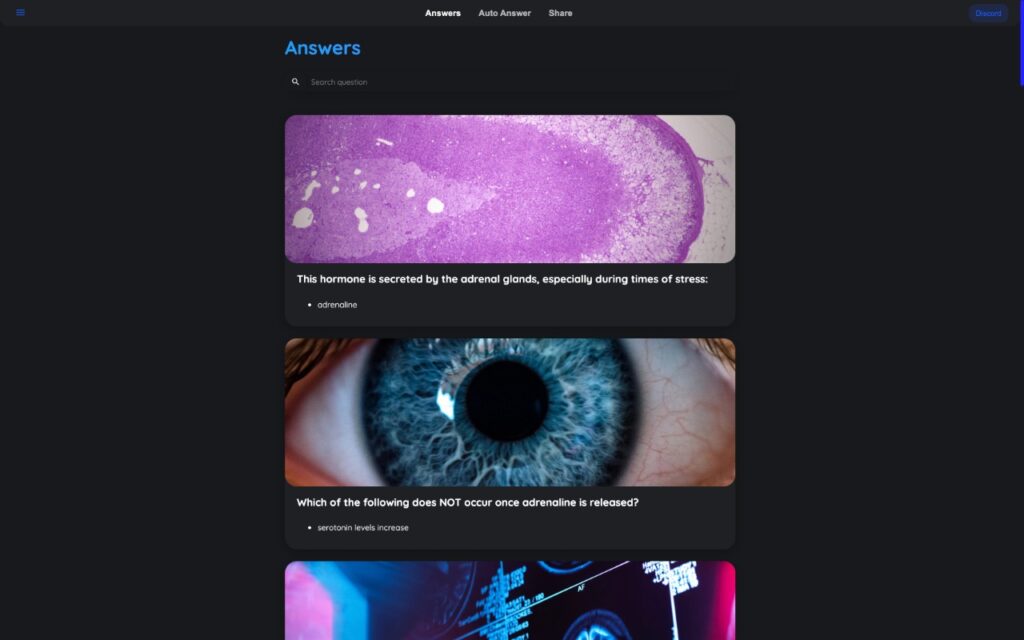 That is it, you can now see the answers to all the questions asked and the best part is that it includes images for easier understanding.