It is one thing to unblock Kahoot in school and another to win every single Kahoot game. Today, we present to you the best Kahoot winner that work effortlessly.
Believe it or not, online assessment tools are a necessary part of the remote learning practice and while educational services such as Prodigy has proven to be the best gamified maths for students, Kahoot simply stands out for its ability to let users create games or trivia on any subject of their choice.
Also Checkout: How to Find Live Kahoot Game Pin
It is pretty popular per se, connecting teachers and students together while encouraging the latter to research and share knowledge in a social way. On Kahoot, educators can easily introduce questions in the form of quizzes, debates, surveys, etc. and have students answer them at a given period of time.
No registration, no problem. All that is required to participate in a live Kahoot session is a Game PIN shared by the host and this can be entered at kahoot.it. For one thing, Kahoot! is really challenging. It features a leaderboard which shows full report of student's performance, hence if you're looking to win every Kahoot game by bagging yourself tons of points, then you're better off utilizing Kahoot winner.
What is Kahoot Winner?
Cheaters they say always win and while many think it ruins a game experience, there's probably nothing wrong in breaking the rule at least once. Now for the uninformed or preferably the uninitiated, Kahoot winner is simply a hack or tool designed to help users win public Kahoot quizzes and challenges easily.
Also known as Kahoot auto answer bot, they are literally everywhere but it is worth knowing that out of the many, only a few works and that too for free. So if you are already itching to pass exams without much effort, then here's the best Kahoot winner to utilize right now.
1. Khoot Bot by Sean-3
Kahoot winners such as Kaspammer, Mem-Rip, Kahoot Rocks and others may seem popular, but they barely work and as such not reliable. Now if you're looking for something that is yet to be patched with 100% success rate, you're better off utilizing Khoot Bot by Sean-3.
It is for the uninformed, a tool that spams a Kahoot session with up to 2,000 bots bearing multiple names and most of them can auto answer any question that comes up the screen. For one thing, Khoot Bot by Sean-3 is pretty fast and requires zero download.
Utilizing the service is really simple, as all you have to do is to navigate your way to replit and access the tool. From here, simply click on the big Play button and then hit enter to continue.
Next up, you'd be asked if you want to use a random name. Select yes or no and then input a working Kahoot game PIN and the number of bots you want to flood followed by their names. Once done, jump into the Kahoot session and see the magic.
Click here to jump into Kahoot Bot by Sean-3
2. AidanCorbett Kahoot Bot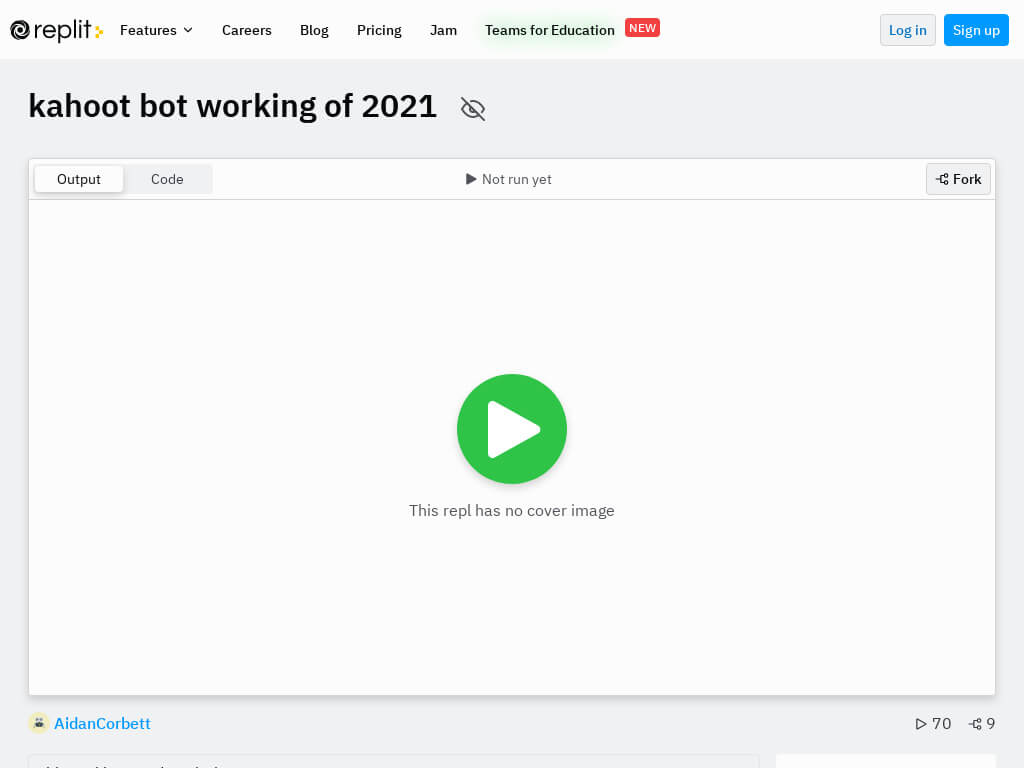 AidanCorbett Kahoot Bot is arguably one of the working Kahoot winner on the Internet. It's free and functions swiftly and has received a dozen of positive comments from many users.
Often referred to as an automatic bot for flooding a Kahoot game, AidanCorbett Kahoot winner is simply a software that send a maximum of 2000 bots to a Kahoot game and whilst most of them are normal bots used for trolling purposes, the smart ones often pick up the task of answering random questions automatically.
The software really shines and is quite easy-to-use and doesn't require any installation. To utilize it, simply access the service from here and click on the Play button followed by hitting the enter key on your keyboard.
From here, you'll be asked if you want to use a random name. Simply choose Yes or No and then type in the PIN of the Kahoot game you're looking to flood. Once done, enter the number of bots you want to spam and choose a name. That's it. You can see the tool in action over at Kahoot.it.
Click here to jump into AidanCorbett Kahoot Winner
Wrapping Up
Kahoot is undoubtedly ubiquitous, especially in the United States and it sees over 70 million active users monthly. Utilizing the above Kahoot winners won't only let you troll others but can go a long way in helping you answer questions with ease. Overall, these are the two best and currently working Kahoot.it winners to get started with.