Cheat Engine runtime error (at 102:176) is pretty common on Windows 10, 11, and above. In this article, we will walk you through how to fix it.
Cheat Engine is simply a program designed to help users hack computer games. It works by allowing users to scan the memory of any running game for some specific values that they can manipulate or modify with ease.
With Cheat Engine, users can gain an unfair advantage or alter a game's behaviour. The tool can be used to increase a player's health, ammunition, or in-game currency.
Also Checkout: Dredge Cheat Engine Table
In addition to its user-friendly interface, Cheat Engine provides a wide range of features, including memory scanning, disassembling, debugging, and a trainer maker to create custom cheats.
It is pretty popular per se, but if you have ever tried installing the program on your PC only to encounter the runtime error shown in the image below, read on as we guide you through how to fix Cheat Engine runtime error (at 102:176).
How to Fix Cheat Engine runtime error (at 102:176)
If you encounter a runtime error (at 102:176) during the installation of Cheat Engine as shown below, you can try the following steps to resolve the issue:
Runtime error (at 102:176):

Cannot open file 
"C:\Users(my name)\AppData\Local\Temp\is-B48KA.tmp\CheatEngine74.exe". Operation did not complete succesfully because the file contains a virus or potentially unwanted software.
1. Run the installer as an administrator.
One of the many ways to fix Cheat Engine runtime error (at 102:176) is by running the installer as an administrator. This ensures that the installer has the necessary permissions to make changes to your system during installation. So to get this one going, simply right-click on the Cheat Engine installation file (cheatengine.exe) and select "Run as administrator" from the drop-down options that will appear.
2. Disable antivirus software.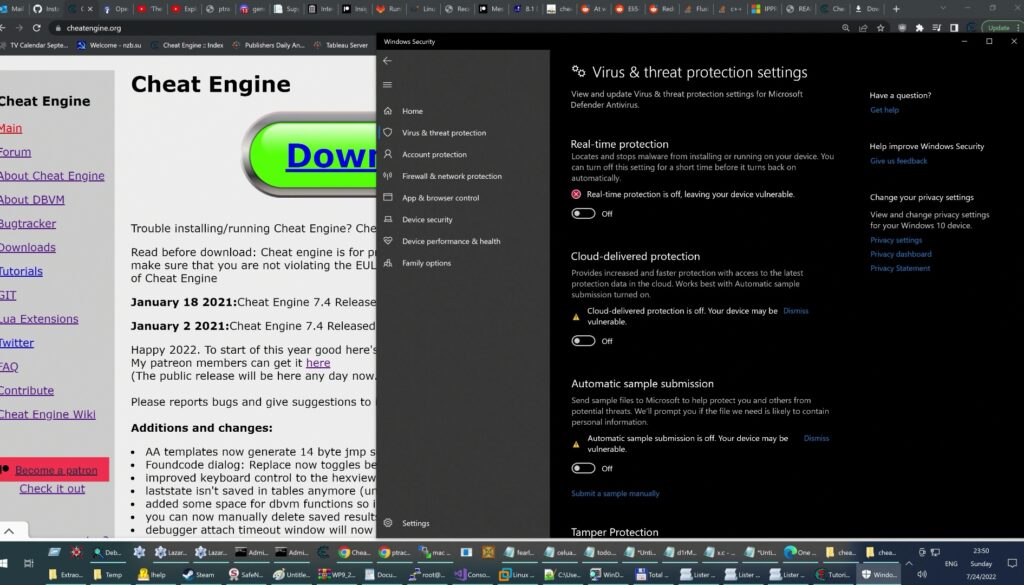 Assuming you're still encountering the runtime error even after running the program as an administrator, you can easily fix the cheat engine runtime error (at 102:176) by temporarily disabling any antivirus or security software running on your computer. These programs sometimes interfere with the installation process and trigger runtime errors. To disable the antivirus on your Windows PC, simply follow the guide below:
Open the Start menu and click on the gear icon to open the "Settings" app.
In the Settings window, click on "Update & Security."
From the left sidebar, select "Windows Security."
In the Windows Security window, click on "Virus & threat protection."
Under "Virus & threat protection settings," click on "Manage settings."
Now turn off the toggle switch under "Real-time protection" to disable Windows Defender temporarily.
3. Check your system requirements.
If the Cheat Engine runtime error (at 102:176) has yet to disappear even after disabling your antivirus, then verify that your computer meets the minimum system requirements for Cheat Engine. Ensure that you have a compatible operating system version and sufficient hardware specifications.
4. Download a fresh copy of Cheat Engine.
If you downloaded Cheat Engine from a third-party website, it is possible that the installation file is corrupted or incomplete. Try downloading Cheat Engine from the official website (https://www.cheatengine.org/) to ensure you have a reliable and complete installer.
5. Update your system
Lastly, ensure that your operating system is up to date with the latest updates and patches. Updating your system can help resolve compatibility issues and provide necessary fixes.
Bonus Tip:
So these are literally the five proven ways to fix Cheat Engine runtime error (at 102:176). You can also try out a fix for this issue by clearing or deleting temporary files and folders from your system. Use the Disk Cleanup tool or a third-party cleaning software to remove unnecessary files that might be causing conflicts during the installation process