Roblox is a popular online platform that allows users to create, play, and share 3D games. The platform has evolved significantly since its inception, but one of its most sought-after features is the ability to open multiple Roblox instances simultaneously. In this article, we will delve into what Roblox Multiple Instances are, why they're needed, and how to open multiple Roblox instances with ease.
What are Roblox Multiple Instances?
Roblox Multiple Instances refers to the capability of running multiple copies of Roblox at the same time on a single device. Albeit resource-intensive, running multiple Roblox instances helps to progress multiple Roblox accounts at the same time.
That aside, Roblox multiple instances come in handy when you stumble upon a Roblox game that requires players to complete repetitive tasks for in-game rewards. Taking advantage of the multiple Roblox instance feature, players can easily speed up the grinding process by running both game sessions simultaneously.
Nonetheless, before we delve into how to open multiple Roblox instances, it is important to note that you can't run multiple Roblox instances using the same account. With that in mind, let's jump into the how-to thing.
How to Open Multiple Roblox Instances
Opening multiple Roblox instances is possible through the use of third-party software. These applications allow users to clone the Roblox process, effectively allowing multiple games or sessions to run side by side. So without further ado, here's how to open multiple Roblox instances.
Roblox Multi-Instance
Roblox Multi-Instance is basically a programme designed to help users run multiple Roblox instances on different accounts on the same device. Here's how to utilise it:
To begin with, download the latest version of Roblox Multi-Instance and double-click to launch it.
Next up, ensure you close all Roblox instances already opened on your PC, and then press any key to activate Multi-Instance.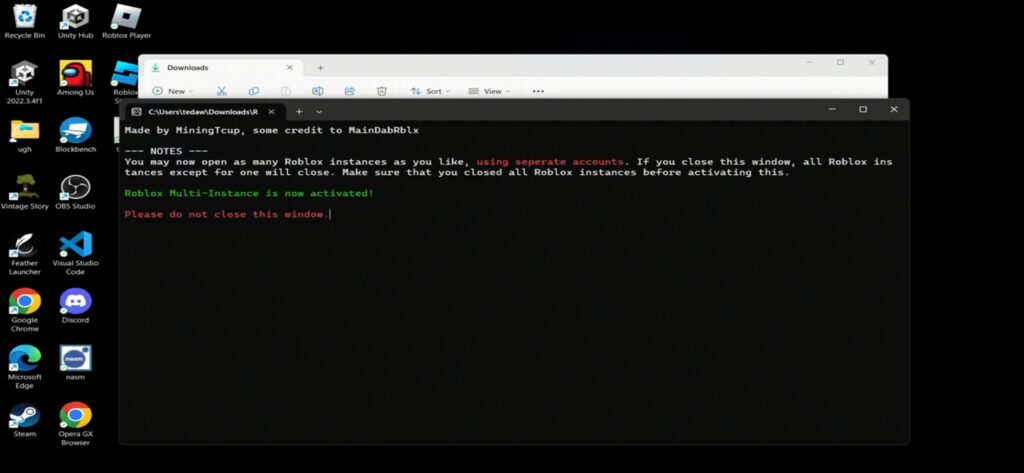 Now hide Roblox Multi-Instance (do not close it).
With that done, go to web.roblox.com using your browser and sign into your first account, then launch a game.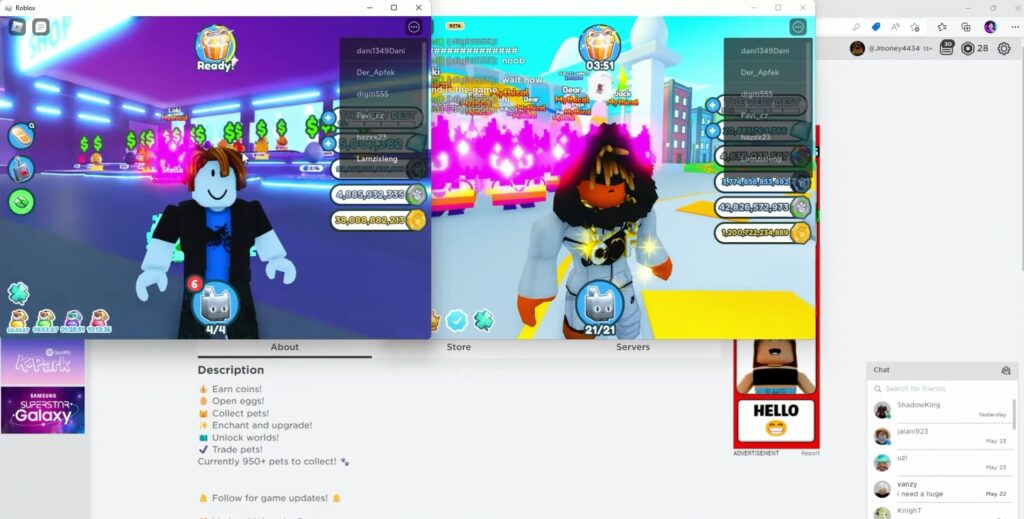 Now minimise the window and drag it aside, then open your browser once again and head over to web.roblox.com. From here, sign out of the first account, then sign into the second account, and you'll be good to go.
Note: Multi-Game Instance, downloadable on WeAreDevs.net, is another tool similar to Roblox Multi-Instance. However, unlike the latter, we do not recommend it.
Roblox Account Manager
Roblox Account Manager is a feature-rich programme that allows users to add multiple Roblox accounts into one application, and by so doing, they can play any of their favourite games on their secondary account without having to sign out of the primary account. Here's how to use its multiple Roblox instances feature.
To get this one going, download the latest version of Roblox Account Manager and extract the zip file using WinRAR or 7-Zip.
Next up, double-click to open the executable file, and then click on the Settings icon at the top-right corner. From here, click on the General tab and then enable Multi-Roblox.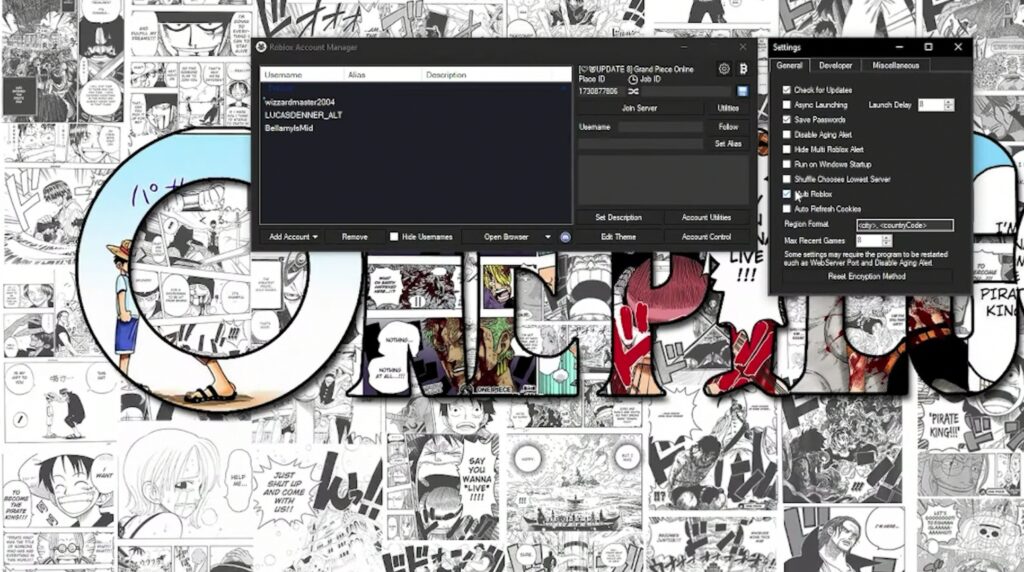 With that done, close the Settings window, and on the Roblox Account Manager main screen, click on the Add Account option.
This will automatically open the Roblox website in your web browser. From here, log in to your Roblox account, and it should appear on Roblox Account Manager.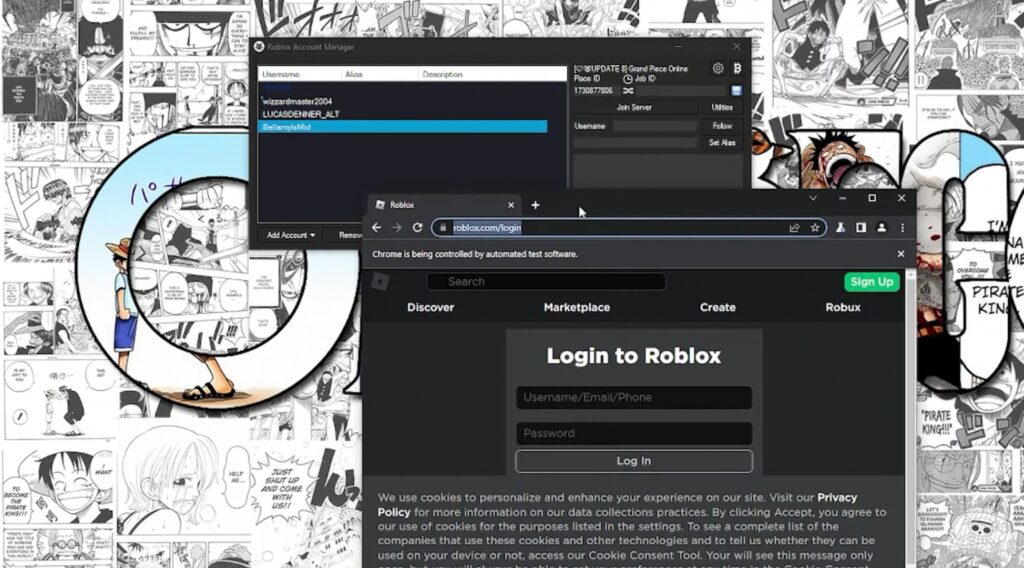 Note: You can repeat these steps to add as many accounts as possible.
Now on Roblox, look up any of the 3D experiences you're looking to play and copy its ID (i.e., the number in the URL below).
www.roblox.com/games/8304191830/UPD-Anime-Adventures/game-instances
With the game ID copied to your clipboard, go to Roblox Account Manager and paste it in the Place ID option.
Also, you can locate the game's private server link and copy the URL as shown below, then paste it in the Job ID option in Roblox Account Manager. This is optional.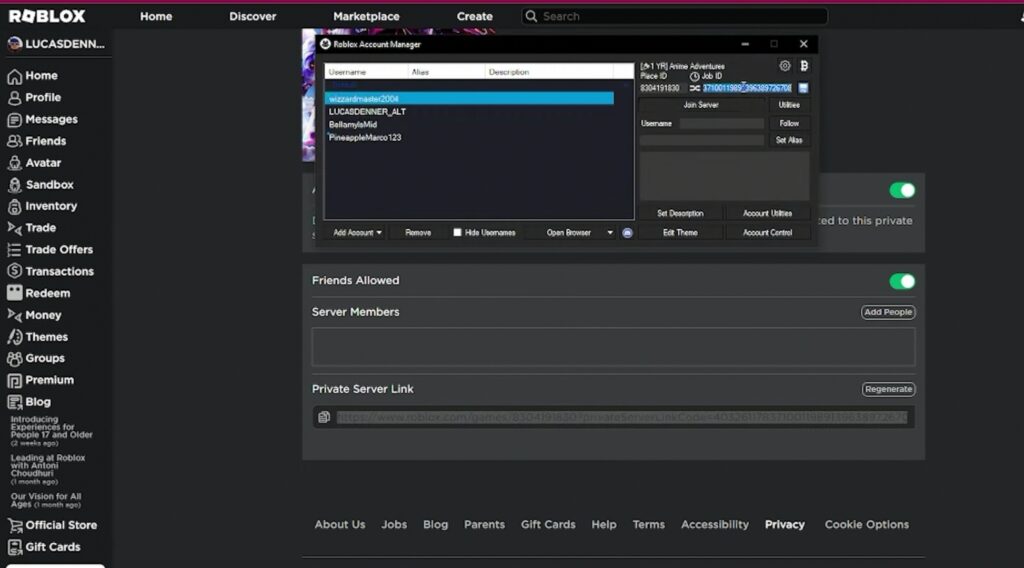 Once everything is done, select the Roblox account you want to log into by clicking on the username via Roblox Account Manager, then click on the Join Server button, and you'll be good to go.
Repeat this step to open multiple Roblox instances with ease.
Bonus Tips
In addition to the programmes above, you can also open multiple Roblox instances using Bluestacks Multi-Instance Manager. That aside, you can run the Roblox app downloaded from the Microsoft Store on your PC, then go to your web browser and log in to Roblox.