MXT mod menu is arguably the best free Black Ops III mod menu out there. In this article, we'll unravel how to use MXT mod menu in Bo3.
Treyarch's first-person shooter Call of Duty: Black Ops III is an interesting video game set in a futuristic universe where advanced technology and bio-augmentations have transformed the battlefield. Its gameplay basically tasks players to engage in fast-paced multiplayer combat and even participate in a gripping campaign mode as well as a cooperative zombie mode.
Also Checkout: How to Use PS3 PKG Splitter
Albeit fun, Black Ops III is literally a challenging game to play, especially when the difficulty level is set to Realistic. In this mode, you'll probably encounter extremely aggressive enemies with better AI capable of making combat situations more intense and demanding by dealing more damage.
Now, assuming you are looking to simplify your gameplay or skip the hassles of grinding, we recommend utilising a reliable Black Ops III mod menu. Of all the mod menus out there, we found MXT mod menu to be the very best, and not only is it free, but it also works like a charm.
What is MXT Mod Menu?
For the uninformed, MXT Mod Menu is simply a Black Ops III mod menu featuring a user interface or graphical menu that allows players to access and enable various hacks, cheats, or modifications in the game.
Using MXT mod menu, players can easily unlock all achievements and contracts, set max weapons, rank, unlock tokens, class slots, and even obtain as many GobbleGums as possible while toggling on various aimbot hacks. Now without further delay, here's how to install and use BO3 MXT Mod Menu.
How to Install MXT Mod Menu
To begin with, ensure to disable your Windows PC's Real-time Protection or Antivirus, then download and install the latest version of Microsoft Visual C++ Redistributable.
Once that is done, navigate to this page on SourceForge and download Process Hacker.
With that done, simply head over to this page on Mediafire.com and download the newest update of MXT Mod Menu.
Now fire up your File Explorer and locate the files you downloaded just now in your Downloads folder. Once found, use WinRar or 7-Zip to extract the MXT mod menu.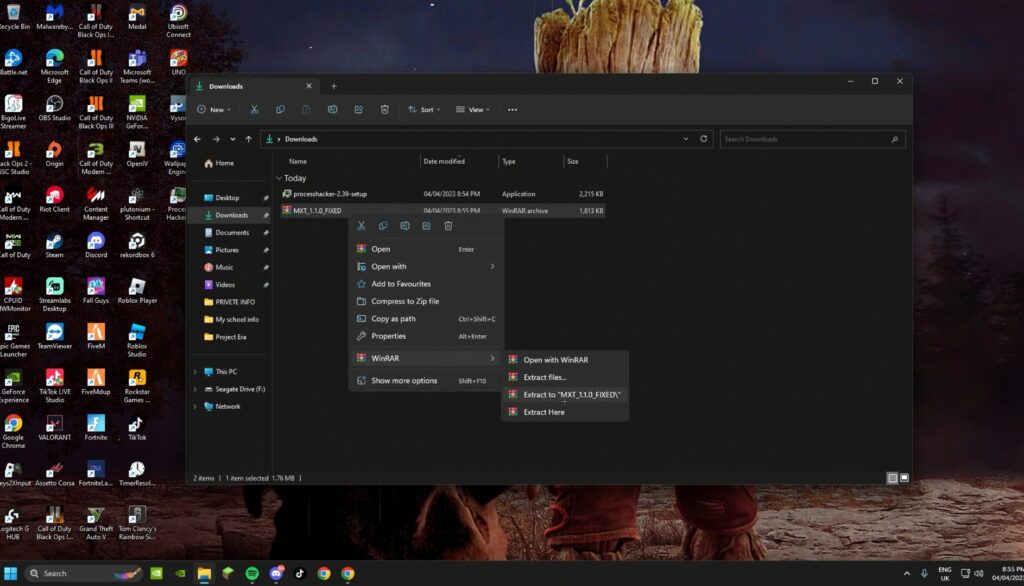 With that done, double-click to open Process Hacker setup, then follow the on-screen prompts to complete the installation.
Once the installation process is complete, simply head over to Steam and open up Call of Duty: Black Ops III.
Now from the main menu, you can either jump into Multiplayer or Zombies, then click on the Windows key and lookup Process Hacker, then click Run as administrator to open it.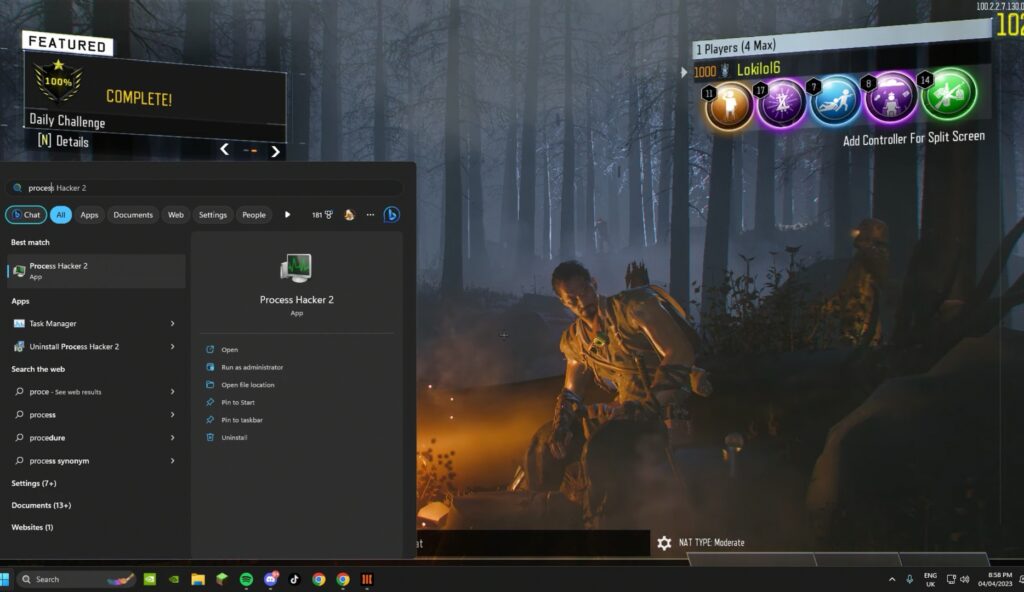 Once the tool opens, hover your mouse to the top right and click on Search Processes, then type in Black Ops III into the search bar.
Once the search result is shown, right-click on it, then hover your mouse over Miscellaneous and select Inject DLL from the submenu.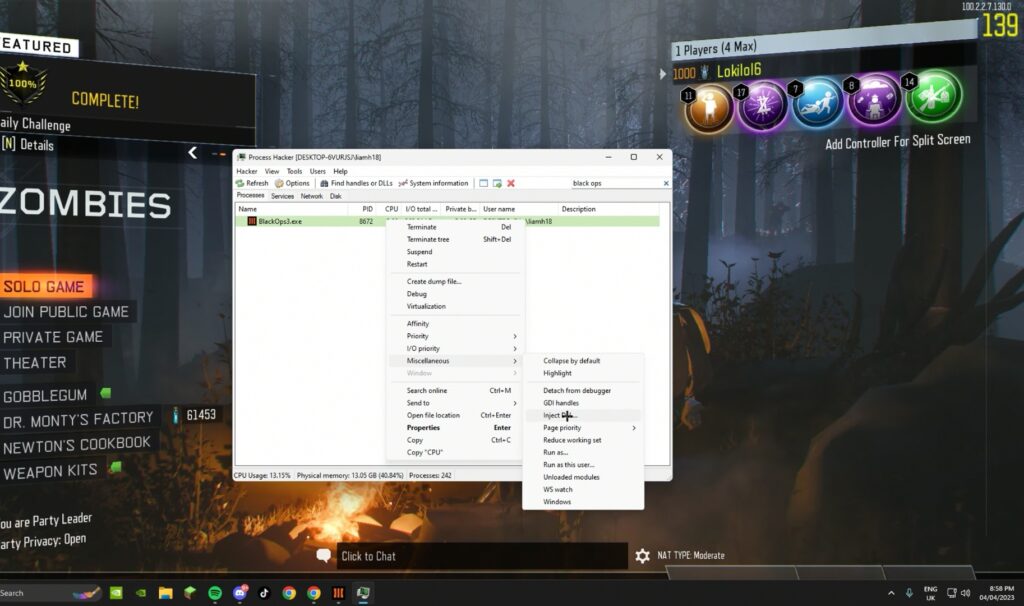 This will open your File Explorer, locate the mxt mod menu folder you extracted earlier, and double-click to select the DLL file Dx11 imGui: Black Ops III.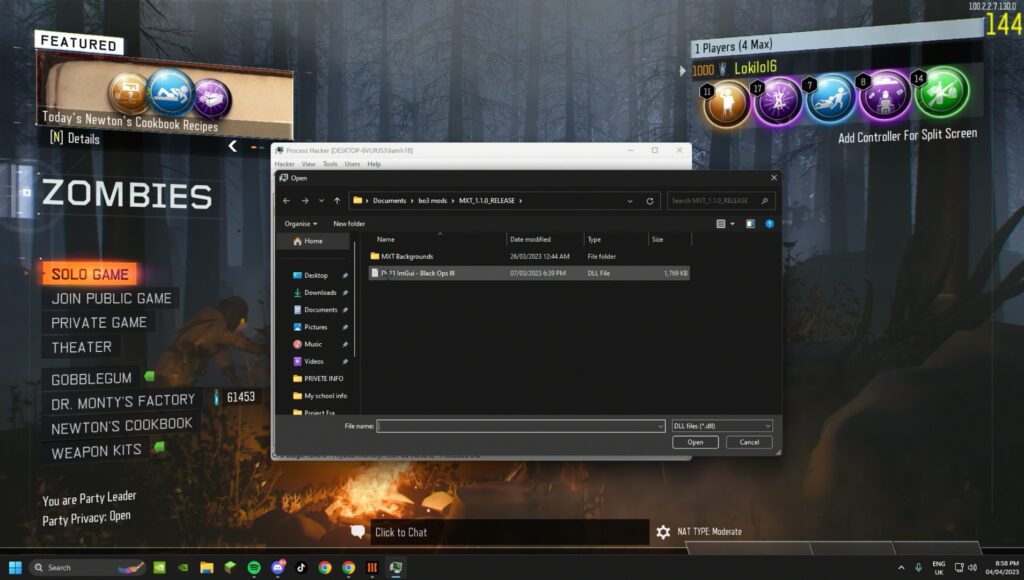 Once that's done, the MXT Mod Menu Discord server will automatically open; simply close the window, and you'll see MXT Mod Menu floating on-screen as soon as you click I understand.
How to Use MXT Mod Menu
For one thing, MXT mod menu features a plethora of cheats that can be pretty overwhelming. So assuming you are finding it difficult to digest all the hacks, here's how to use MXT mod menu.
To begin with, jump into Multiplayer or Zombies mode from the Black Ops III main menu and click F5 on your keyboard to bring up the MXT mod menu.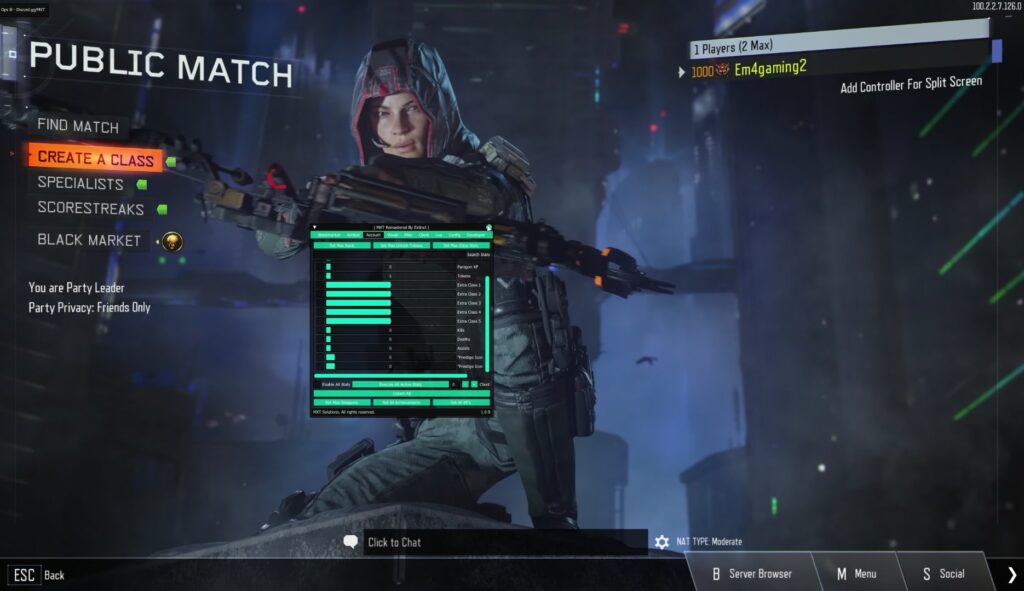 From here, click on the Account tab and then click on Set Max Rank, Unlock All Achievements, or even Unlock All to unlock all the unlockables (weapons, specialists, etc.) within the selected game mode.
To unlock all contracts, get gobblegums, increase currency spending, and even enable cheats such as No Dupe Supply Drops or Triple Play Supply Drops, simply click on the Blackmarket tab in the mxt mod menu and select your preferred game mode under Gamemode Gain/Spend Type.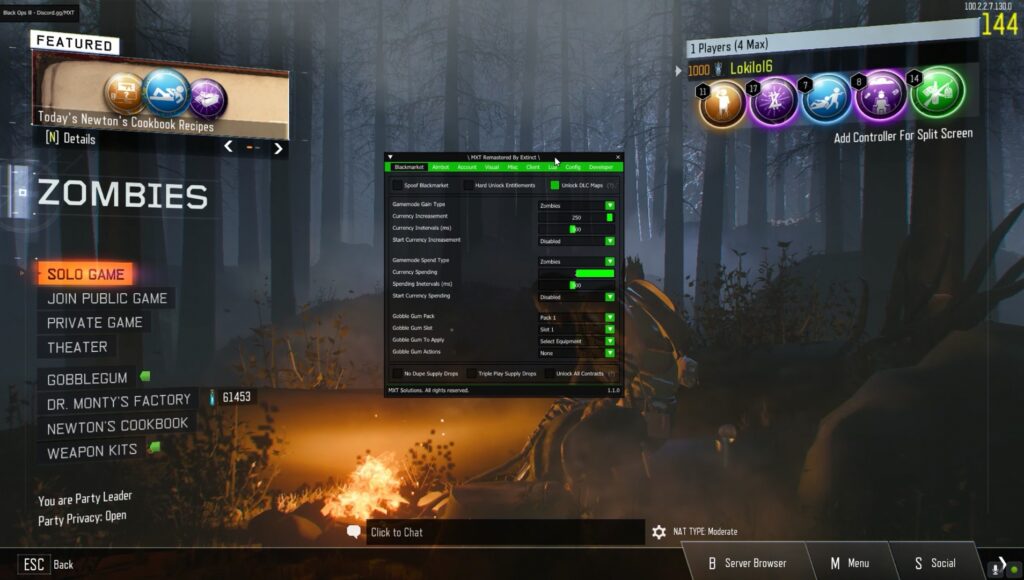 Once that is done, click to tick the appropriate cheat, increase the currency spending digits to your preference, and activate the changes by clicking the down arrow next to Disabled, then select Enabled.
To save your changes in Multiplayer mode, simply go to Custom Games and start a game, then quit the game. For Zombies mode, you can save your changes by jumping into Private Game and then quitting it.