From the makers of Crusaders of the Lost Idols comes yet another cool clicker game called Idle Champions of the Forgotten Realms. It is a free-to-play Dungeons and Dragons strategy based game where players command an army of heroes that constantly march forward, attacking and killing enemies and collecting the gold that spawn as they fall.
These gold are rewards or resource of the game and they can be used to unlock powerful heroes and upgrade them to reveal their unique abilities. Idle Champions of the Forgotten Realm brings an engaging story structure and there are a slew of quests to complete. The graphics is cartoony and the control is intuitive and easy to master.
Also Checkout: All The AFK Arena Codes
Now if you're looking to master the art of formation strategy, to get free rewards such as golds that can come in handy when in need of purchasing and levelling up your champion, then here are a list of all the currently active idle champions codes of 2019.
GIED-GITS-TRIO – 1 Gold Chest
PALO-VESI-DLE! – 1 Gold Chest
AVRE-NDON-AARK-ROND – 3 Gold Chest (Avren, Donaar and Krond)
DISK-ESSE-RYND – 1 Gold Chest
BACS-KAVA-NOOK – 1 Gold Chest
KRON-DDON-AARA-VREN – 1 Gold Supply Chest
ZZZS-BLIP-CABA – 1 Gold Chest
GAAR-AWAR-RSGU-IDES – 2 Gold Supply Chest
SUPP-ORTR-OGUE – 2 Regis Silver Chests
REHS-VIAL-TIDE – 1 Gold Chest
FOCU-SEDA-NGER – 2 Silver Zorbus Chests
IDLE-CHAM-PION – 1 Gold Chest
EGOM-ANIA-LOOT – 2 Silver Dhadius Chest
MAXD-UNBA-RFTW – 1 Gold Chest
TAKE-THIS-LOOT-CODE – One Hold Strix Chest
IDLE-CHAM-PION-SNOW – One Gold Chest
ABCD-EFGH-IJKL – One Silver Chest
HALF-ORCK-ROND – Two Silver Krond Chest
WATE-RDHA-VIAN – One Silver Chest
GRAM-MAGR-OMMA – 2 Silver Gromma Chests
STOK-ED4S-TOKI – 2 Silver Stoki Chests
HAMM-ERST-ACKS – 2 Silver Barrowin Chests
Redeem Idle Champions Codes
With the codes listed, it's time to learn how to redeem them. But before we go into the main thing, we do like to inform you that you can't redeem idle champions of the forgetten realms codes on Android and iOS. This is due to it being against Google/Apple Store T&C.
The feature is only limited to Steam users (I.e PC players). So without any further ado, here's how to redeem idle champions codes.
To begin with, fire up the game and head over to the Store by clicking on the $ sign located on the top left hand side of the screen.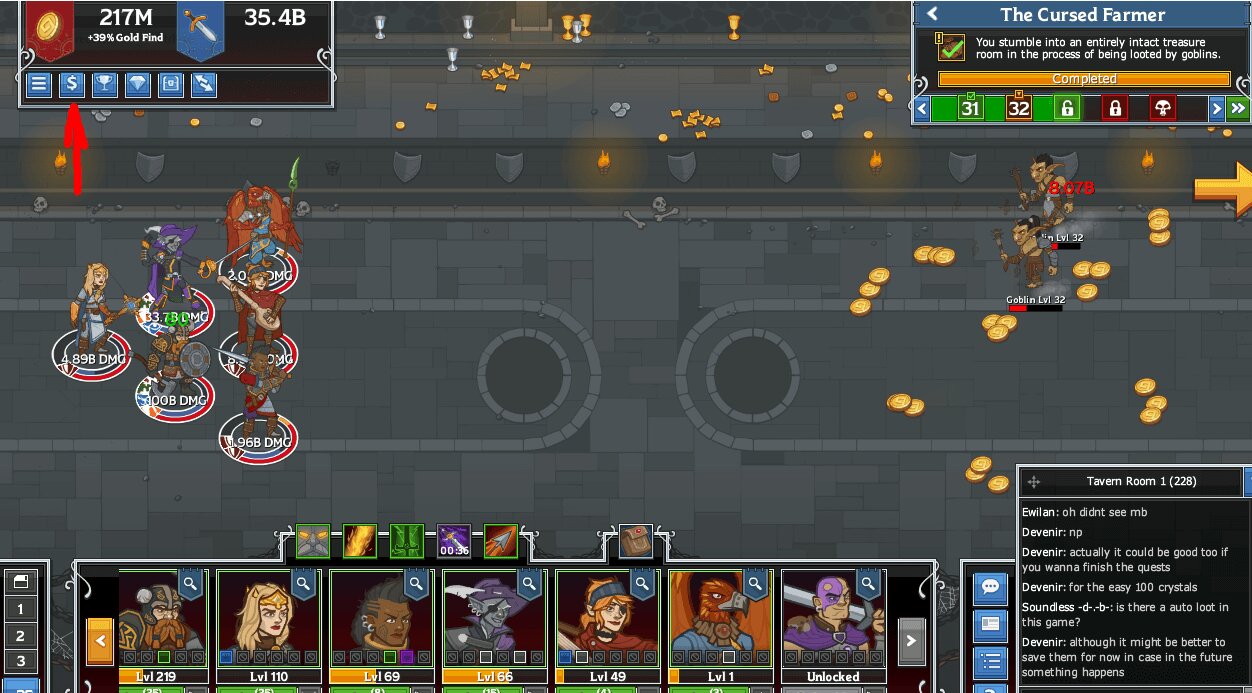 On the next page, you will see the Redeem a Code box that's next to the Purchase button. That's where you'll enter the above idle champions codes.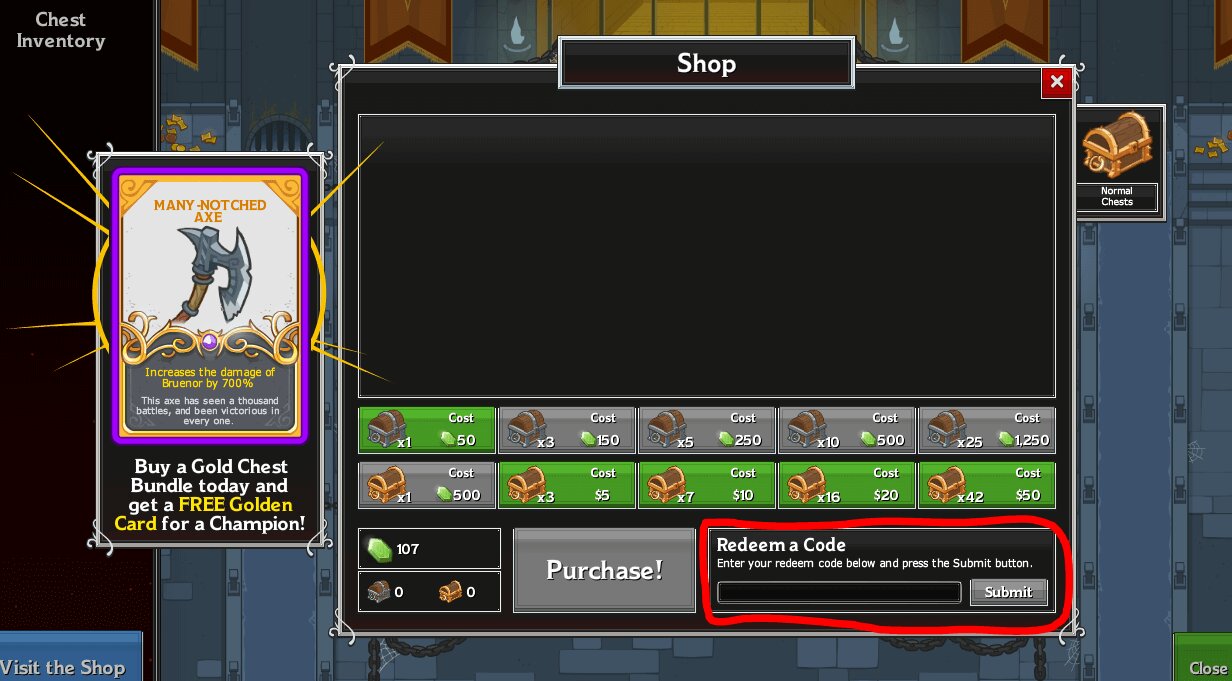 Wrapping Up
So these are the list of currently active codes. There are others, quite a slew of em but most of them are already expired. Bonus tip, you can get free idle champions codes to your email If you subscribe to the game's newsletter. To do that, go to the Main Menu and jump into Newsletter. From there, select the Subscribe option. Happy gaming idle clickers!.