Legend Rewritten Script galore. So if you are looking to get hacks such as auto farm, Infinite ores and more, then here's some of the best Roblox Legends Rewritten Scripts to utilize right now.
Roblox houses a plethora of unique user-generated 3D experiences and whilst the likes of MeepCity, Adopt Me, Brookhaven RP and Tower of Hell are known to be amongst the most popular, Legends Rewritten albeit new is gradually gaining the traction it deserves.
Released in 2021 by Scrumptious Studio, Legends Rewritten is simply a fighting game on Roblox that task players to battle foes and bosses in order to earn drops which is necessary for skills level up.
Also Checkout: The Streets Script
The game also let's users mine ores and this can be used to make armor and weapons in the blacksmith. Players can also study magic by exploring and finding artifacts from around the map.
Sincerely speaking, Legends Rewritten is one hell of an addictive games and even though it is relatively new, the game has seen over 12 million visits approximately, with up to 200 concurrent players.
Now assuming you are looking to spice things up or to make your gameplay easier, then we have got below a sheer number of Legends Rewritten scripts to utilize right now.
Legends Rewritten Script
As we said earlier, Legends Rewritten is a pretty new game and as such, there are only but a few working scripts released so far. Below, we have listed the ones yet to be patched and trust me when I say they're feature-rich.
Script 1
Script 2
loadstring(game:HttpGet('https://raw.githubusercontent.com/1201for/V.G-Hub/main/V.Ghub'))()
How to Execute Scripts in Legends Rewritten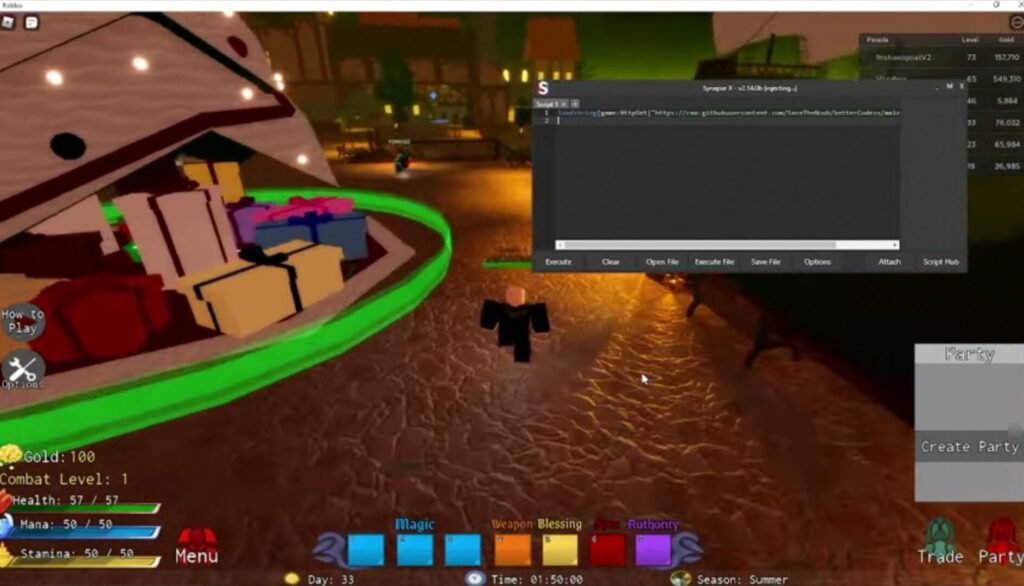 Prior to executing scripts in a game on Roblox, one will need to employ the services of a reliable Roblox exploit. From Krnl, Fluxus, Synapse X and more, there are a plethora of them.
So assuming you do not have one downloaded yet, simply jump into our previous post detailing the best Roblox script executor and/or exploit and find yourself something that works.
Once installed, simply go ahead and jump into Roblox, then fire up Legends Rewritten as well as the downloaded exploit. Next up, copy and paste any of the scripts listed above into the box found within the executor.
Once done, click on the Inject button followed by Execute and the script GUI will pop-up. Now go ahead and enable the hacks you prefer.