Mega Hide and Seek Script galore. So if you are looking to get hacks such as Infinite Jump, ESP, Walkspeed, Noclip, and more, here's all the Roblox Mega Hide and Seek script to utilize right now.
Inspired by Tim7775's Hide and Seek Extreme, Mega Hide and Seek by Blox Games is one of the popular Hide and Seek games on Roblox. Its gameplay task players to participate in a massive hide and seek experience with other players.
Starting off, players are given one minute to find and hide in a spot on the map before the seeker arrives. The game's objective literally is for the "seeker" to find and tag the "hiders" within a given time limit.
Also Checkout: Blue Heater Script
In addition to featuring multiple hiding spots, cannons, slides, teleporters and bounce pads which can be used to traverse the large map or environment, Mega Hide and Seek offers power-ups and various cosmetics that can be unlocked using the coins and diamonds earned in-game.
Now assuming you're looking to simplify your gaming experience by utilizing hacks capable of aiding you survive each hide and seek round, here's all the currently working Roblox Mega Hide and Seek Script to make use of right now.
Mega Hide and Seek Script
From Noclip to ESP, Infinite Jump, Mark Seeker, Get All Coins, Walkspeed and more, there are a plethora of feature-rich Mega Hide and Seek Scripts out there on the web. So without beating around the bush, here's all the Roblox Mega Hide and Seek Script to utilize right now.
Script 1
loadstring(game:HttpGet("https://raw.githubusercontent.com/ToraIsMe/ToraIsMe/main/0megahide"))()
How to Execute Scripts in Mega Hide and Seek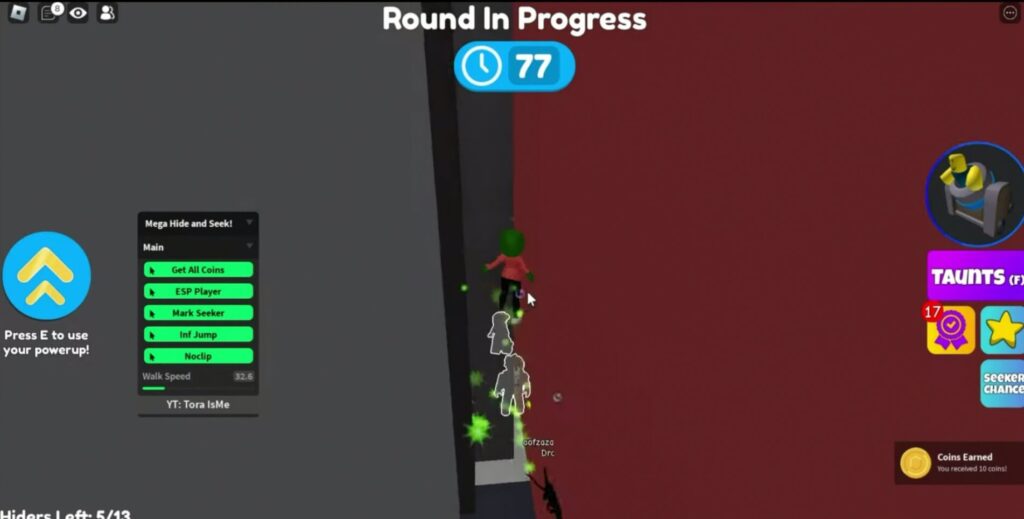 Prior to executing scripts in a game on Roblox, one will need to employ the services of a reliable Roblox exploit. From Krnl, Fluxus, Synapse X and more, there are a plethora of them.
So assuming you do not have one downloaded yet, simply jump into our previous post detailing the best Roblox script executor and/or exploit and find yourself something that works.
Once installed, go ahead and jump into Roblox, then look up and click to open Mega Hide and Seek as well as the downloaded exploit. Next up, copy and paste any of the Mega Hide and Seek scripts listed above into the box found within the executor.
Once done, click on Attach followed by the Execute button and the script GUI will pop-up. Now go ahead and enable the hacks you prefer.