The Google Play Store and iTunes are full of several new titles that aims to draw the attention of gamers of different genres. From Dragon City to Hay Day, then there's Monster Legends, an excellent RPG that combines the elements of building and resource management.
Featuring aesthetic premise reminiscent of the ever-popular Pokemon game, Monster Legends task players to collect or tame monsters and by so doing, they'll be able to feed, train and breed them to create new species.
From sea serpents to red fire dragon, giant apes and more, the game offers over 600 monsters that needs food and habitat to evolve. Players can also acquire different skills and use them in real-time battles against opponents.
Just like most games out there, gems are the most valuable thing in Monster Legends. They are infact the game's premium currency and once you manage to accumulate enough of it, you can then use them to speed up upgrades and actions whilst purchasing monsters, cells, gold, and food.
Grinding can of course, give you free gems in Monster Legends but you'd still find it very difficult to rack up quickly. So if you aren't ready to spend real-life money just to acquire gems, then here's the best Monster Legends hack to utilise right now.
Beware of Monster Legends Gem Hack Scam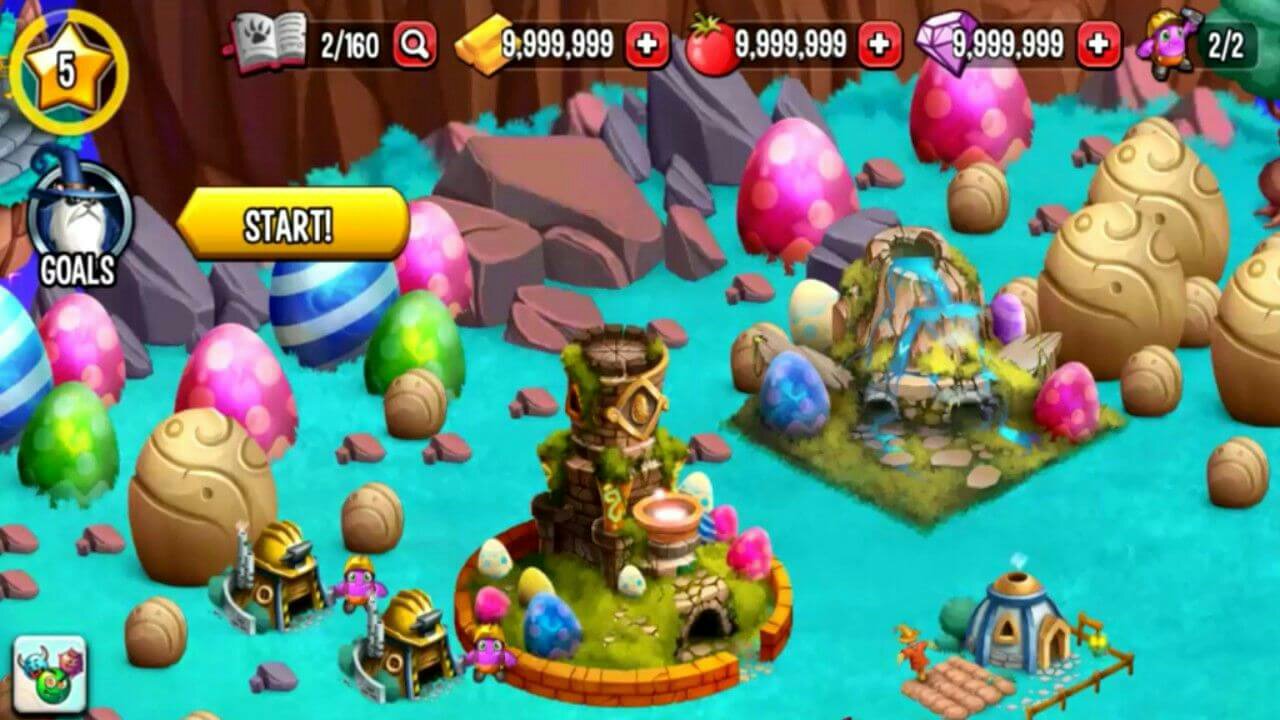 It's apparent that the only way developers are able to make money in free-to-play games like Monster Legends is by offering in-game currency that can be acquired either by grinding or with real-life money.
Just like Fortnite V-Bucks, gems are a sought after commodity in Monster Legends and this sadly, gives scammers the opportunity to lure unsuspecting players into compromising their personal information and security in exchange for the said currency.
For every Monster Legends players out there, we'd like to notify you that gems don't grow on trees. It's either you grind, or you purchase them using real-life money.
If you choose to utilize online tools or generators that promise unlimited gems and gold, then you will be solely responsible for the outcome, as these tools will either affect your device with malware or ask you to complete mundane tasks for the hacker's own gain.
How to Get Free Gems in Monster Legends
With that said, players can still earn gems for free in Monster Legends by partaking in any of these activities.
Watch videos in the Monsterwood: Yes you heard that right. In a bit to compensate players who have played the game for 20 days, Social Point introduced an area called Monsterwood where players can easily watch 30 seconds long videos. Stuff such as gems, gold, food, relic chests, monster cells, monsters, maze coins, and more are distributed as reward and you will also get to spin the roulette wheel after watching 5 ads for the day.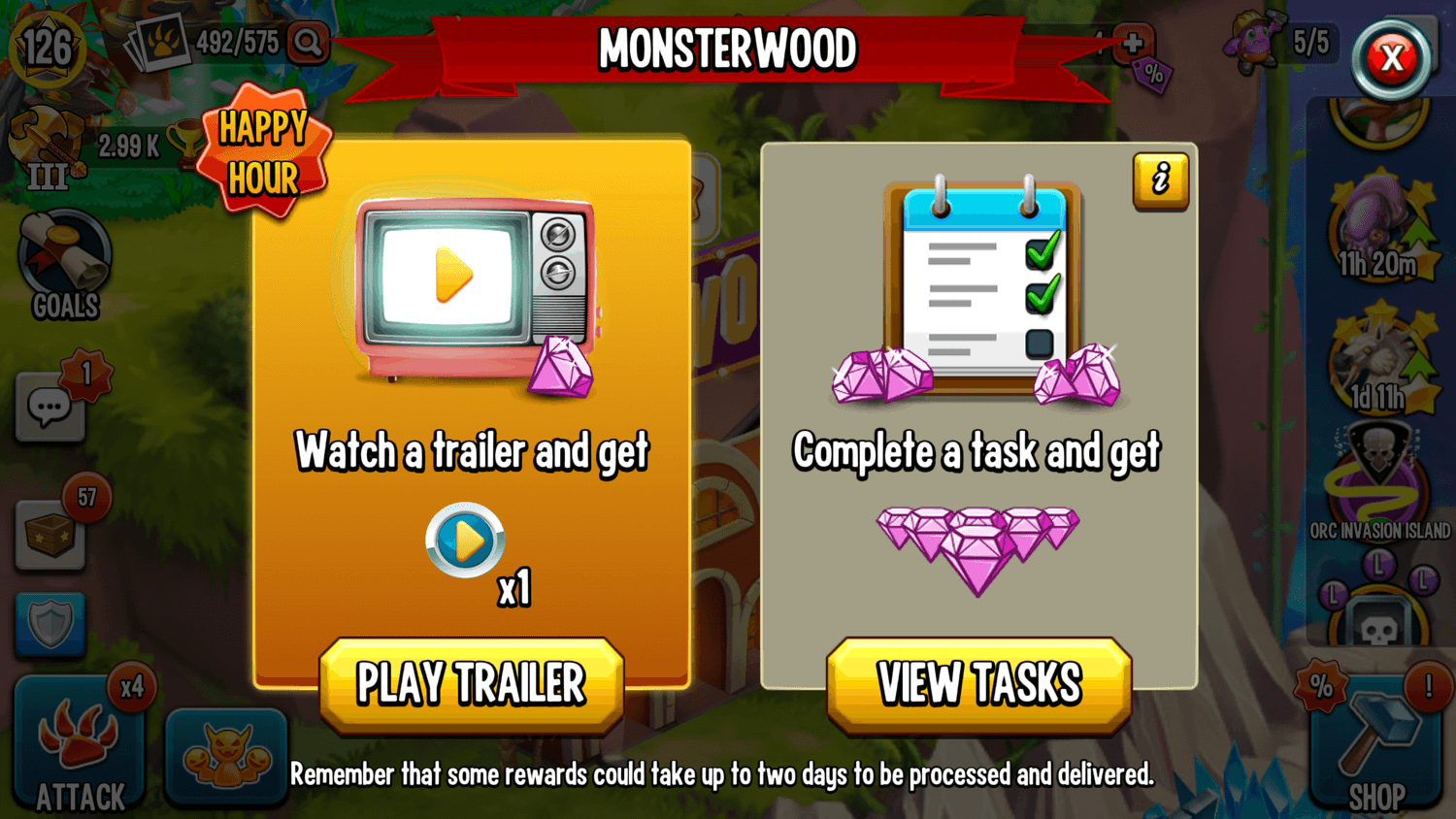 Fight in the Adventure Map and Dungeon: Assuming you have the most elite monsters that can easily mow down hoardes of enemies as quickly as possible, then fighting in Monster Legend's adventure map and dungeon is a must, for players who emerge the winner are rewared with XP, gems, gold, roulette spin and loads of other resources.
Complete Timed Challenges: From Love Season to Gold Fever, Rune Lords, Growth Spurt, Legendary Overlords, Dr Viktor's Patron, King of Gems and More, players can easily participate in Monster Legend's timed challenges which lasts for 2-3 days in other to earn gems and other stuff. The quests aren't that boring per se.
Other Methods to Earn Free Gems
The above listed tips on how to earn gems quickly in Monster Legends is apparently our favourite, but you can easily partake in the following activities to rack up more gems.
Participate in Limited-time Events
Win Multiplayer matches
Complete Goals
Complete achievements
Open chests
Monster Legends Hack Using GameGuardian
If you are into video game hacks, then I bet you have heard of GameGuardian. But assuming you haven't, then let's introduce you to the best game hacker app out there. With the notion that one mustn't grind to rack up all the goodies in a game, GameGuardian spawned.
It's basically an app that lets you modify the content of any game on Android in other to gain unfair advantage over your opponent. Call it illegal, we do not care. GameGuardian works by injecting script codes during the runtime of a game and by so doing, gives you stuff such as infinite health, unlimited resources and more.
That aside, it can also go as far as speeding up activities in a game whilst unlocking items such as skins, weapons and more. From Garena Free Fire to PUBG, GameGuardian offers support for a slew of mobile games including Monster Legends.
For the latter, it can painlessly modify the number of gems, golds and foods you have whilst offline. This hack albeit temporal works like charm and it's what we're currently using right now.
To learn how to hack Monster Legends using GameGuardian, simply watch the video below.
Monster Legends Hack Tool
A glimpse at the internet and you'd find a dozen of tools that promise you the world in Monster Legends. We have apparently gone through most of them and have picked DC4U as the best amongst all.
For folks uninformed, DC4U was specifically made to help users hack certain games. It works by allowing users to send a variety of packets to games like Monster Legends.
From 120 Gems to letting you win 1 attack in PVP combat, DC4U also helps users auto attack dungeons and with the tool, players will also be able to clean all rocks, trees and bushes which gives them gems and other items as rewards
That aside, DC4U will also let you win battles in the adventure map and also offer you several monster wood video ads. All that is required to get started is your Facebook ID and Session Key and you'll be good to go.
Visit the site now to start accumulating gems and other rewards.
Wrapping Up
No survey no problem. The above Monster Legends Hack are the ones we consider legitimate. Anything other than this is completely fake. Overall, game on.