Free Fire hack galore. So if you're looking to get hacks such aimbot, then here's how to hack free fire.
If you are to choose the best Battle Royale game out there without bearing in mind the ubiquitous Fortnite and PUBG, which would it be? Well I know for sure that you'd go for a title that's a hit but aside from Rules of Survival, we'd urge you to play Garena Free Fire for it offers the best survival experience we've ever seen on mobile.
For folks uninformed, Free Fire is a Battle Royale game that's incredibly fun to play. It is hectic per se and offers a fast-paced combat that's second to none. Its gameplay pits you against 49 other players in a 10 minute match for survival and the goal basically is to become the last man standing.
From the start, players can freely choose their starting point and once they land with their parachute, there aim from here will be to stay in a safe zone while scavenging for resources. Free Fire offers a slew of vehicles that can be used to explore the game's vast map and you can choose to hide in trenches or go invisible by proning under grass whilst ambushing and sniping your enemies to kingdom come.
Also Checkout: Subway Surfers Hack
It's a pretty good game per se but you'd need to watch out for the force field that gradually closes in on you as the game progresses. Now if you are already deep into Free Fire, you'd notice that the game brings tons of exclusive skins and items that can be purchased using diamond.
Now as someone who doesn't have a stable income, you'd find it difficult to buy these items using your hard earned money, hence this article. Today, we're going to unravel all the Free Fire hacks that's readily available. From aimbot to auto headshot and more then we'll go further to reveal whether the Free Fire Diamond hack and generator is real or not.
Free Fire Hack for Aimbot and More
While some often see hack as scripts used by gamers as replacement for their lack of skill, we'd think they are necessary at one point in time. Now just like PUBG, Free Fire offers a slew of patch and/or mod that let's you gain unfair advantage over an opponent.
Call it cheating or plain pwning who cares, it's just a game afterall. Now if you are looking to auto aim at targets with ease or to deal great damage to enemies and more, then we have in our possession the best Free Fire Hack and/or Mod APK that works without qualms.
Aside from the less recoil feature it brings when shooting, you'd find the Anti-ban function quite reliable. This mod also comes with ghost mode, no shake scope and wall hack that let's you kill enemies from behind a wall. There's also an option to disable trees, grass and fog for easier detention of enemies.
To cut the story short, simply click here to download the latest version of Fire Fire Hack Mod APK. Once installed with the Obb file (gotten from playstore or other source) placed in its appropriate folder, you can simply fire up the game (Garena Free Fire) and while away your time.
Alternatively, You Can Use GameGuardian to Hack Free Fire
Yes you heard that right. If you are the type who doesn't fancy the idea of installing Mod APKs in other to cheat in a game, then you're in the right section.
For folks totally unaware, GameGuardian is an alteration tool that let's you modify money, HP, SP and so much more in any game on Android. It's free of course and aside from the aforementioned functions, it can go as far as using scripts to ease the suffering of vanilla game design.
From auto aim to walk hack and more, there are hundreds of GameGuardian scripts that can make your Free Fire gameplay a whole lot easier. So if you're looking to up the game a little bit, then here's how to hack Garena Free Fire using GameGuardian.
Here, we already assume that you have had the app GameGuardian installed on your Android phone (if not, then Google how to). With that done and dusted, simply navigate to this page and you should see a dozen of Free Fire Hack script available for download.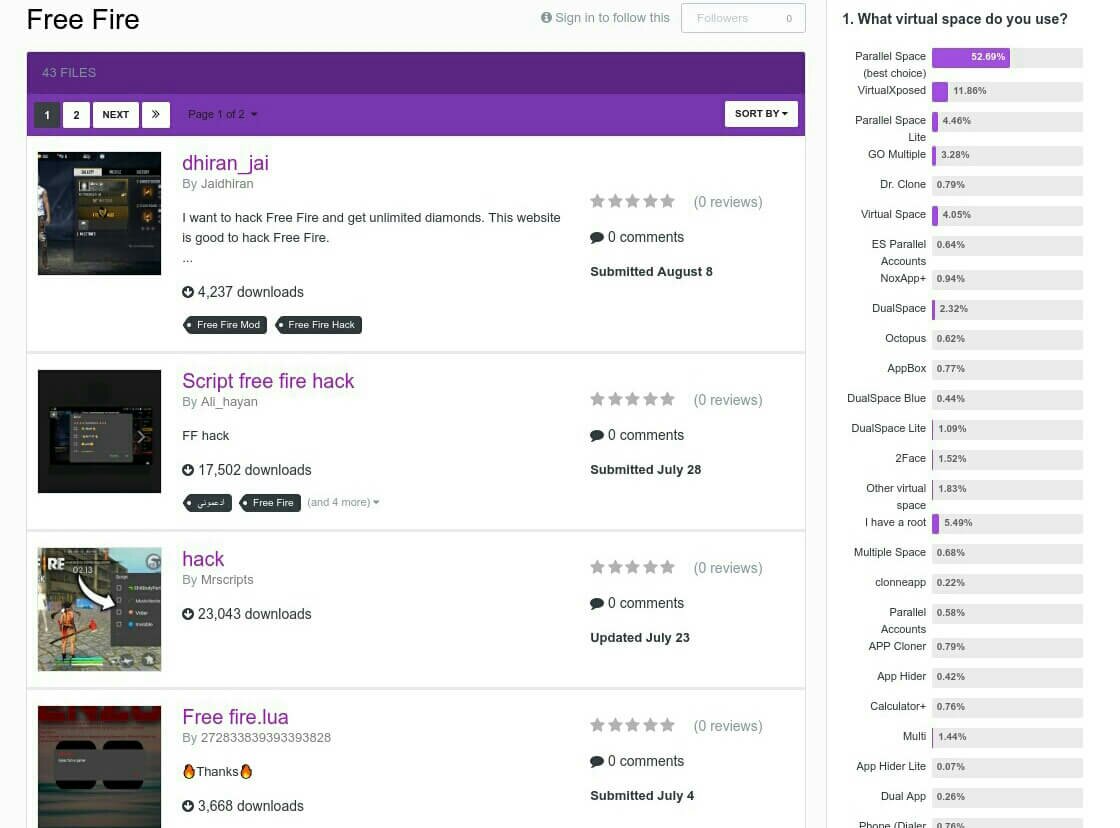 Go through each and every one of them and once you've found the perfect script for you, simply download it and then fire up GameGuardian. Once fired up, click Start, then minimize the app and then open Garena Free Fire.
From here, you should see a GG icon floating on your screen. Simply click on it to launch the app menu, then select Free Fire in the process window that'll pop-up.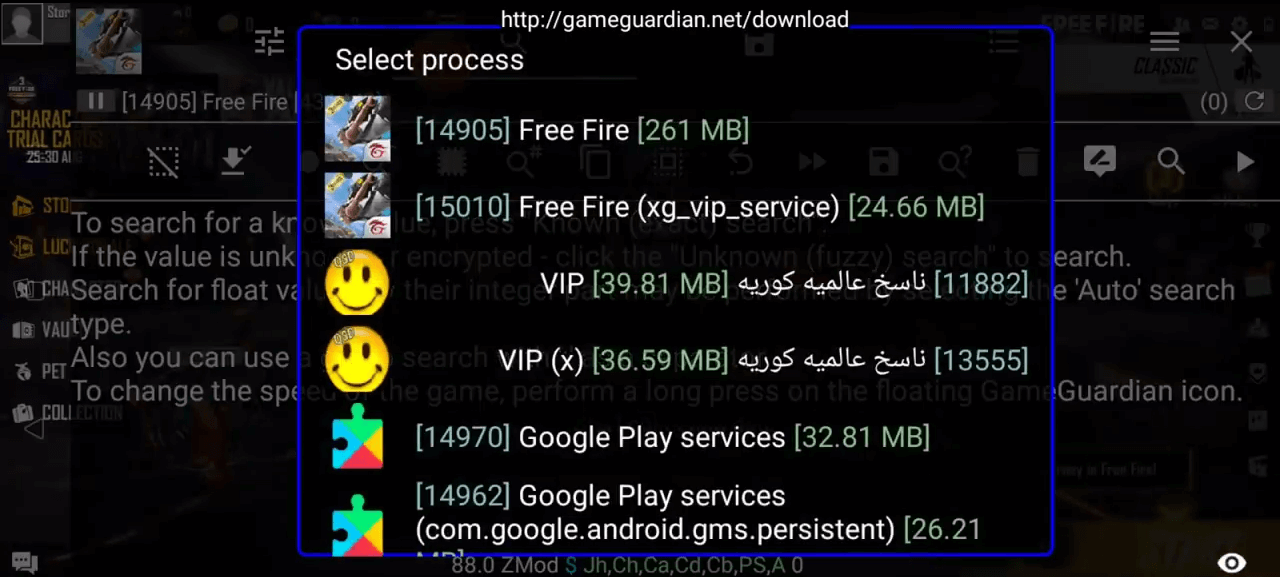 Once this is done, go ahead and click on the Play icon located at the right-hand side of the screen.
This will open another window. Now click on the three dots and then browse through your device or SD card storage to locate the .lua script you downloaded earlier.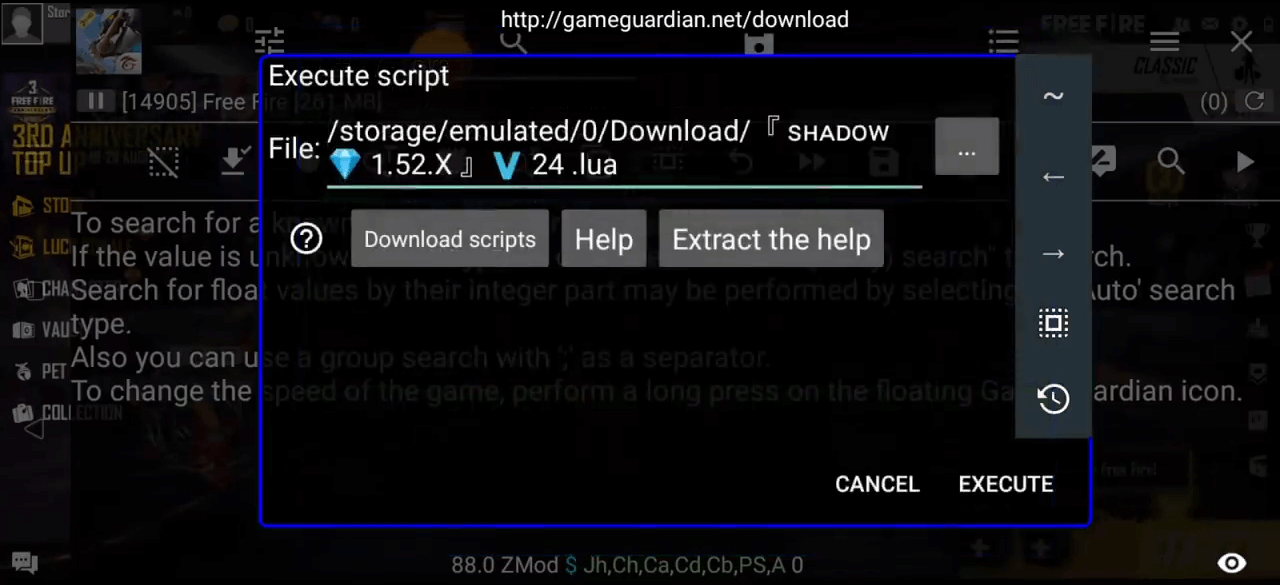 Once found, select it and then click Execute. That's it. You can now go ahead to select which hack you want and it'll instantly inject into the game.
Free Fire Hack for Diamond: Is There Any?
Just like Fortnite V-Bucks, the craze for Free Fire Diamond is very real. You'd see a slew of players hovering from one site to another in search of generators or hacks that can inject plenty of Diamonds into their game and as a result, thousands of people attempt to prey on these set of folks and if they happen to fall for their tricks, they'd end up enriching the pocket of the site owners while going home with nothing.
For folks unaware, Diamonds are the premium currency in Garena Free Fire. With it, you'd be able to purchase a wide variety of cosmetics that you can show off during matches. That aside, they can also be used to buy fancy outfits, vehicles and weapons that glow.
Now the truth is, there's no Free Fire Diamond hack. The only way to get diamond swiftly in the game is to buy them. Of course you can grind whilst keeping an eye on the events tab, but you will only get a very small number of Diamond and that too after working very hard for it.
Now our attention as been drawn to the Free Fire Diamond hack that's currently trending round the web and having looked into it, we found out that they're all scam. Below, we are going to proof to you that these hacks are outrageously fake.
Revealing the Free Fire Diamond Hack Scam
When a game starts to make waves, it tends to attract the disingenuous people lurking round the web. This sadly is the case with Garena Free Fire. Knowing how popular the game is and the dire need for free Diamond, hackers have come up with a means of creating generators or websites that claims to provide unlimited Free Fire diamond.
This is fake, pure scam and we strongly urge you to stay away from such sites. On YouTube, you'd see a dozen of user-generated videos claiming to help players get free Diamond in Free Fire, but this isn't real.
At first, you'd be moved by the millions of views these videos get coupled with the positive bot-generated comments but they're all fake. One other scam that has gotten our attention is the use of game hacker apps like GameGuardian to modify the actual value of your Diamond.
We all know that GameGuardian is an alteration tool and as such can change the parameters of any game by substituting the actual values in the run processes with values chosen by the user. For instance, if you have a counter with 1000 coins, you can easily modify it to any number that you like.
While this trick works numerically, it still isn't real since you can't spend the diamond generated using the aforementioned app.
Garena Free Fire as we all know, is server-based, thus making it difficult to hack. All the data relating to its currencies are securely stored on the server-side rather than the client, so there's literally no way you can earn free Diamond in the game aside from grinding and spending real-life money.
In Conclusion,
Do not fall for any generator or videos claiming to offer Free Fire Diamond. They'd make you go through mundane tasks like solving quizzies, partaking in surveys and downloading random apps and at the end of the day, you'd be enriching the pocket of the site owners whilst gaining nothing in return.