NFS Unbound cheat table abound. So if you are looking to win races, unlock all cars or to get infinite nitrous as well as an excessive amount of money, here's the best NFS Unbound cheat table to make use of right now.
Need for Speed Unbound is the latest racing video game in the Need for Speed series. It was released worldwide on December 2, 2022, for various platforms, including PlayStation 5, Xbox X/S, and Microsoft Windows.
The game, unlike its predecessors, is set in the fictional Chicago-based city of Lakeshore, where players are tasked with racing against time, outsmarting the cops, and taking on weekly qualifiers to reach the Grand, which of course is the game's ultimate street racing challenge.
Also Checkout: Dredge Cheat Engine Table
In Need for Speed Unbound, there are a total of 143 cars and four different garages to unlock, as well as a premium SpeedBoost that allows players to accelerate faster. Now, assuming you're looking to win every race or shake cops off your tail, here's the best Need for Speed Unbound cheat table to utilise right now.
Need For Speed Unbound Cheat Table
Albeit new, there are a sheer number of feature-rich NFS Unbound cheat tables out there on the web, and each and every single one of them aims to help users simplify their gaming experience. Now, without further delay, here's one cool Need for Speed Unbound cheat table worth making use of.
Features
No Damage, Always First in Races, Cops Don't Chase You (You will still accrue Heat, air support will follow you, and roadblocks will still be active, but police vehicles will not chase you.)
Infinite Nitrous (Includes Extra Boost)
Massive Cash Boost Per Day (Large cash amount accrued before returning to the safehouse)
Vehicles and Parts are free.
Massive Drift Race Score (Sets Drift Race Score to '9,876,543', so you will always win; does not apply to Drift Challenges)
All collectibles Found (Not fully tested)
Low Heat Level After Escape (No matter what your Heat level, once you escape, it will drop to 1)
Reinforcements Never arrive.
Note: The above NFS Unbound cheat table has been tested with the Steam version of the game and in OFFLINE mode. I wouldn't advise using this while online.
How to Use the NFS Unbound Cheat Table
The steps to using the Need for Speed Unbound cheat table are pretty easy and straightforward. So to get this one going,
Once done, turn off your device's antivirus and/or real-time protection, then extract the downloaded zip file using WinRar or 7-Zip.
From here, double-click to open Cheat Engine within the bin folder and also fire up Need for Speed Unbound at the same time.
With both programmes opened, jump into your File Explorer and locate the NeedForSpeedUnbound.CT file downloaded earlier, then double-click to automatically load it into Cheat Engine. Alternatively, you can select the .CT file via the Folder icon within Cheat Engine.
Once the NFS Unbound cheat table is loaded, click on the Computer icon visible at the top-left corner of Cheat Engine and select Need for Speed Unbound from the Process List.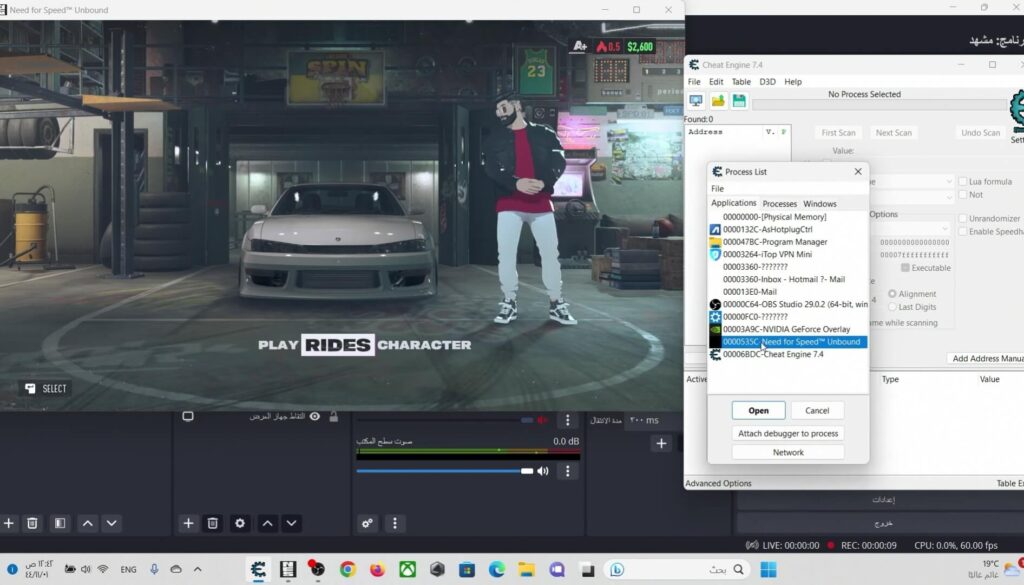 That is all. You can now click to tick the box next to the table name beneath the Cheat Engine software to show the list of cheats available in each section.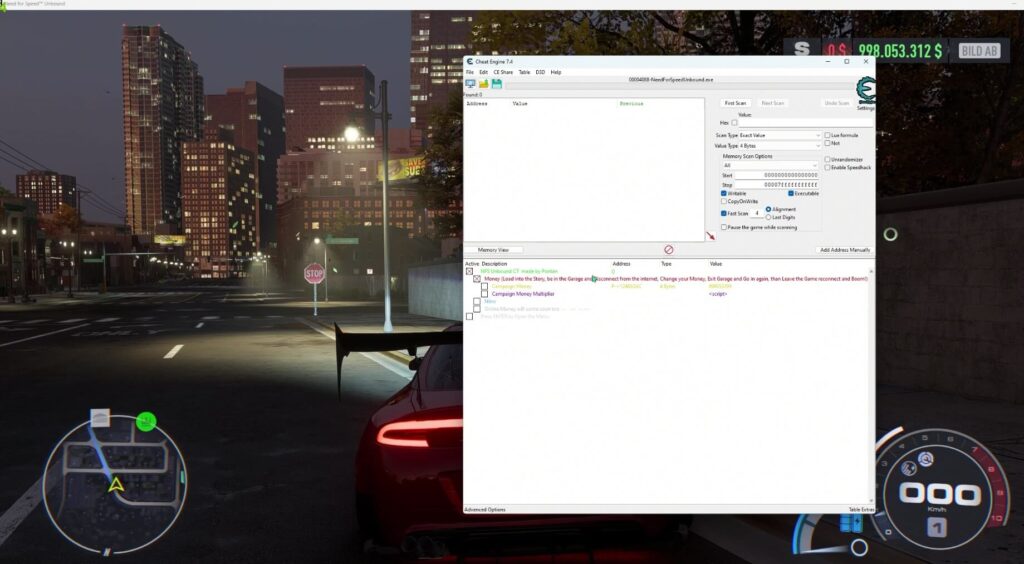 Once you stumble upon a cheat you desire, click to tick the box next to it, and the cheat will be automatically activated in the game.
Wrapping Up
So this is literally the only NFS Unbound cheat table you will ever need. If you encounter any issue or error while activating it, simply use the comment box below to notify us, and we'll try to provide a solution as soon as we can.