ourWorld gem codes galore. So if you are looking to get free gems, then here's a list of all the ourWorld cheats worth redeeming right now.
Assuming you are a huge fan of Gacha Life and Second Life, then FlowPlay's browser-based game ourWorld will surely allure you. It's basically a social virtual world game that brings players (mostly teens) together and immerses them in a brilliant metaverse filled with hundreds of mini-games.
From completing simple objective such as solving puzzles and engaging in actions to decorating your own condo and more, ourWorld typically blends casual gaming and creative expression. It's a game designed for casual games alone and it offers tons of contents to match. It's character customization is second to none and there's a slew of beautiful and cool-looking clothes to adorn your avatar with.
Also Checkout: Dungeon Defenders 2 Codes for Free Gems
Whilst bored, you can easily guide your character to contests or you can choose to go to a sideshow theater and, of course, partie. OurWorld brings loads of games from different genres that you can play in other to earn flow (i.e the in-game currency).
That aside, it offers a great place to meet other people with similar interests. Players can easily form virtual relationships with one another and even get married. It's fun per se and there's a whole new world to discover.
Now if you are looking to skip the hurdles of grinding, then here's a complete list of OurWorld gem codes and cheats to redeem right now.
ourWorld Gem Codes
Here, we'll be unveiling all the currently active gem codes for ourWorld. Redeeming any of these codes will instantly reward you with a specific amount of gems that can be used to buy items such as clothing, accessories or furniture for your avatar. So without further ado, here's a list of all the ourWorld Gem Codes.
2508-9D4B-8C1B-E96F (Gives you free gems)
4173-D7F5-3408-F2F5 – (Gives you free gems)
E870-2175-3865-1E59 – (Gives you free gems)
3971-96AE-076C-928C – (Gives you free gems)
091E-E64C-7EA4-C505 (Gives you free gems)
45ED-E385-7335-9A1F (Gives you free gems)
2B8C-78EF-5CCA-FBDF (Gives you free gems)
E499-8D12-A3CC-D52D (Gives you free gems)
2AED-3403-F982-8D88 (Gives you free gems)
A4A8-5405-EE6F-A330 (Gives you free gems)
BE0D-279D-5659-F87D (Gives you free gems)
So these are a list of all the currently active cheat codes for ourWorld. Do endeavour to redeem them before they expire.
How to Redeem Gem Codes in ourWorld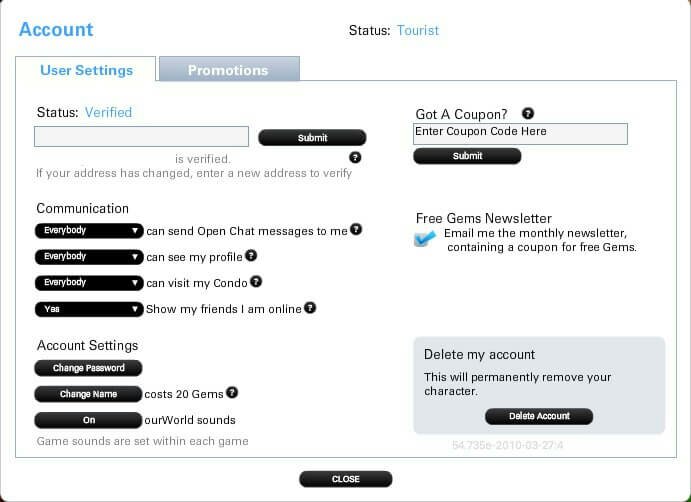 To get this one going, simply fire up the game and jump into Settings. From here, look for a text that says Got A Coupon and underneath it, you should see an empty box. Simply copy and paste any of the above gem codes in there and click submit to get your reward.