Paladins redeem codes galore. So if you're looking to get free skins, then here's a list of all the Paladins codes for PS4, Xbox One and PC.
It's hard to pass by games like Paladins and despite the fact that it's been accused of shamelessly copying from Overwatch, the team-based online shooter still offers a colorful aesthetic that's hard to beat.
With that said, Paladins is a game with class. It features a wide variety of champions coupled with an in-depth customization ability that makes the overall gameplay fun.
The game itself is set in a sci-fi fantasy world where a group of heroes featuring unique abilities and weapons are tasked to capture objectives all in a bit to earn points that can be used to open treasure chests.
From skins to collectable cards, you'd find a dozen of items to unlock and they're mostly needed to customize your character's look and even upgrade their skill loadout.
Also Checkout: The Best Free Fortnite Account Generator
Paladins is feature-rich no doubt and despite the repetitive map design, it's still one of the very few fast-paced MOBA that is still worth playing. Generous it is indeed and it's support for promo codes makes it completely alluring.
Now if you're looking to get free skins that can be used to personalize your heroes, then here's a list of all the currently active Paladins codes to redeem right now.
Paladins Codes
One thing with most Paladins Codes is that they're only available for one-time use. A quick Google search and you'd see a slew of them all over the internet but as feared, they have all expired. Below are some of the Paladins Codes that are already passé.
APFM100K8CE280427 – Gives you the Frostmare Mount
APXRCRCBD47071212 – Gives you the Radiant Chest Roll
AZDRCXYYF67872018 – Gives you a Unique Random Skin
APXSFCAEB58D71212 – Gives you the Infernal String
APGCA3D5709B80323 – Gives you a Unique Skin
So these are some of the codes released for Paladins in recent years but unfortunately, most of them are no longer working.
How to Redeem Paladins Codes
For players already used to the game, the steps to redeem codes for Paladins is crystal clear. But if you're still new, then here's how to redeem Paladins Codes with ease.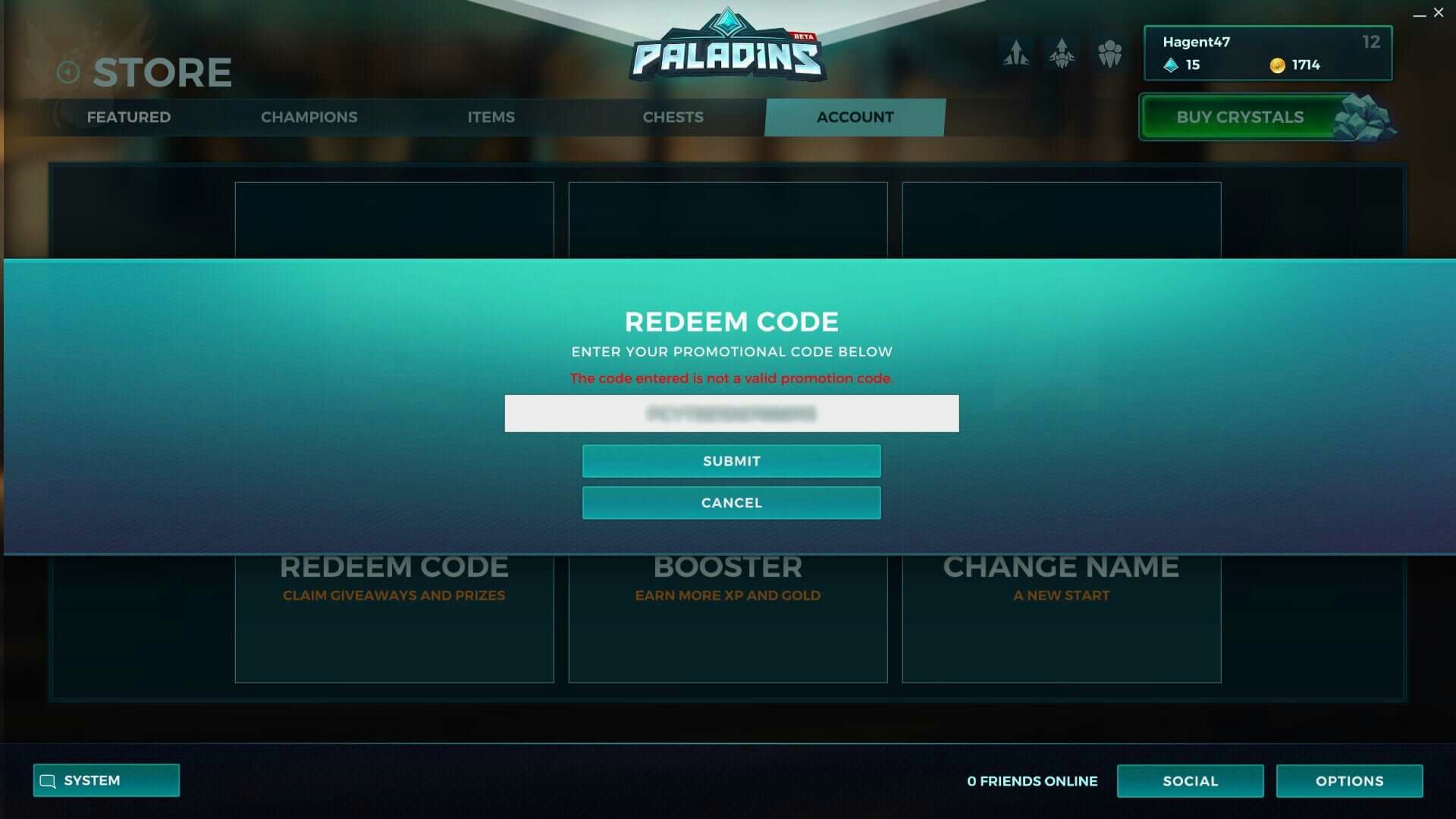 To get this one going, simply head over to the "account" section of the game's menu and you should find an option to redeem codes. Go ahead and enter any of the above listed codes to see if they're still active.
How to Get Free Paladins Skins
We're guessing the above listed Paladins Codes didn't work for you. Don't worry for there's good new. In other to get some free skins for Paladins, you'll need to head over to the site's official page.
Once you are in, simply scroll all the way to the bottom and you'll find some skins and mounts that you can get for free by subscribing to the site's social media page.