Looking to catch 'em all without having to move around? Then here's how to Spoof Pokemon Go on iOS and Android.
The augmented reality game that's brought players out of their homes to catch Pokemon across the globe has really brought tons of real-world negatives and it is high time we remedy the situation. In 2018, a promising young man was amputated after falling on to railway track whilst playing Pokemon Go.
Then came the pregnant woman who experienced the Minneapolis weekend shooting in 2018 for been at the right place at the wrong time. That aside, we saw the case of a boy who was smashed by a car windscreen and was seriously injured whilst trying to catch Pikachu and just when we thought we've seen it all, then came the Danish Pokemon hunter who was killed in a traffic accident whilst playing Pokemon Go.
Also Checkout: How to Hack Pokemon Go on Android and iOS
You see, the craze to catch 'em all is real and as of writing this article, Pokemon Go since launch has recorded 21 deaths and 60 injuries. Now you'd wonder how to stop this madness, how can one catch 'em all without having to leave his/her comfort zone. Well this is where Pokemon Go spoofer and/or Pokemon Go spoofing apps comes in to play.
As y'all know, Pokemon Go has region-specific characters that you may never get to see nor catch. Hence the best way to come in contact with these creatures is to implement the act of deception which in this case is spoofing. To clarify things, Pokemon Go spoofing is the act of faking your GPS Location to make the AR game think you're at a different spot on the map.
For example, you can easily teleport to a crowded street in Michigan whilst relaxing comfortably on your couch in Brazil. By so doing, you'd be able to find and catch all the Pokemons in that region without worrying about the geographical restrictions. Now if you're already itching for some hacks, then here's a list of the best Pokemon Go spoofer and/or Pokemon Go spoofing apps to utilize right now.
1. iPogo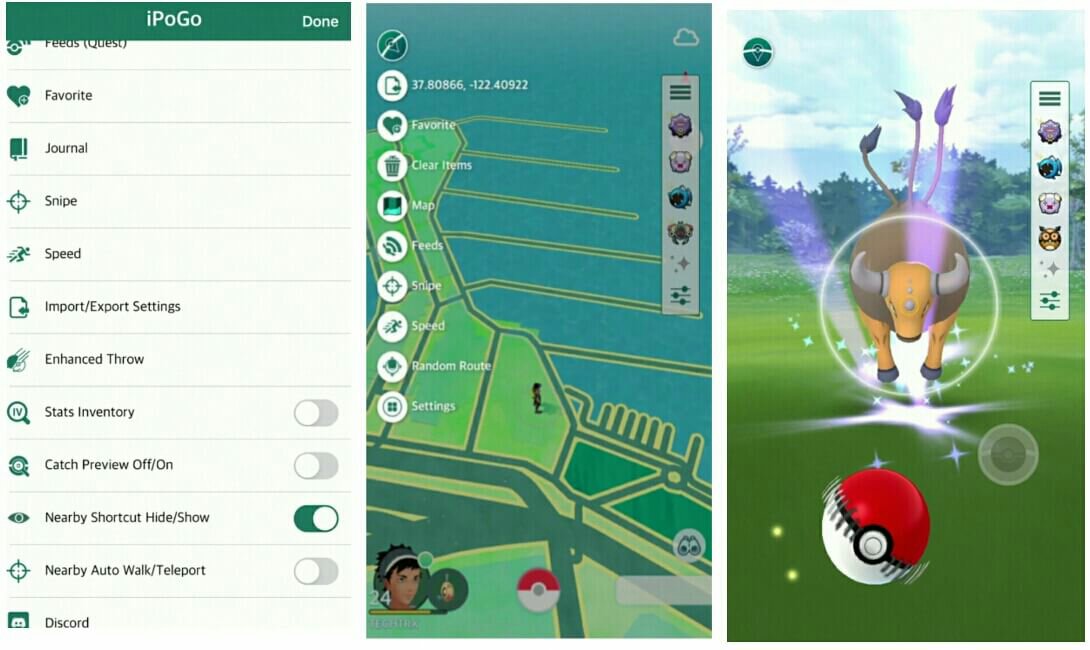 With iSpoofer gone, iPogo has returned and this time, it is all set to reclaim its glory of being the best Pokemon Go Spoofing app on iOS. For the uninitiated, iPogo aims to add additional features to the vanilla game. From joystick to teleportation and more, it is basically a modified version of the original Pokemon Go.
With it, you'd be able to change the GPS location on the map without having to move to the point and by so doing, you can easily capture a Pokemon that's far from your real location. One of iPogo's strong point is the Pokemon Go Plus and/or Go-Tcha emulation feature it brings and I really love the fact that it is able to give you an estimated cool down timer based on your location.
GPX routing wise, iPogo rocks. It also offers feeds that let's you keep tab on specific Pokemon raids and research quest. There's also an "auto runaway if not shiny" feature and an IV checking that's pretty solid. That aside, its ability to set up limits for each item in the game is pretty awesome.
2. PGSharp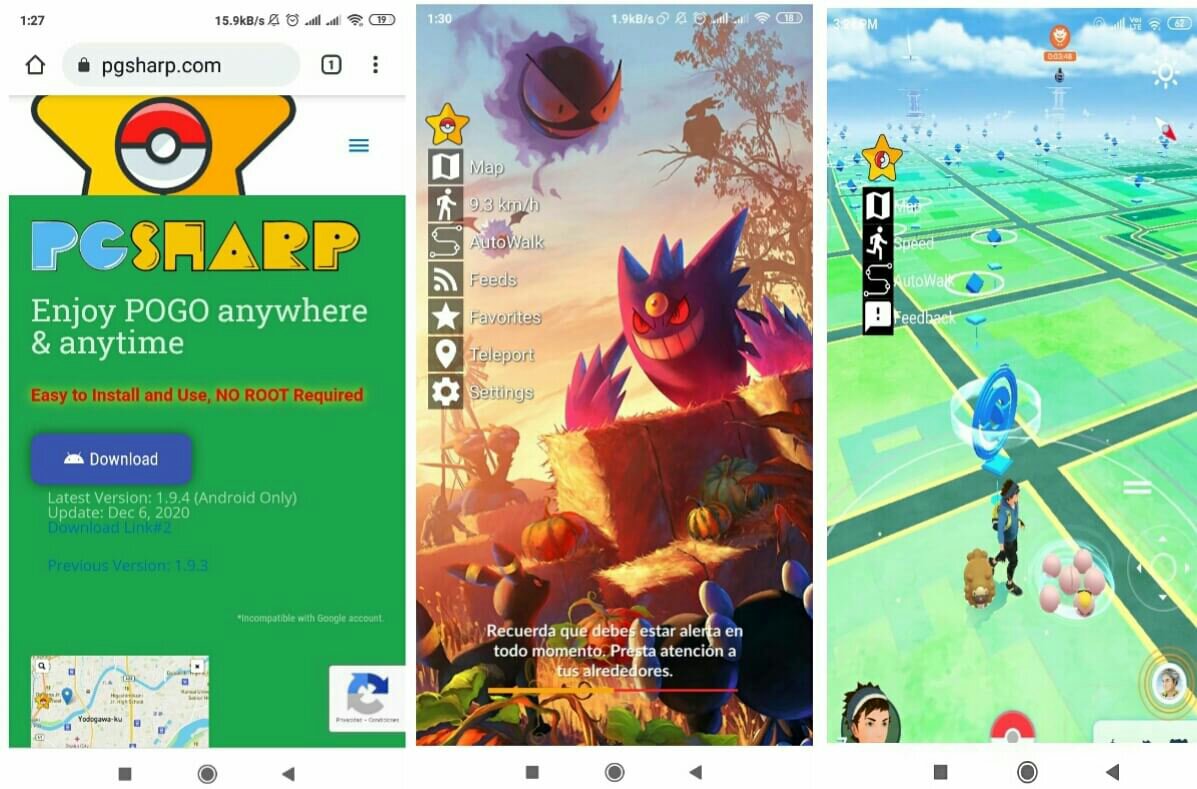 It is pretty disappointing already to see that in other to encounter and possibly catch a Pokémon that can be trained and sent to battle, one has to actually go outside into the real-world and explore. Fortunately, PGSharp is here to put a stop to that and trust me when I say it works and that too without qualms.
Widely known as the best Pokemon Go spoofer for Android, PGSharp introduces a dedicated joystick that let's you control your avatar's movements on the real-time location tracking map. By so doing, you'd be able to teleport and catch Pokemon in any region of your choice without having to move around.
That aside, the app brings an auto-routing element that's second to none. With its GPX Routing, one can easily select the number of Pokestops they want on their route and with just a tap, it'll be generated automatically. PGSharp Pokemon Go doesn't need GPS to track your movement, and it's able to hatch eggs too.
3. FGL Pro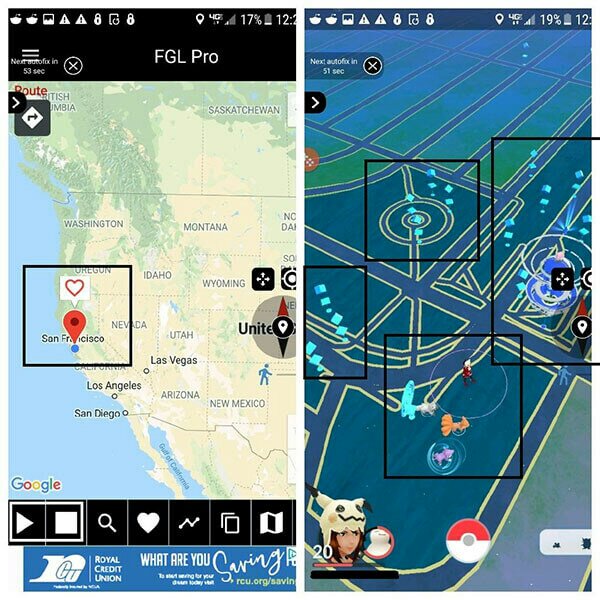 At a glance, one may thing FGL Pro is just a random app. But having seen how it functions with Pokemon Go, I'd say it's really generous. At its core, FGL Pro is an Android app that let's you change your device GPS location to anywhere.
Hence assuming you're playing Pokemon Go and can't find Pikachu in your area, you can easily use it to establish false co-ordinates and look for it further in another region without having to move physically.
The app is really versatile and offers fake joystick as well as routes. Its drawback nonetheless is that it does not work on versions of Google Play Services beyond 2017. Hence in other to utilize it, you'll have to uninstall the newest version on your phone prior to installing an older version.
4. iTools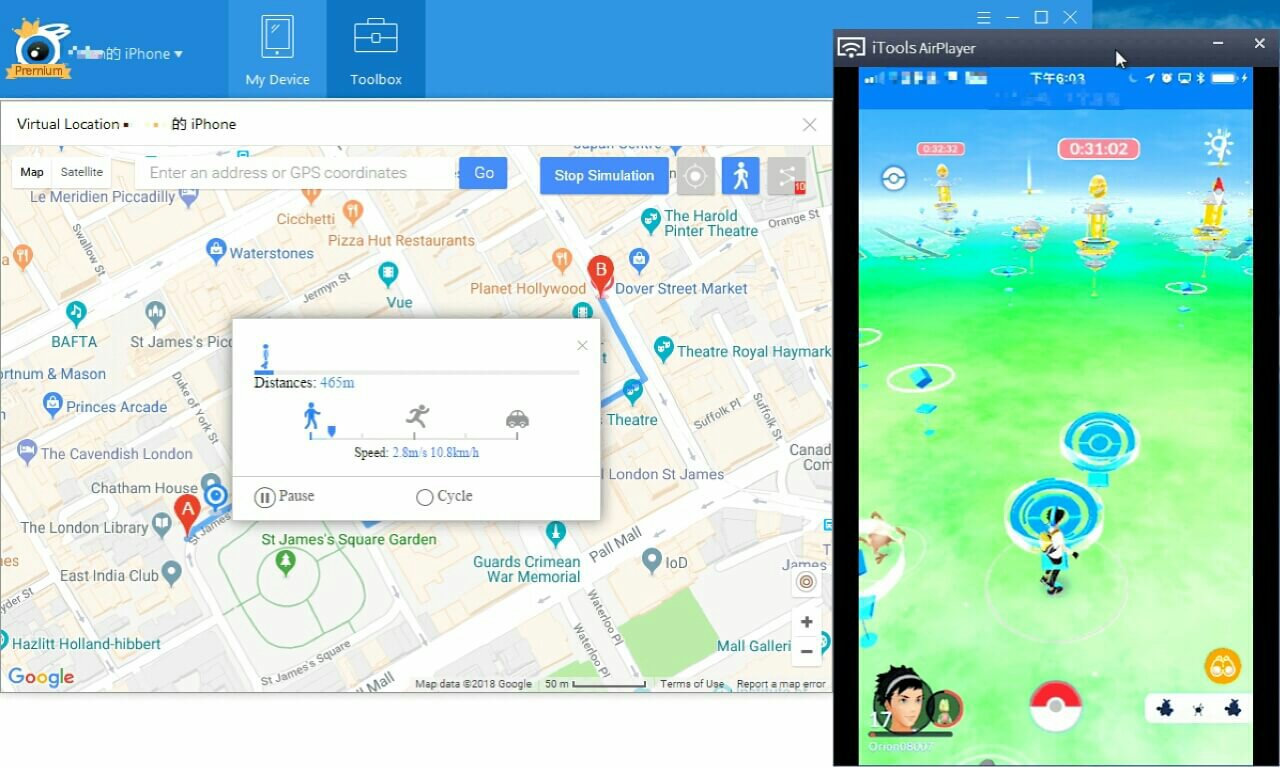 ThinkSky's iTools is often regarded as one of the best iTunes alternatives out there. It lets you manage your iOS device in a whole new way and comes with a plethora of features. From photos to music, apps and more, one can literally use iTools to rename, delete and transfer files with ease.
That aside, one of iTools special feature is the virtual location it brings. This can be utilized in games like Pokemon Go to Spoof your location. There's no need to jailbreak anything here, as the tool works entirely on PC.
All you have to do is to connect your iOS device to your system and you'd be good to go. Moreover, iTools virtual location brings support for auto-walk and you can easily make use of its gotcha and GPX routing abilities. It's really stable, and works without qualms.
5. Fake GPS Joystick & Routes Go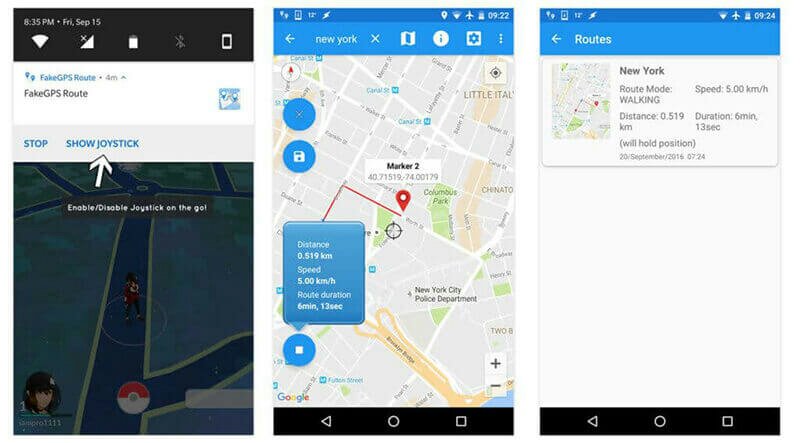 Next up is Fake GPS Joystick & Routes Go. Albeit paid, it is really one of the many apps that let's you place yourself anywhere on the globe with just a single tap. The app works well with Pokemon Go and allows you to create routes from one point of the map to another and it comes with fake GPS Joystick for easy navigation.
Sincerely speaking, Fake GPS Joystick & Routes Go is cool for Pokemon Go spoofing and it's definitely easy to setup provided you allow mock locations under the Developer settings on your Android phone.
6. Fake GPS Go Location Spoofer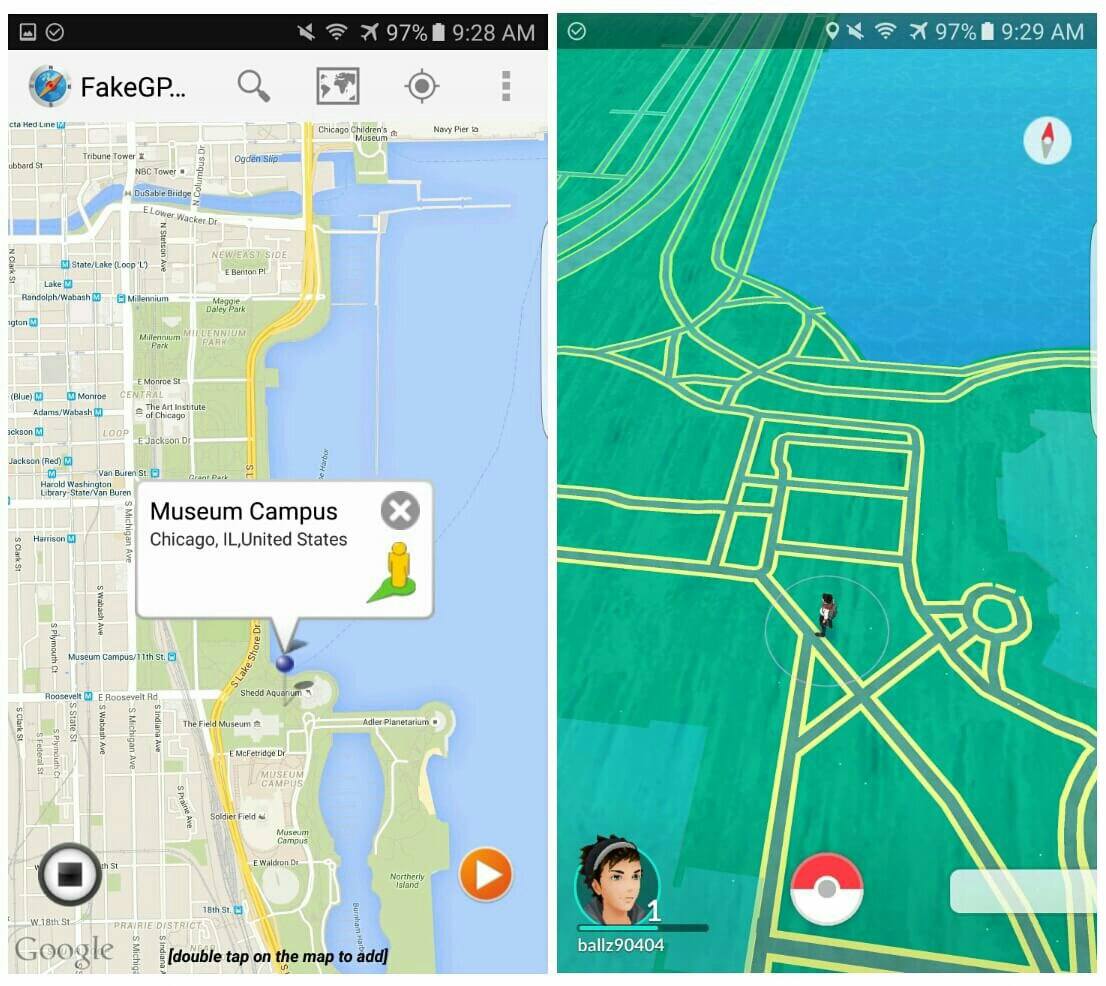 Fake GPS Go Location Spoofer works by overwriting your current proximity so that you can prank certain apps into thinking you are somewhere else. With it, you can capture a plethora of "region restricted" Pokemon without having to move around.
That aside, the app offers the standard Pokemon Go spoofing techniques we're all use to. From cooldown chart to stops and gyms, joystick operation, routes creation and more, you'll definitely love its spoofing options including the expert mode.
Wrapping Up
So this is it, a list containing the best Pokemon Go spoofer and/or Pokemon Go spoofing apps for iOS and Android. While we won't deny the fact that there are other numerous apps that let's you spoof Pokemon Go with ease, the ones listed above are literally the best. With an integrated joystick for easy navigation as well as a teleportation feature, capturing geo-restricted Pokemon has never been this easier.