Looking for the best Pokemon Go Hack for iOS and Android? Then here's how to hack pokemon go painlessly.
The craze for Pokemon is real and as an introvert, you'd find it weird. On the streets, you'd see groups of people walking day and night staring wide-eyed at their phones and laughing uncontrollably. At first, you'd think they're participating in some kind of new social media craze or probably watching some funny videos on Tiktok but it's far from these.
That aside you may have come across the news featuring a Taiwanese grandpa who rigged his bike with 64 phones just to play the ubiquitous augmented reality game dubbed Pokemon Go. You see, this monster-catching habit is real and it's probably not stopping anytime soon – but we may have found a way to halt it and this is all thanks to the phenomenon Pokemon Go hack.
Also Checkout: The Best Pokemon Go Promo Codes
For folks uninformed, Pokémon Go is an augmented reality game that task players to catch creatures known as Pokemon and they actually have to go outside into the real world to find them. It's fun per se and works by utilizing your GPS signal to relay information about a Pokemon nearest to you and if you happen to be close enough, you'd be able to capture it with ease.
Now assuming you're like me, you'd rather not leave the safety of your home just to catch Pokemon. This is where Pokemon Go hack comes in to play. So if you are all set to catch them all whilst sitting comfortably on your couch, then here's how to hack Pokemon Go with ease.
Revealing Pokemon Go Hack Scam
Pokemon Go is viral and as such, a plethora of "disingenuous people" roaming round the web have decided to cash out from it by fooling the gullibles. On YouTube, you'd see tons of videos claiming to provide the best Pokemon Go hack out there but it's all fallacy.
They'd ask you to go to a specific website and there, you'll be asked to complete some sort of surveys which mostly includes downloading third-party apps in exchange for a modified version of the original Pokemon Go and once you complete this offer, you'd be making the site owners cool dollars whilst being left with nothing.
Hence to be safe, we sincerely urge you to desist from using these sites since they're fake.
Pokemon Go Hack
Before now, a slew of players made use of iSpoofer to hack Pokemon Go but following a recent crackdown by Niantic, the app went offline and since then, there hasn't been any alternative.
Nonetheless, we urge you not to frit as we have found the best Pokemon Go hack that works on Android and iOS. So without further ado, here is how to hack Pokemon Go.
How to Hack Pokemon Go on iOS
Pokemon Go spoofing on iOS is actually possible thanks to iPogo. Often referred to as the best Pokemon Go spoofer out there, iPogo is simply a modified version of the original Pokemon Go.
It offers a plethora of features as well as the ability to change the GPS location on the map without having to move to the desired point in real-life. With iPogo, you can easily teleport and catch a Pokemon which is far from your current location.
The app's most important feature perhaps is the "Go-Tcha" emulation. With this enabled, you'd be able to trick the app into thinking there's a Go Plus connected to your iPhone and when you combine this with GPS routing and Auto-walk, you'd have an active Pokemon Go bot that can spin stops and automatically catch Pokemon for you.
That aside, iPogo let's you set up limits for each items in the game. It's pretty cool indeed but can be pretty difficult to install. So to help you out with this one, here's how to install iPogo on your iOS.
Installing iPogo
There are two ways to install iPogo on iPhones. One is through the Signulous direct install method which is paid of course or you can use an all-in-one tool such as 3utools to sideload it onto their iPhone. Here, we'll go with the latter since it is free. So without beating around the bush, here's how to install iPogo on iOS using 3uTools.
To begin with, simply head over to the following URL www.3u.com and download 3uTools on your Windows PC.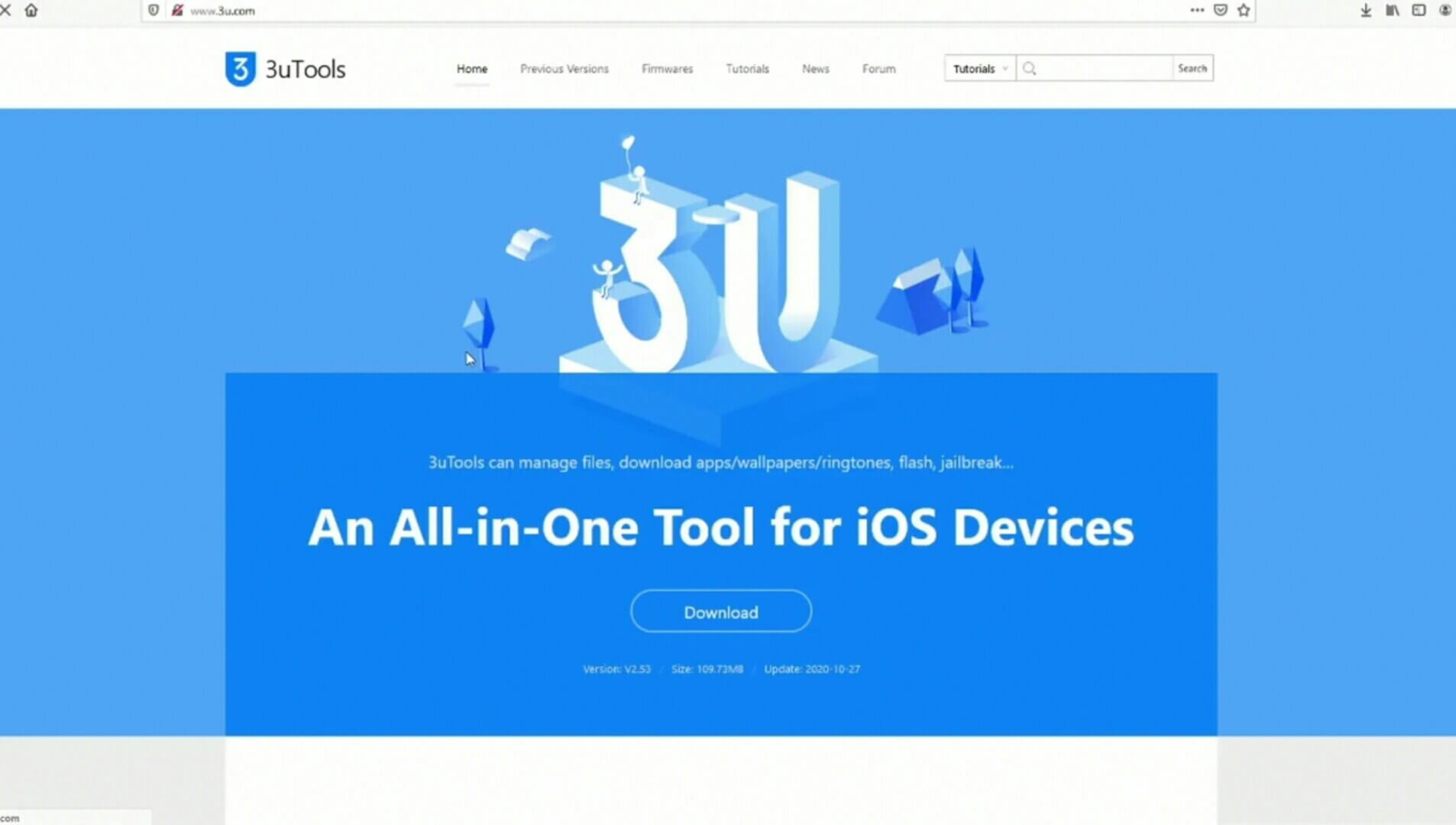 Once done, download the iPogo ipa file from here onto your PC, then connect your iPhone to your PC using a USB cable and launch 3uTools.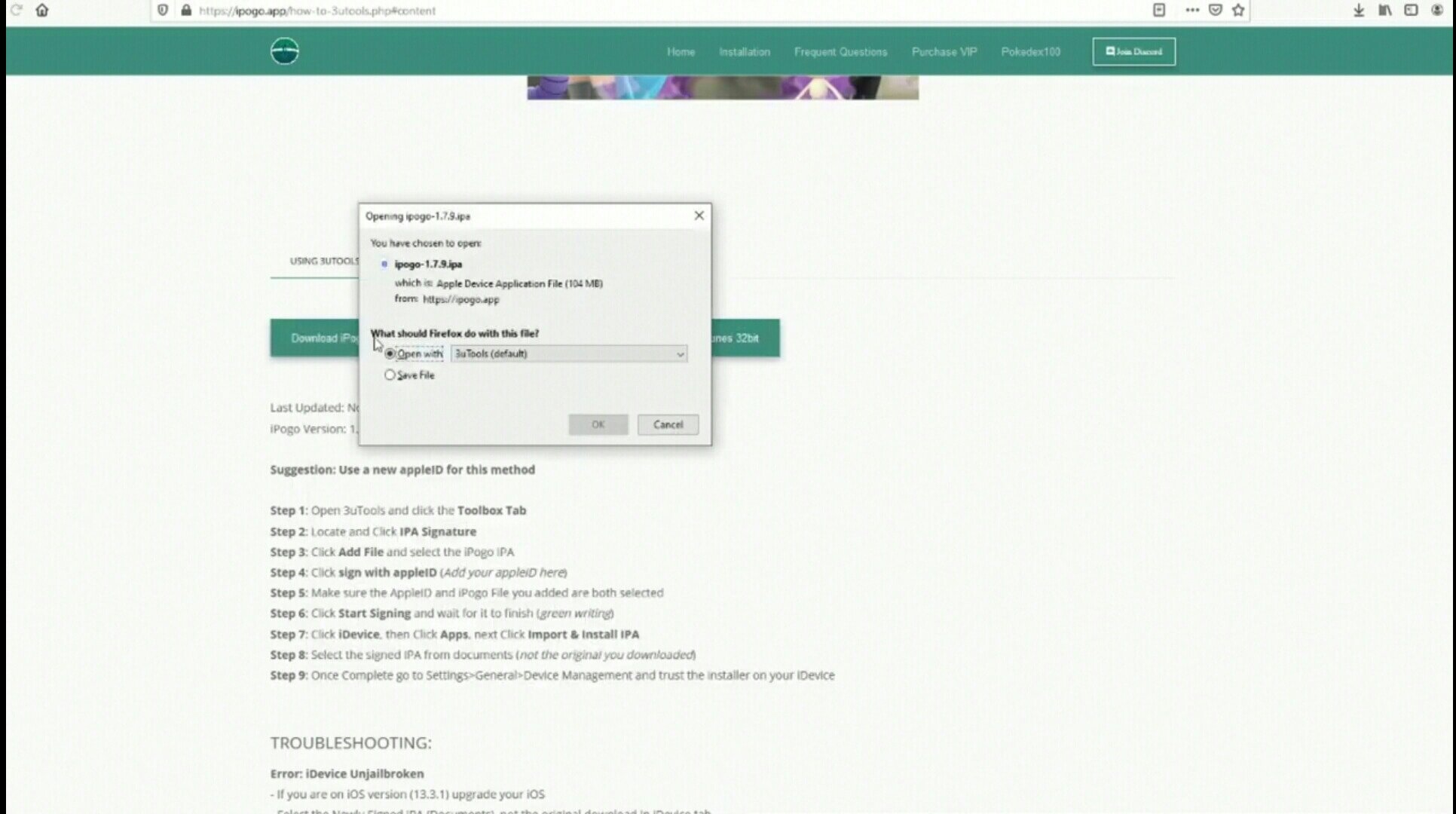 From here, click the Toolbox option on 3uTools and select IPA Signature from the list of tools presented.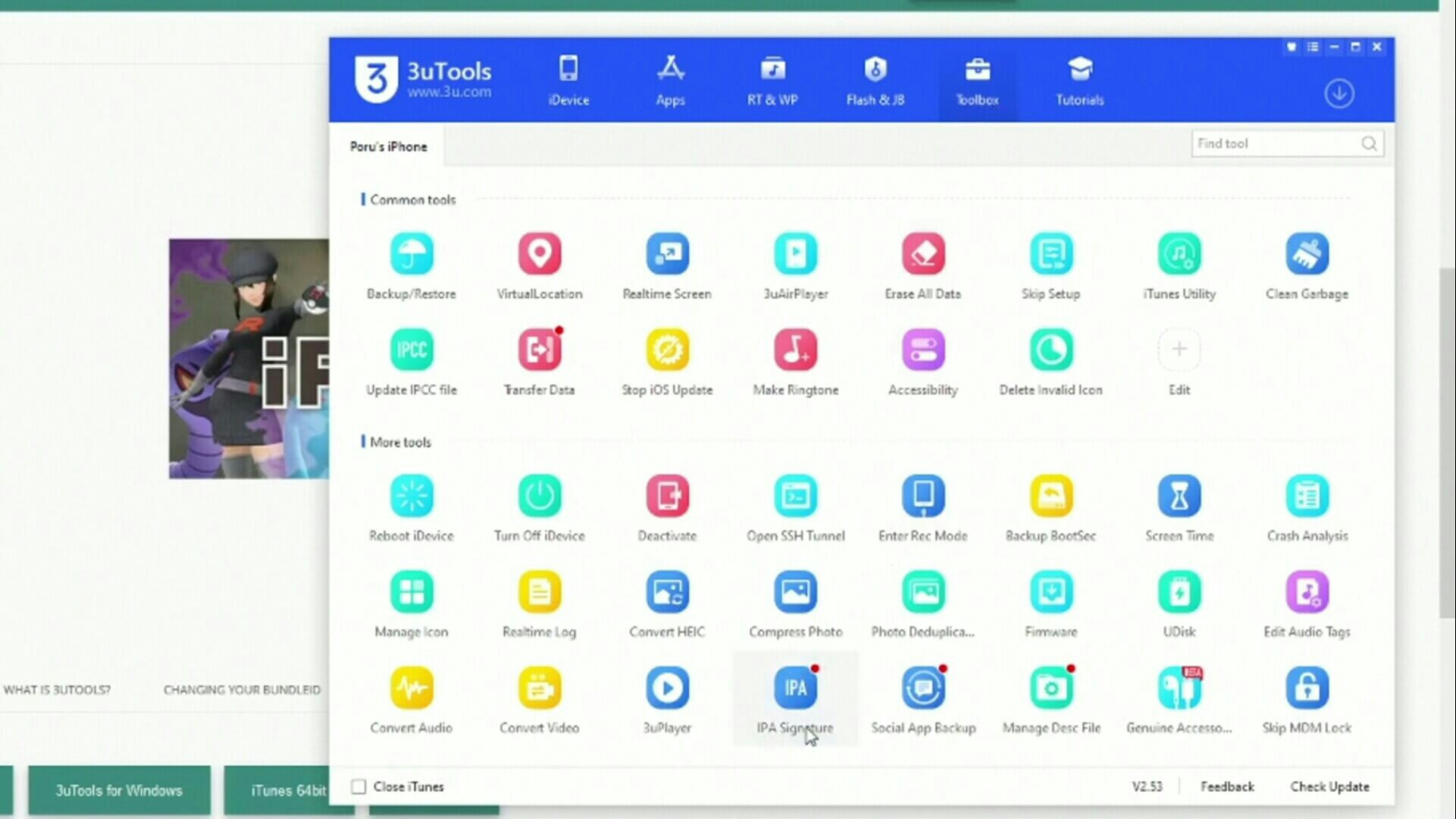 Now click on the Add iPA files button, then locate and select the iPogo ipa file you downloaded earlier.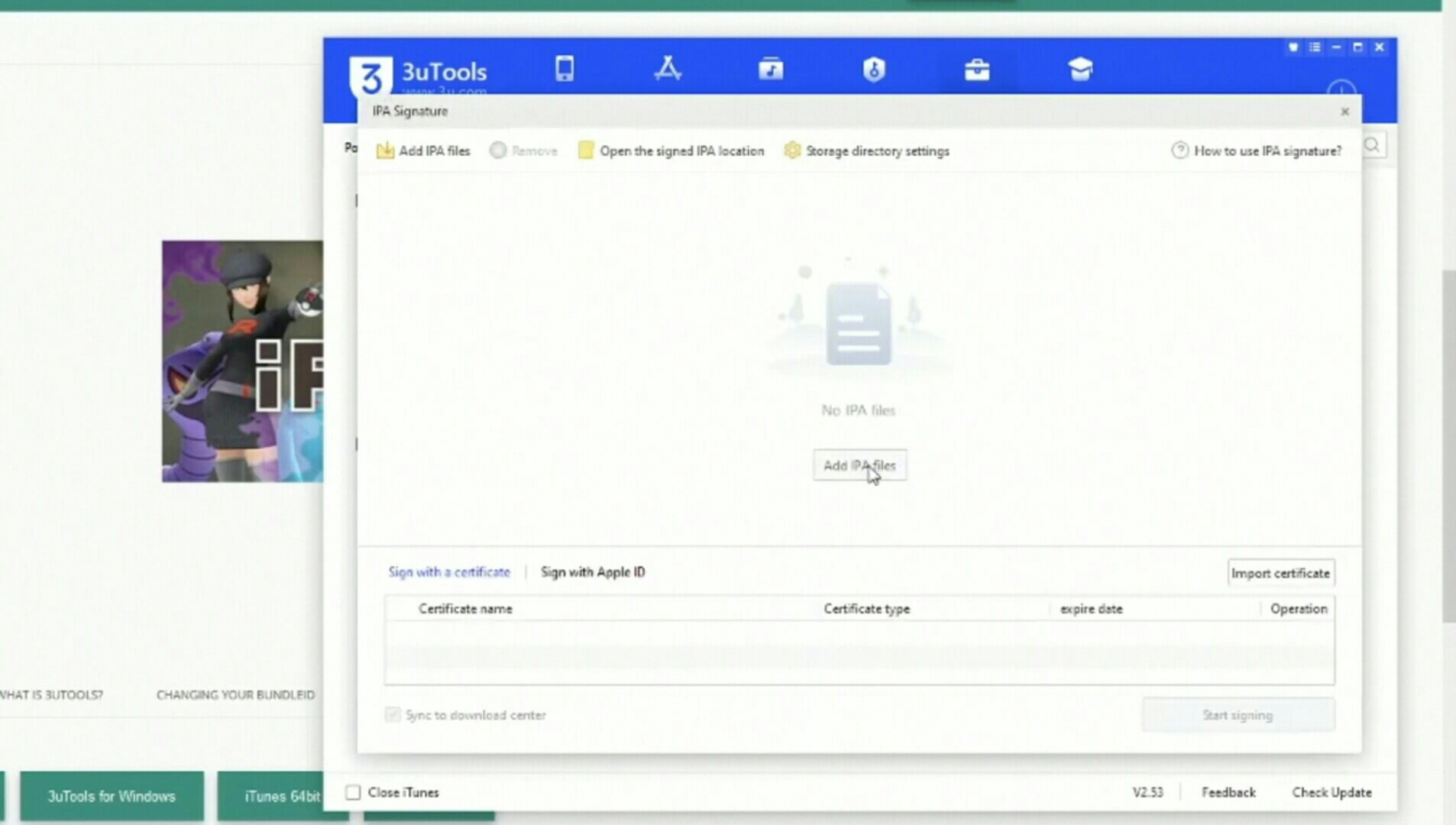 Next up, click on where it says Sign with Apple ID followed by Add Apple ID. Here, enter the same Apple ID that's currently in use on your iPhone and then click the Start signing option.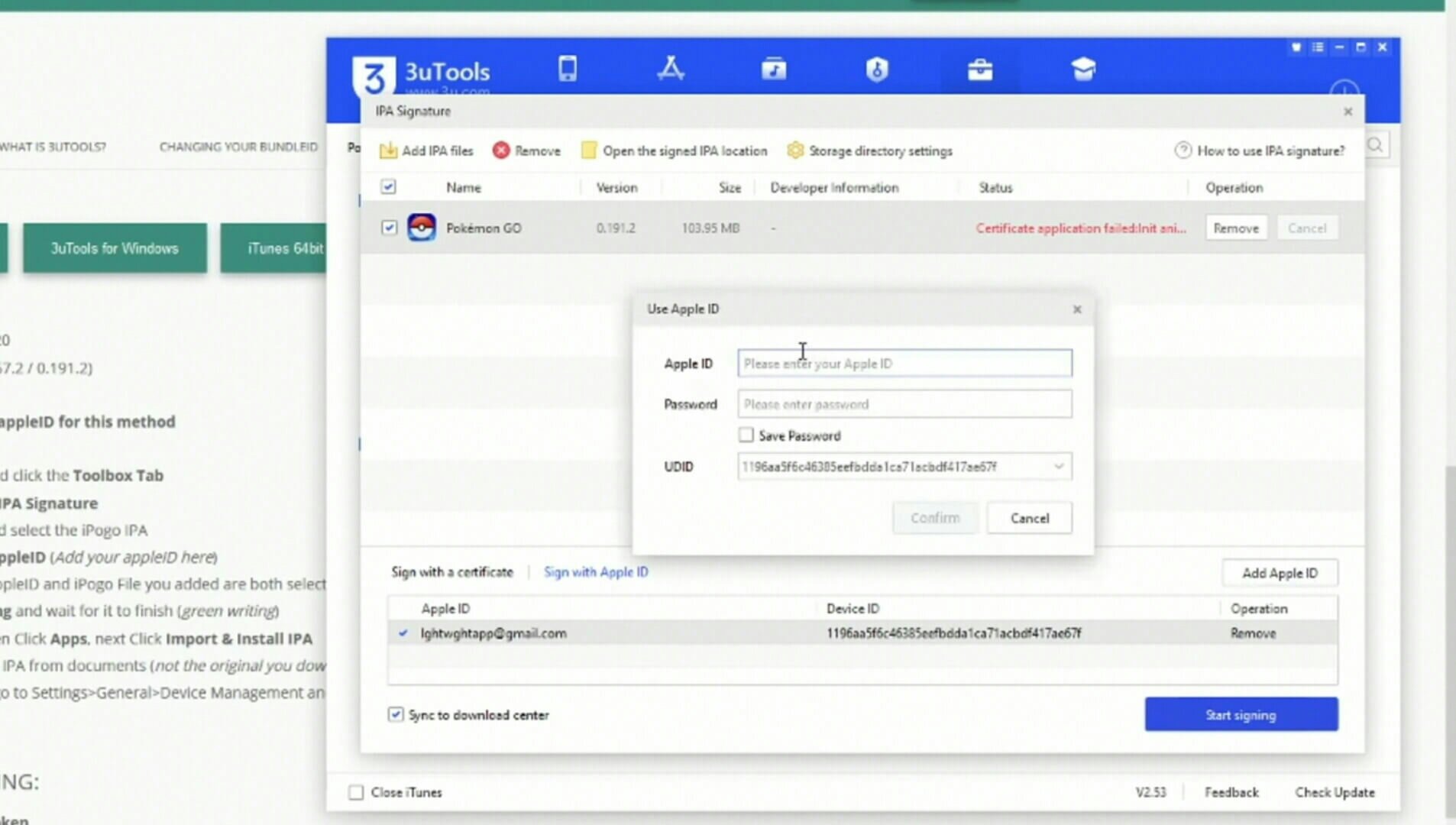 A two-factor verification code will be sent to your iPhone along the way, so go ahead and input them in the provided box in other to complete the signing process.
Once you get the Signature succeed message, simply click on the option that says Open the signed iPA location and then take note of this directory.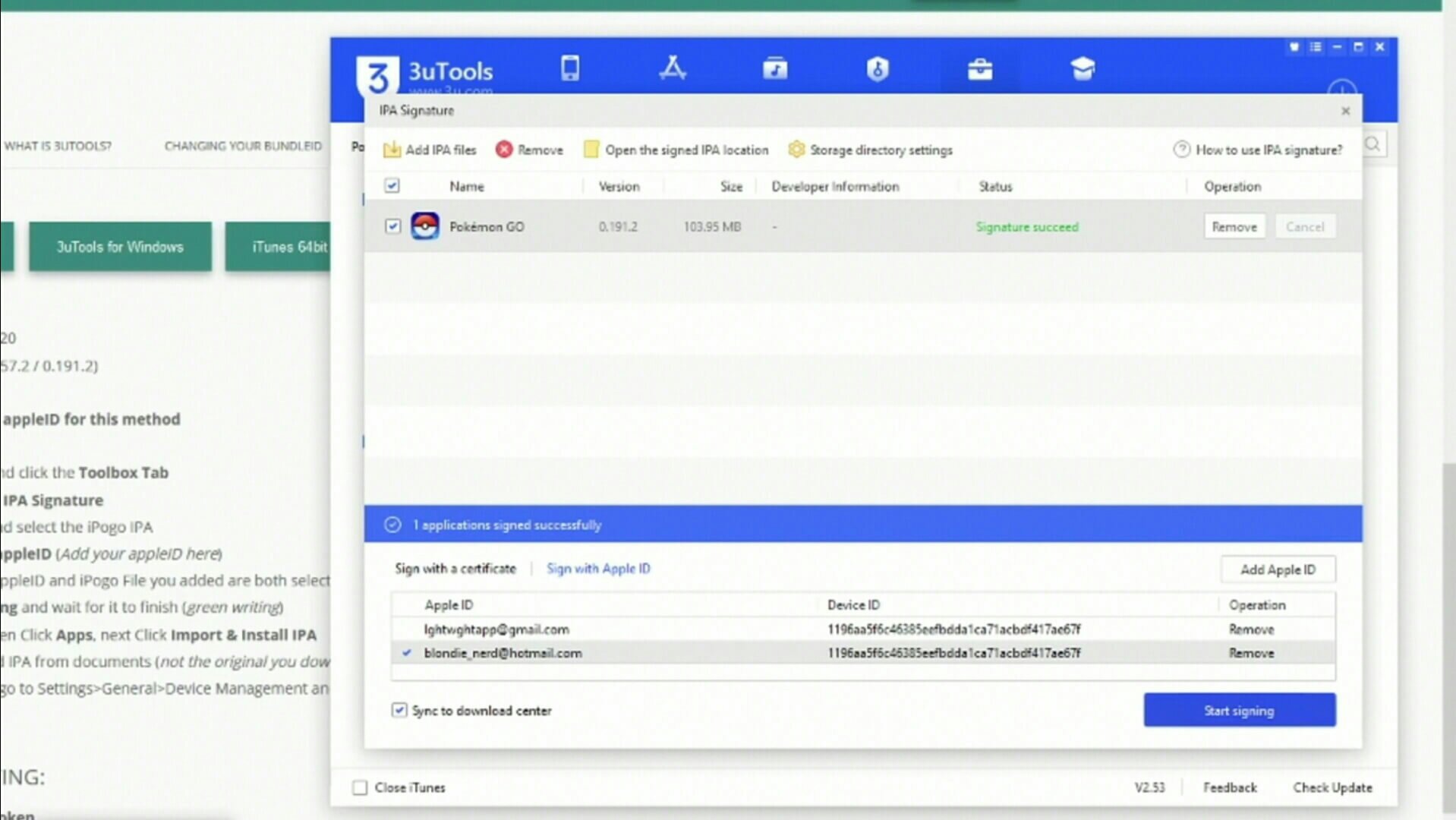 With that done, go ahead and close the current window you're on and then click on the iDevice option visible on 3uTools.
Next up, select Apps from the side bar and click the Import & Install ipa option. Now find the ipogo ipa we signed earlier from the directory specified above and select it.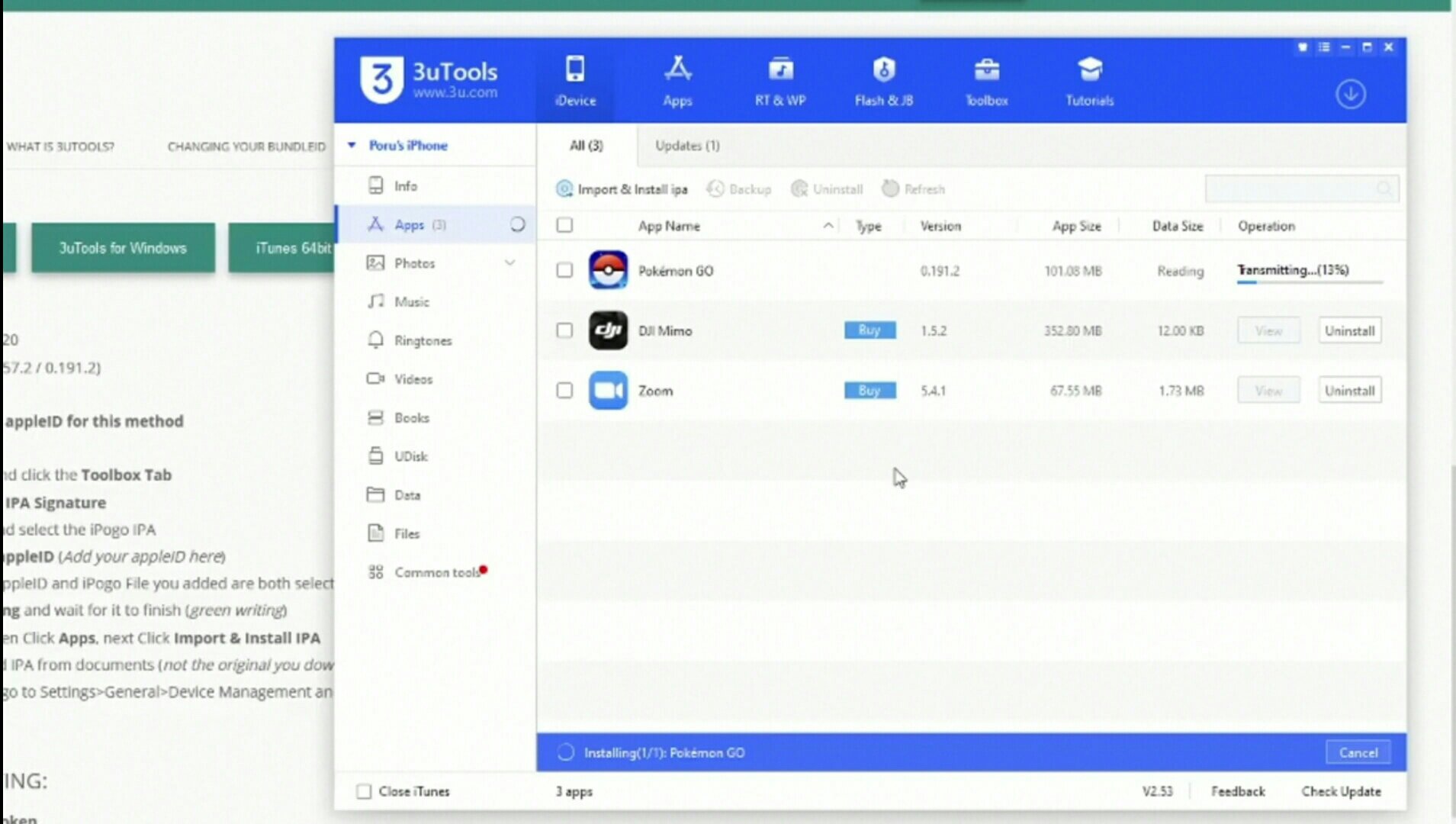 Wait till the Transmitting and Installing process is completed and you should be good to go.
Now from your iPhone, navigate to Settings -> General -> Device Management and select the current profile and Trust it once prompted.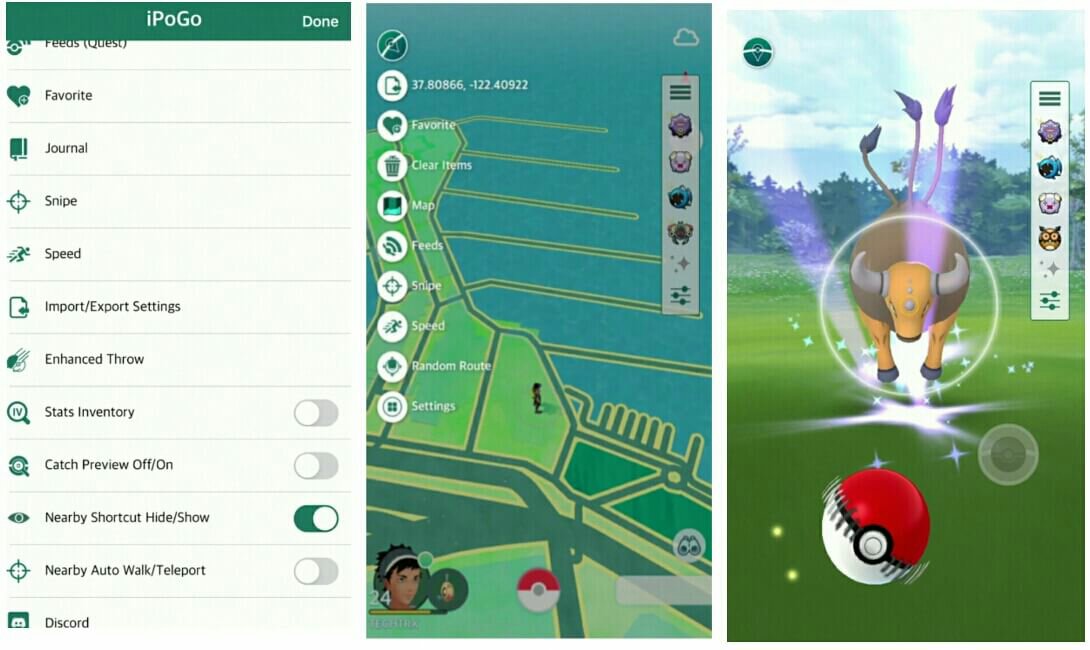 That's it. You can now go ahead and fire up the iPogo modified version of Pokemon Go installed on your iOS device, then sign in and fiddle with the hacks as much as you want.
How to Hack Pokemon Go on Android
The idea of catching Pokemon without having to leave your comfort zone is pretty cool but finding a reliable Pokemon hack for Android can actually be difficult. From FGL Pro to Fake GPS Location and more, there are a plethora of apps that let's you spoof your location for Pokemon Go on Android but trust me when I say they are a hit or miss.
Having gone through the web, we discovered that there's one Pokemon Go hack that works and albeit paid, it's worth every penny you'll ever cough out. PGSharp is the name of course and it's to Android what iPogo is to iOS.
For folks uninformed, PGSharp is a modified Android utility app that let's you spoof Pokemon Go with ease. Unlike the vanilla version, PGSharp functions without GPS. It offers a dedicated joystick which let's you control your character's movements on the real-time location tracking map without having to actually move on your own.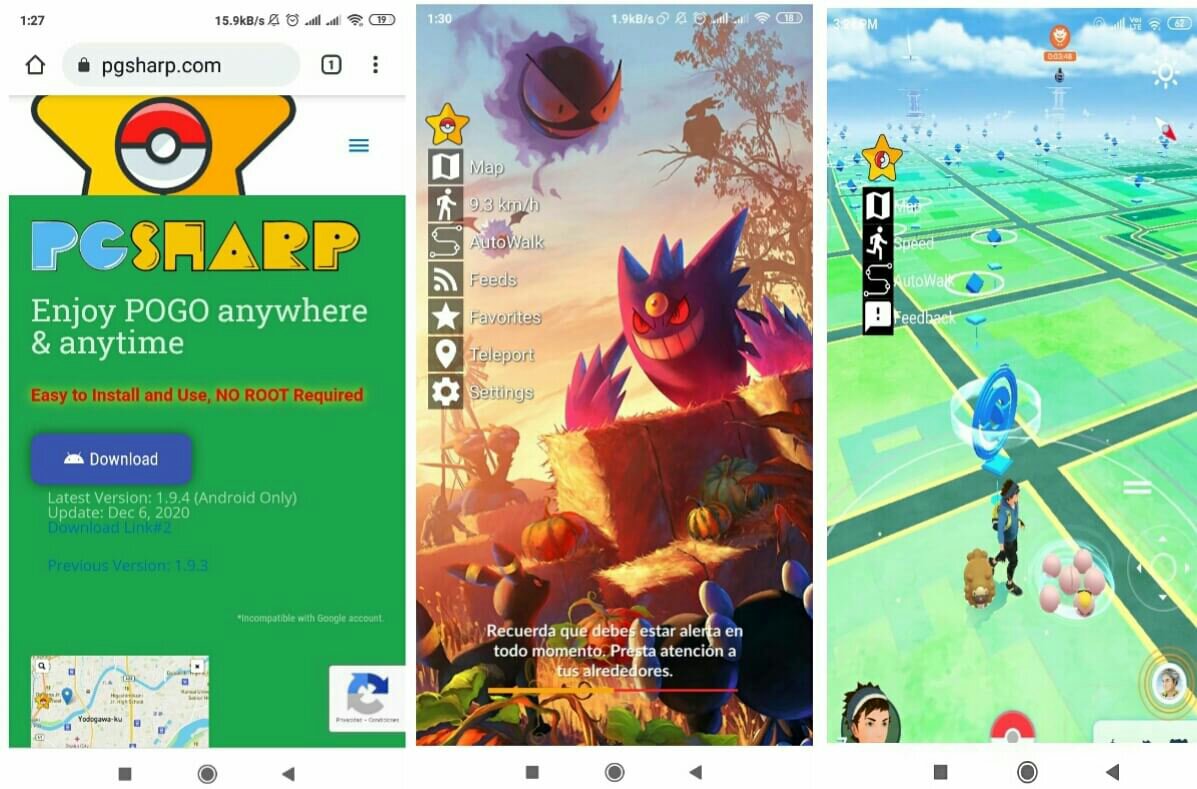 It's also able to generate auto-walk routes using the number of pokestops you see and offers the ability to hatch eggs automatically. That aside, you can painlessly teleport to any location you want in the map.
PGSharp is extremely feature-rich and the best part is that it works both on rooted and non-rooted Android phones. Its only cons perhaps is that it's paid. The app offers a free 7-day trial license as well as a Standard Edition with a monthly subscription of $5 for two devices and they both have limited activation key.
So what are you waiting for? Simply kick-off your Pokemon Go spoofing journey by downloading PGSharp from here.
Wrapping Up
So this is it, the most detailed Pokemon Go hack for Android and iOS. In as much as they aren't completely free, you'd be glad to here that they work. So go ahead and start your Pokemon Go spoofing adventure for these are the best Pokemon Go spoofer ever.