Pou hack galore. So if you're looking to earn free coins that can be used to buy food, potions and more, then here's how to hack Pou on Android phones.
With over 500 million downloads, it's apparent that Pou is quite popular. The game typically tasks you to take care of an "alien pet" that looks like a "lump of shit". From feeding it to cleaning it's mess, you will also be allowed to play with it whilst watching it grow.
Pou's concept was heavily "inspired" by the classic Tamagotchi we were all used to back then and unlike Talking Tom, it is incredibly addicting. Aside from adorning your pet with different outfits, you can also play games in the "Game Room" or even experiment with all kinds of potions at the lab.
Also Checkout: Monster Legends Hack for Free Gems
Pou's main goal is to level up and by so doing, you'd get to earn tons of coins and even unlock different wallpapers and items to customize your pet with. One of Pou's strong point is that it let's you play with friends online and you can also converse with it.
Now here's the thing, feeding Pou can be very difficult especially when run out of coins that can be used to buy different items. In a bit to remedy this, we've found the prefect Pou hack that works and that too for free.
Pou Hack
From Mod APKs to illegitimate sites also known as online generators that claim to offer a slew of in-game resources in games like Pou for free, you'd find a plethora of Pou hack scam out there on the web and as a geek, we assume you already know that these tools are fake and can rife your device with malware.
Nonetheless, we are going to unravel the best Pou hack that can let us purchase paid items for free without spending real-life money. So if you're all set, then here's how to hack Pou for free Coins and more.
Install Lucky Patcher
For the uninitiated, Lucky Patcher is one of the best apps on Android. Not only is it able to get rid of bloatwares, but it can also help you unlock game resources, characters, levels and more. The app's most important feature yet is it's ability to let you perform in-app purchases for free and luckily, that's what we're going to leverage here.
So to get this one going, you'll need to start by installing Lucky Patcher on your Android phone. The best part of the app is that it doesn't require root. So go ahead and grab the latest version from here.
Patch Pou
With the app installed, simply fire it up and if prompted, allow to update so that the latest patches will be available to you. Now select Pou from the list and hit the option that says Menu of Patches followed by Create Modified APK File.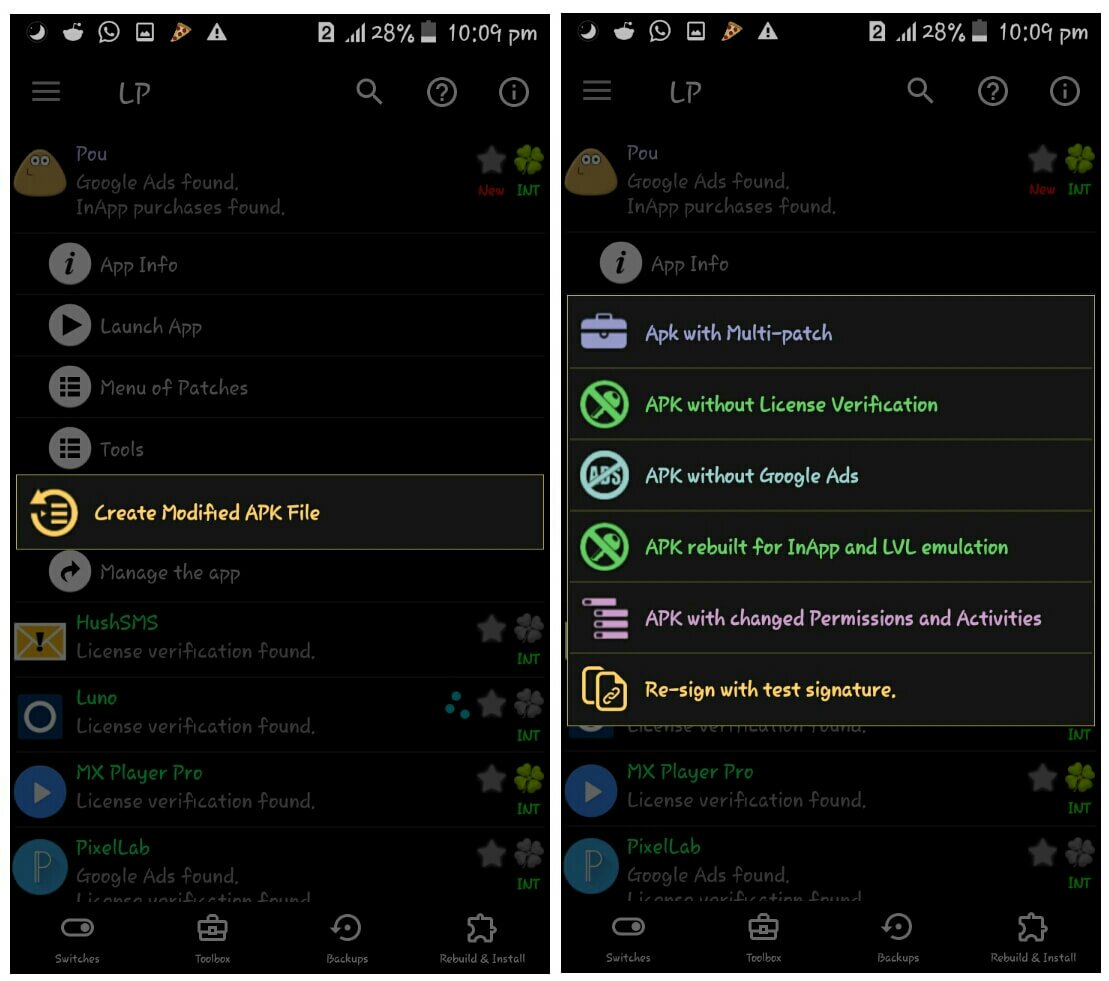 From here, click on APK rebuilt InApp and LVL emulation to reveal the Licence Check Patches window. Now click to enable the first two options Support patch for LVL emulation and Support Patch for InApp emulation (Reassembly Dex)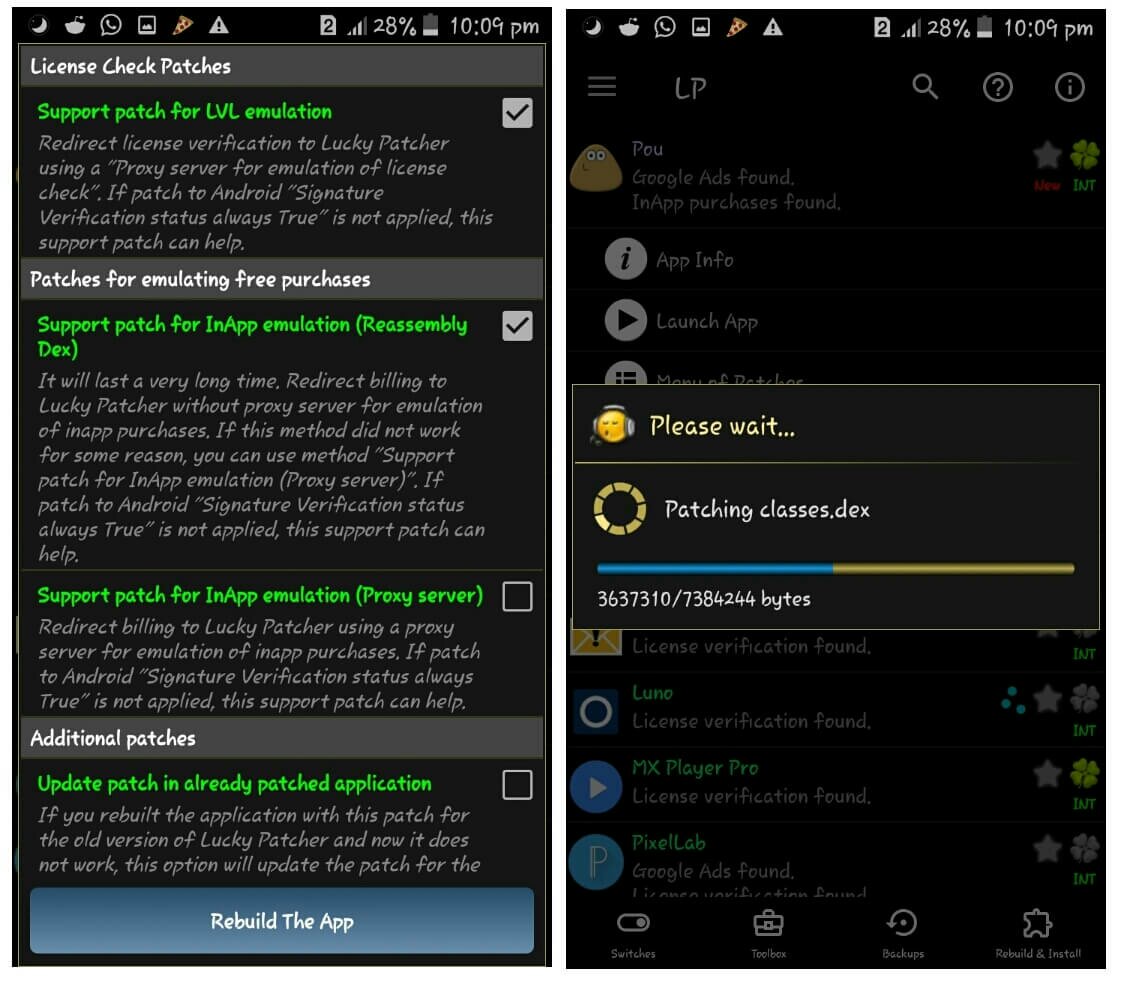 Once done, click on Rebuild The App and click ok afterwards to initiate the patching process. Now wait till the process is done.
Enjoy Your Patched Version of Pou
Now go ahead and uninstall the vanilla version of Pou, then fire up your device's file manager and navigate to this directory;
Android/data/ru.hJbdzDny.wzaHPKpJD/files/LuckyPatcher/Modified/Pou/
From here, click to install the patched version of Pou.
Once that's done, simply go ahead and launch the game. Now head over to the Shop and click to purchase any item you want.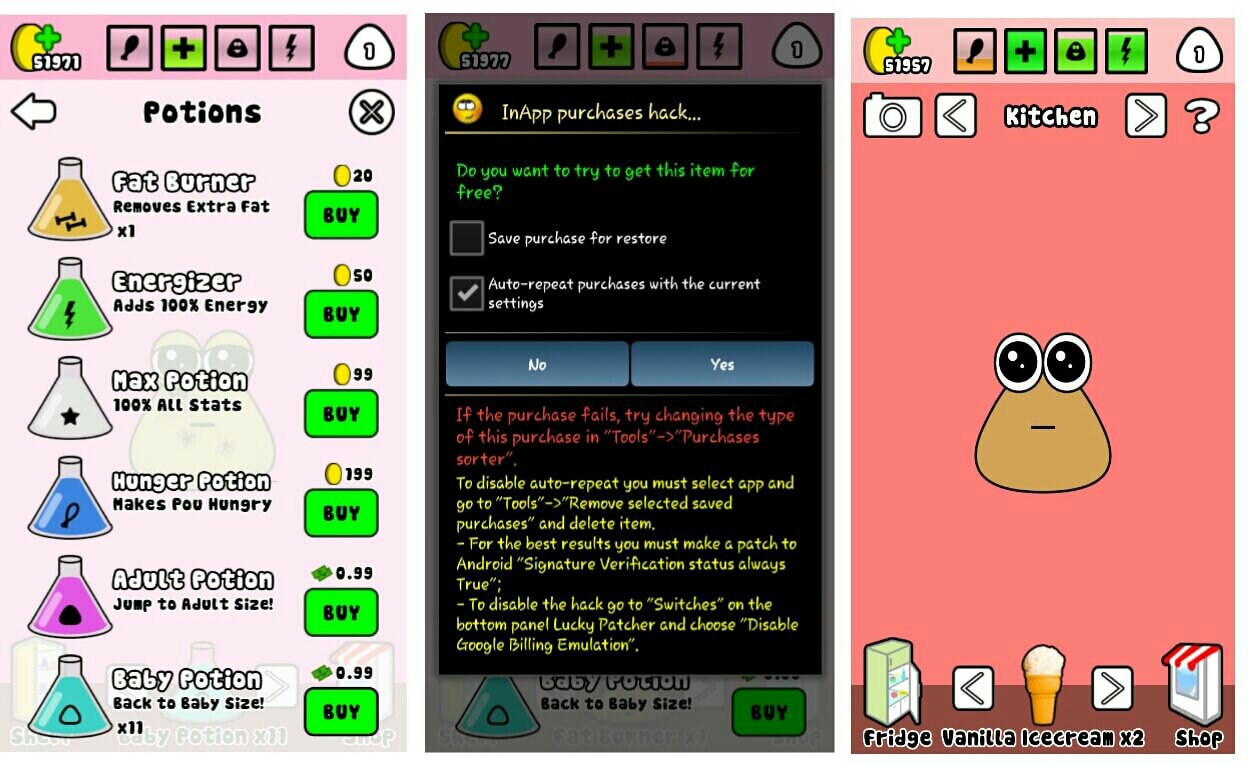 A pop-up will appear, go ahead and tick the option where it says Auto-repeat purchases with the current settings. Once done, click Yes and you'll get the paid item for Free.
Wrapping Up
Hacking Pou is as easy as ABC, thanks to Lucky Patcher. Now you can go ahead and purchase food, potions and more without spending real-life money.