Roblox Decal IDs galore. So if you are looking for something you can use to adorn your avatar, house, etc, then here's all the cute aesthetic anime decal IDs for Roblox.
With more than 150 million active users per month, Roblox has proven to be one of the most popular and successful platforms on the web. For the unfamiliar, it is essentially a sandbox game similar to Minecraft. But unlike the aforementioned, it offers access to Lua Programming language and this allows players to create their own games and post them online for others to play.
In other words, Roblox is a platform where you can painlessly make or play games created by other users. From Fighting to Racing, Action, Adventure and more, Roblox games comes in a wide variety of genres and some of the most popular titles includes Phantom Forces and the Grand Theft Auto-like game Jailbreak. While Roblox cartoony, Lego-like visual style may seem to appeal kids the more, it is safe to say that adults frequent the platform too.
Also Checkout: All The Roblox Free Items
Now aside from customizing your avatar, scripting, playing games or interacting with other members through chat, one of the many ways to showcase your creativity on Roblox is through designs. Badges, logos and adverts aside, decals are something worth coming up with and once created, you can easily keep them for yourself or give them away in the public domain.
What Are Roblox Decal IDs?
The term decal is something you might have come across as a designer but assuming you aren't that informed, then we'll just tell you what it is. At its core, Roblox Decals are designs, images or pictures that players can apply on brick surface and other objects in Roblox. They are made exactly the same way as T-shirts, except you can't wear them.
Now back to the main thing, Roblox Decal IDs are basically a series of unique codes for different decal design. One way to locate them is through their link. For example if you have created a decal with the following URL;
https://www.roblox.com/library/433934076/cits-ascension-10-by-7
Then 433934076 in this case is the decal ID and you can easily utilize it as you wish. Now if you lack some designing skills and want to use the decals made by other users, then here's a list of some of the cute, aesthetic and anime Decal IDs for Roblox.
Roblox Decal IDs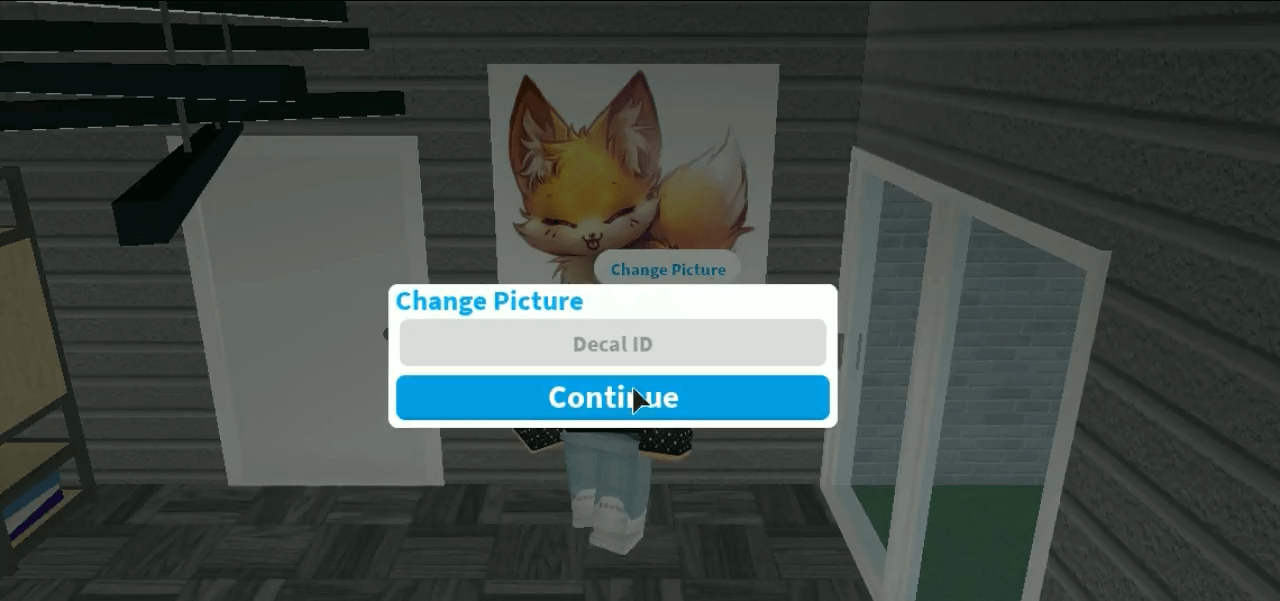 There are a plethora of Roblox Decal IDs out there and while most of them are paid, there are some that you can get for free. So without further ado, here's all the Roblox Decal IDs to use right now.
Cute Roblox Decal IDs
4930619186 – Cute Animals
1260834622 – Cute Dog
846050782 – Cute Dog
2500486 – Cute Cat
1296940256 – Cute Cat
1095345363 – Cute Bunnies
284861018 – Cute Baby Fox
573975914 – Cute Wolf
159837103 – Cute Duck
1049674614 – Cute Bird
1248024259 – Cute Pikachu
1300606068 – Cute Fox
108672204 – Cute Little Girl Creeper
1003924636 – Cute Candy
83121695 – Cute Kitten
1541553531 – Cute Candy
147043070 – Cute Girl
724704795 – Cute Candies
Aesthetic Roblox Decal IDs
5410508042 – Aesthetic Puppy
5410651359– Doggo
5410653750 – Bunny
5410654842 – Panda
5410670124 – Hello Kitty
5410657053 – Horse
5410659038 – Calf
5410661848 – The Baby Frog
5410663442 – Elephant
5410665313 – Kitty
5410671808 – Spooky
5479567228 – Vroom Vroom
5479565074 – Bikes on the Beach
5479562702 – Aesthetic SurfBoards
5479559610 – Snail
5479557117 – Tree
5479547997 – Flowers and Ocean
5479545732 – Beach
5479569176 – Plant and a Wall
5479577852 – Flowers
5479581241 – Butterflies
Roblox Anime Decal IDs
6239919254 – Orange
6072474496 – Hange 1
6239921200 – Milk Bread
6239917306 – Gamer Boy
6239944309 – Green
6239940100 – Grey Hair
6239948718 – Ankle
6239914883 – Cover
995551519 – Girlie
6239915614 – Meat
6239916554 – Star Premium
6239939495 – Yellow
6239942101 – Sewers
6239948071 – Yellow Again
6239945742 – L
6239938337 – Purple
6240286248 – Dab
6239945233 – Another Yellow
6239943491 – Yoo
6239942849 – Noelle
6239940806 – Black
6239941417 – Light Blue
Wrapping Up
So these are all the Roblox Decal IDs worth utilizing right now. From cute bunnies to aesthetic puppy then down to anime sewers, we handpicked this list specially for you. So go ahead and use any of the above listed Roblox Decal IDs to apply decals onto a brick, block or other surfaces.