Roblox extensions galore. So if you are looking to enhance the overall experience of the game creation platform by modifying its style and adding additional features, then here's the best Roblox extension to utilize right now.

It is laughably lame to see a slew of sites discouraging the use of Roblox extensions. They'd claim they're keyloggers or viruses capable of taking over your computer and even online accounts. However, while we acknowledge the fact that there are some "shady" extensions rifed with malware, we'd like to let you know that they're hard to come by and as such shouldn't be bothered.


Also Checkout: The Best Roblox Hair Extensions
Now if you are familiar with the online multiplayer game creation platform where kids as well as adults gather to build 3D games using Lego-like bricks and equally play other people's creations, then you should know that albeit popular, it lacks a plethora of features that could have set it aside from its competitors.
From the inability to get notified once new items are listed to not been able to turn on themes and more, Roblox features is sure limited. This is where extensions comes in to play. So if you're looking to stay up to date with the latest happenings on the #1 playground for kids, then here's the best Roblox extensions to add to Chrome right now.
1. Roblox Plus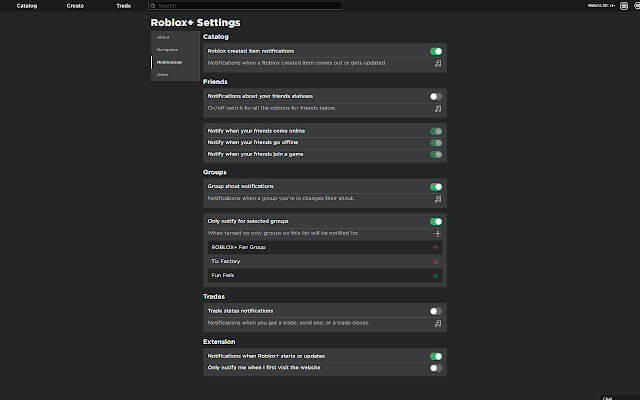 Roblox Plus (often abbreviated as Roblox+) is arguably the most downloaded Roblox Extension as of this moment. It's actually an open-source project developed by a former Roblox staff who goes by the name WebGL3D.
At its core, Roblox Plus is simply a browser extension that modifies the look of the Roblox website. In other words, it makes changes to the platform so that buttons and stuff do different things. That aside, it offers a plethora of extra features not found in the vanilla site.
Now for the uninformed, Roblox Plus only works with Chrome-based browsers. So if you're using something other than Google Chrome, Microsoft Edge, Chromium and Vivaldi, then they're better off looking for alternatives.
From item/trade notifier to avatar filter down to the ability to enable dark theme on unsupported Roblox pages, Roblox plus sure comes fully loaded and it's absolutely free and most importantly, safe.
Add Roblox Plus to Chrome
2. BTRoblox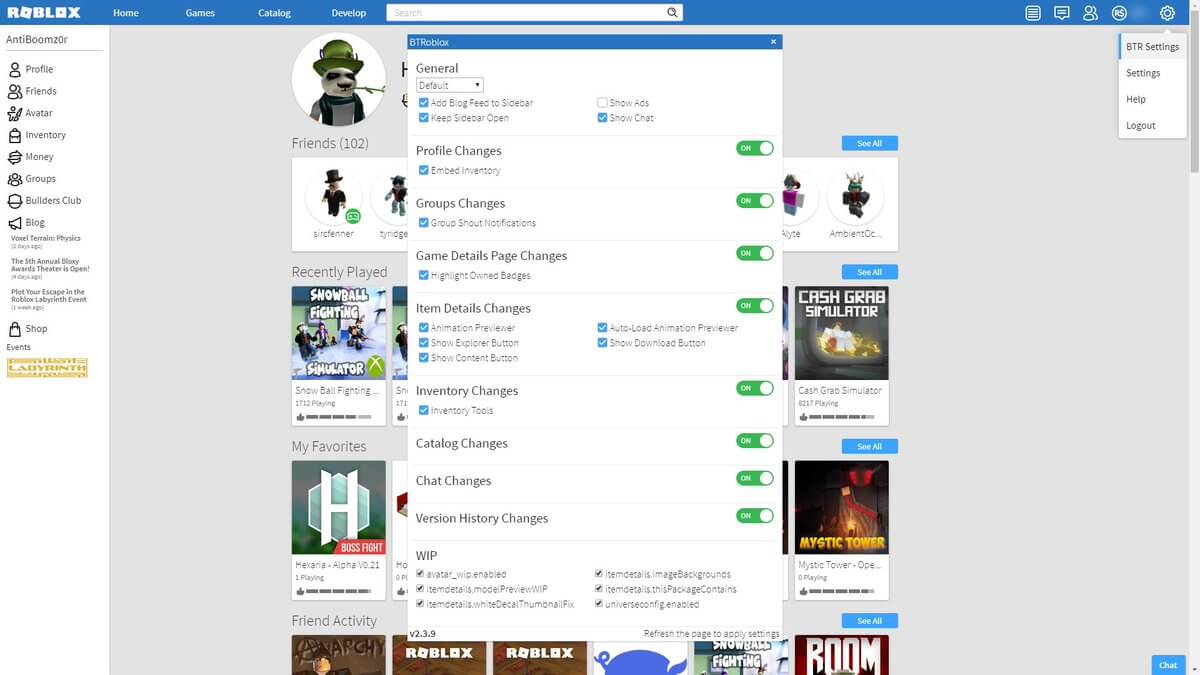 Often regarded as the new Roblox Plus, BTRoblox or Better Roblox is yet another Roblox extension created by AntiBoomzOr and its aim is to modify the look of the Roblox website whilst adding additional features.
Unlike Roblox Plus, BTRoblox lacks the highly acclaimed notifier. But makes it up by extending support to Firefox browser whilst letting users hide the annoying advertisements on the Roblox website.
For one thing, BTRoblox comes with various themes you can choose from and it brings an amazing feature where the real-life price of an item is listed next to Robux price of it. That aside, it's capable of changing the layout of your profile page and can even swap some of the things in the side bar.
It's ability to let you download audio from the audio library is pretty awesome too and if you can pair Roblox Plus and BTRoblox, you'd experience Roblox in a whole new way and can even get the OBC theme.
Add BTRoblox to Chrome
3. RoPro
RoPro prides itself as the perfect tool for traders and players alike and it promises to enhance the overall user experience of Roblox by adding dozens of useful and unique features.
It's in fact amongst the best Roblox extensions so far and it's avatar sandbox feature which let's you try out any item combo prior to purchasing them is simply phenomenal.
That aside, RoPro includes a deals/trade notifier and its trade value calculator as well as the upcoming item feature is pretty cool. It also brings an item info card and let's you customize your profile with astonishing animated wallpaper backgrounds.
Add RoPro to Chrome
Wrapping Up
There are a couple of Roblox extensions out there on the web and some of them includes Roblox Stats, Roblox Statistics, Roblox Enhancer, Roblox Pro and more. While we admit the fact that they're good in their own ways, we still won't recommend checking them out. Rather you should limit your search by using any of the above listed Roblox extensions since they have been proven to be legitimate comes with features present in the aforementioned add-ons as well as extra perks.