Looking to download Roblox assets and make your own custom design with little amendments, Then here's the best Roblox asset downloader to utilize right now.
The thing about Roblox is that it is addictive and aside from being free to play, it's main charisma lies in the fact that it gives players the freedom to design and create different types of games and items with ease. These activities are surprisingly carried out within the Roblox studio with the aid of Lego-like blocks.
From micro trading through game passes to selling the products you make, Roblox offers a unique way for users to earn real cash whilst doing the things they love most. Knowing fully well that building sits at the centre of the game creation platform, you'd see a slew of players making catchy outfit and gears to adorn there avatar with.
Also Checkout: The Best Roblox Admin Commands
These are generally termed Roblox assets and they range from pants to T-shirts, weapons, headgears, googgles and more. While most of these items can be made within the Roblox studio, it'd be time consuming. Now there are of course a slew of them mostly on sell within Roblox store but assuming you can't find one that's available, then you're better of using any of the highly acclaimed Roblox asset downloader.
Wonder what they are? We will tell you. Roblox asset downloader is at its core a tool developed to let users download any type of Roblox assets that aren't available on the marketplace. They are quite handy and surprisingly free to use. So without further ado, here's the best Roblox asset downloader to utilize right now.
1. Rasset Downloader
Spawned due to the limited clothing of characters, Rasset Downloader has evolved to become one of the best tools that can be used to download Roblox assets owned by other players. It's free per se and offers handy features.
Utilizing Rasset Downloader is quite simple as all you need to do is just browse through the catalog of assets on Roblox and whenever you find something that's alluring, simply copy its URL and then head over to Rasset Downloader, select the asset type and then paste the link to initiate the download.
2. For Downloader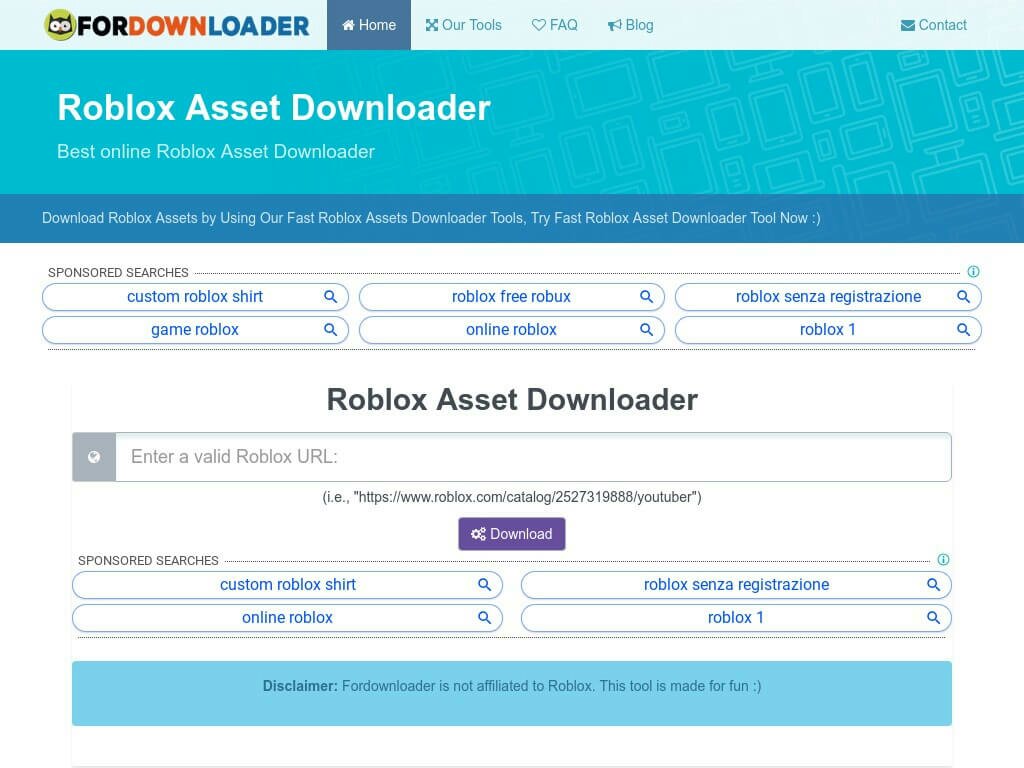 For Downloader pouts itself as the best online Roblox asset downloader and there are many reasons for that. The first one of course is that it's absolutely free and easy to use and offers the best format to download without the need to install any third-party software.
For Downloader is swift and was made solely for fun. To use it, all you need to do is to find the assets you want to download from Roblox. Then copy their URL and paste them in the box provided within For Downloader. Once done, hit the download button and after that, the download link will be generated.
Wrapping Up
Knowing fully well that most of the assets on Roblox store are either not available or mostly overpriced, we decided to come up with this list to end your search. The asset downloaders listed above are completely legal.
They'd give you the privilege to download any type of Roblox asset that were created or owned by other players and you can easily integrate them in your game within Roblox studio. Overall, happy gaming.