Project Lazarus script abound. So if you're looking to get hacks such as ESP, Kill All and more, then here's all the currently active Roblox Project Lazarus Script to utilize right now.
Forgiving the name itself, Project Lazarus is one of the millions of unique 3D experiences on Roblox inspired by the Zombies mode of the ever popular franchise Call of Duty: World at War. The game which was originally created in the year 2016 has managed to amass over 107 million visits with up to 1,500 active players.
Also Checkout: Roblox Bad Business Script
At its core, Project Lazarus is simply a first-person cooperative shooter that task players to survive through increasingly difficult waves, defeating hordes of undead zombies using a wide array of weapons and this is all in a bit to earn points that can be used to acquire extra perks.
The game of course takes place in a post-apocalyptic world and you'd find it's barricades reparation mechanism interesting. Now assuming you are looking to skip the hassles of grinding and possibly get better weapons that you can use to fight off the undead before they overrun you and by so doing unlock new areas faster, then here's the best Project Lazarus Script to utilize right now.
Project Lazarus Script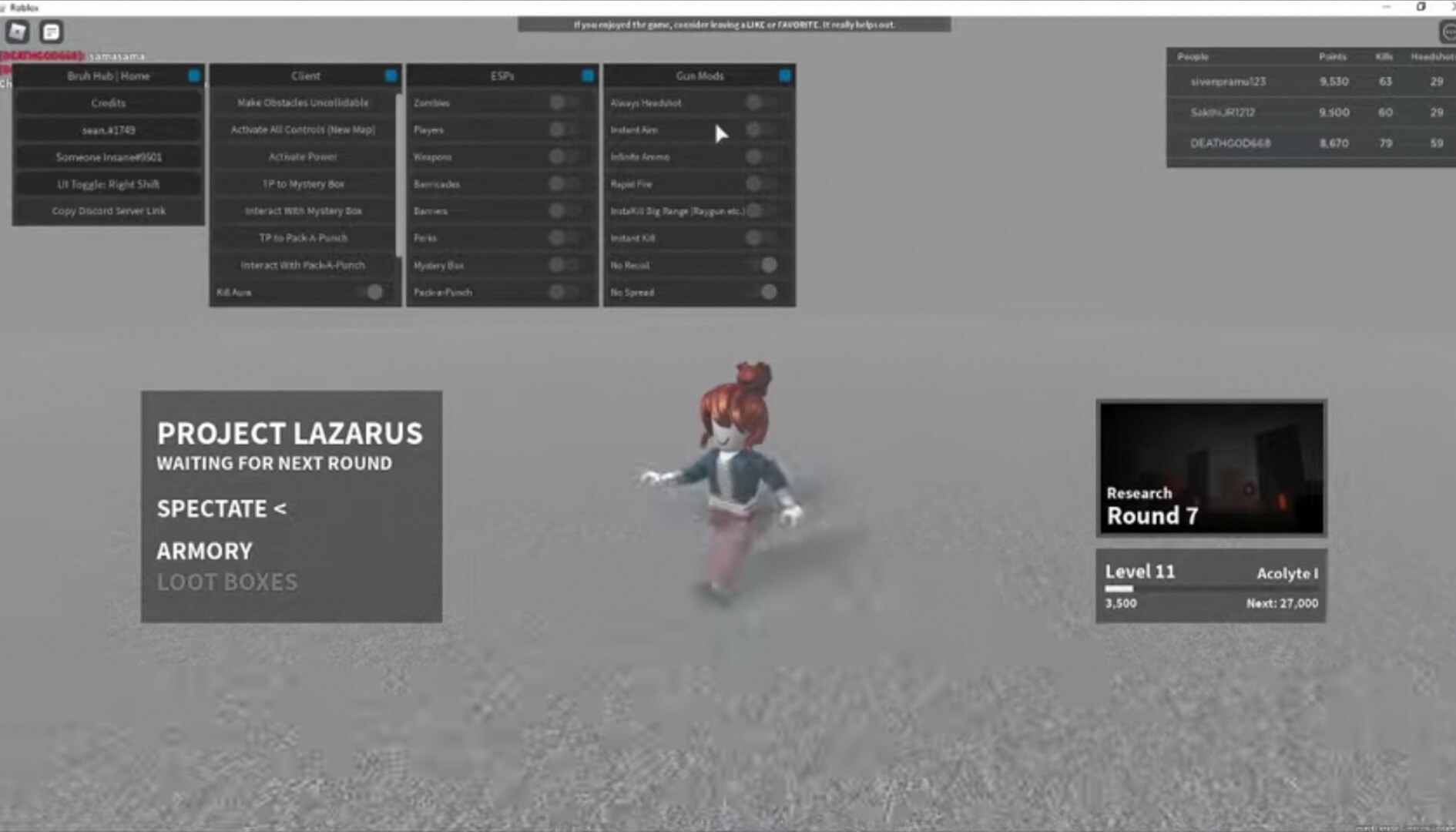 Project Lazarus Script galore and most of them offer pretty good features such as ESP, Kill All, Aimbot, Gun Mods and more. So assuming you are already itching to get your hands on them, then here's some of the currently active scripts for Project Lazarus Zombies.
Script 1
Script 2
How to Execute Scripts in Project Lazarus
Prior to executing scripts in a game on Roblox, one will need to employ the services of a reliable Roblox exploit. From Krnl, Fluxus, Synapse X and more, there are a plethora of them.
So assuming you do not have one downloaded yet, simply jump into our previous post detailing the best Roblox script executor and/or exploit and find yourself something that works.
Once installed, simply go ahead and jump into Roblox, then fire up Project Lazarus: Zombies as well as the downloaded exploit. Next up, copy and paste any of the scripts listed above into the box found within the executor.
Once done, click on the Inject/Execute button and the script GUI will pop-up. Now go ahead and enable the hacks you prefer.