Roblox Troll GUI Script galore. So if you are looking to troll your friends in a game, then here's the best Roblox script for trolling other people.
Roblox as we have come to learn is a metaverse or a site with an app where users can create and play other people's 3D experiences. It offers a plethora of possibilities including a chat feature that let's users communicate with other players.
While the platform itself has shown zero tolerance towards trollers, you'd still find players who intentionally aim to cause grief or discomfort to others for trivial reasons.
What is Trolling?
Trolling or troll is a common term used worldwide. While many are familiar with the merlin-type of trolls, you'd find it pretty surprising to learn it means something completely different in video games.
Trolling for the uninformed is the act of provoking other players for your own personal amusement. On Roblox, a ton of users troll in order to show off their anti-social and antagonistic behaviour or to cause disruption and ruin the gaming experience for others.
Also Checkout: Roblox Ninja Tycoon Script
There are several types of trolls on Roblox and while many derive pleasure in trash-talking other players, you'd find some using the in-game chat system to maliciously provoke others.
Now assuming you are looking to troll in Adopt Me, Ragdoll Engine or any of the numerous Roblox games out there, then we have got you covered. In this article, we will unravel the best Roblox script for trolling other people.
Roblox Script for Trolling Other People
There are a lot of scripts that can help you troll other players in Roblox games. However, if you find it difficult landing an active script, then here's a list of all the currently working Roblox troll GUI Script to utilize right now.
Script 1
Script 2
loadstring(game:HttpGet("https://raw.githubusercontent.com/Blukez/Scripts/main/UTG%20V3%20RAW"))()
How to Execute Roblox Troll GUI Script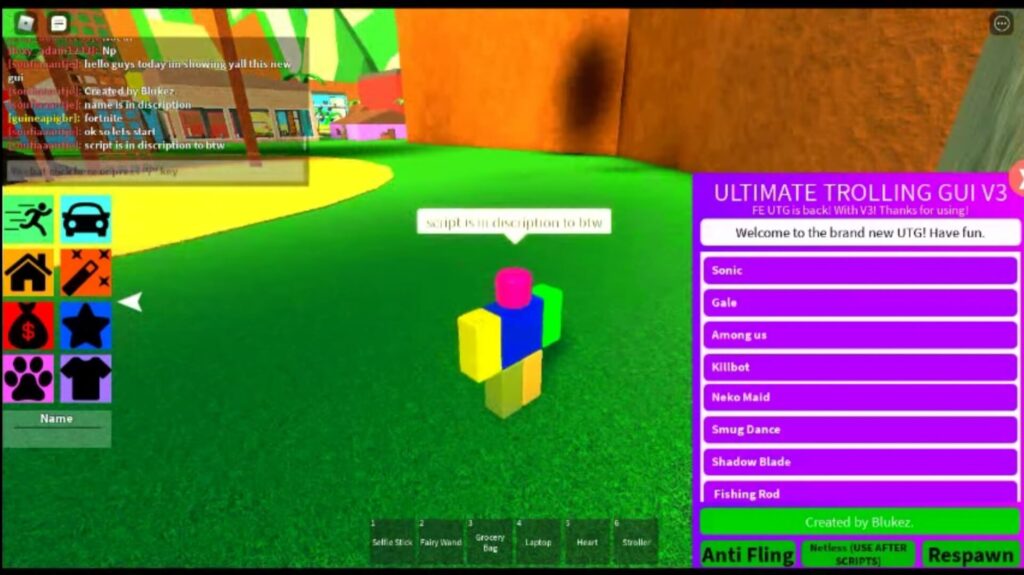 Prior to executing scripts in a game on Roblox, one will need to employ the services of a reliable Roblox exploit. From Krnl, Fluxus, Synapse X and more, there are a plethora of them.
So assuming you do not have one downloaded yet, simply jump into our previous post detailing the best Roblox script executor and/or exploit and find yourself something that works.
Once installed, simply go ahead and jump into Roblox, then fire up any of the available game on the platform as well as the downloaded exploit. Next up, copy and paste any of the troll scripts listed above into the box found within the executor.
Once done, click on the Inject button followed by Execute and the script GUI will pop-up. Now go ahead and enable the hacks you prefer.