Looking to get free Coins and Gems, then here's a list of all the currently active Roblox Rumble Quest codes to redeem right now.
Sincerely speaking, the appeal of the dungeon crawler has never waned and this has inspired a continually growing list of new titles. From Torchlight 2 to Diablo 3 and more, you'd find it extremely easier to get lost in a quest for loot and exploration.
While we'd agree that there are numerous dungeon crawler RPGs out there, it's surprising to see one on Roblox. With over 200 million visits and up to 700 concurrent players, Rumble Studio's Rumble Quest has come to stay.
Also Checkout: Roblox Survive The Killer Codes
The game typically task players to conquer dungeons by battling various monsters, avoiding traps, solving puzzles, and looting any treasure they may find. It comes chock-full of gears to upgrade and you'd love the gameplay style.
Now if you aren't the type who fancy grinding, then you can easily accumulate coins, gems and more by utilizing the rumble quest codes listed below.
secret – Gives you 300 gems
tomb – Gives you 150 gems
gems – Gives you 150 gems
coins – Gives you 1,250 coins
release – Gives you 100 gems
freegems – Gives you 150 gems
So these are the list of all the currently active Roblox Rumble Quest codes to redeem right now. Do bookmark this page for more.
How to Redeem Codes in Rumble Quest
As you'd guessed, the steps involve in redeeming rumble quest codes is pretty easy and straightforward. But if you're in dire need of an easy tutorial, then go ahead and jump into Roblox, then fire up Rumble Quest.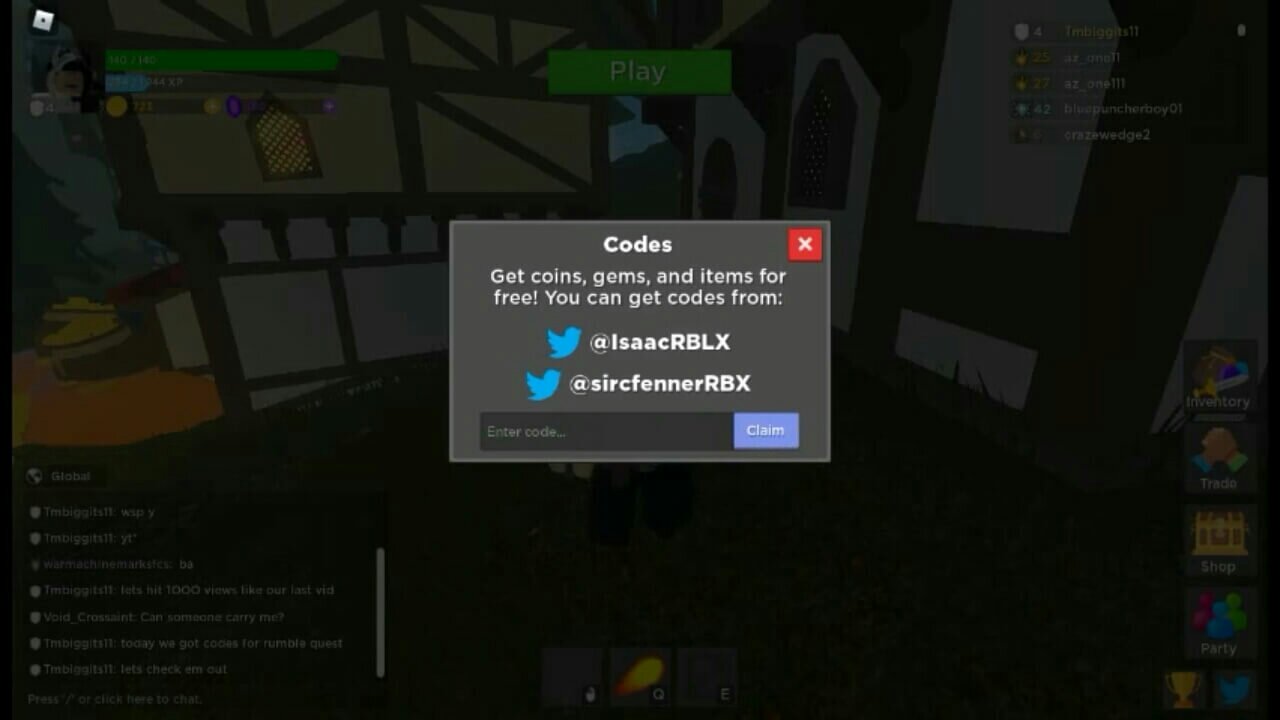 Directly from the game's menu, select the twitter icon located at the lower right corner of the screen. A window should pop-up from here, go ahead and enter any of the above listed codes and click the claim button to get your reward.