The Sims 4 is no child's game. It comes chock full of content and can be incredibly charming for lovers of life simulation. At its core, the game teaches players how to live the best of their lives.
Its goal literally is to play a virtual character through their life. You can easily start out by creating a sim or family of sims, each with a wide variety of traits and personality. Then you can go further to build houses, decorate them and make new friends.
Also Checkout: The Sims 4 UI Cheats Extension Mod
Aspiring to complete goals or aspirations is the game's main charisma and the fun part is that these activities aren't repetitive. Now aside from mods and expansion packs, players can easily adorn their houses and characters using custom contents.
I'm guessing you are wondering what they are, where to get them and of course how to place them inside the game. Don't worry, for we have got you completely covered.
What's Sims 4 CC?
If you're like me, then chances are you do not fancy the idea of seeing how long you can keep a family line and you probably wouldn't want to partake in the 100 babies challenge. For folks like us, creating sims, building houses and decorating them is like a syndrome.
We never seem to get enough of it and due to this, we often search for custom content that can help liven the game the more. Now for the uninitiated, Sims 4 CC are downloadables such as hair, objects, textures, and clothing that can be added to the game.
They include everything from earrings to shoes, skin, makeup, dressers, wall pattern, clothes and other accessories. Compared to mods, Sims 4 CC are easier to make and they can enhance the game's graphics while increasing the number of options available to players.
Now if you are finding it hard to come up with a decent custom content site for The Sims 4, then we have got your back. In this article, we are going to unravel the best Sims 4 CC websites that are free-to-use and there download speed doesn't suck either.
1. Tumblr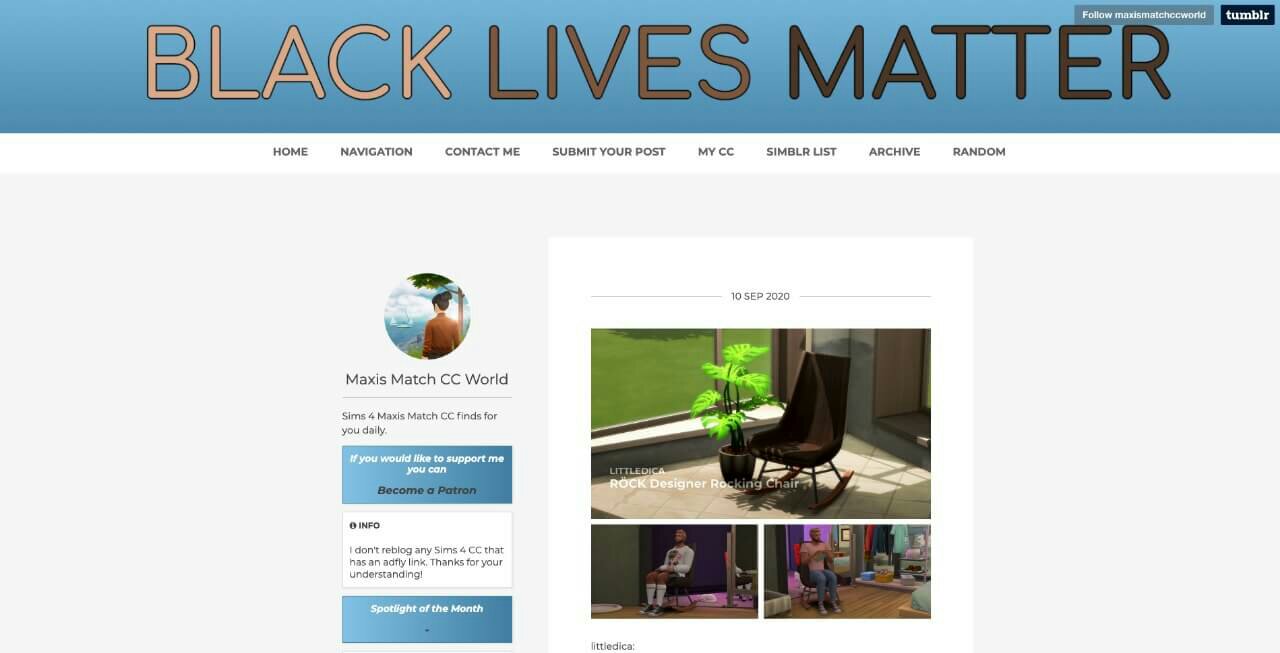 We are all familiar with Tumblr, a platform designed to let users express theirselves while discovering new stuff. It is handy per se and you'd be surprised to hear that a slew of content creators post tons of Sims 4 CC unto the site.
One such blog I'd frequent on Tumblr is Maxis Match CC hub. There, you'll find a plethora of vibrant, colourful, and a bit cartoony custom content that blends with the art style of the Sims 4.
Aside from the aforementioned blog, you'd find hundreds of beautiful glowing gowns on Nolam-Sims, Lana CC Finds and Lilsimsie Faves.
Alternatively, you can search for s4cc in Tumblr search bar and you'd be presented with all the Sims 4 Custom Content posted on the site.
2. Pinterest
Pinterest was specifically created to let users discover recipes, home ideas, style inspiration and so on. Today, we're glad to inform you that the site is still living up to its promise. With just a search, you can easily find a slew of custom customs for the Sims 4.
Most of the Sims 4 CC hosted on the site are generously posted by users and you can painlessly them for download. Stuff such as clothes, shoes, hair, makeup and genetics abound on the site and they've all been organized neatly.
3. Sims 4 Updates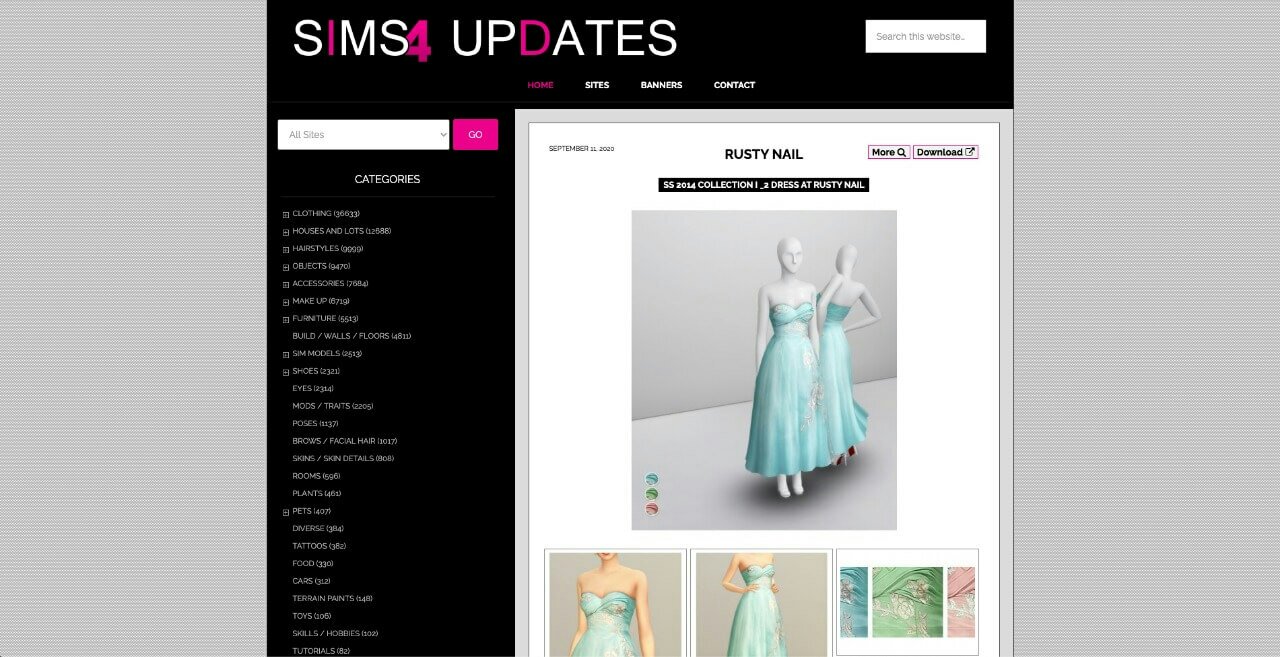 If you are looking for the best Sims 4 CC Finds on the web, then Sims 4 Updates should be your go-to. It was specifically created to limit the hassles of having to find Sims 4 custom content manually. It works by tracking all the best Sims 4 CC websites and blogs on the internet and in return, posts the links to all the CC Finds for users to download.
Albeit with ads, Sims 4 update isn't cluttered and we can vouch for its safety. One of the site's strong point is that it offers an easy-to-use navigation with tons of curated contents.
4. The Sims Resources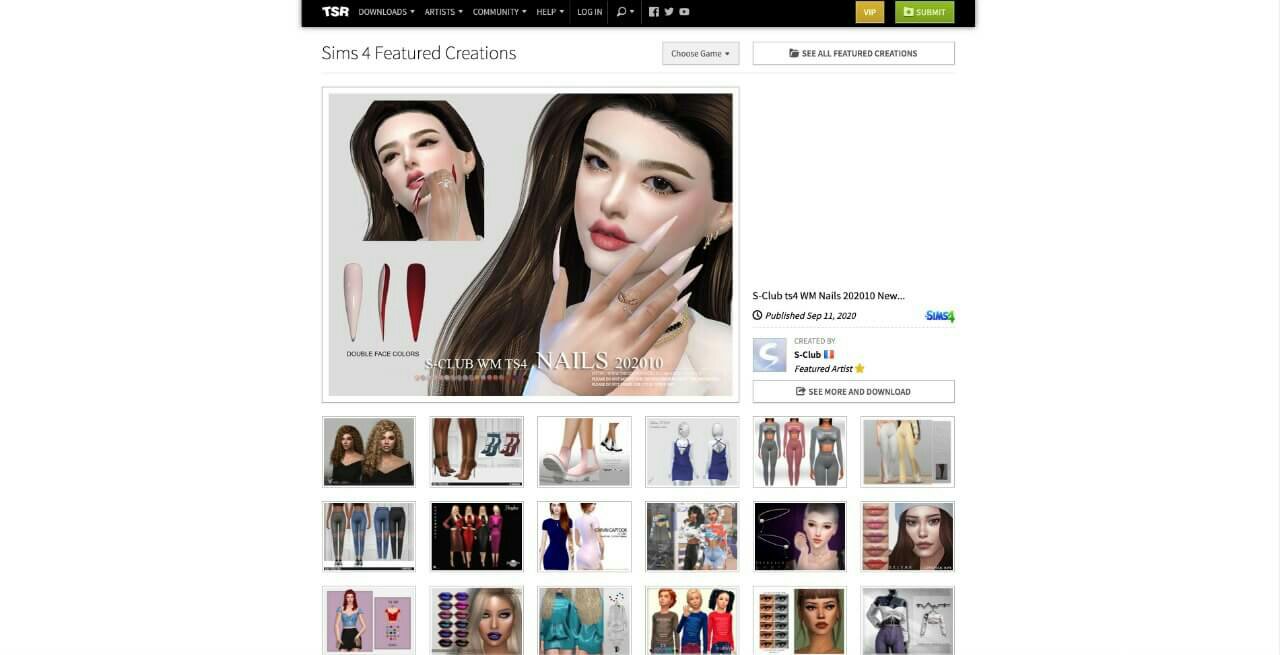 The Sims Resources (often abbreviated as TSR) is hands-down the most popular custom content website for the Sims 4. It offers a wide variety of clothings, hair, shoes, eyecolors, skintones, makeup, accessories and objects that can be downloaded for free and added into the Sims game.
Created in 1999, the site began life as a subscription-based platform, allowing users with paid membership to access premium content. Fortunately, this boundary was removed, thus making it easier for users to download just about anything on the site.
5. Mod The Sims
Mod The Sims prides itself as the largest Sims 4 CC Websites on the internet. It provides high quality free download for most of the Sims 4 custom content out there and it does extend the list to the Sim 3 and Sim 2.
Pre-made CC aside, you'd find useful tutorials on how to make Sims 4 CC and there's a forum where users can easily converse and help each other. Mod The Sims sure provides supplementary enhancements for the Sims 4.
6. Sims 4 Downloads
Looking to download high quality furniture set for the Sims 4? Or perhaps you want some good clothing for your character or a beauitful hairstyle, houses, lots and decor to liven up the game's vanilla experience, then you're better off using Sims 4 Downloads.
It's quite similar to Sims 4 Updates, in the sense that it works like a collection site, providing links to some of the more popular Sims 4 CC downloads around the internet. You'd love it.
How to Install The Sims 4 CC
From here, we are assuming you have already downloaded your favourite custom content from any of the above Sims 4 CC websites. If that's the case, then here's how to painlessly install custom contents in The Sims 4.
To get this one going, simply extract the Sims 4 custom content you downloaded from any of the sites above.
Next up, open up the folder and find the .package file.
Now simply move it (i.e the .package file) to your Mods folder which is usually located in this directory Documents > Electronic Arts > The Sims 4 > Mods and you will be good to go.
Wrapping Up
So this is a complete list of all the Sims 4 CC Websites worth utilizing right now. They are virus-free, incredibly fast and of course easy to use. You can also checkout SIMcredible Designs for more contents.