Looking for the updated version of Sims 4 UI Cheats Extension Mod, then we have got you covered.
As Jesse Owens once said, we all have dreams. But in order to make dreams come into reality, it takes an awful lot of determination, dedication, self-discipline and effort. But assuming you lack these virtues, you can still live out the best of your life virtually and this is all thanks to Maxis' own game The Sims 4.
For folks uninformed, The Sims 4 is a life simulation and management game where you have to create and customize an avatar and once that's done, you'd be opportuned to build the house of your dream and live a completely new virtual life.
From making unique households to building friendships, getting a job and more, The Sims 4 is definitely a versatile reality gem that tasks players to do the basic necessities all in a bit to keep their Sim's vital stats high. It's visuals is obviously outstanding and it offers an endless possibilities.
Praise aside, The Sims 4 offers a colossal number of mods that can help expand the game in extraordinary ways and while Slice of Life may seem to be well known, we're more interested in The Sims 4 UI Cheats extension mod and this is simply because it's a life changer.
What's The Sims 4 UI Cheats Extension?
Assuming you are someone who uses cheats in The Sims 4, then you may have come across this handy mod. Weerbesu personally created it in a bit to change the way we apply cheats in The Sims 4 and his idea worked.
Now for players completely unaware, The Sims 4 UI Cheats is simply a mod that enables the UI Cheats extension in the game and by so doing allows players to use various cheats by left-clicking or right-clicking on the UI, as opposed to typing commands manually.
Also Checkout: The Sims 4 Cheats: Money, Skills and Free Real Estate
It is useful per se and makes cheating in the Sims 4 more efficient. So instead of firing up the Console window just to type some cheat codes, you can swiftly right-click on a needs bar to set value to maximum.
Sounds cool right? Well that's just a tip of the iceberg as the mod comes fully loaded with a slew of functions that are essential. The full list of UI Cheats Extension features is easily visible by scrolling down a bit on the download page.
How to Install The Sims 4 UI Cheats Extension Mod
Now without beating around the bush, let's quickly walk you through the steps to download and install the Sims 4 UI Cheats Extension mod. So to get this one going, simply navigate to this page and scroll to the bottom of the post.
From here, click on the hyperlink or URL that says UI_Cheats_Extension_v1.18.0.zip. This will auto enable the downloading process. Once done, go ahead and extract the Zip using WinRaR, 7-Zip or any other file extractor you have on your PC.
Once the extraction process is complete, move the content of the folder to this directory; Documents>Electronic Arts>Sims 4>Mods>UI Cheats Extention/
Note: If there's no UI Cheats Extension folder, simply create it.
Now go ahead and Start up The Sims 4 whilst making sure Script mods are Enabled in the game's options menu.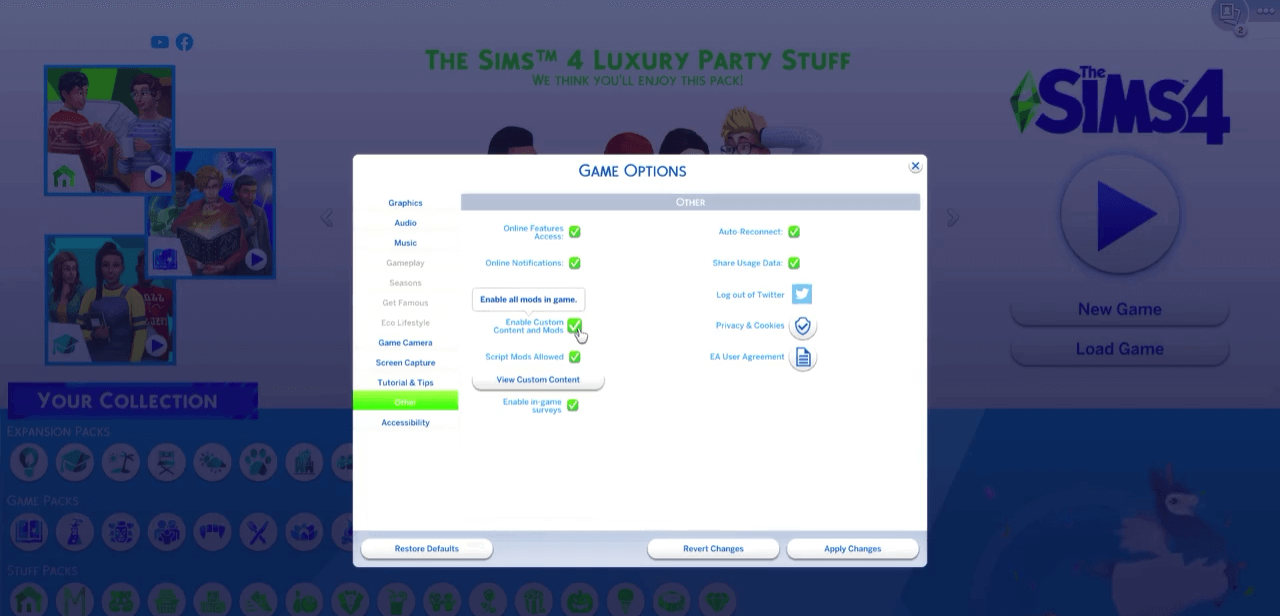 Now you're good to go. But before we leave, do drop a comment if you encounter a problem whereby Sims 4 UI Cheats Extension is not working and we'll help you solve it.