Sims 4 Preteen Mod addresses the grown up teens issue in the vanilla game. Today, we will walk you through the steps of installing Itskatato's preteen mod in The Sims 4.
The Sims 4 is a massively popular life simulation that is played by millions of people all over the world. Its gameplay entails players following a virtual character through his or her life. To begin with, players can create a sim with various personality and physical characteristics. They can then begin building houses and working towards their aspirations.
Albeit indefinite, The Sims 4 features a plethora of mods that aims to enhance the vanilla game. From WickedWhims to MorphMaker, there is also Itskatato's preteen mod which was created to fix the grown up teens in-game. In this article, we will discuss what Sims 4 Preteen Mod is and how to install it effectively.
Sims 4 Preteen Mod Explained
In a bit to addresses the issue of teens having the same height as adults and young adults, Itskatato came up with the preteen mod which introduces a suitable transitional period.
The mod works by allowing children to acquire the pre-teen trait as they grow into teenagers. Players who have the preteen mod installed may see their characters go through various phases such as voice cracks and they will be placed in middle school automatically and will be made shorter than adults.
Itskatato Preteen Mod also features a simple hygiene system which let's players apply lotion, deodorant and body spray on their characters after taking a shower. Its middle school includes some cool features such as homework books, and despite the lack of a romance menu for pre-teen, you'll surely love the little things it offers.
How to Install Itskatato Preteen Mod in The Sims 4
Installing Itskatato's pre-teen mod in The Sims 4 can be a little tricky, especially if you are new to modding. Hence, to make things easy, we will walk you through the steps on how to install The Sims 4 Preteen Mod.
Prerequisites
Install The Sims 4 Parenthood and Snowy Escape Expansion Pack (only needed if you are looking to get animations)
Uninstall Zerbu's Get To School Mod If Installed
Installation
To begin with, head over to Patreon and download Itskatato's preteen mod for The Sims 4.
Next up, extract the downloaded .rar or .zip file using Winrar or 7-Zip.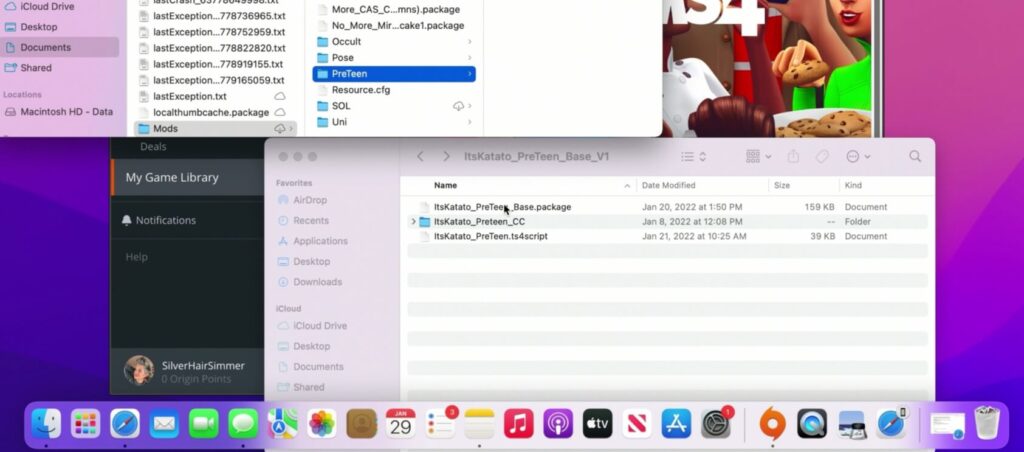 Now move the unzipped files to The Sims 4 mods folder which should be in the following directory depending on your platform.
Windows:
C:\Users\USERNAME\Documents\ElectronicArts\The Sims 4\Mods
macOS:
Documents\ElectronicArts\The Sims 4\Mods
Note: If you can't find the "Mods" folder, simply create one and ensure it's in the right location as shown above.
With the preteen mod sideloaded, go ahead and fire up The Sims 4 and jump into options followed by "game options"
From here, click on the "other" tab and ensure "enable custom content and mod" is checked.
That's it. Relaunch The Sims 4 and you'll be good to go.