Smite Source Alternatives galore. So if you're looking for the best sites that offers Smite Pro builds, then we've a slew of them below.
Just like League of Legends, Smite is an outstanding team-based third-person MOBA full of actions and competition. Its gameplay throws you into an open colosseum-like arena and the goal literally is to battle mythological gods using a variety of tactics and abilities.
From Loki to Odin, Thor, Ares, Zeus, Poseidon, Athena, Nemesis, Apollo and Aphrodite, the game brings more than 50 different playable gods with unique traits and you can painlessly upgrade them as you progress.
Graphics-wise, the game shines and its combat mechanics is as solid as it gets. Now whilst on a search for the best builds that you can use to annihilate your opponent, you might have come across Smite Source, a platform that prides itself as a leading portal for player's profile, elo ranking, and builds.
It is cool per se but the lack of simplistic navigation, about us section and build explanation makes it look like a joke. This is where its alternatives comes in to play. So if you are looking for a professional smite stats site that isn't Smite Source, then we have got a slew of them right below.
1. Smite.Guru
Forget Smite Source, Smite Guru is by far the most popular website to visit for anything Smite-related. It acts not only as a stat collection website but a database and one of it's unique aspects is that it hosts a plethora of community collected builds.
With over 2 billion stats collected, Smite Guru features a leaderboard of the best players across multiple platforms and with this, you are able to see who's playing well, who they are playing as, as well as the builds they are using.
Visit Smite.Guru
2. Smite Fire
Smite Fire dwarfs Smite Source in all ramifications and unlike Smite Guru, it provides builds based on stats rather than one made by a random. As you'd guess, the site contains tons of builds, community voted tier lists, statistics and god informations such as win rate, skills and more.
It's pretty accurate per se and aside from the option to create your own guide and god concept, you'll surely fancy it's user interface which is pretty easy to navigate. Smite Fire overall is amazing and as a beginner, you can easily use it to improve your experience.
Visit SmiteFire
3. Gestal GG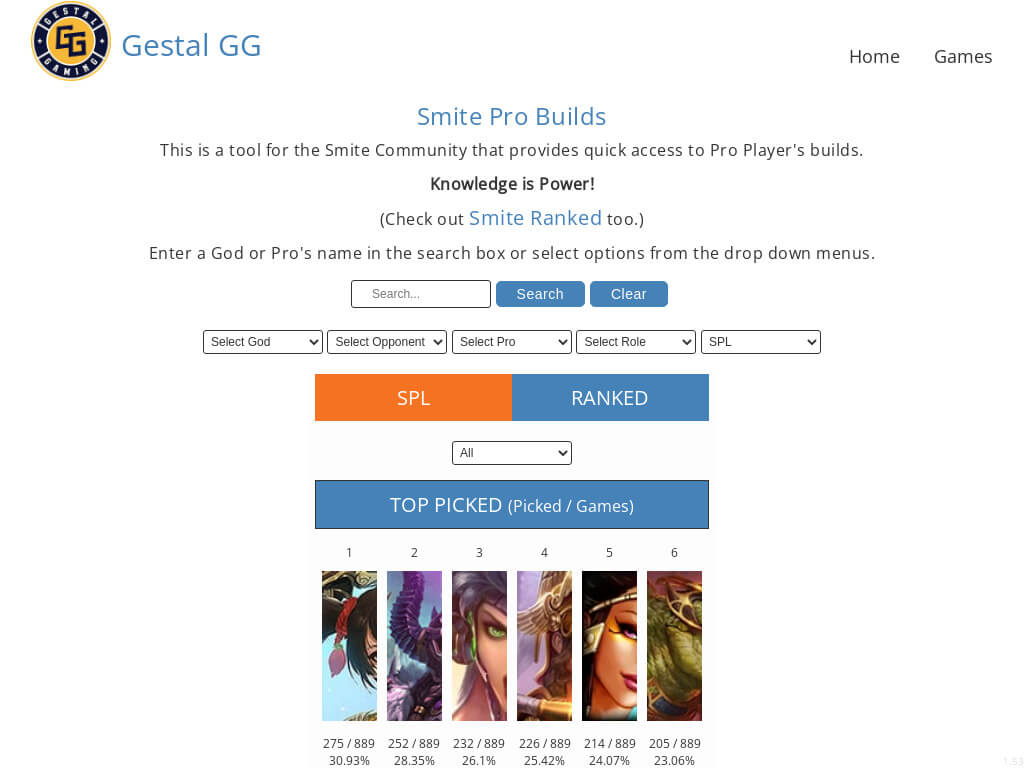 Once known as Smite Pro Builds, Gestal.GG is basically a tool for the Smite community that provides quick access to pro player's build. It isn't as popular as Smite Source, neither does it offer most of Smite Fire charisma but you're certainly going to love it.
With just a search, the site automatically displays the builds that players in SPL used and the filters let's you find the god, opponent, role, and league that you're looking for. Overall, Gestal GG is the tool to use especially if you are looking to understand certain gods and different strategies.
Visit Gestal.GG
Wrapping Up
Smite Source may serve as a platform to get the best, most recent builds for every gods but most of it's data are outdated. The alternatives listed above are overly accurate and the best part is that they come from Pros. So go ahead and have a fix of Smite Pro Builds by utilizing any of the above Smite Source alternatives.