Steep Steps Script galore. So if you are looking to retrieve ladder, or to get hacks such as Jump Power and more, below is all the active Roblox Steep Steps Script to utilise right now.
With over 27,000 concurrent players and up to 12 million visits recorded so far, Steep Steps is undoubtedly one of the hottest adventure games on Roblox right now. Created by the developers of the same name in 2022, Steep Steps gameplay challenges players to scale mountains while going through the five stages of grief.
There are several hurdles to overcome in the game, including Lava, and it is best played with companions. As of now, The height of Steep Steps currently sits at 800 meters, and there are several quests to complete. The game also features tons of new ladder that can be purchased in the store.
Also Checkout: World of Stands Script
Now assuming you are looking to skip the hassles of grinding, or to simplify your gaming experience by utilizing scripts which let's you auto farm and win games faster, then here's a list of all the currently active Roblox Steep Steps Script to make use of right now.
Steep Steps Script
From get ladder to jumping, teleport, remove fog and more, there are a plethora of feature-rich scripts for Steep Steps. So without further delay, below is a list of all the working Steep Steps Scripts to execute right now.
Script 1
loadstring(game:HttpGet('https://raw.githubusercontent.com/MetaShrimps/Oxygen/main/DetectionScripts/STEEP%20STEPS'))()
Script 2
loadstring(game:HttpGet(("https://github.com/Dalk21/steep-steps/raw/master/steps-script.lua")))()
Script 3
_G.CreateKeybind = "Q" -- Define the keybind to create the ladder
_G.RemoveKeybind = "E" -- Define the keybind to retrieve and delete the ladder. May not work properly sometimes.
_G.GoToCoolDown = .1 -- The cooldown to fire the remote when you are at the ladder. This script is using task.wait() for this.
 
loadstring(game:HttpGet("https://raw.githubusercontent.com/synnyyy/synergy/additional/steepsteps",true))()
How to Execute Scripts in Steep Steps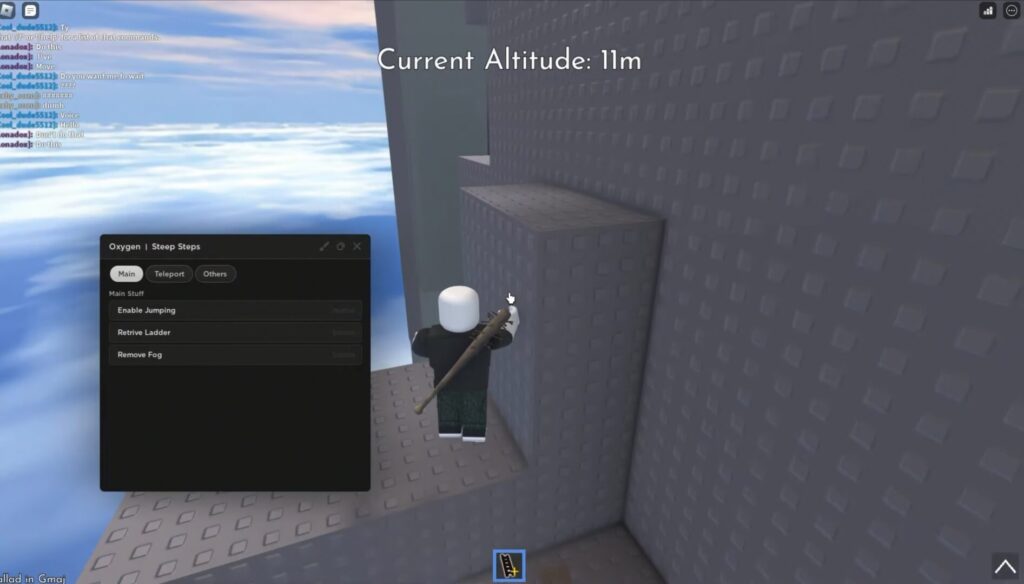 Prior to executing scripts in a game on Roblox, one will need to employ the services of a reliable Roblox exploit. From Krnl, Fluxus, Synapse X and more, there are a plethora of them.
So assuming you do not have one downloaded yet, simply jump into our previous post detailing the best Roblox script executor and/or exploit and find yourself something that works.
Once installed, go ahead and jump into Roblox, then look up and click to open Steep Steps as well as the downloaded exploit. Next up, copy and paste any of the Steep Steps scripts listed above into the box found within the executor.
Once done, click on Inject/Attach followed by the Execute button and the script GUI will pop-up. Now go ahead and enable the hacks you prefer.