Super Toilet Battle script abound. So if you are looking to get hacks such as ESP, Teleport and more, here's all the Roblox Super Toilet Battle script to execute right now.
Created by Rare's Club in 2023, Super Toilet Battle also know as Super Bathroom Battle, is a 3D experience on Roblox inspired by the Skibidi Toilet trends on TikTok. Despite being unfinished, it has over 12,000 active players and has amassed more than 10 million visits so far.
In Roblox Super Toilet Battle, players control a humanoid creature with a camera head whose objective is to defend a city against waves of an ever-growing army of super toilets.
Also Checkout: Boxing Clicker Simulator Script
It is a pretty addictive fighting game per se, but the enemies featured in-game tend to grow stronger as players progress. This is where our Super Toilet Battle script comes into play.
So assuming you're looking to simplify your gaming experience, here's all the undetectable Roblox Super Toilet Battle script to utilise right now.
Super Toilet Battle Script
From Teleport to Safe Place to ESP, there are a plethora of feature-rich scripts for Super Toilet Battle. So without further delay, here's all the Roblox Super Toilet Battle script to utilize right now.
loadstring(game:HttpGet("https://raw.githubusercontent.com/Ginxys/Super-Toilet-Battle/main/Script.Lua"))()
How to Execute Scripts in Super Toilet Battle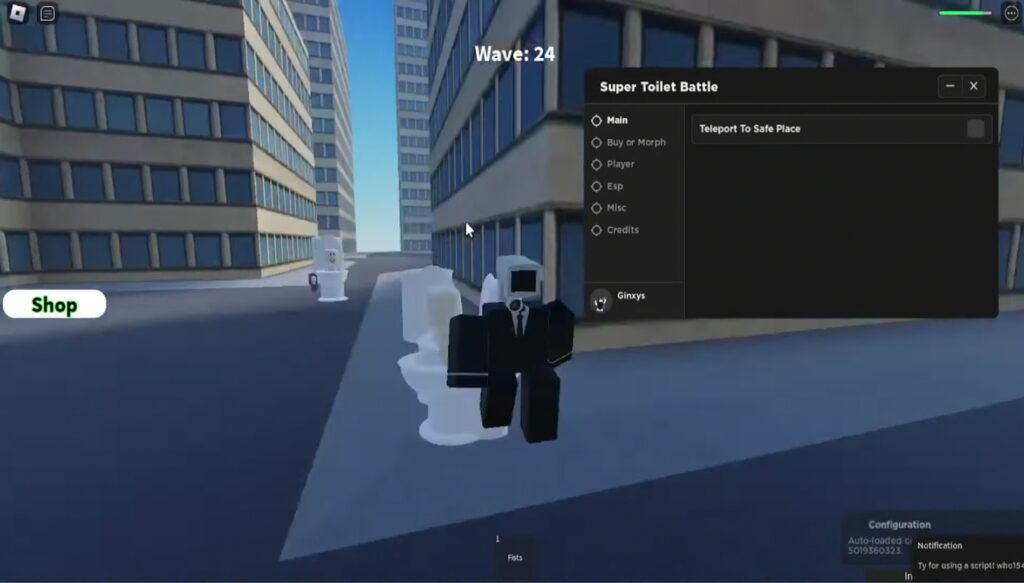 Prior to executing scripts in Super Toilet Battle, one will need to employ the services of a reliable Roblox exploit. From Krnl, Fluxus, Synapse X, and more, there are a plethora of them.
So assuming you do not have one downloaded yet, simply jump into our previous post detailing the best Roblox script executor and/or exploit and find yourself something that works.
Once installed, go ahead and jump into Roblox, then look up and click to open Super Toilet Battle as well as the downloaded exploit. Next up, copy and paste any of the Super Toilet Battle scripts listed above into the box found within the executor.
Once done, click on Attach, followed by the Execute button, and the script GUI will pop up. Now go ahead and enable the hacks you prefer.