Muscle Simulator script galore. So if you're looking to get hacks such as Auto Rebirth, Auto Train, Auto Farm and More, then here's a list of some of the currently active scripts for Roblox Muscle Legends.
Muscle Legends has come to stay and it is one of the millions of unique 3D experiences on Roblox. Created in 2019 by Scriptbloxian Studios, it's gameplay basically task players to workout and brawl and this is all in a bit to gain strength, agility and durability.
Whilst training your body to become the strongest Robloxian, you'd get to gain new moves, unlock new gyms, garner epic pets and even challenge other players in Arenas. It's pretty cool game per se and it's mechanics as solid as it gets.
Also Checkout: Roblox Ghost Simulator Script
Stats-wise, Roblox Muscle Legends see over 13,100 active players daily and it has managed to amass more than 697 million visits with up to 429 thousand likes.
Now assuming you are looking to win every single brawl and probably get hacks such as Auto Farm, Auto Kill, Auto Rebirth and more, then here's the best Roblox muscle legends script to utilize right now.
Muscle Legends Script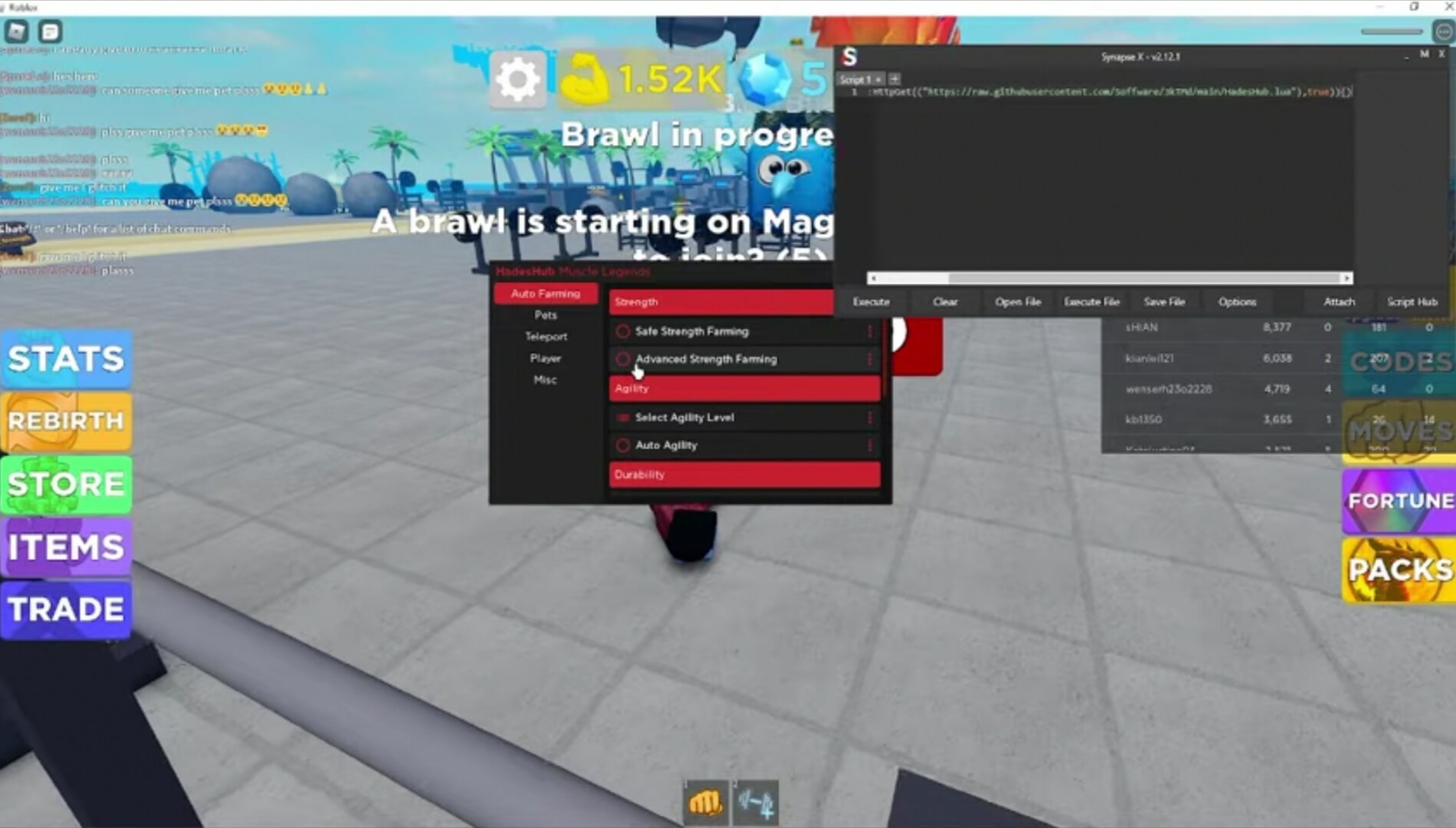 There are a plethora of muscle legends script out there on the web and most of them comes features-rich. From Walkspeed, Agility Farm to Auto Train, we have listed below all the currently active scripts for Roblox Muscle Legends.
Script 1
loadstring(game:HttpGet(("https://raw.githubusercontent.com/Soffware/3kTMd/main/HadesHub.lua"),true))()
Script 2
loadstring(game:HttpGetAsync("https://raw.githubusercontent.com/LOOF-sys/Roblox-Shit/main/MuscleLegends.lua"))()
Script 3
loadstring(game:HttpGet("https://raw.githubusercontent.com/1201for/littlegui/main/MuscleLegends"))()
How to Execute Scripts in Muscle Legends
Prior to executing scripts in a game on Roblox, one will need to employ the services of a reliable Roblox exploit. From Krnl, Fluxus, Synapse X and more, there are a plethora of them.
So assuming you do not have one downloaded yet, simply jump into our previous post detailing the best Roblox script executor and/or exploit and find yourself something that works.
Once installed, simply go ahead and jump into Roblox, then fire up Muscle Legends as well as the downloaded exploit. Next up, copy and paste any of the scripts listed above into the box found within the executor.
Once done, click on the Inject/Execute button and the script GUI will pop-up. Now go ahead and enable the hacks you prefer.