For a game that debuted nearly eight years ago, it is pretty difficult to figure out what the latest version of Teaching Feeling is. In this article, we will unravel Teaching Feeling v4.0.6, which as of writing this post is the latest version.
What Is Teaching Feeling?
If you are into slave-related eroge games and have had a blast with the likes of Dungeon Slaves, Slaves of Rome, Slave Zero, or the Slave Maker series, you'd probably have an idea of how Teaching Feeling plays out. However, unlike the aforementioned, Teaching Feeling ditches the concept of owing slaves, abusing them, and having them do just about anything you desire in favour of something new.
The premise of Teaching Feeling, which I find very odd, is that a creepy, weird man whom you have helped before steps into your home and decides he wants to give you a human girl as a reward, and that too to use as you desire.
Also Checkout: Teaching Feeling Cheats
Seeing the state the girl is in, with all the bruises, dirt, and tattered clothing, you decide not to take advantage of her but instead make her feel happy again by taking her out, buying her clothes, accessories, and more.
Teaching Feeling sure feels different, and it's got the quality to get you emotionally invested in the game. Now, assuming you're looking to give it a try, here's where to download Teaching Feeling latest version v4.
Teaching Feeling v4.0.6 Download
Unlike the previous versions, Teaching Feeling v4 features loads of quality changes and some system changes that aim to make future updates easier. Below are some of the things it brings to the table:
Redrew costumes, scenes, and standing drawings.
Costume design (pattern) changes
3 new costumes, 1 new hairpin, and 3 new swimsuits
Reimplementation of previously excluded costumes and functions
Tonnes of dress-up customization changes
Ability to see costumes in only certain 'reflection' memories
Ability to customise words
More statuses
The amount of clothes you buy is now dependent on the luggage you currently have, rather than just sending you home based on the dearness' factor.
Modified certain speech conditions
Ability to apply text shadow
Ability to turn off or on lip and blink sync animation
New facial expressions
Apron and tiny lace underwear costumes
If you are already itching to get the latest version of the game, you can download Teaching Feeling v4.0.6 by clicking the download button below.
Note: The work-in-progress English translation patch is in the tfpatchguy's 4.0.6 folder, which can be downloaded from here, and can be installed by putting the TF_fix_tpatch file in the same folder as the game's executable.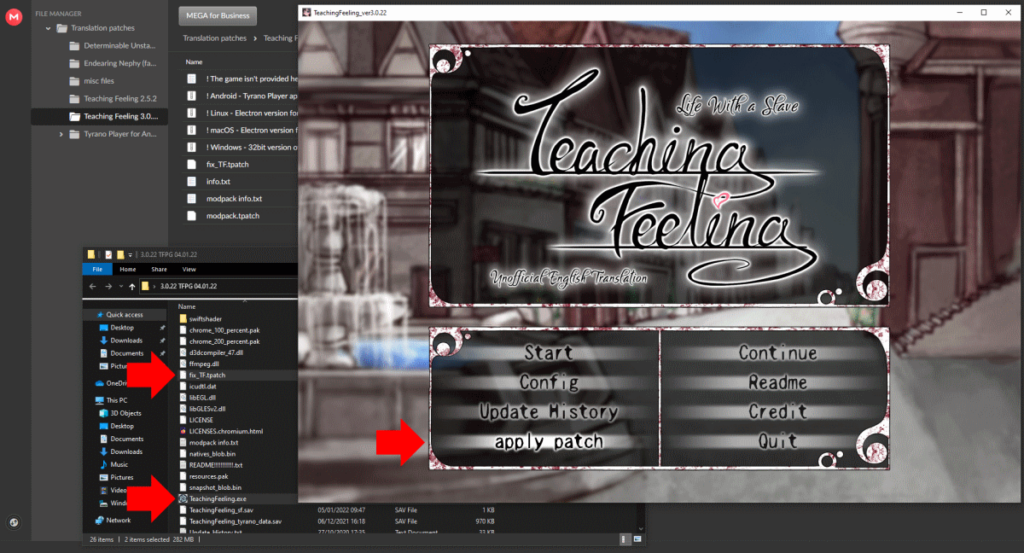 Once this is done, run Teaching Feeling and press the "Apply Patch" button located at the bottom left corner of the main menu. With that done, manually restart the game, and you'll be good to go.