Tien Tien Piece script galore. So if you are looking to get infinite beli, gamepass sword and more, then here's all the Tien Tien Piece script to utilize right now.
Said to be a meme and troll one piece game, Tien Tien Piece is a fighting game on Roblox that takes you on a journey across seven seas and the objective is to explore islands, unlock new powerful abilities and complete various quests.
The game offers a fun experience and despite releasing in 2022, it sees over 2,000 active players with more than 4 million visits. Now assuming you are looking to simplify your gameplay, then here's all the Tien Tien Piece script to utilize right now.
Tien Tien Piece Script
From infinite stats to free gamepass, there are a ton of Roblox Tien Tien Piece Script out there on the web. So if you're looking to get your hands on them, then here's all the working Tien Tien Piece Script to make use of right now.
Script 1
loadstring(game:HttpGet("https://raw.githubusercontent.com/idontknowwhattonamemyself/Statue-Hub/Lua/Main"))()
Script 2
local Event = game:GetService("ReplicatedStorage").GamePass
Event:FireServer()
How to Execute Scripts in Tien Tien Piece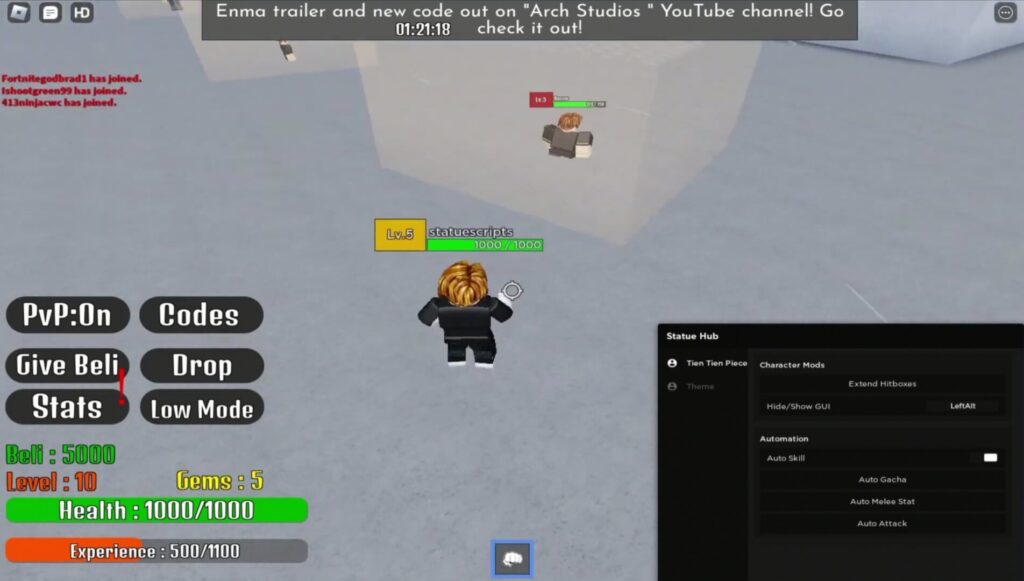 Prior to executing scripts in a game on Roblox, one will need to employ the services of a reliable Roblox exploit. From Krnl, Fluxus, Synapse X and more, there are a plethora of them.
So assuming you do not have one downloaded yet, simply jump into our previous post detailing the best Roblox script executor and/or exploit and find yourself something that works.
Once installed, simply go ahead and jump into Roblox, then fire up Tien Tien Piece as well as the downloaded exploit. Next up, copy and paste any of the Tien Tien Piece script listed above into the box found within the executor.
Once done, click on the Attach/Inject button followed by Execute and the script GUI will pop-up. Now go ahead and enable the hacks you prefer.