One of the most cooperative, action role-playing and third person shooter game you should play on PC, PS4 and Xbox One right now is Warframe. It's a spectacular game indeed and offers tons of contents. Albeit repetitive and Pay-To-Win, it features good graphics and rapid pace that makes it engaging. Now if you are looking to 'keep tab' or probably track 'stuffs' such as KD, Elo, arbitration alert, bounty, cetus time and more, then here are the most reliable and accurate warframe tracker and warframe timer you should use.
1. Warframe Hub
This one is "unequivocally" the most popular Warframe timer out there. It features a sleek user interface with a ton of informations you'd love. From events to acolytes, then down to cetus cycle, bounties timer, earth cycle and arbitration alerts. There are literally a plethora number of stuff you can find on Warframe hub and I fancy the fact that they strive to be the community center of warframe game.
2. Deathsnacks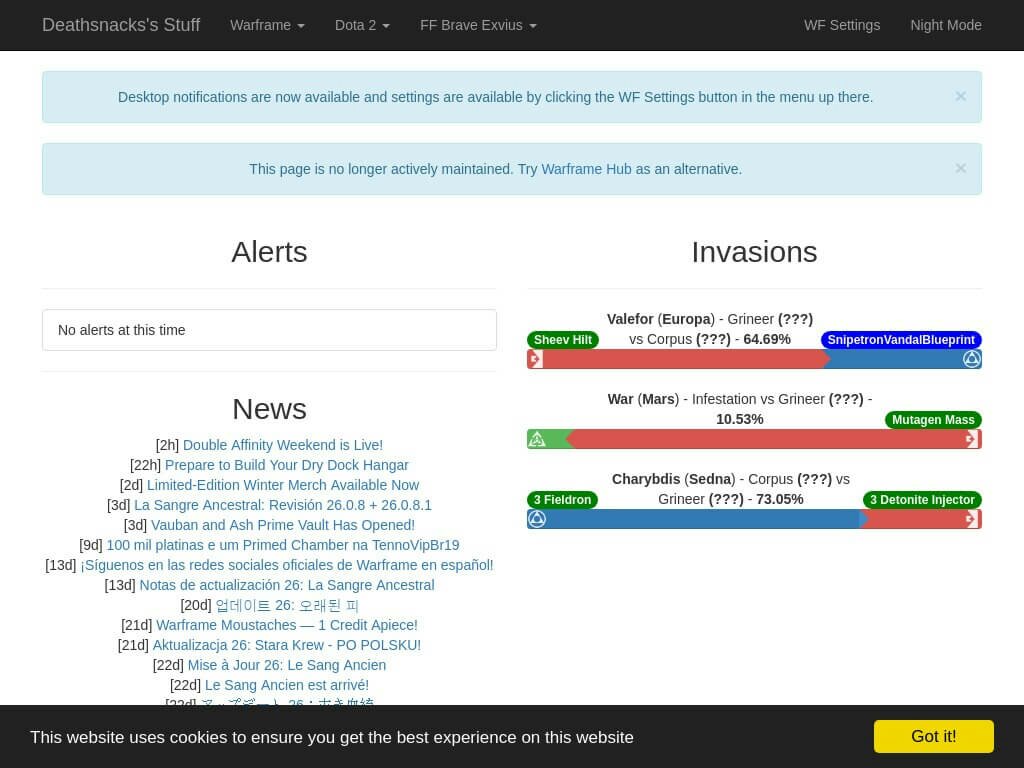 Although not "actively" maintained, Deathsnacks is "still" one of the best Warframe tracker on the web. It is a site made by a redditor with the aim to allow users track various stuffs in Warframe. Its data is obtained from the game itself and there page auto refreshes every minute to show the latest update/changes. Deathsnacks data is quite credible and it is a go-to if you are looking to track invasions, alert, sale, dark sectors and various sorties in Warframe.
3. Tenno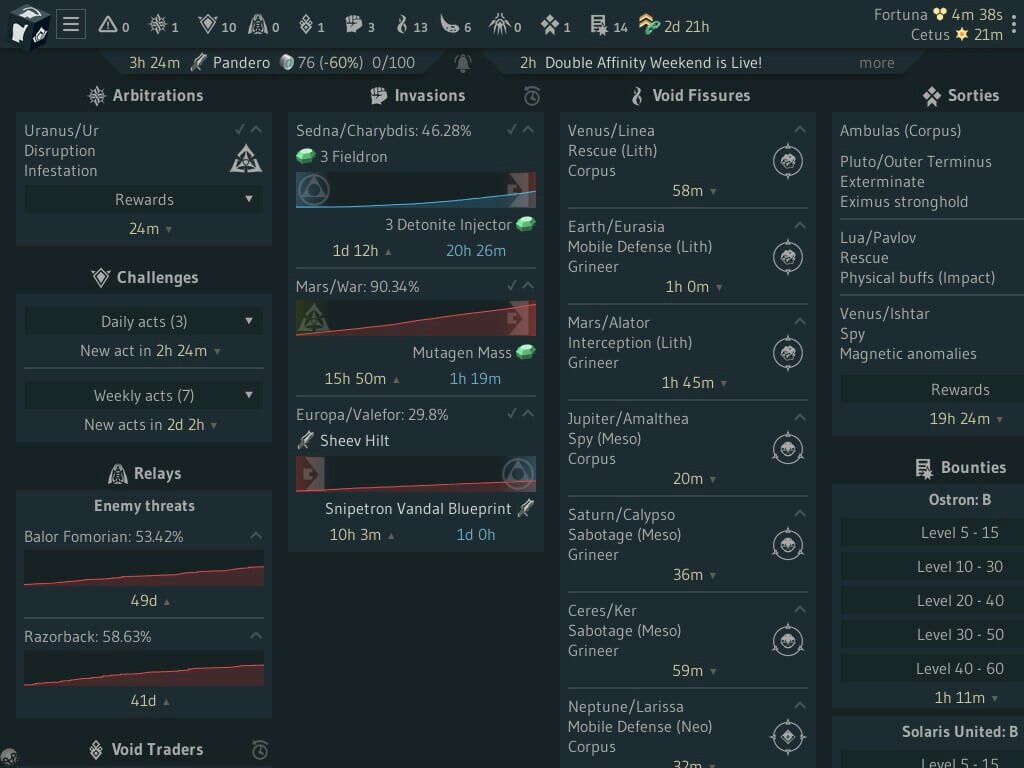 When Warframe Hub fails to provide the necessary data you need, then you can comfortably rely on Tenno Tools. It's just like its mate, a platform used to track Warframe alerts, invasions, sorties and other ongoing activities within the game. I personally like the fact that they allow users to keep tab or track of daily/weekly nightwave challenges and its syndicate calculator makes it a must-use.
4. Roframe
Roframe is yet another Warframe timer you may or may not have come across. It's a very accurate site per se and features a simple and easy to use interface. Right from the homepage, you'd see how every information on the site is neatly arranged. From earth to cetus day/night cycle then down to reward timer, bounty cycle and deals. There are quite a lot of credible stuffs on the site.
5. Mmotimer
Mmotimer is a clean and user-friendly timer for Warframe. It's very detailed and features a slew of customization abilities via the settings tab. Unlike the Warframe timers and/or trackers mentioned above, Mmotimer brings support for sound and custom tracking. This features is essential if you're looking to get notified about specific events. Currently, the site can help you track Nightwave, Invasions, Alerts, Void Trader and more.
6. Ipeer Auron
The last but obviously not the least is Ipeer Auron. It is one of the reliable and frequently updated Warframe tracker out there. Aside from allowing users to customize the look and feel of the site, it features a drag and drop element that makes it extraordinary. Ipeer Auron can track cetus bounties, ongoing events, fortuna bounties, acolytes, santuary onslaught and more. It's the place to go especially if you're looking to get accurate data.
Wrapping Up

If you do not want to go through the hassles of logging in or downloading apps to see various Warframe data, simply use the above websites. They are undoubtedly the best Warframe tracker and/or timers on the internet.