Overwatch stats tracker are essential if you are looking to track your wins, kills, season by season performance and how you have stacked up against other players.
Although dropping in popularity, Overwatch is still one of the biggest games out there right now. It has single-handedly amassed over 40 million active players worldwide while gracing our PCs and Consoles with ease. The team-based multiplayer first person shooter game overwatch has gotten stats tracking capabilities and it's specifically targeted at players who love to see data whilst battling it out in the competitive mode.
Also Checkout: The Best Gamertag Generator
Of course Overwatch brings its own statistics, but it's safe to say that they are less appealing. So if you're looking to see where you stack up against other players by comparing your kills, damage, wins, healing, K/D and other stuffs, then simply set your career profile visibility to public by navigating to Options -> Social and then come back and checkout the best overwatch stats tracker that are accurate.
1. Overbuff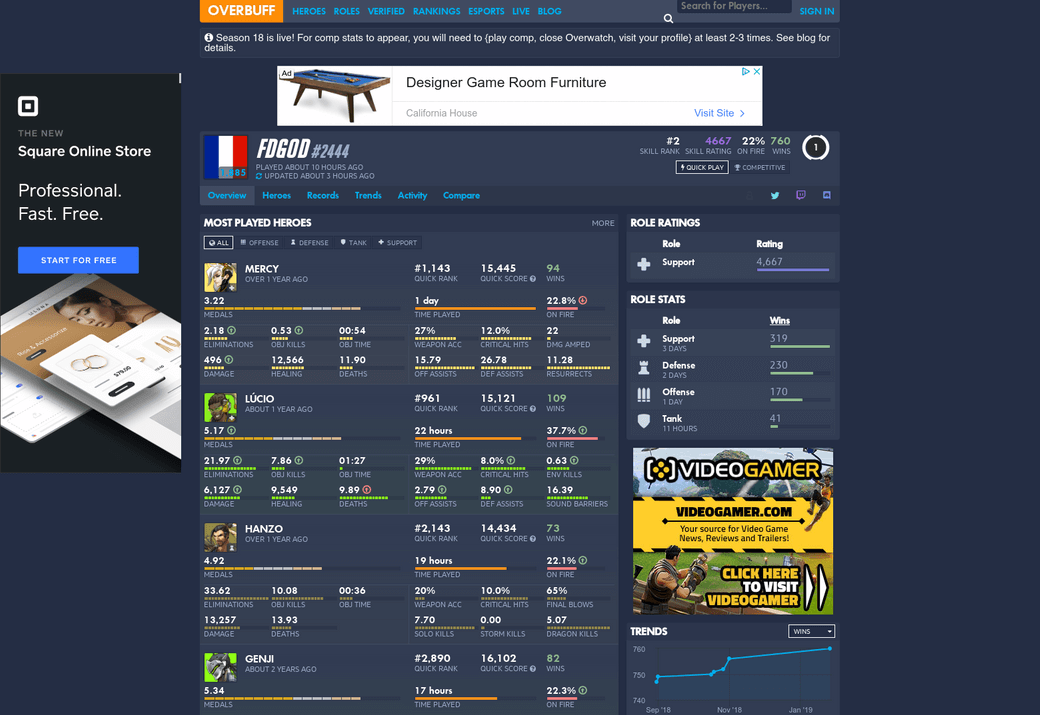 A lot of people tend to assume that stats trackers aren't accurate, but Overbuff sits out from the crowd. It's one of the best website dedicated to help Overwatch players improve their game. Genuine, comprehensive and good insights are some of the site's attributes and it helps you keep tab on pro players. Overbuff brings complete overview of your most played heroes, their roles and lifetime stats.
You do find a brief summary of your hero's combat stats and medals earned per game. There's also a records section where informations such as the highest averages per game and per life are being revealed and once you jump into the trends subdivision, you'd see stats such as win rate percentage, skill rating (SR), kills, objective time, eliminations, healing, damage and deaths.
2. OmnicMeta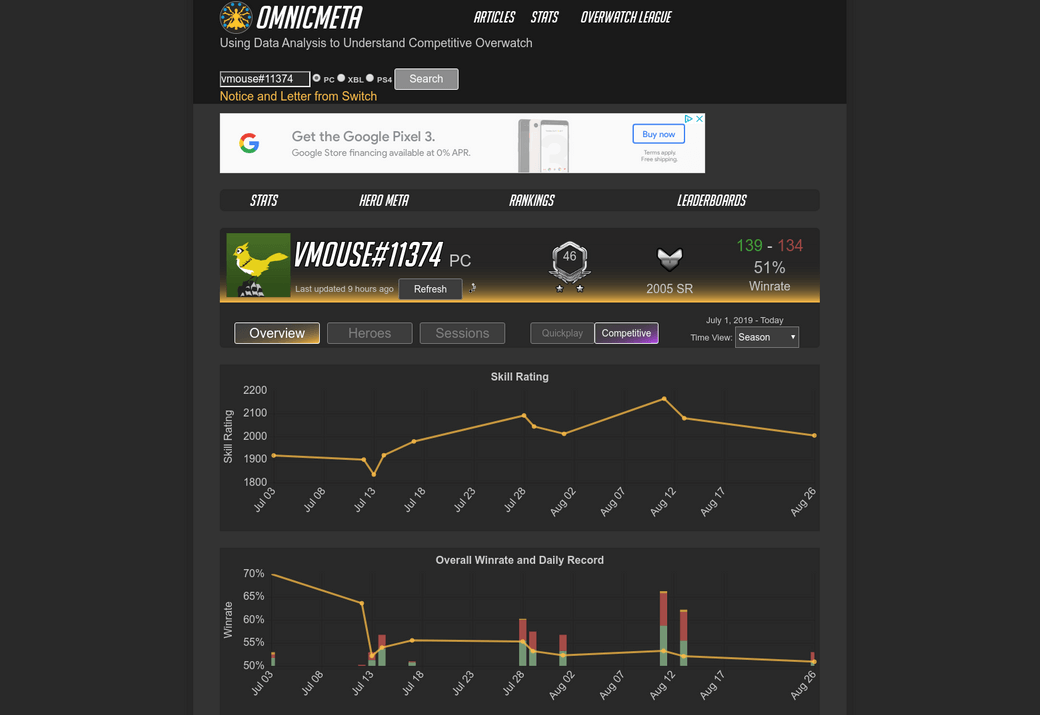 Before now, a slew of Overwatch players were making use of Oversumo to track their statistics, but following the app's shutdown, OmnicMeta emerged to serve as an alternative and it brings similar functionality. As a website designed by a stat-head who is into eSports, OmnicMeta serves as a platform that grabs your games stats and let you examine them.
One of the things that makes the site stand out from its mate is that it outputs your results in percentile and shows the top 6 key stat of each heroes per 10 minutes instead of per match. That's Oversumo's most sort-after feature I guess. Statistics such as hero's playtime, winrate, damage, healing, blocked, deaths and ranking are visible on the site, and I personally think the graphical data is accurate.
3. OP.GG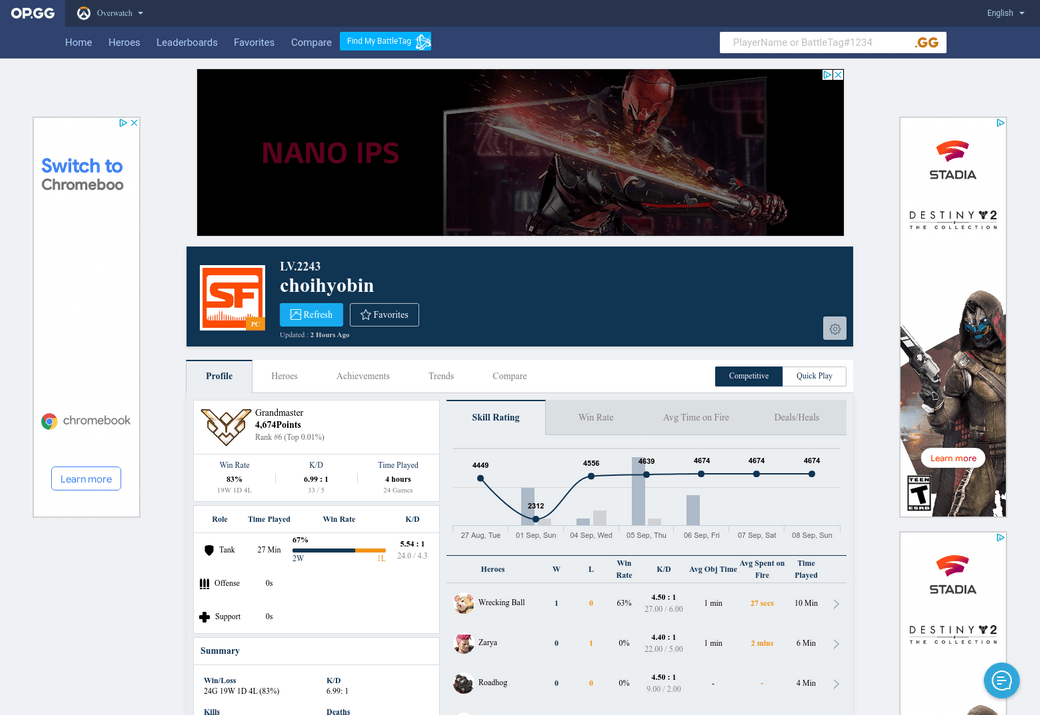 Considering the fact that Oversumo was an app while OmnicMeta isn't, a few of you might be discouraged to use it. So with that in mind, we're including OP.GG into this lists. It is one of the most popular game statistics service that lets you analyse stats for a slew of games such as Overwatch, Dota 2, Leagues of Legends, Fortnite, PUBG and Rainbow Six Siege.
The app brings a fairly clean and user-friendly interface with a ton of useful informations relating to the player's hero. From the leaderboards section then down to the hero's profile, you do find the win rate, k/d, time played, gold, bronze and silver acquired, kills, average objective time, death, damage, heals and the rest.
Download OP.GG from Playstore (free)
4. Overwatch Tracker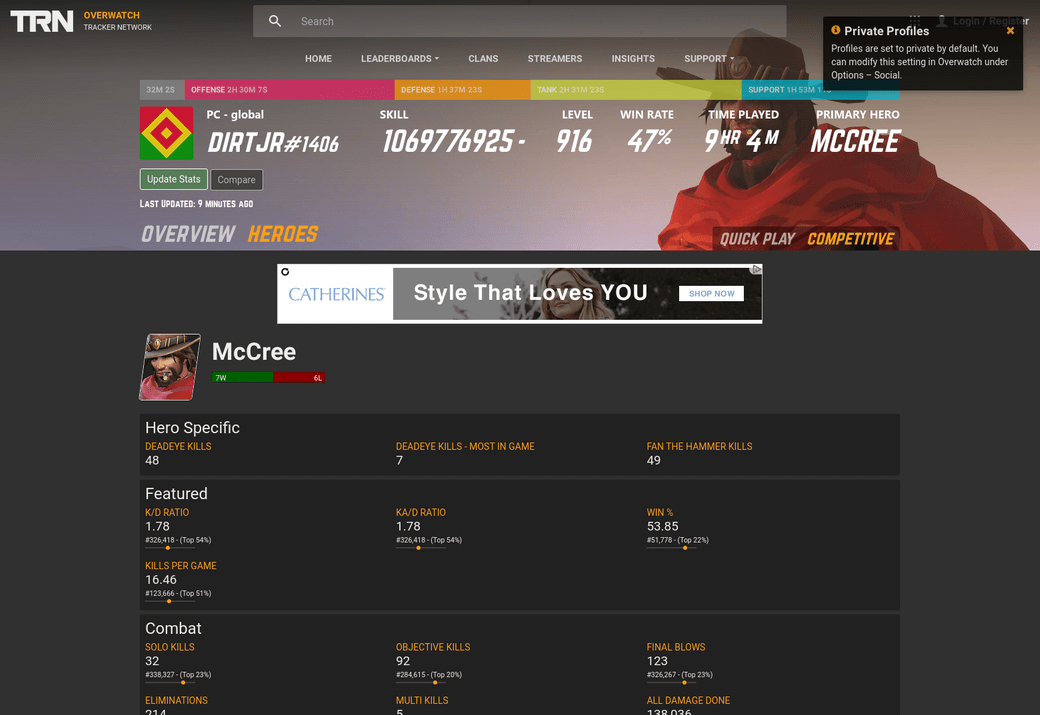 This one has got a pretty straightforward name and it does what it says. Overwatch tracker is literally among the best place to find amazing Overwatch stats. The site gives you the privilege to see an overview of your Overwatch career while diving deep into all the heroes stats. Similar to OmnicMeta, Overwatch tracker ranks stats and gives it a percentile. The website is one of my favourite, and I fancy the mechanical design it's built on.
5. Master Overwatch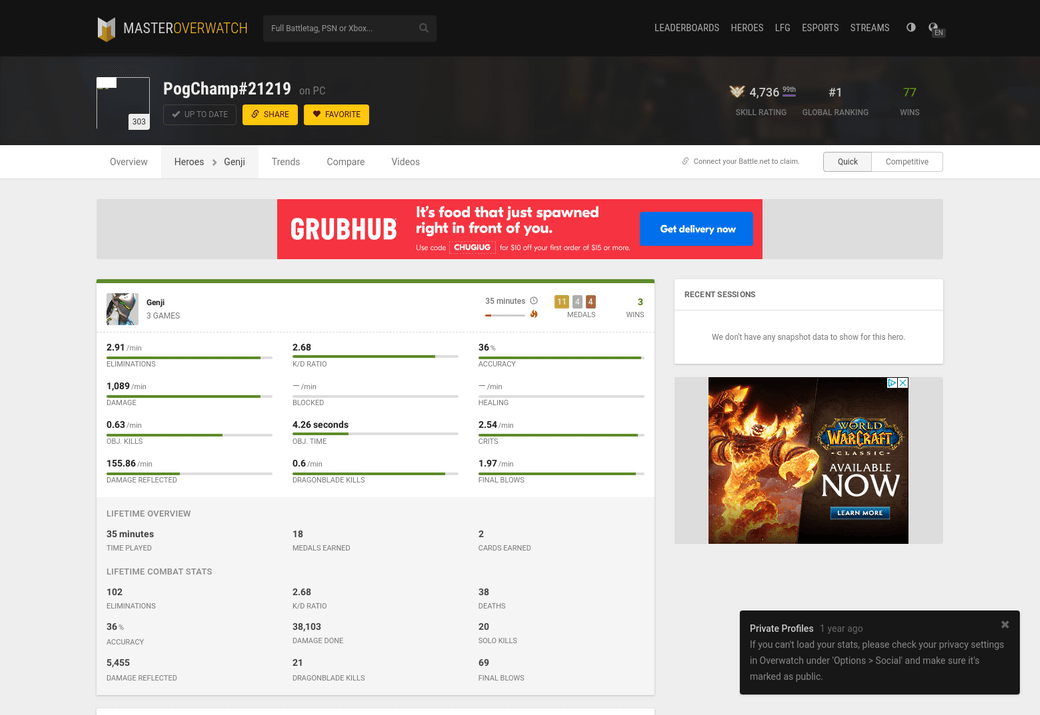 Finally, we have Master Overwatch. It is just like its siblings, an Overwatch stats tracker website that gives you an overview of all your game performance. The site provides all kinds of stats such as accuracy, damage done and absorbed, winrates, skills, healing, kill to death ratio, score and etcetera. This is all wrapped in a classic user interface and the insights are top-notch. It's overall a recommendable Overwatch stats tracker.