Video game anxiety is real, but assuming you are in doubt, then have a look at Word Bomb, a free-to-play bomb party game that task players to put their puzzle-solving and communication skills to test as they race to defuse bombs quickly before the time runs out!.
A slew of folks find video games to be anxiety-inducing even when they are trying to relax and this mostly occurs when their need for completeness and control take over. For one thing, video game anxiety comes in many forms and this includes repetitive thinking loops, especially about things we can't finish or complete on time in a game.
Whilst the likes of Tetris, Candy Crush, and Bejeweled are less stressful and relieving to play, explosive word challenge games such as Word Bomb can be pretty much anxiety-inducing and fun at the same time. The game itself is geared towards swift thinkers and word savvies, and it offers a fast-paced action laden experience.
What Exactly is Word Bomb?
In a bit to test player's nerves using the threat of infernal ticking bomb, Word Bomb spawned. The game literally grew from obscurity to become a top hit for folks who love quick and creative thinking. Its concept for the uninformed is similar to any bomb party game out there. But assuming you are finding it hard grasping what the overall idea or gameplay is, then read on as we unravel everything.
Technically speaking, Word Bomb is simply a multiplayer bomb party game that challenges players to swiftly make up or type valid words from the letters that appear on the screen. Reacting with the right word at the perfect moment passes the ticking bomb to another player and this goes on and on until a player fails to type the correct word in time which automatically sees the bomb explode in their custody, with him/her losing a live.
Also Checkout: How to Cheat in Kahoot
The last man standing automatically wins the game of course, but you're sure to have lots of laughs from this casual silly game which literally let's us know who amongst our friends panics the most. For one thing, winning each round in word bomb requires spontaneity, resilience and most importantly, creativity. Also albeit fun, the game increases in difficult as players progress.
It is interesting per se, since it helps players learn new words. That aside, one of the major benefits of playing the game is that it generously improves our IQ. Quick typing skills as well as stuff such as reaction time are nevertheless amongst the advantages of playing word bomb.
Where to Play Word Bomb?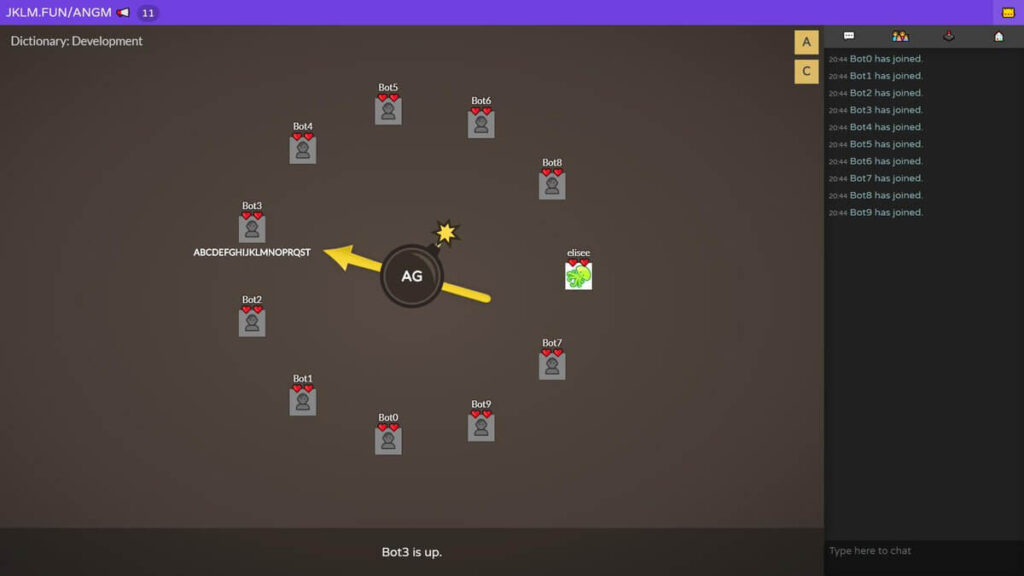 As we said earlier, there are a plethora of bomb party games out there on the internet. But assuming you are looking for something that is smooth, free of ads and without the need to sideload or download third-party apps, then you are better off playing JKLM.FUN Word Bomb game.
The platform itself is a party game website that host cracker games such as Bomb Party and Popsauce. Its main pros compared to most competitors is that it let's players edit the rules to their preferences. One can easily choose to extend the bomb explosion duration and even change the default language to whatever that's supported.
So without wasting much time, simply head over to JKLM.FUN, then select BombParty and then click Play. From here, choose a nickname, then hit the Go button and exercise some patience or preferably tinker with the game's settings and/or rules whilst waiting for it to merge you with two more players before you can kick-off.
Wrapping Up
Sincerely speaking, Word Bomb brings one hell of an hectic cooperative bomb defusing action. It is free to pick up and play and even offers bonus letters capable of replenishing player's health. Overall, it's a game to play during leisure. You're certainly going to love every single bit of it.