Here's the definitive Yuzu TOTK Fix, Mods, Setup Guide, and Best Settings you will ever need to reach peak performance.
Released as a sequel to The Legend of Zelda: Breath of the Wild, Tears of the Kingdom (TOTK) is an interesting action-adventure game in which players assume the role of Link, a young hero on a mission to save Princess Zelda and prevent the Demon King Ganon from destroying the universe.
Similar to its predecessor, The Legend of Zelda: Tears of the Kingdom takes place in the open world of Hyrule, where players will get to explore dungeons, battle creatures, solve puzzles, and whatnot. Its anticipated release instantly caught the attention of many, including those who do not own an actual Nintendo Switch console.
Also Checkout: How to Install DLC on Yuzu Emulator
Nonetheless, if you are looking to experience Legend of Zelda: Tears of the Kingdom right on your computer system, you can easily do so thanks to Yuzu Emulator. In this article, we'll unravel the ultimate Yuzu TOTK setup guide, the best settings needed to achieve 60 FPS, steps to apply updates, and a fix to the stuck at launching screen issue.
Yuzu TOTK Setup Guide
Getting Legend of Zelda: Tears of the Kingdom to work on the Yuzu emulator, and that too at a playable speed, is no easy feat. But with this guide, you can smoothly run TOTK on Yuzu, and that too with all the latest mods, updates, patches, and more. Now let's get into the Yuzu TOTK setup guide.
Prerequisites
Download the latest early access release of Yuzu Build for your operating system from the Pineapple Github
Download the Legend of Zelda: Tears of the Kingdom (TOTK) ROM from NSWFU or FitGirl Repacks. Don't worry, both NSP and XCI rom formats work on the Yuzu emulator.
Download the Legend of Zelda: Tears of the Kingdom (TOTK) update file from NSWFU or FitGirl Repack.
Setting up TOTK on Yuzu
Assuming you have downloaded the requirements above, simply extract the Yuzu build using WinRAR or 7-Zip.
Next up, open the extracted Yuzu folder, and in there, right-click to create a new folder and name it user.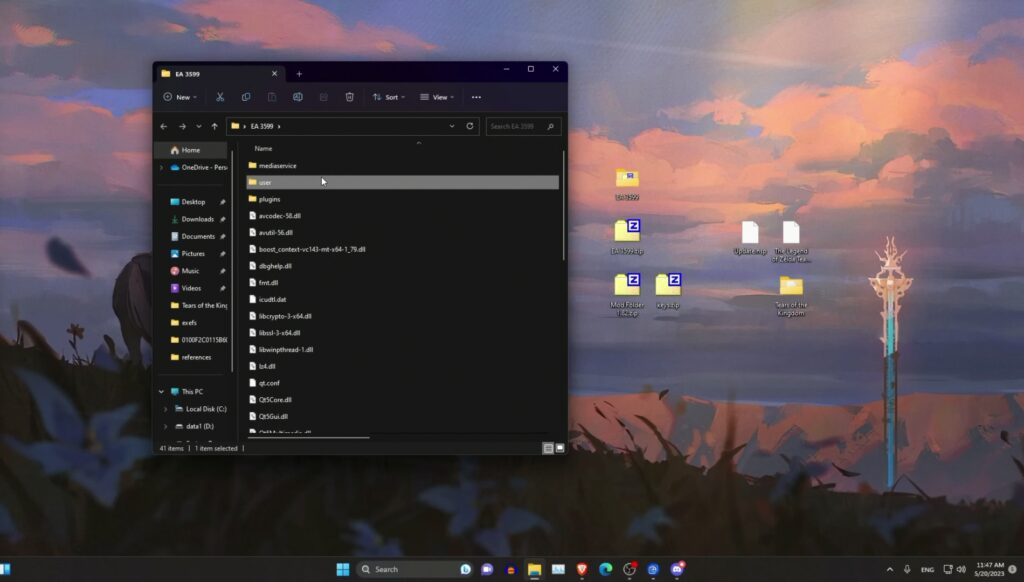 With that done, extract TOTK Optimizer (Mod Manager), open the extracted folder, then copy and paste these 3 folders: config, load, and nand, to the newly created user folder.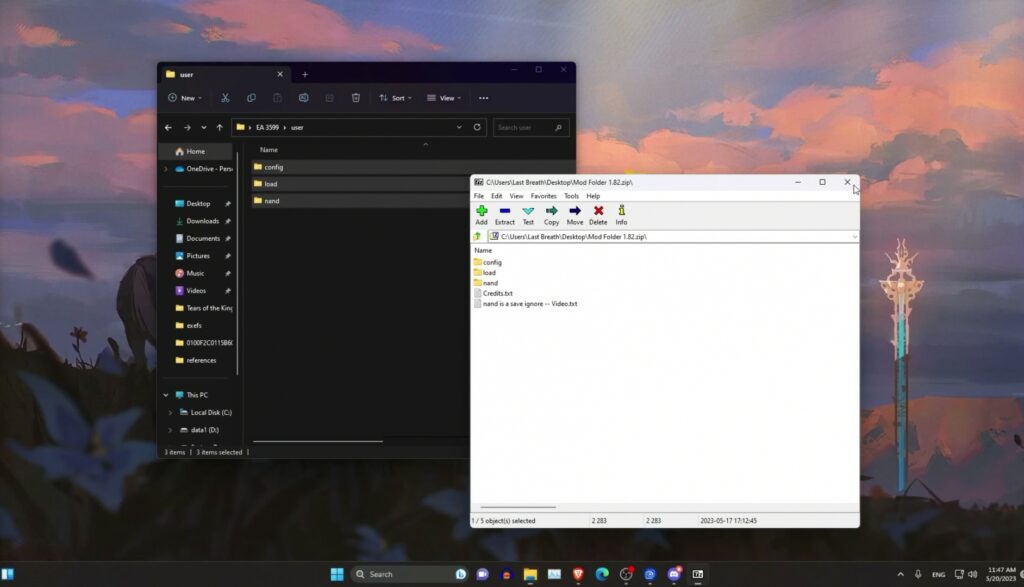 Once done, go ahead and extract the Yuzu Prod Keys 16.0.3 zip file, open it, and then copy and paste the keys folder to the user folder we created.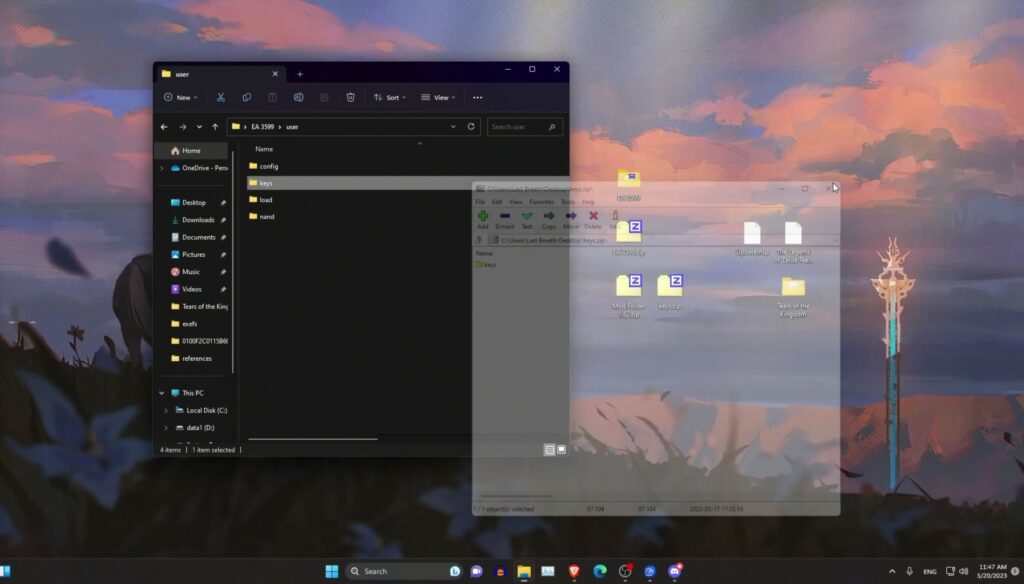 Now create a completely new folder on your desktop and name it Tears of the Kingdom. Once done, drag and drop the main game as well as the update file to this newly created folder.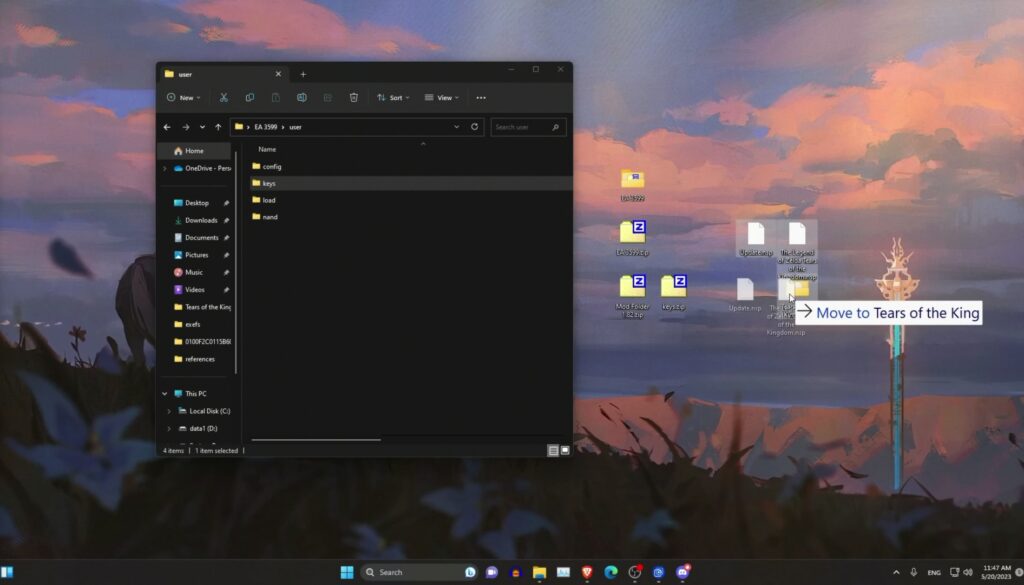 Now go ahead and jump into the extracted Yuzu folder and double-click the file yuzu.exe to launch the Yuzu emulator.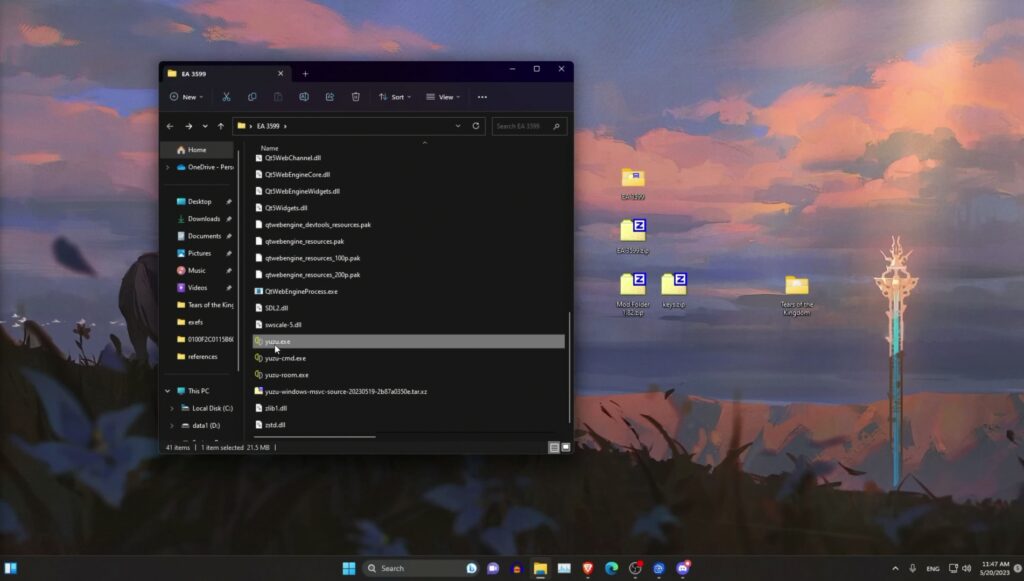 Once open, double-click on the folder icon at the centre of Yuzu and locate the Tears of the Kingdom folder we created. Once found, select it, then click on the Select Folder button.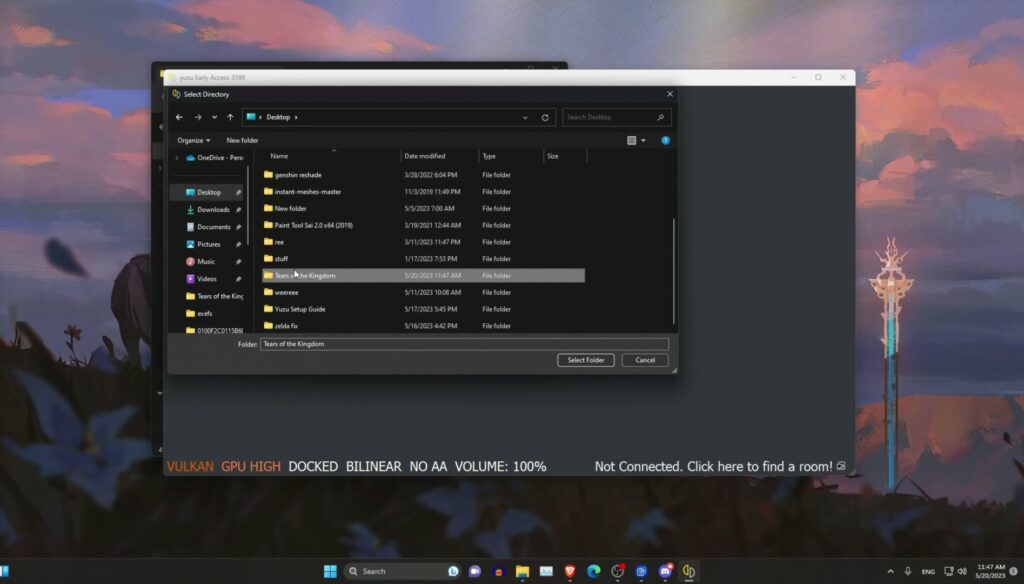 On Yuzu, click on Emulation at the top, then select Configure, followed by Controls from the left pane, and under Input Device, select DualShock 4 Controller 0. Note: If you aren't using any controllers, we recommend leaving them at default (i.e., keyboard only).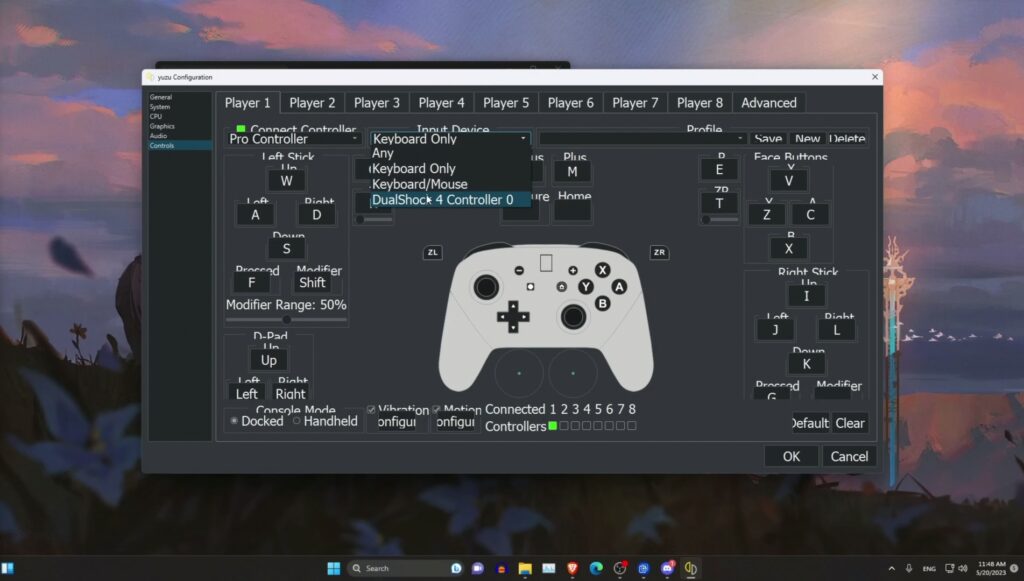 On Yuzu once again, click on Files from the top, followed by Install Files to NAND. Windows file explorer will open; simply locate the TOTK update file you downloaded from the prerequisites above.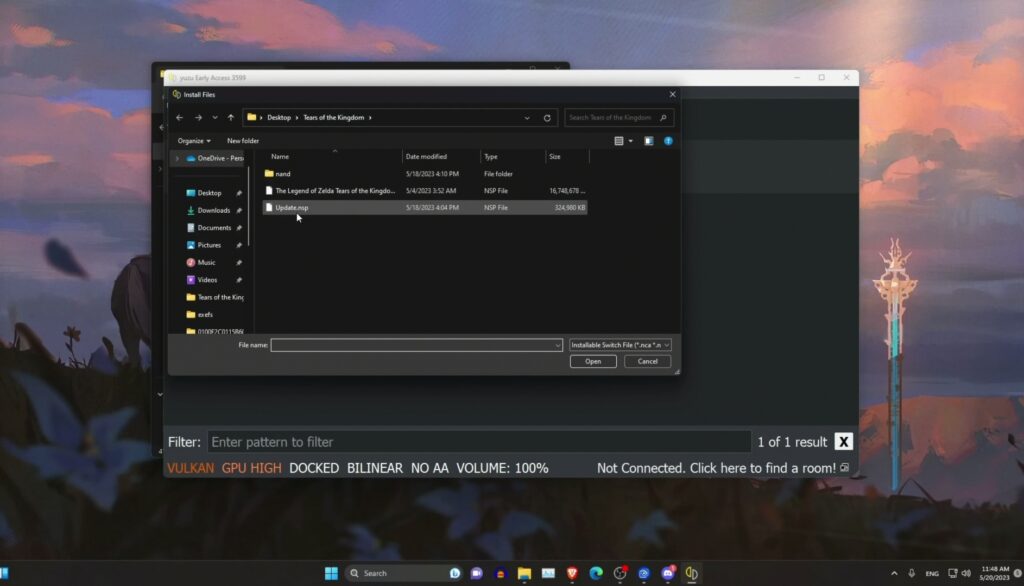 Double-click to select it, and then click Install to initiate the process.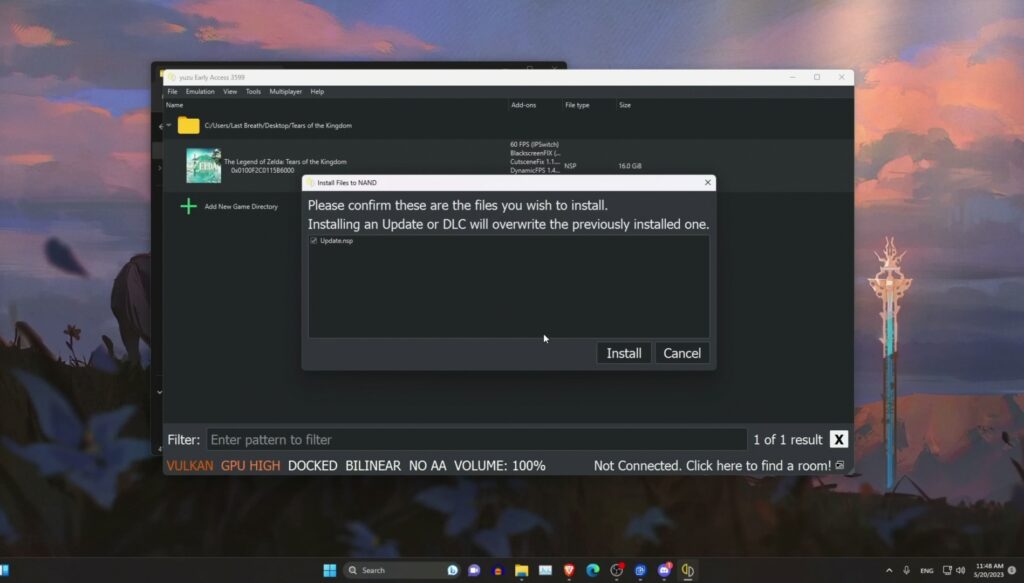 Now within Yuzu, right-click on The Legend of Zelda: Tears of the Kingdom and select Properties from the drop-down menu.
A new window will open. Click on the Graphics tab, and under Resolution, select 2X (1440p/2160p).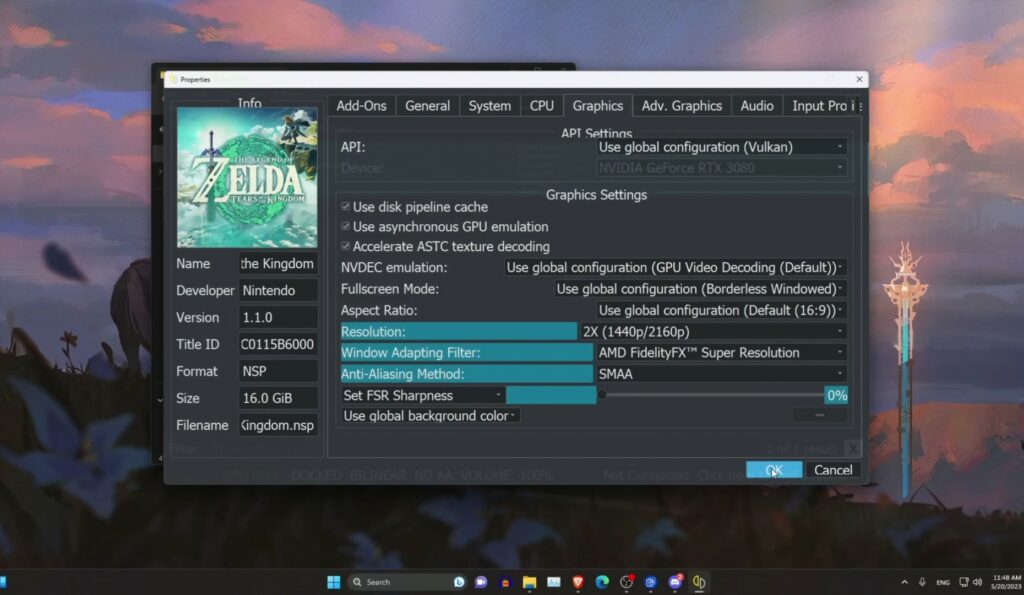 That's it. You can now double-click to open The Legend of Zelda: Tears of the Kingdom directly within Yuzu Emulator, then give it a minute to load, and it should run fine depending on how powerful your gaming rig is.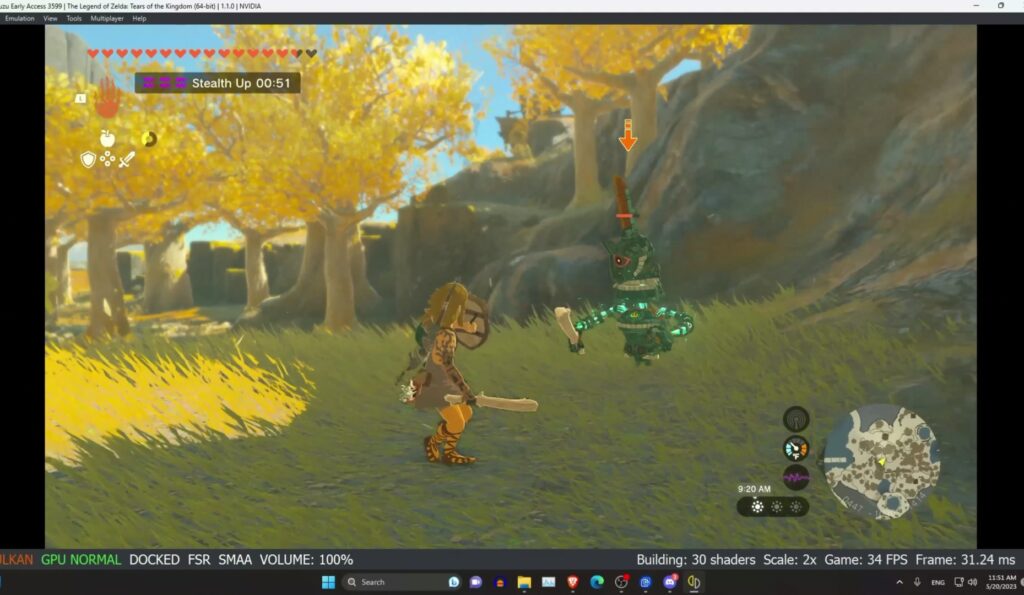 Yuzu TOTK Fix (Optional)
In case you encounter an issue where Tears of the Kingdom is not working on Yuzu or is simply stuck at the launching screen, simply download and extract the yuzu_totk_fix file.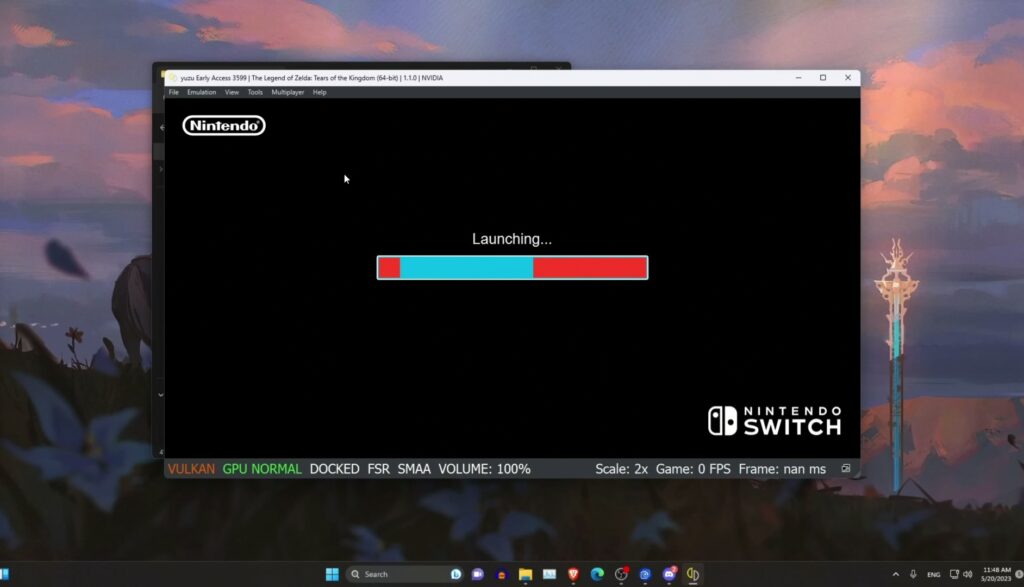 Open it, then copy the load folder in there and paste it in the Yuzu root folder, which can be located using File Explorer.
The Best Yuzu Settings for TOTK
As we said earlier, running Tears of the Kingdom on the Yuzu emulator requires a very powerful, high-spec PC in order to get maximum performance. Below are the recommended, or perhaps the best, yuzu settings for TOTK you can experiment with.
Note: If you have already sideloaded the TOTK Optimizer (Mod Manager) from the Yuzu TOTK setup guide above, the below settings will be set automatically by choosing a setting preset.
However, if you haven't, simply right-click on Legend of Zelda: Tears of the Kingdom within Yuzu Emulator, then select Properties from the drop-down menu, jump into the appropriate tab, and fiddle with the Settings options as shown below.
System:
Multicore CPU Emulation ✓
Memory Layout: 6 GB of DRAM (unsafe); DFPS 1.5.5 requires this.
Graphic Settings:
Accelerate ASTC Texture Decoding ✓ – Recommended for most GPUs.
API: Vulkan Use Disc Pipeline ✓
Use Asynchrous GPU Emulation ✓
Resolution (1x): Mod Optimizer sets internal resolution; don't touch this.
Windows Adapting Filter (AMD FSR, Nearest, Bilinear, Bicubic)
Anti-Aliasing Method (SMAA) Sharpness 0
Advanced Graphic Settings:
(NEW) ATSC recompression ✓ BC3 (6–8 GB vram) BC1 (4 GB RAM or under) BC1 (Steamdeck)
Decode ATSC Textures Asynchronosly (HACK) X <– DISABLE: GAMEBREAKING
Enable Asynchronos Presentation ✓ <– Could cause stuttering (updated)
Force Maximum Clocks (Vulcan only) ✓ (only if GPU is RTX 3070 or higher)
Enable Reactive Flushing ✓ <– ON (Turning it off breaks the game.)
Use Asynchronos Shader Builder (HACK) X <– Reduces shader stutter but breaks icons
Use Fast GPU Time (HACK) ✓ <– Some people are reporting crashes.
Accuracy Level (Normal): Weirdness with Physics Use HIGH
Antistrophic Filtering (16x): Free Visual Bump
Yuzu TOTK Mods
Yuzu TOTK mods are literally the best way to enhance the game's vanilla experience. So without further delay, here are some of the best Yuzu TOTK mods to install right now.
To install the above Yuzu TOTK mods, simply right-click on the game within Yuzu Emulator, select Open Mod Data Location from the drop-down menu, and drag and drop the extracted mods to that location.
To learn how to install and use the Yuzu TOTK Reshade Presets mod, we recommend this guide.