Zombs.io hack abound. So if you are looking to get hacks such as base auto builder, speed run, auto heal and more, below is all the active Zombs.io hacks to utilize right now.
Battle Royale games have come to stay, thanks to the massive success of PUBG and Fortnite. Today, there are a dozen of new video games that often get slapped under the battle royale game genre and Zombs.io is no different.
Released in 2018, Zombs.io is a popular online multiplayer game where players are tasked to build and defend their base from waves of attacking zombies. The game is set in a post-apocalyptic world where players must collect resources, build structures, and upgrade their defenses in order to survive against increasing hordes of zombies.
Also Checkout: Kirka.io Hacks – Aimbot Unlimited Ammo and More
As players progress through the game, they can unlock new weapons, upgrades, and abilities to help them survive longer and defeat more zombies. The game also features a leaderboard system where players can compete against each other for the highest score.
Similar to Surviv.io, Zombs.io since its release has gained a large following and is known for its addicting gameplay and challenging difficulty. Now in a bit to help you simplify your gaming experience, we went through the internet to cherry-pick the best Zombs.io hacks that work without qualms.
Zombs.io Hacks
There are several ways to hack Zombs.io, but while some may prefer the use of Inspect Element, we will be using Tampermonkey and a feature-rich Zombs.io script for this guide.
So if you are already itching to get hacks such as auto heal, base auto builder, speed run, aimbot, and more, below is how to hack Zombs.io with ease.
How to Hack Zombs.io
Keeping custody of a zombs.io hack is one thing and knowing how to implement it is another. So without beating around the bush, here's how to effortlessly hack Zombs.io without using Inspect Element.
Install Tampermonkey
The first step obviously is to install the program Tampermonkey on your Chrome browser. For folks uninformed, Tampermonkey is a browser extension or plugin that allows users to write and run custom user scripts in their web browser.
So to install it on Chrome, simply head over to the Tampermonkey page on Chrome web store and click on the Add to Chrome button followed by Add Extension from the window that will pop-up.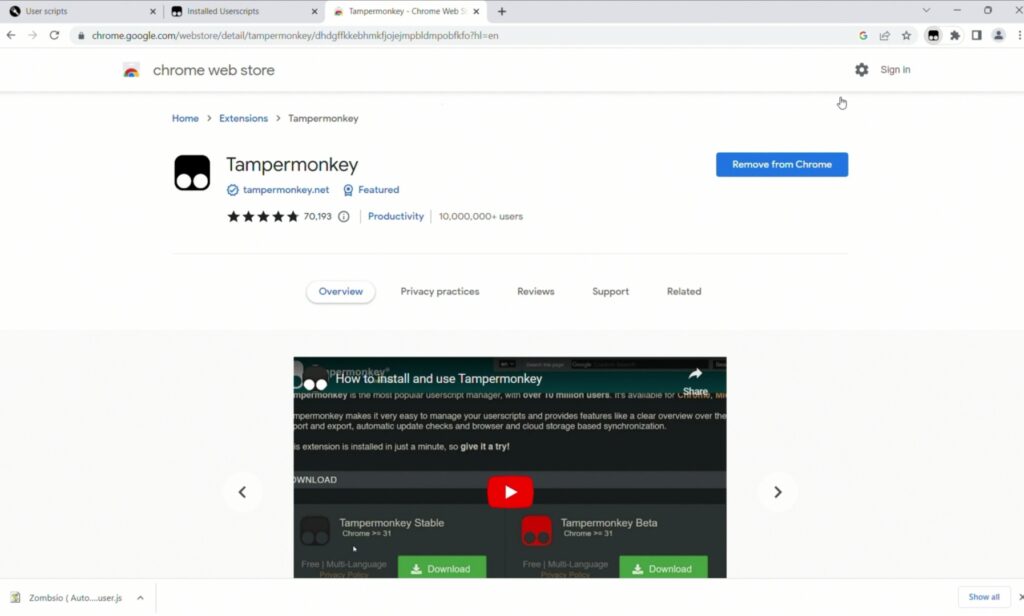 Once done, you should see a notification stating that Tampermonkey has been successfully installed in Chrome, and the plugin's icon should appear beside the search bar in the top right-hand corner of the screen.
Install a Zombs.io Script
With Tampermonkey installed on your Chrome browser, the next step will be to find and install a reliable Zombs.io script.
Note: User scripts are small programs that can be used to modify the behavior of web pages, add new features, or automate repetitive tasks. Integrating them in Zombs.io gives you the upper hand over your enemies.
To get this one going, we recommend heading over to the Zombs.io script page on GreasyFork as the platform host a ton of user-generated scripts for .io games.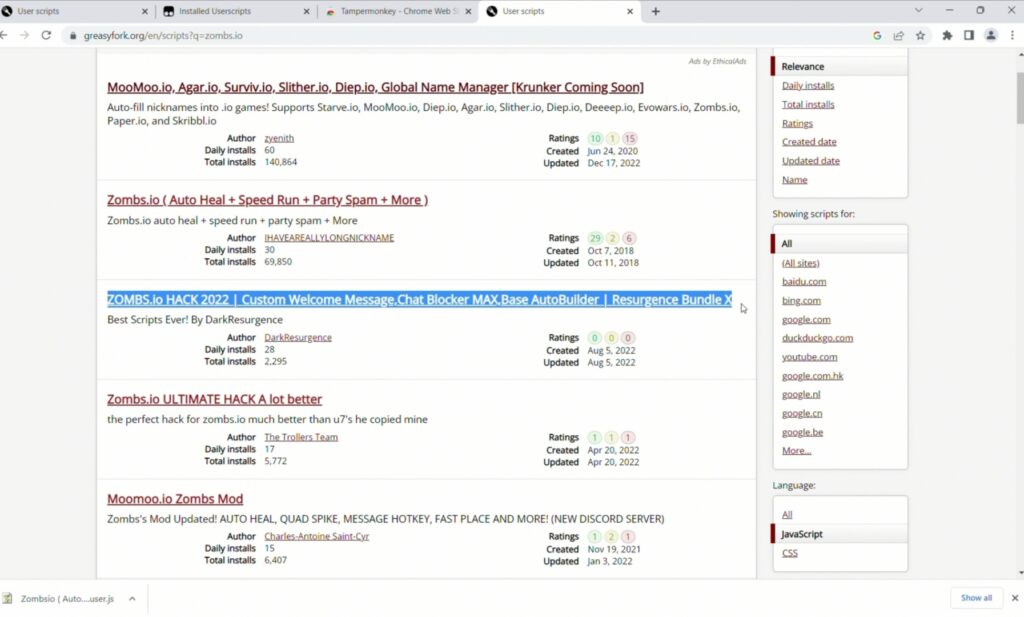 Once on the page, find and select the zombs.io hack you prefer and on the next page, click on the button that says Install this Script followed by Install to get things done automatically.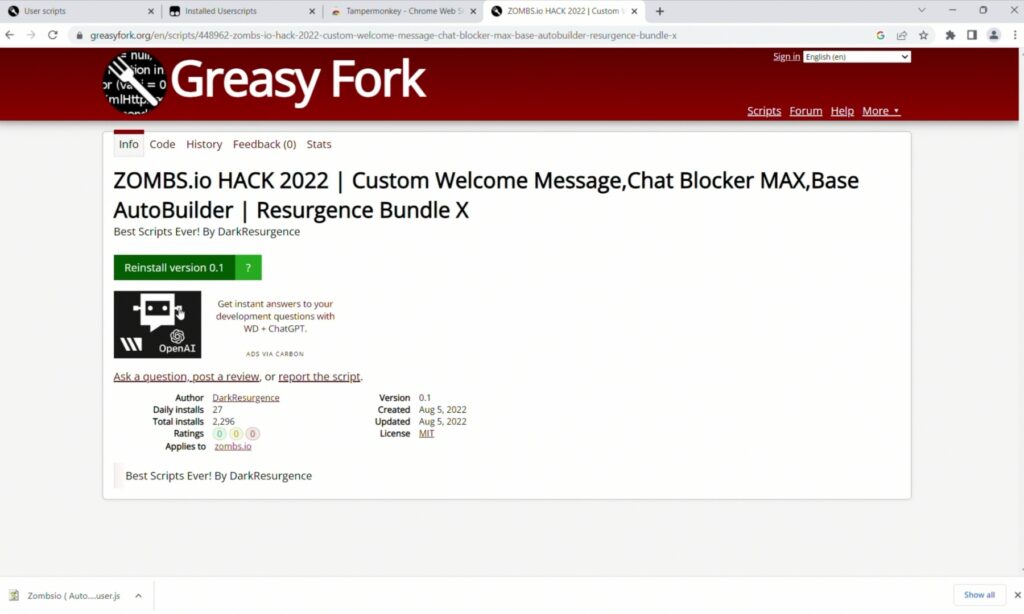 Alternatively, you can copy all the Zombs.io scripts found within the Source code box as shown below.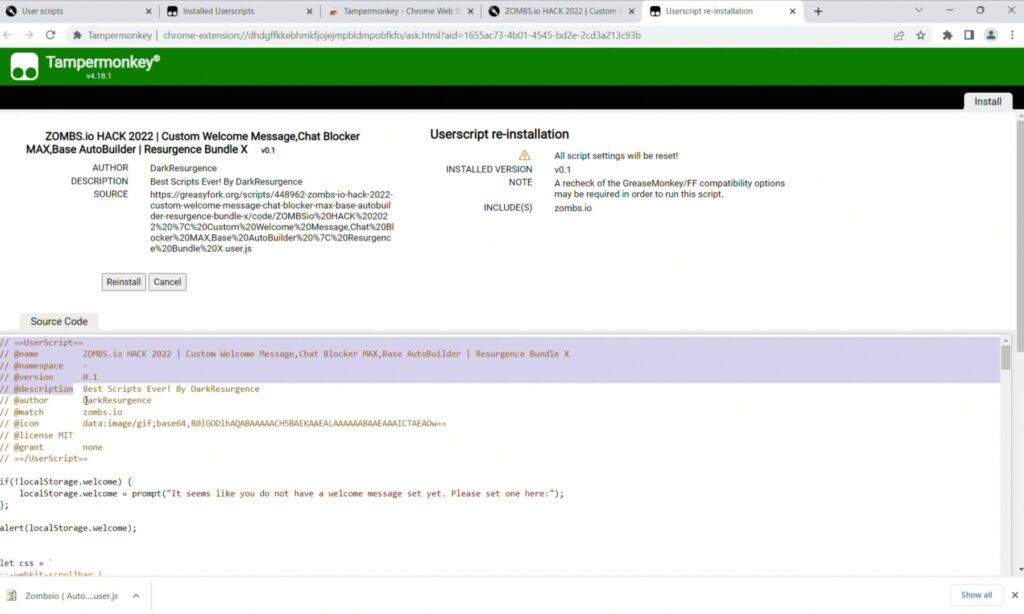 Then click on the Tampermonkey icon beside your chrome search bar and hit the plus (+) sign to create new script.
From here, delete all the codes found within the Editor screen and paste the zombs.io scripts you copied earlier into this section.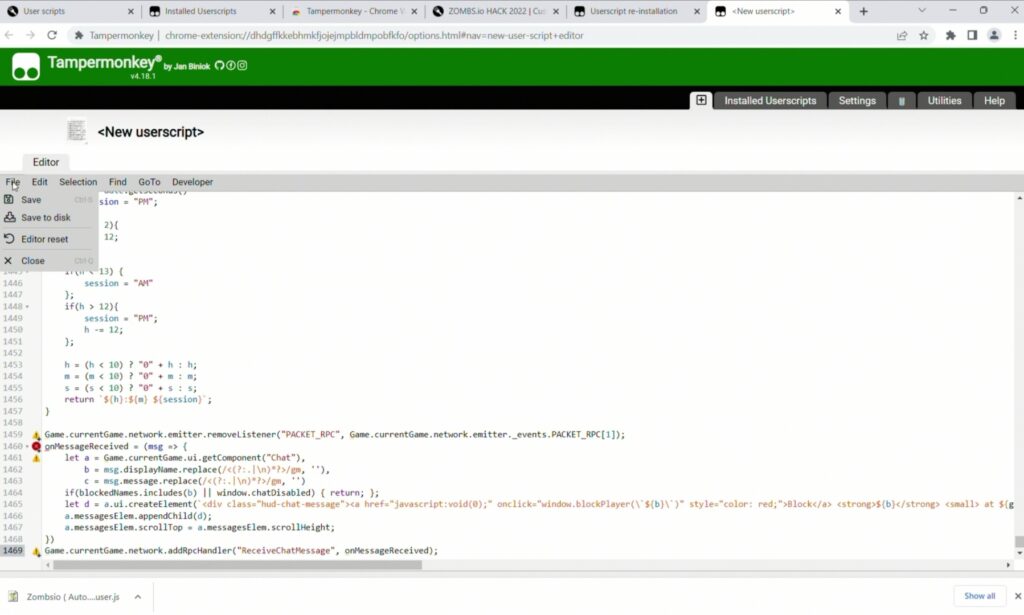 Once done, click on File followed by Save, then ensure the implemented zombs.io hack is toggled on.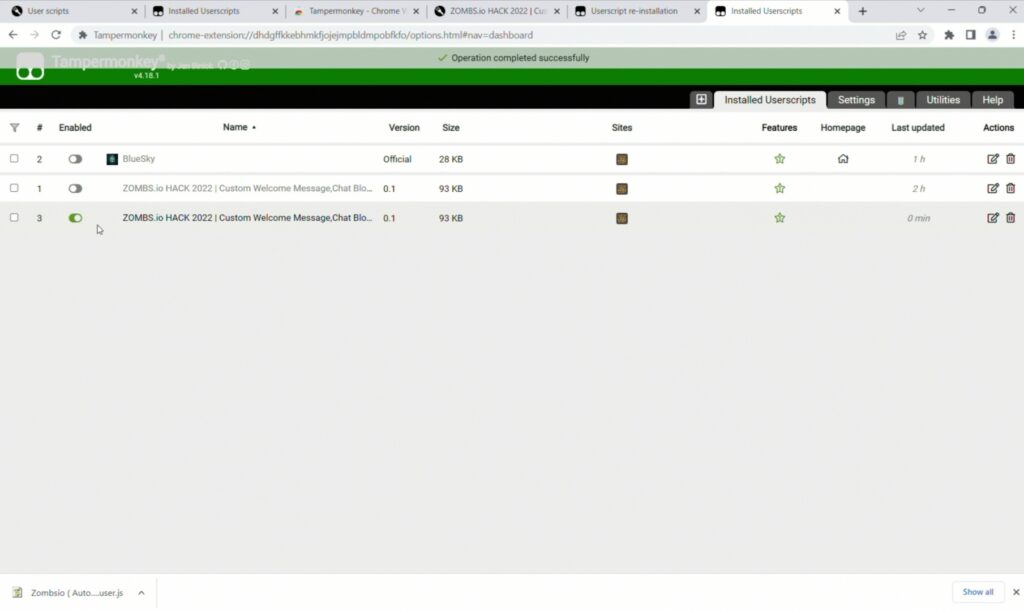 Enjoy the Hacked Version of Zombs.io
With everything done and dusted, simply navigate to Zombs.io from your Chrome browser and initiate gameplay.
Once the game starts, click on the Settings icon on the right-hand side of the screen and you should see the integrated hacks.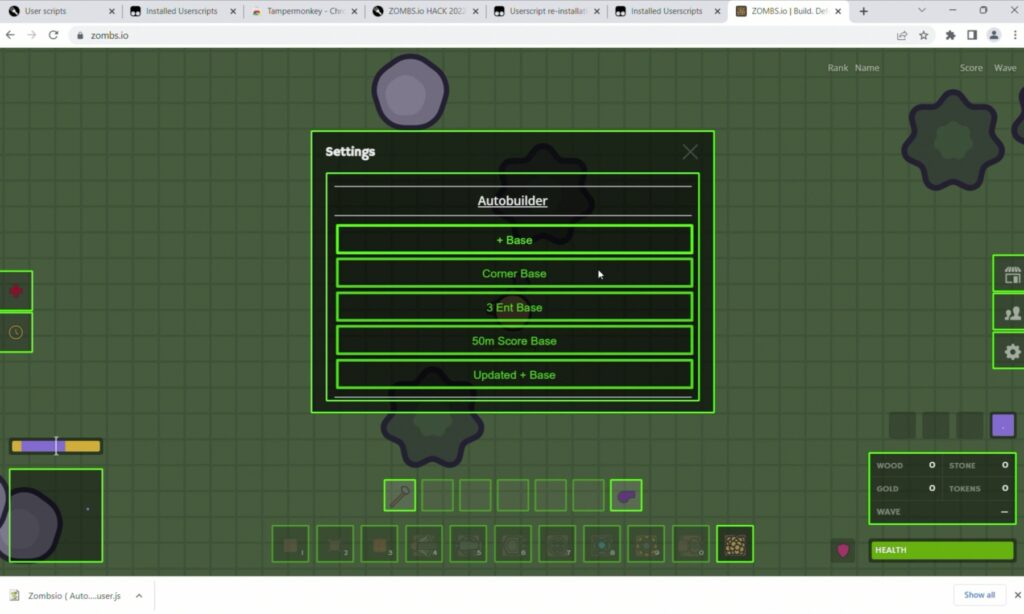 Overall, this is the best Zombs.io hack you'll ever need.