Video games do not always need the best of the best in graphics to allure the right audience. Simply build them around what's already popular and you'd see players flooding in non-stop. Following the popularity with the likes of PUBG and Fortnite, End Game came up with a battle royale title that's collision fun and it typically combines various elements that millions of today's players adore.
From multiplayer shooter to building mechanics and then there's a map 'littered' with all kinds of weapons and the ability to personalize your character. Zombs Royale is the name and trust me, it is very addictive. Featuring Agar.io-like background and minimalist UI, Zombs Royale gameplay takes place in a completely flat "surface" with various geometric shapes.
Also Checkout: Agar.io Hack
In the game, players parachute onto a 2D grid-like playing field along with 99 other players and their goal will be to scavenge for supplies as well as weapons in a last man standing death match. Frankly speaking, Zombs Royale albeit miniature offers a thrilling competition that last for 10 minutes and the whole activity can be tense and a little bit frustrating especially when the toxic blue gas starts to shrink the map.
Aside from aiming to reach the leaderboards and seeing how other players stack up, one of Zombs Royale main allurement is that it gifts or rewards players with daily and weekly coins and cosmetics for their character. But if the gems awarded are a little bit small, then here is how to get free gems in Zombs Royale as well as the best Zombs Royale hack for Aimbot and more.
Zombs Royale Hack for Aimbot
For folks uninformed, an aimbot is typically a hack, cheat or tool that allows players to shoot enemies without having to aim their weapon. It is quite handy and can help you shoot more accurately with less skill. Now of you're looking to kill your opponents easily, then here's the currently working and undetectable Zombs Royale aimbot hack to utilize right now.
To begin with, simply head over to github and download HackerHansen Zombsroyale.io aimbot. Next up, locate and extract the downloaded zip using Winrar, 7zip or any other file extension you have on your Windows PC.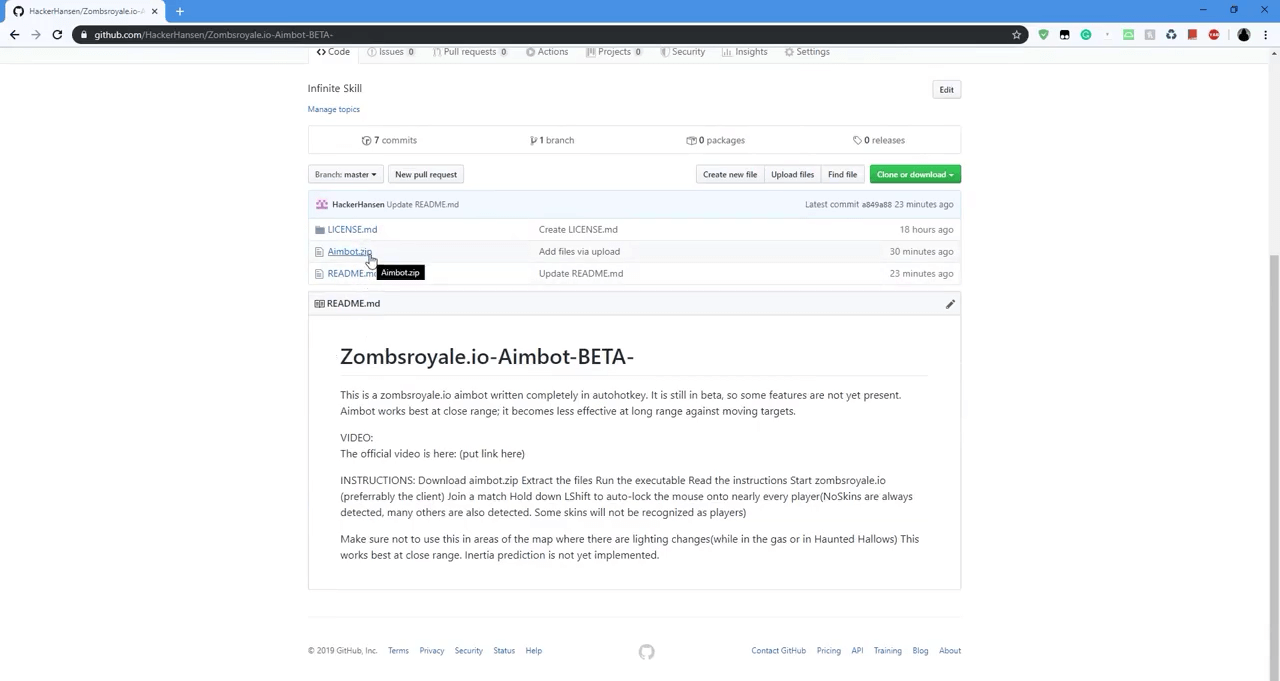 Once this is done, fire up the extracted Aimbot folder and click on the sub-folder that reads Zombsroyale Aimbot to reveal the software aimbot.exe
Double tap to open it, and then click "Ok" to accept the instructions. Now once you reach the section that says press ok to start, simply ignore this and instead open up Zombs Royale on your web browser.
Once you're in the game's main menu, go ahead and click the "ok" button from the Aimbot hack pop up window and from there, you can easily enter aimbot detection margin whilst configuring other options to your liking.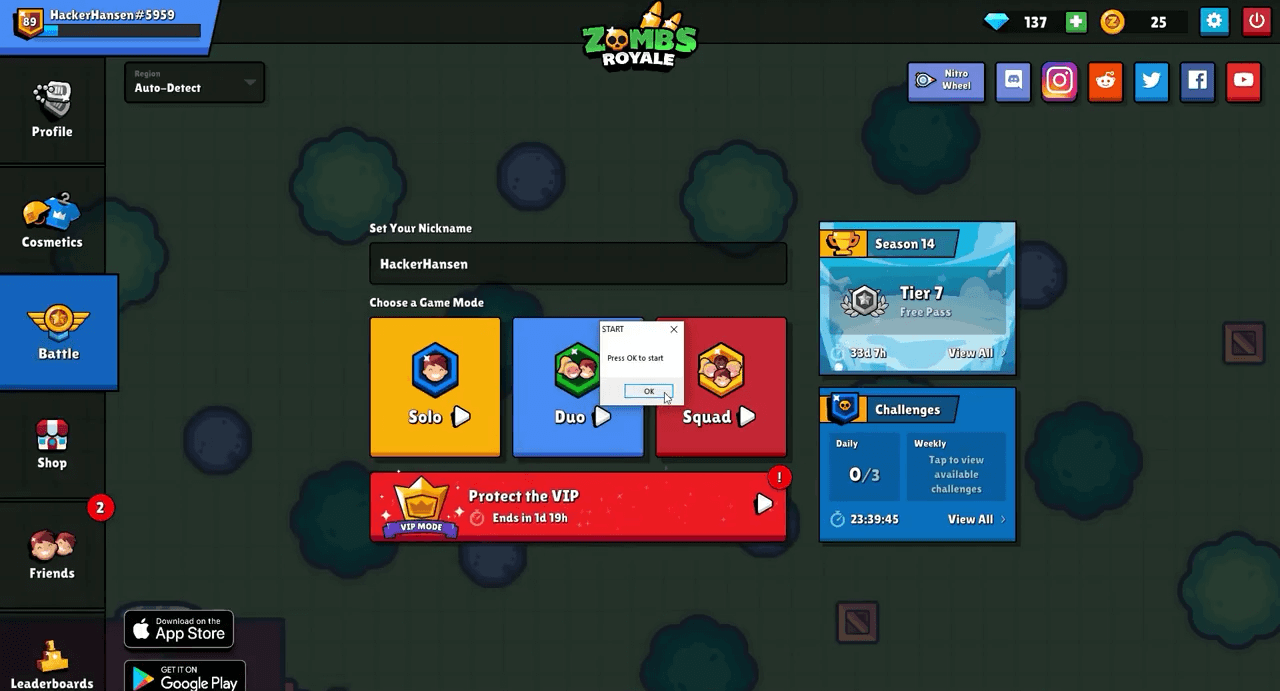 Once you're done setting everything up, simply choose a Game Mode to start playing. Now to activate the aimbot, hold down Left Shift to auto-lock the mouse onto any opponent at close range and then do the shooting.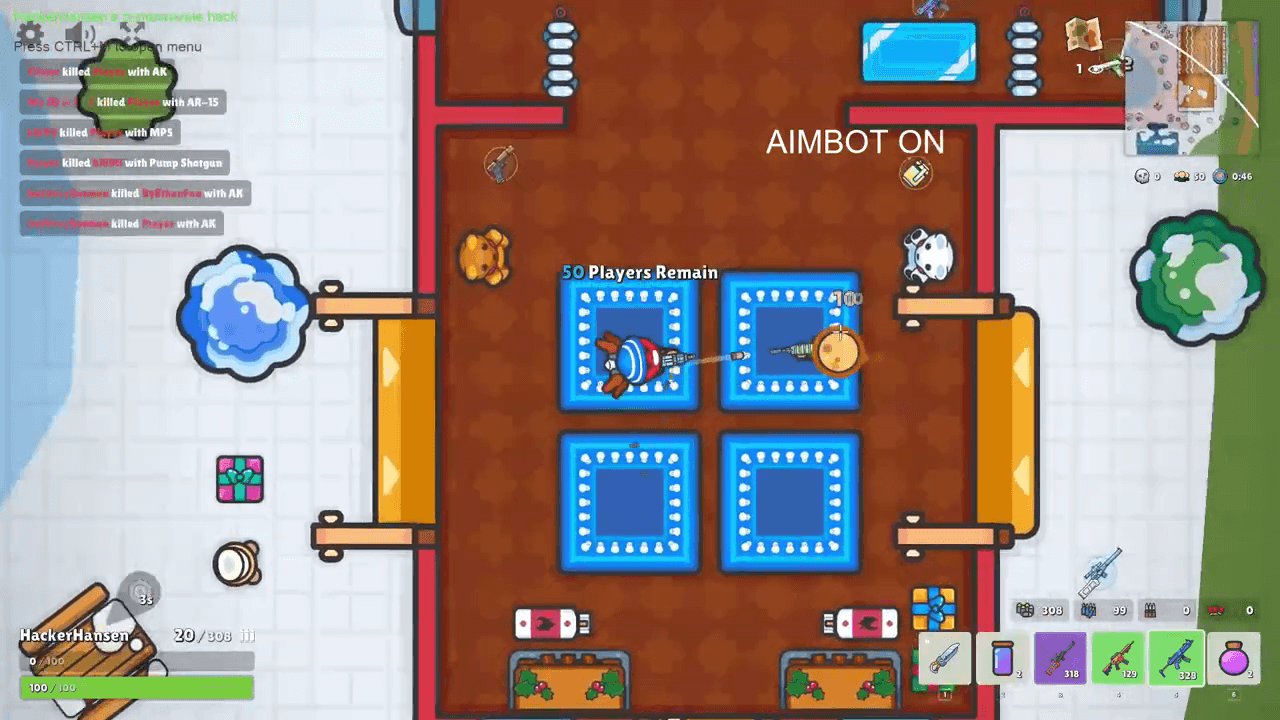 Tutorial aside, HackerHansen's Zombs Royale hack is awesome. The Aimbot as stated by the developer is still in beta and a slew of features are on the way. Also do note that unless player prediction is enable, the hack is less effective at long range.
How to Get Free Gems in Zombs Royale
Just like Fortnite V-Bucks, End Game's Zombs Royale features a non-premium currency used to buy cosmetic chests and players looking to show off to friends what they've got may be looking for a way to get free gems. Well this is actually possible, but that's by grinding.
To get free gems in Zombs Royale, you'd need to start by winning, partaking in events like the battle pass, watching advertisements whilst waiting for the daily gift. It's pretty slow and perhaps cumbersome, but this is the only legitimate way to get free gems in Zombs Royale.
Desist from Zombs Royale hacks that Promise Free Gems
Assuming you're on a search on how to get free gems in Zombs Royale, then chances are you have probably come across Gamecrook, Gameslab and similar sites. They are platform that claims to be the largest collection of working game hacks on the web.
According to them, they "spawned" in a bit to help users "save money" by not buying virtual items or in-game currency. But the pure truth is, these sites are scams.
They'd walk you through the steps of entering your username, email and region. Once this is done, you'd be asked to enter the platform you are gaming on followed by selecting the amount of gems you want and once you check the invisibility and proxy protection thing, you'd be asked to complete a human verification.
This mostly involves downloading apps, solving quizzes and watching ads. At the end, you will be enriching the pocket of the hacker behind the tool whilst going home with nothing. We do say it again, desist from using any Generator that promises unlimited gems online.