Agar.io is a pretty fun game to play. It doesn't suck compared to Slither.io and it's gameplay is a lot similar to the "puzzle-based" video game Osmos. For folks living under a rock, the action based multiplayer is one of the most popular .io games that task you to glide a ball around a grid-like arena guzzling smaller balls.
It's a simple game per se but can be very hectic and competitive. As a fast-paced MMO, you'd find a slew of players doing exactly the same thing you're doing and if your ball happens to get absorbed by larger ones, It'd be game over.
Agar.io main objective is to consume smaller balls in other to grow bigger and at this point, you can easily split your ball into two to cover more ground faster. Personality is definitely among the things that make Agar.io engaging.
Also Checkout: Slither.io Mods and Hacks
The fact that you can use emblems and phrases to customize your ball makes it awesome but the "good stuff" doesn't end here. Effective strategy is essential if you want to excel in Agar.io but assuming you lack the skills, then you should rely on hacks.
Yeah you heard me right. If you are looking to break out to the top of the leaderboard with minimum efforts and time, then utilizing any of the available Agar.io mods, hack and bot is definitely a must.
Agar.io Bot Hack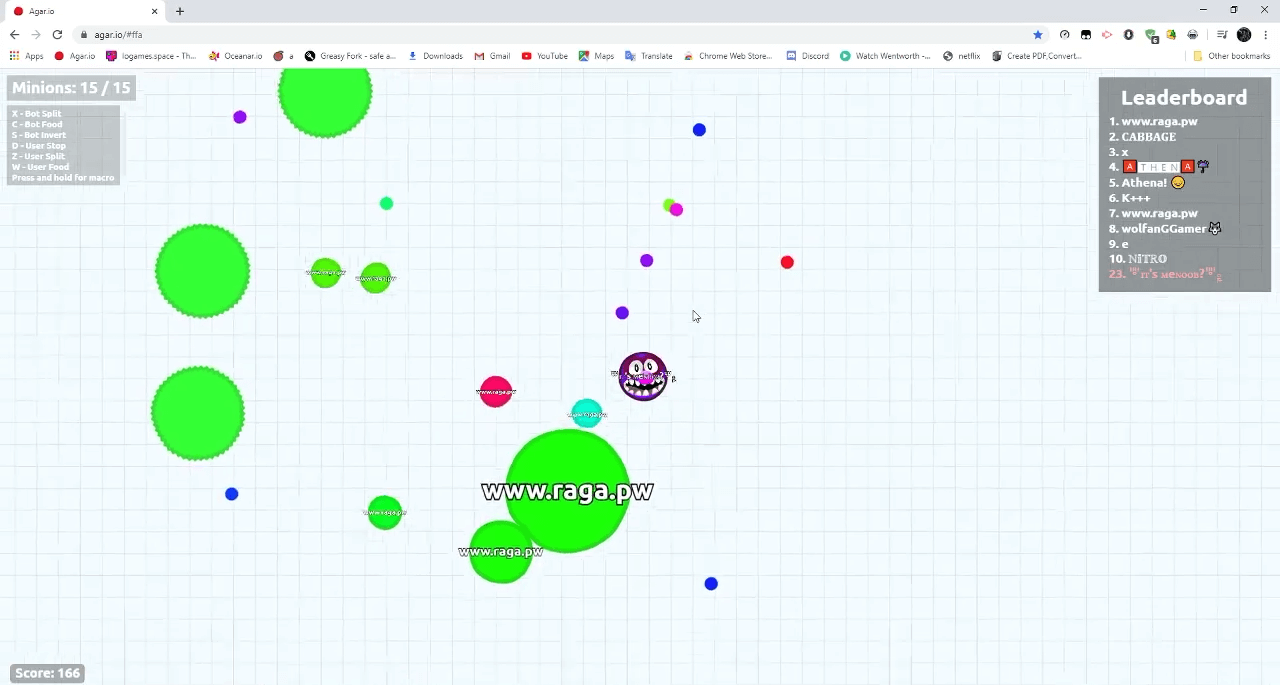 We kick-off with one of the most sort-after hack for Agar.io and to be sincere, it's what we're currently using right now. If you are looking for the best or perhaps free Agar.io Bot that can help you increase the size of your ball swiftly, then you're at the right place and this is all thanks to Raga Minions.
For players unaware, the aforementioned is an extension that once installed, spawn minions and/or smaller balls randomly on the map and as they appear, you'll be allowed to control them to your location, absorbing smaller balls as they do so while avoiding larger ones all in a bit to merge with you thereby making you bigger, slower and more powerful.
Rage Minions isn't completely free but it's more generous compared to other Agar.io bot. The free version of the extension gives you access to 15 bots and if you can cough up a few dollars, you'd have access to hundreds of em. That said, here's how to install Raga Minions.
To begin with, head over to chrome web store and search for "Raga Minions". Once found, simply click on the "Add to Chrome" button followed by "Add extension" from the pop-up that'll appear.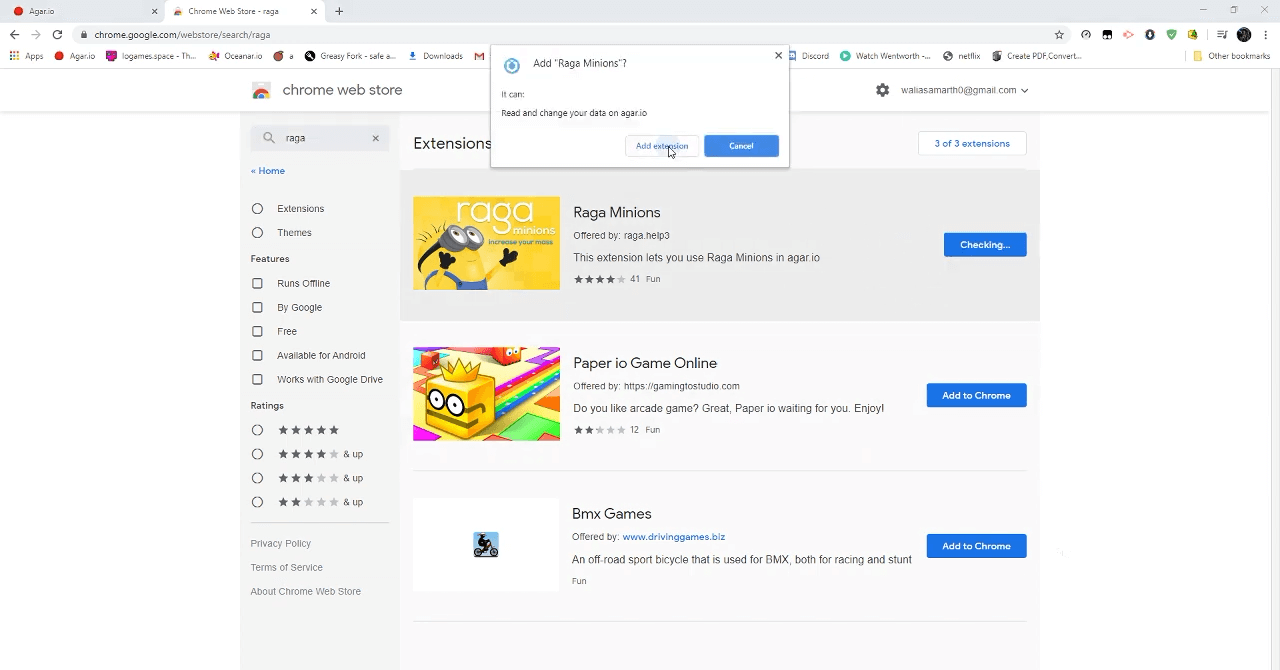 Wait until it gets installed and you will get a message that Raga Minions has been added to Chrome. You should see the plugin's icon beside the search bar.
Next up, head over to Agar.io and refresh the game. Once the connecting process is done, go ahead and click on the "Raga" button under "Select Game Mode" and enjoy your game.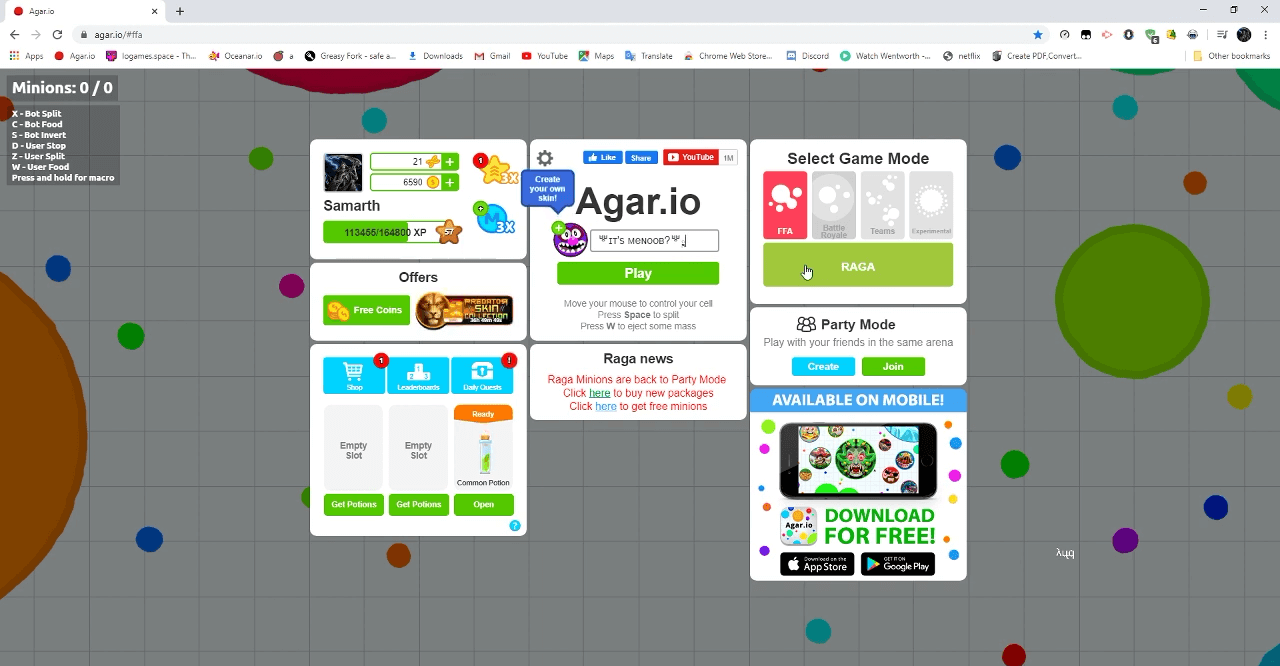 Agar.io Mods
Ever wanted to get unlimited coins, perhaps you are tired of seeing your ball being absorbed by other players and want a hack that can enable god mode, macro and more. Whatever the reasons might be, we're going to unravel the best Agar.io mod to install right now.
Install Tampermonkey
To begin with, you will need to install Tampermonkey. It is one of the most popular userscript manager that let's you execute script easily.
Once installed, you'd see see a message saying that Tampermonkey has been successfully added to Chrome. With that said, you should see the plugin's icon beside the search bar.
Install a User Script
Now it's time for modding. So go ahead and head over to Greasy Fork. You'd get to see a slew of scripts that can mod the game to anything you envision. From Auto Coin to Auto Respawn and more, you'll see a slew of them.
Simply go ahead and select the script you want and on the next page, click on the green button that says "Install this Script" and you will be good to go.
Enjoy the New Agar.io Hack
Once the script finishes installing automatically into Tampermonkey, you'd be good to go. To see if everything is working perfectly, simply navigate to Agar.io and you'll see the script you already installed in effect. It should do its thing automatically.
Wrapping Up
So this is how to hack Agar.io for animated skin, faster feeding and more. Endeavor to drop a link in the comments below stating which hack, mod, bot and/or script you are using so that other players can grab it. Overall, happy gaming.