Cookies Inc Secret Codes abound. So if you're looking to get a plethora of cookies without grinding, then we've got all the working secret codes for Cookie Inc listed below.
Pixelcube's Cookies Inc is an incredible clicker game that task players to build a bakery empire. The game which was released in the year 2014 prides itself as one of the best idle cookie simulator on mobile and the best part is that it offers unique gameplay that makes it fun and easy.
For one thing, Cookies Inc can be played both online and offline. Its mechanics albeit similar, slightly differs from most incremental games out there on the web. Rather than the usual merge or clicking gameplay we are all used to, the game let's users swipe to collect cookies and this of course is relaxing.
Also Checkout: Cookie Clicker Cheats, Codes and Hacks
Aside from manually baking cookies and farming resources in an endless gameplay, Cookies Inc supports the use of autoclickers which automatically does the job for you even when you aren't playing. That aside, the game brings a plethora of upgrades to unlock including boosts, prestige and items that can be collected painlessly.
Now assuming you are looking to build a massive cookie tycoon empire or perhaps to earn millions and billions of cookies in the shortest possible time without grinding much, then here is a list of all the active and currently working secret codes for Cookie Inc.
Cookies Inc Secret Codes
Cookies Inc Secret Codes galore and having done a bit of research, a came across a dozen of secret codes that works and they're all listed below.
stacksonstacks
bestclickergame
tellallyourfriends
i<3cookies
gelatoisthebest
youwastedyourtime
Feeling lucky?
lockout
easybake
gotmilk?
dedication
CANYOUHEARME
Classic
Ingredients
Baking Hats
Desserts
Beverages
the6ix
Interior
ImGifted
MagicallyDelicious
GiftFromAbove
CupcakesOrMuffins
A1sinceday1
ChocolateChunk
SpookySeason
Special Codes
Limited Codes
Do note that the Cookies Inc secret codes listed above are case sensitive, so enter them accordingly.
How to Redeem Cookies Inc Secret Codes
The steps to redeem secret codes in Pixelcube's Cookies Inc is pretty simple and straightforward. So to get this one going, simply fire up the game and click on the MENU button at the bottom right corner of the screen.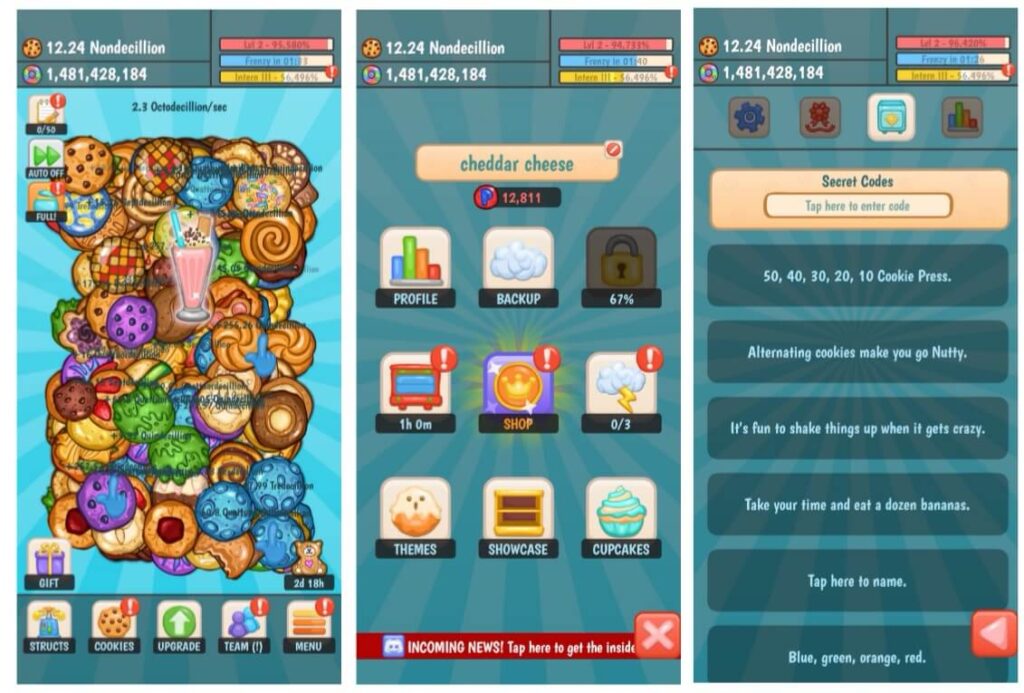 Next up, click on PROFILE and then click on the icon as shown above and type in any of the above listed secret codes and hit the check button to redeem it.
Cookies Inc Import Codes
Assuming you are looking to skip the hassles of grinding and probably unlock most of the game's features, then you are better off utilizing a premade Cookies Inc import code.
Whilst there are a plethora of Cookies Inc import codes out there on the web, it's unfortunate that most of them are already expired.
Nevertheless, having gone through the Internet, we found a save that's still working, and not only does it offer over 10 Nondecillion cookies but also an autoclicker that automatically does the job for you even when you are away.
Now without further ado, simply copy the below Cookies Inc import code to your clipboard;
fdfd4889656d9311bd089e861f84b5a9
Next up, fire up the game and jump into MENU. From here, click on BACKUP and then hit the IMPORT button. Now go ahead and click on the import option once again and the game will automatically search your clipboard and then load the saved file copied earlier.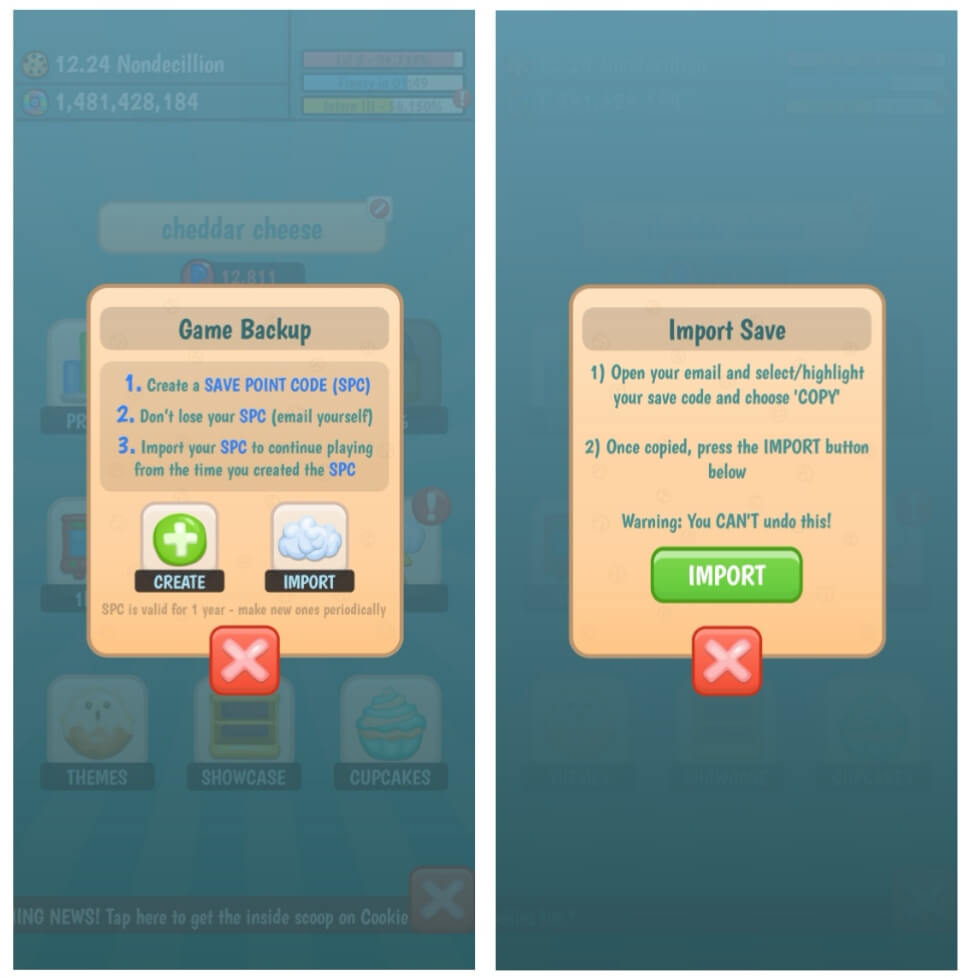 Once done, simply exit the game and restart it once again to activate the import code and/or save file.
Wrapping Up
So these are all the secret codes to redeem right now in Cookies Inc. They aren't time limited, so you can easily utilise them whenever you desire. Overall, happy gaming.