Anime Adventures Script galore. So if you are looking to get free gems, or hacks such as auto summon and more, then here's a list of all the currently active scripts for Roblox Anime Adventures.
It is rare to see a Roblox game feature an interesting plot, but for what it is worth, Anime Adventures is an incredibly fighting game worth giving a try. Created by the developer Gomu in 2022, Anime Adventures premise follows an in innumerable threats that have materialized due to a devastating occurrence. Having summoned multiple threats, it also reunited all the heroes whose main goal will be to save the world.
Also Checkout: Roblox Anime Rifts Script
As the player, your objective will be to earn gems by defeating waves of enemies and bosses. The gem acquired during each successful combat can be used to summon heroes in a gacha-like fashion. Now assuming you're looking to level up your unit, or to unlock amazing abilities and even build an unstoppable squad, then here's the best Roblox Anime Adventures Script to utilize right now.
Anime Adventures Script
Culminating over 47,000 concurrent players, with up to 164 million visits so far, Anime Adventures is a very popular and fast growing game on Roblox. Now if you are looking to simplify your gaming experience, then we have got a list of Anime Adventures Script that features hacks such as Auto farm, Auto summon and more.
Script 1
loadstring(game:HttpGet("https://raw.githubusercontent.com/TrapstarKSSKSKSKKS/Main/main/TrapHub.lua"))()
Script 2
Script 3
loadstring(game:HttpGet("https://raw.githubusercontent.com/ArponAG/Scripts/main/AnimeAdventures.lua"))()
Script 4
Script 5
How to Execute Scripts in Anime Adventures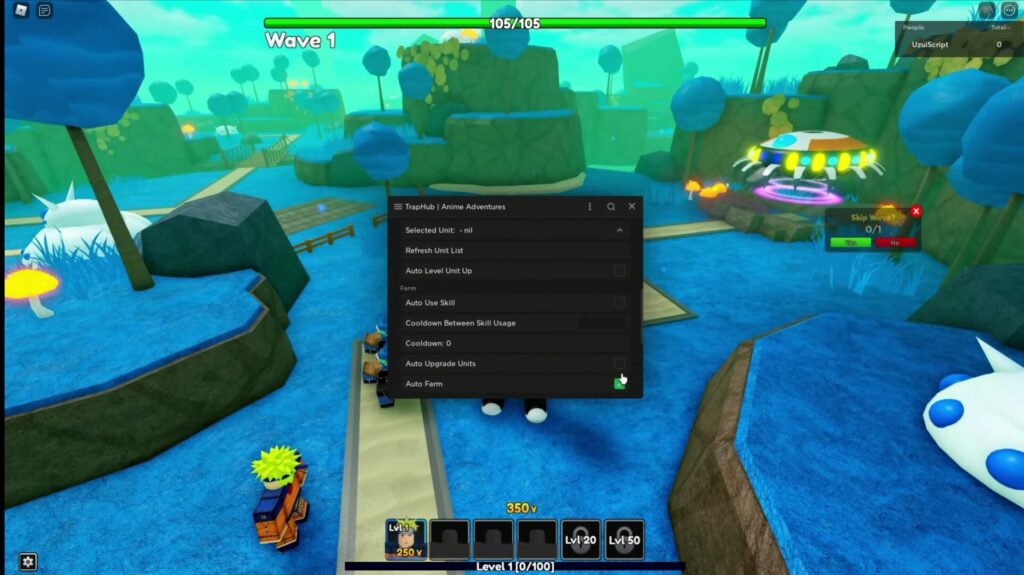 Prior to executing scripts in a game on Roblox, one will need to employ the services of a reliable Roblox exploit. From Krnl, Fluxus, Synapse X and more, there are a plethora of them.
So assuming you do not have one downloaded yet, simply jump into our previous post detailing the best Roblox script executor and/or exploit and find yourself something that works.
Once installed, simply go ahead and jump into Roblox, then fire up Anime Adventures as well as the downloaded exploit. Next up, copy and paste any of the Anime Adventures script listed above into the box found within the executor.
Once done, click on the Attach/Inject button followed by Execute and the script GUI will pop-up. Now go ahead and enable the hacks you prefer.