Cyberpunk 2077 cheat engine galore. So if you're looking to get infinite money, health, ammo and more, then here's how to setup Cyberpunk 2077 Cheat Engine Tables.
Cyberpunk 2077 gameplay takes place in a future where cybernetic body enhancements are the order of the day. The game's story puts you in control of V, a mercenary who seeks the implant of immorality in a decadent and violent megalopolis called Night City.
Just as we expected, Cyberpunk 2077 offers an amazing open-world experience that includes in its scope different genres of video games including RPG, Action and Adventure and its story generously depends on player's reach as well as their decisions.
Think of Cyberpunk 2077 as the Grand Theft Auto series we know today. It brings with it a solid state-of-the-art graphics and the most challenging adventure out there. During gameplay, you will get to encounter a slew of areas controlled by gangs as well as headquarters of large companies and a bustling urban center.
Also Checkout: GTA 5 Cheats for PS4, Xbox One and PC
Of course the inhabitants of the aforementioned areas are hugely obsessed with power, glamour and body modifications and you can either interact, trade, negotiate or fight it out if things get ugly. Just like GTA, Cyberpunk 2077 is full of enemies.
You'd get to face criminals, police, security guards of large corporations and more while attempting to complete your missions in other to earn money that you can invest in vehicles, clothes and/or extravagant body improvements.
Now if you are looking to skip the hassles of grinding and probably make your gameplay a whole lot easier, then we have got below the perfect Cyberpunk 2077 cheat engine tables that can give you stuff such as infinite health, money, ammo and more.
Cyberpunk 2077 Cheat Engine
For the cheaters out there, a good cyberpunk cheat codes can instantly guarantee a plethora of stuff in-game and that too for free. But assuming you do not want to go through the hassles of calling-out the console window and entering commands manually, then this Cyberpunk 2077 Cheat engine table is definitely what you need.
With it, you'd bag your character unlimited health, stamina, RAM and more. It also includes weapons cheats such as No Reload, No Recoil, etc. To mention but a few, below is some of the features included in the Cyberpunk Cheat Engine Table we're about to share below.
Unlimited Health
Unlimited Stamina
Unlimited RAM
No Reload
No Recoil
No Detection
Remove Breach Time Limit
Craft for Free
Player Progression Pointers (levels, experience, street cred, skills, points, attributes, perks)
Inventory Pointers
Weapon Pointer
Override Weapon Properties
Now if you are already itching to get this Cyberpunk cheat engine table up and running, then here's how.
How to Install
As you'd know, the game hacker tool Cheat Engine is mostly used to cheat in video games and it is required for this guide. So to begin with, simply head over to the following URL and install the latest version of Cheat Engine.
Once that's done, the next step will be to get a working CT file (i.e scripts that can be used as trainers in Cyberpunk 2077). They work by allowing users to edit the game's properties and modify stuff such as number of lives, high scores and most importantly units of health. So to get this one going, download the Cyberpunk 2077 .CT file from the link below.
Now it's time to execute things. So go head and fire up Cheat Engine followed by Cyberpunk 2077. Now on Cheat Engine, navigate your way to File -> Load and then locate and click Open to choose the CT File you downloaded above.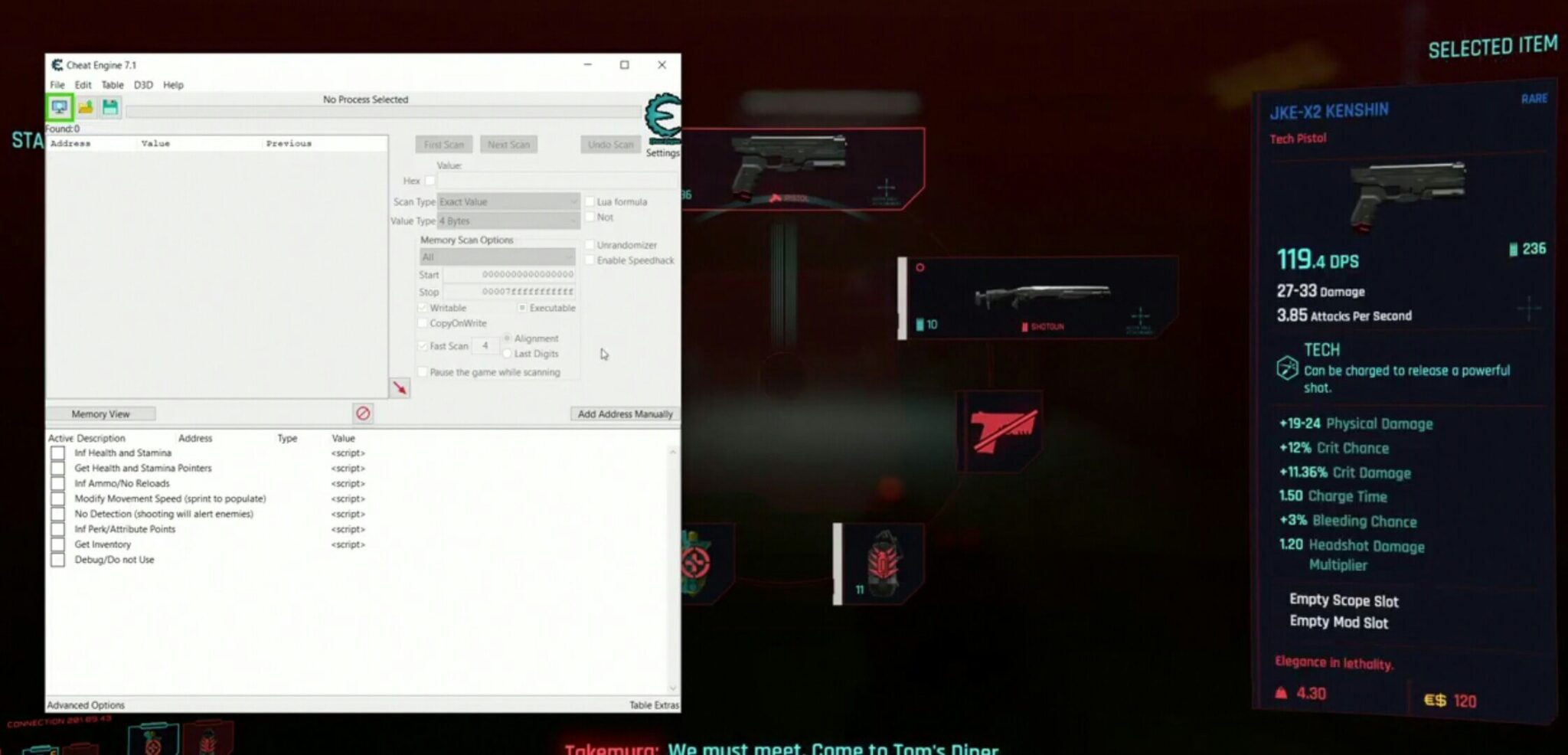 Alternatively, you can click on the "Open Folder" icon visible in Cheat Engine interface or you can easily double-click the CT File to open it.
With that done, click on the PC icon in Cheat Engine and then select Cyberpunk 2077 in the Process List. Click Open once done followed by Yes to confirm the prompt asking you to Keep the current address list/code list.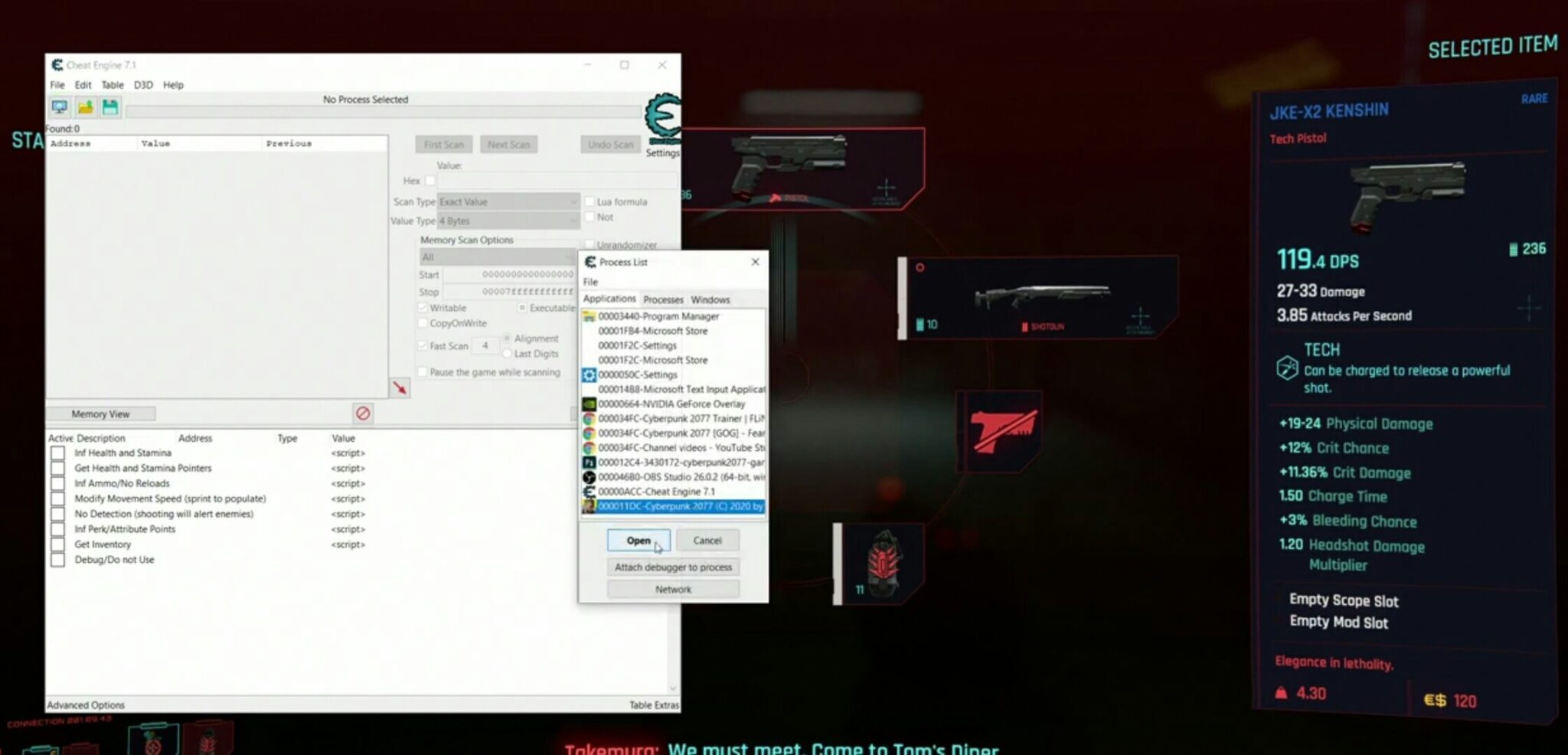 Once everything is done, simply activate the trainer options by checking the boxes or setting values from 0 to 1.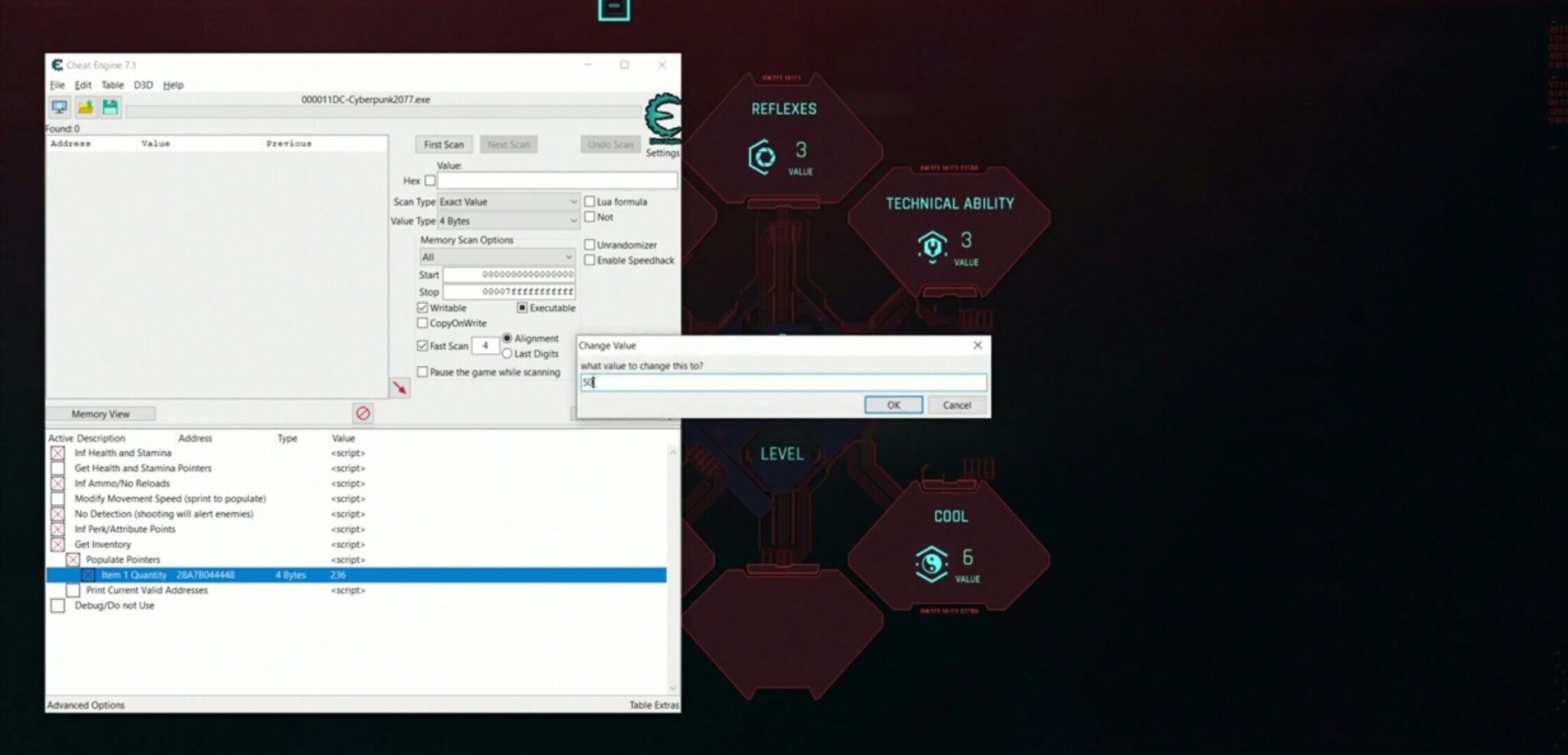 Do note that there are pointers and you can easily change them by double-clicking their values. To freeze them, simply activate the check box assigned to them.
That's all.
Wrapping Up
So this is undoubtedly the only working Cyberpunk 2077 Cheat Engine Table out there on the web. With it, you'd get a plethora of in-game perks that can help you complete missions faster and easily.