Dungreed cheats galore. So if you are looking to get infinite health and more, then here's how to cheat in Dungreed.
Albeit less popular compared to the likes of Hades and Rogue Legacy, Dungreed is basically a roguelike 2D side-scrolling action game that task players to progress through various randomly generated stages to beat bosses.
The game's story kicks off in a small village which has a dungeon swallowing stuff, and as the adventurer, your mission will be to dive into the dungeon and rescue town folks whilst unlocking the secret of the strange dungeon.
Also Checkout: Fallout Shelter Cheats
For one thing, Dungreed pixel art is pretty clean and vibrant. Its setting is set in the thematics of old fantasy JPRGs and it features a plethora of powerful magic items and an arsenal of weapons that can be used to defeat enemies.
Now assuming you are looking to enhance your gaming experience or to get more out of Dungreed or to make your gameplay a whole lot easier, then you are better off utilizing the below Dungeon cheats.
Dungreed Cheats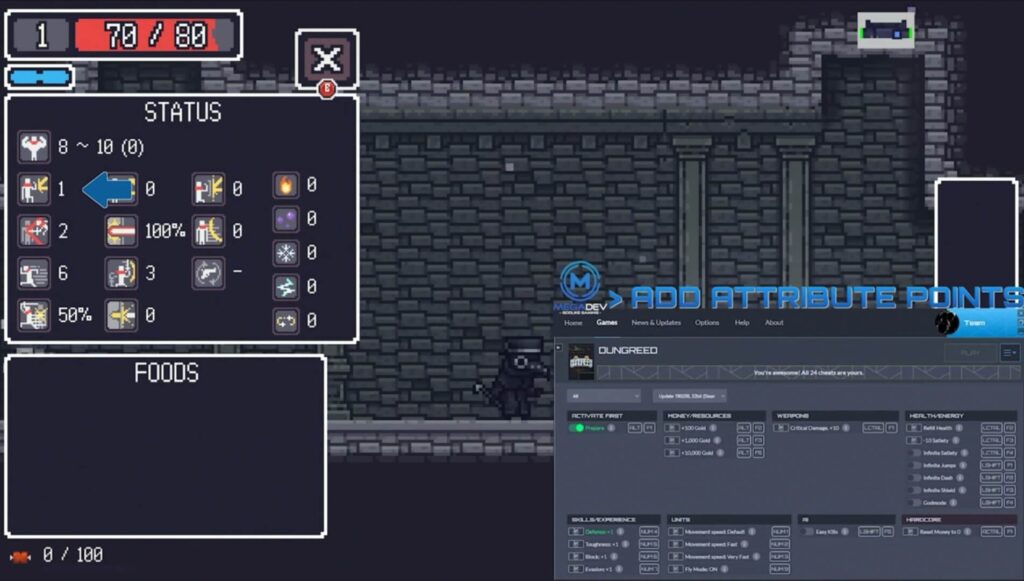 Dungreed is an interesting beast and even though it is easy to pickup and play, you'd finding it difficult defeating the sinister denizens that lurk in the game. Now if you find your character less stronger or less equipped, then here's the best Dungeon cheats to utilize right now.
From Max Stats Level to Unlimited Health, Dash, Money and more, the best of the best Dungreed cheat can give you Infinite Gold, Special Skill, Wine, Boost, and what not. Now if you are already itching to simplify your gameplay, then here's how to cheat in Dungreed.
How to Cheat in Dungreed
There are a plethora of ways to cheat in Dungreed, and whilst Dungreed cheat engine table and even modified DLL may work, you're likely to encounter various bugs and/or glitches since they are one of the old methods to cheat.
However, if you are looking to play god or to easily kill enemies whilst retaining a smooth gameplay, then you are better off utilizing a working Dungreed Trainer that is feature-rich.
From WeMod's own tool to Plitch, OPTrainer and more, there are a plethora of Dungreed Trainers out there on the internet. However for this article, we will use WeMod, since it has proven to be more secure and free. So without further ado, here's how to cheat in Dungreed.
We are assuming you already have Dungreed installed on your Windows PC. Now head over to WeMod's official website and download the Trainer.
Once downloaded, double-click on the executable file to fire up the program and then click on "Install Now" to sideload the software.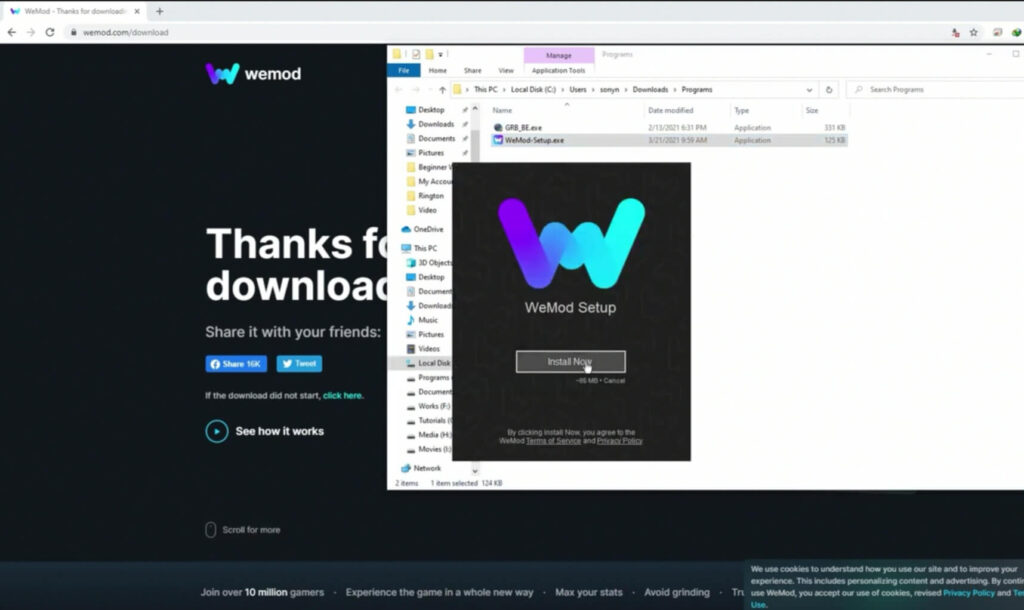 With that done, go ahead and fire up WeMod Trainer. Then look for Dungreed within the "Games" section or simply make use of the search bar.
Once found, select the game and WeMod trainer will automatically bring up every cheats available.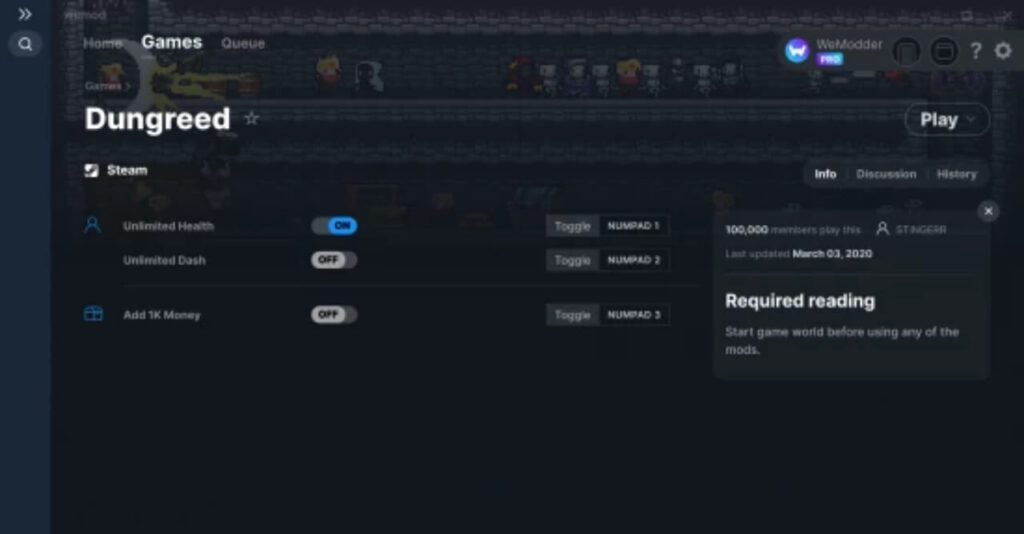 Now go ahead and click on the downward pointing arrow just beside the "Play" button and choose "Add Custom".
From here, look for Dungreed executable and select it. Once imported, click on the arrow beside it and then hit "Play" from the pop-up that'll appear to start the game.
Once it loads, press Alt+Tab or exit fullscreen and jump into WeMod. From here, toggle on the cheat you want and it will be applied to Dungreed.
Wrapping Up
WeMod Trainer currently supports three Dungreed cheats which includes Unlimited Health, Unlimited Dash and Add 1K Money. Now in as much as they aren't many compared to what Plitch offers, it is still free and works like charm.