Harvest Town Gift Codes galore. So if you're looking to get free coins, potions, cements and other in-game accessories, here's all the Harvest Town Gift Codes that are still active.
A mere glimpse at Harvest Town and you'd see that it is an excellent adventure RPG that manages to offer a very similar gameplay experience to the ever popular titles such as Stardew Valley and Harvest Moon.
One of the game's strong point is that it features charmingly colorful pixelated graphics and characters that shine. At it core, Harvest Town tells a tale of a young character who having lived nearly her entire life in the city arrived to a small country village to settle.
As the player, your goal will be to help her fit into her new environment. The game plays out just like Stardew Valley, as you can easily do all sort of things including decorating your own plot of land, planting all sorts of crops and exploring the village in search of treasure.
Also Checkout: Animal Jam Play Wild Codes
That aside, you'd get to raise livestocks whilst interacting with villagers with hope to find love. Harvest Moon is sure a great simulation that offers high freedom and you are certainly going to fancy it.
Now if you are looking to level up faster or probably bag yourself some in-game goodies without grinding, then we have got a list of all the currently active Harvest Town Gift Codes to redeem right now.
Harvest Town Gift Code
Just like most indie RPG, the developers behind Harvest Town often release gift codes that are time-limited and once redeemed, they'd give you tons of freebies including potions, coins and other materials. Now without further ado, here's all the Harvest Town Gift Codes to claim right now.
772a1b91f5a8 – Gives you a free building pack, 2 life potion and 30 diamond
762a1be24de0 – Gives you 5000 Coins, 3 ATK Potion, 3 DEF Option and 3 Life Potion
78wa1ec47200 – Gives you 5 Optional Material Pack and 10 Diamond
So these are the currently active codes for Harvest Town. Do ensure to redeem them as soon as possible before they expire.
How to Redeem Codes in Harvest Town
The steps involve in redeeming codes in Harvest Town is pretty simple and straightforward. So to get this one going, simply fire up the game and jump into Settings by clicking on the Gear icon visible within the screen.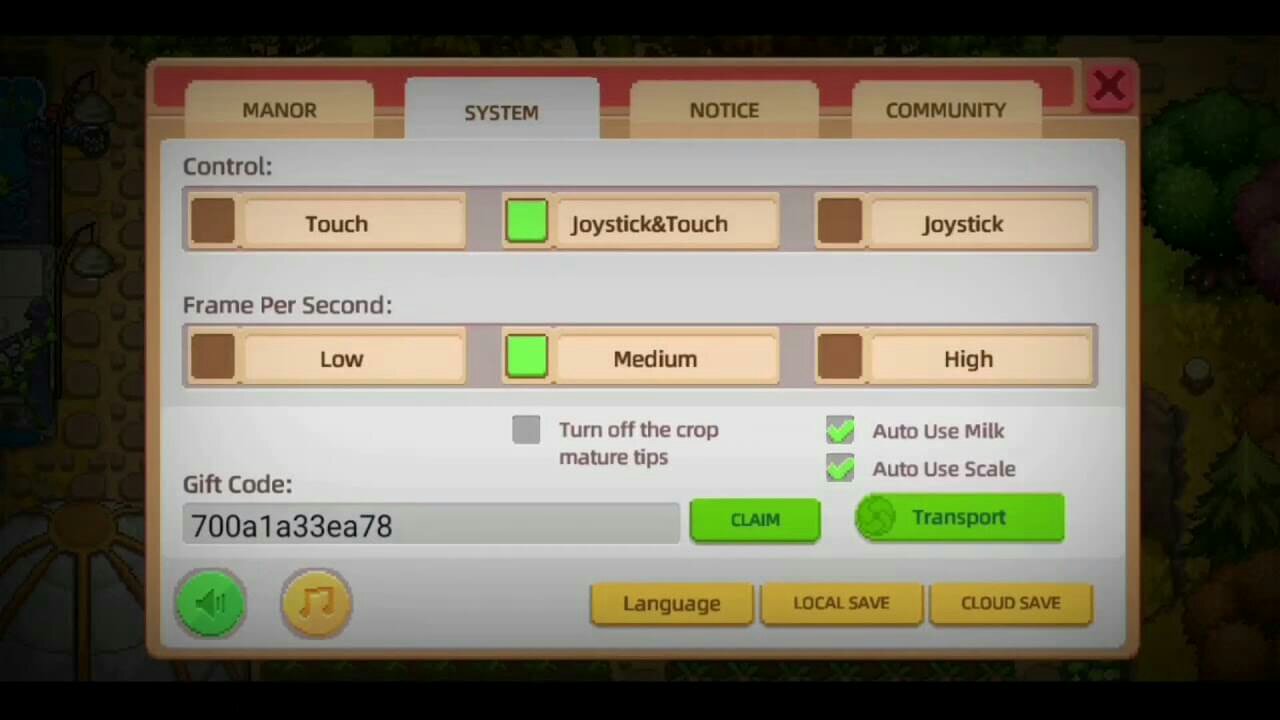 A pop-up should appear, click on where it says System and from here, you'd see an empty box with the text gift codes. Simply copy and paste any of the codes above into the blank area and click Claim to receive your reward.