Hexanaut.io is considered one of the most difficult IO games to win. Taking 20% of the map and defending your area in two minutes is no easy task, which is where Hexanaut.io hacks come in. So, assuming you want to reach the maximum rank without grinding, here's the finest Hexanaut.io hack to utilise right now.
What is Hexanaut.io?
Playable on web browsers, and that too without downloads, Hexanaut.io is an interesting online multiplayer game where players are tasked with conquering as much territory as possible.
Its gameplay revolves around controlling a snake-like creature with the objective of taking over as many hexagonal tiles as possible by navigating around the map and enclosing the space with the monster's tail.
Also Checkout: Krunker.io Hacks
In addition to taking over open tiles, Hexanaut.io allows players to strategically capture enemy tiles while ensuring they do not bump into their tail.
One of Hexanaut.io's strong points is the totems scattered across the map. These elements, once enclosed, provide players with various bonuses and power-ups capable of enhancing their chances of survival and dominance.
Now if you are addicted to Hexanaut.io but find competing against other players in real-time competitive or you simply can't overcome the constant challenge of outmanoeuvring opponents and expanding your territory, then here's the best Hexanaut.io hack for playerRank and more.
Hexanaut.io Hack
In Hexanaut.io, players initially kick off as Bronze and must raise their rank to Silver, Gold, Platinum, Diamond, Master, and Grandmaster by enclosing territories and accumulating as many experience points as possible.
Now assuming you're looking to jump up the rank and probably become an elite without grinding, then here's how to hack Hexanaut.io for playerRank increase and more.
How to Hack Hexanaut.io
For this guide, we'll be taking advantage of the inspect element feature found in various browsers. For those unaware, Inspecting elements in a web browser allows users to view and manipulate the HTML and CSS code of a webpage. So without further delay, here's how to to hack Hexanaut.io
To begin with, head over to https://hexanaut.io/ using your most preferred browser and right-click on the webpage then select Inspect or Inspect Element from the context menu to open the developer tools.
Once this is done, a new pane will appear at the side of your browser window displaying the HTML code and CSS styles for Hexanaut.io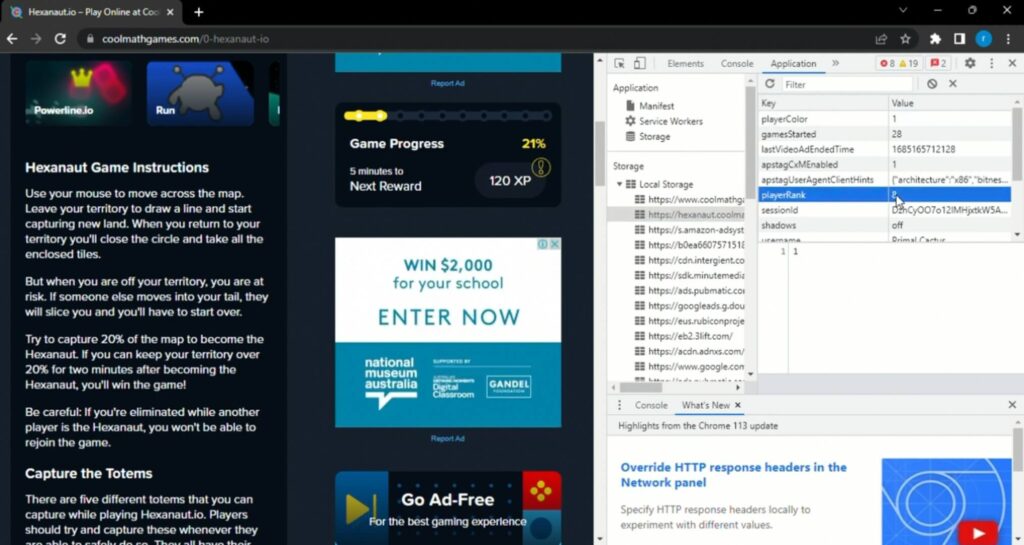 Go ahead and click on the >> symbol text at the top menu of the developer tools to reveal the Application tab, and under Local Storage, select Hexanaut.io URL to preview the game's value.
Now from the Key section, lookup playerRank and under Value, change it from 1 to 7 or 8 to max your rank.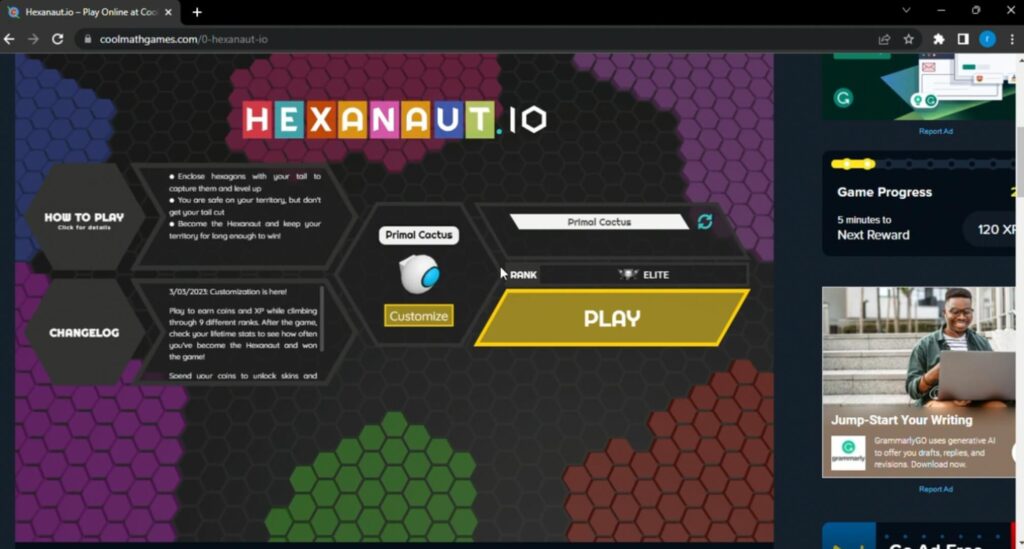 Once done, exit the developer tools window and refresh the page to see your rank increase.
Wrapping Up
So this is basically the only working Hexanaut.io hack currently available. Ensure to bookmark this page and visit often for we'll soon include a completely new Hexanaut.io hacks for Infinite coins and more.