Prison Life Scripts abound. So if you are looking to get admin commands or hacks such as NoClip, Fly, Auto Respawn, Auto Weapons and more, then here's the best Roblox prison life scripts to utilize right now.
Ever wondered what life in prison is like? Well Aesthetical role-playing game Prison Life allows you to explore just that. Released in 2014, Prison Life actually shown into spotlight two years after it's development and since then, it has grown to become one of the most popular games on Roblox.
It's gameplay starts off with you choosing either to be a guard or a prisoner. Whilst the former equips you with teasers, handcuff and guns with which you can use to bully or maintain decorum, playing as the latter is challenging especially when you skip to go around your daily life and attempt to escape from prison.
Also Checkout: Roblox Mining Simulator Script
For one thing, Prison Life is as rigid as it gets. Albeit not regularly updated, It brings astonishing graphics, solid vehicles and plenty of weapons. As a criminal, you'd get to make use of these tools to break out convicts and even hunt down guards whilst striving not to get arrested.
Now assuming you are looking for some interesting Prison Life script that can make your gameplay easier, then we have got a slew of them here. So without further ado, here's a list of some of the working Roblox Prison Life Script to utilize right now.
Prison Life Script
Prison Life script galore, but it is quite unfortunate that most of them have been patched. Now in a bit to ease the stress, we went through a slew of source to garner some of the best and active scripts for Prison Life.
From Auto Respawn, Auto Weapons and more, they come fully featured. So without beating around the bush, here's the best Prison Life Script worth utilizing right now.
Script 1
Script 2
Script 3
loadstring(game:HttpGet("https://raw.githubusercontent.com/GwnStefano/NexusHub/main/Main", true))()
Script 4
loadstring(game:HttpGet("https://raw.githubusercontent.com/Denverrz/scripts/master/PRISONWARE_v1.3.txt"))()
Script 5
loadstring(game:HttpGet(('https://raw.githubusercontent.com/Sjorbiia/X-Scripts/master/Prison-X'),true))()
How to Execute Scripts in Prison Life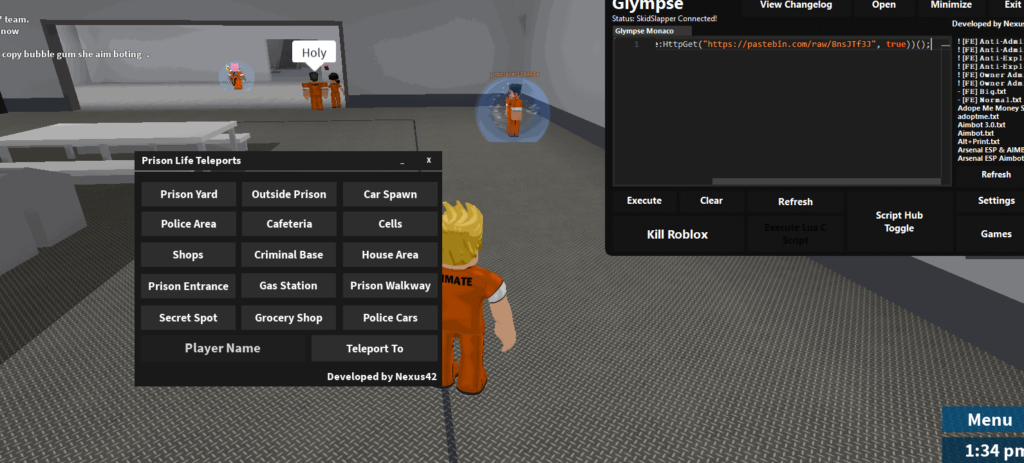 Prior to executing scripts in a game on Roblox, one will need to employ the services of a reliable Roblox exploit. From Krnl, Fluxus, Synapse X and more, there are a plethora of them.
So assuming you do not have one downloaded yet, simply jump into our previous post detailing the best Roblox script executor and/or exploit and find yourself something that works.
Once installed, simply go ahead and jump into Roblox, then fire up Prison Life as well as the downloaded exploit. Next up, copy and paste any of the scripts listed above into the box found within the executor.
Once done, click on the Inject/Attach button followed by Execute and the script GUI will pop-up. Now go ahead and enable the hacks you prefer.