Fly Race script galore. So if you are looking to get hacks such as auto orb, auto rebirth and more, here is all the Roblox fly race script to utilize right now.
Culminating over 30,000 active players, Fly Race is arguably one of the most addictive Roblox games to play right now. Its gameplay basically task players to shoot their characters high into the air with the objective to cover fresh ground with each leap.
Also Checkout: A Bizarre Universe Script
In addition to collecting various pets, one of Fly Race strong point is the ability to obsorb orbs which helps players charge up and gain flight. It is a fun game per se, but assuming you are looking to reach new heights, you are better off utilizing any of the Fly Race scripts listed below.
Fly Race Script
From infinite trophy to infinite speed, studs, free pets and more, there are a plethora of Roblox fly race script out there on the web. So without further delay, below is a list of all the currently active scripts for Roblox fly race.
Script 1
loadstring(game:HttpGet("https://raw.githubusercontent.com/xdeformedbread/My-Scripts/main/Raspberry%20Hub.lua"))()
Script 2
loadstring(game:HttpGet("https://raw.githubusercontent.com/Saaakai/Random-Roblox-Script/main/Fly%20Race"))()
Script 3
loadstring(game:HttpGet("https://raw.githubusercontent.com/ToraIsMe2/ToraIsMe2/main/0flyrace", true))()
How to Execute Scripts in Fly Race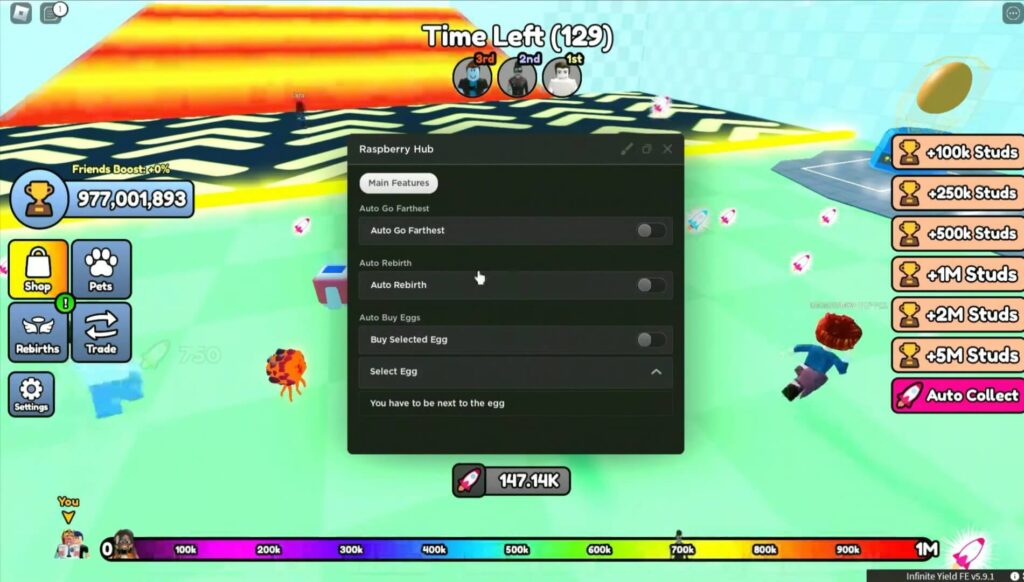 Prior to executing scripts in a game on Roblox, one will need to employ the services of a reliable Roblox exploit. From Krnl, Fluxus, Synapse X and more, there are a plethora of them.
So assuming you do not have one downloaded yet, simply jump into our previous post detailing the best Roblox script executor and/or exploit and find yourself something that works.
Once installed, simply go ahead and jump into Roblox, then fire up Fly Race as well as the downloaded exploit. Next up, copy and paste any of the Fly Race script listed above into the box found within the executor.
Once done, click on the Attach/Inject button followed by Execute and the script GUI will pop-up. Now go ahead and enable the hacks you prefer.