Roblox kick script abound. So if you are looking to exercise the rights of a game administrator or moderator, here are all the Roblox Kick scripts that you can use to kick other players out of a 3D experience.
In Roblox, when you encounter the message "You were kicked from this experience", this typically means that you have been forcibly removed or ejected from a particular game or virtual experience within the Roblox platform.
Also Checkout: Roblox Anti AFK Script
This can happen for various reasons, such as violating the game's rules, engaging in inappropriate behavior, exploiting the game, or falling victim to a fellow player in possession of a Roblox kick script.
Now, assuming you are looking to exercise the rights of a game administrator or moderator by kicking others out of a 3D experience on Roblox, here is a list of all the currently working Roblox kick scripts to utilize right now.
Roblox Kick Script
For one thing, there are a colossal number of Roblox kick scripts out there on the internet. So if you already have a reliable Roblox server-side executor, here's all the Roblox kick script to utilize right now.
Script 1
require(13847959078).load("Username")

--[[
DOES NOT WORK WITH CLIENT EXECUTORS INCLUDING FLUXUS. PLEASE USE A SERVERSIDE!!!

Serversides are also mobile executors WITHOUT any DOWNLOADS

REPLACE Username With YOUR USERNAME--]]
How to Execute the Roblox Kick Script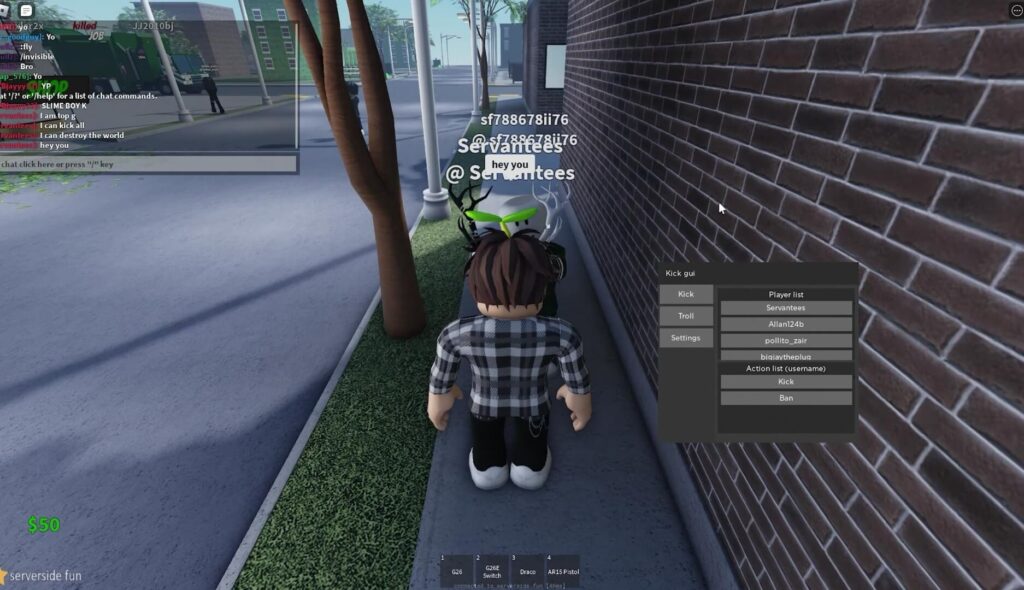 Prior to executing kick scripts in a game on Roblox, one will need to employ the services of a reliable Roblox server-side executor. From Backdoor.exe to FraktureSS, ReBlade, Serverside.fun, and more, there are a plethora of them.
So assuming you do not have one downloaded yet, simply jump into our previous post detailing the best free Roblox server-side executor and find yourself something that works.
Once executed using a reliable client exploit, go ahead and jump into Roblox, then look up and click to open your favorite 3D experience and ensure the server-side GUI is open. Next up, copy and paste any of the Roblox kick scripts listed above into the box found within the server-side executor.
Once done, click on Attach, followed by the Execute button, and the kick script GUI will instantly pop up. Now go ahead and kick whichever player you want.