Parkour script galore. So if you are looking to simplify your gameplay, then here's the best Roblox Parkour Script to utilize right now.
Created by Hudzell and published under the adventure genre on Roblox, Parkour is an open world game in which players use a variety of moves to traverse a large city.
Culminating over 200 million visits with more than 2,000 concurrent players, the game awards players XP and points, and this can be used to level up and unlock new gear.
Also Checkout: How to Speed Glitch in Da Hood
Parkour for starters, can be pretty challenging, but if you are able to master its fundamentals and practice constantly, you'll surely find the game addictive.
Now if you're like me, then chances are you're looking to improve your gameplay. If that is the case, then we have got a ton of Roblox Parkour script to utilize right now.
Roblox Parkour Script
From Wall Climb Boosts to Infinite Adrenaline, Combos and more, there are a plethora of Parkour scripts out there on the web. So without further delay, here's a list of all the currently active scripts for Roblox Parkour.
Script 1
parkour script:-- fuck hudzell loader
-- place in autoexecute for better autodc

if not _G.Loaded then
    loadstring(game:HttpGet('https://raw.githubusercontent.com/fardman88/RobloxStuff/main/fuckhudzell.lua'))()
end
Script 2
loadstring(game:HttpGet("https://raw.githubusercontent.com/coolgoagle/funnygui/main/funnygui.lua"))()
Script 3
loadstring(game:HttpGet("https://raw.githubusercontent.com/xgamerman626/Hub/main/Init.lua"))()

How to Execute Scripts in Roblox Parkour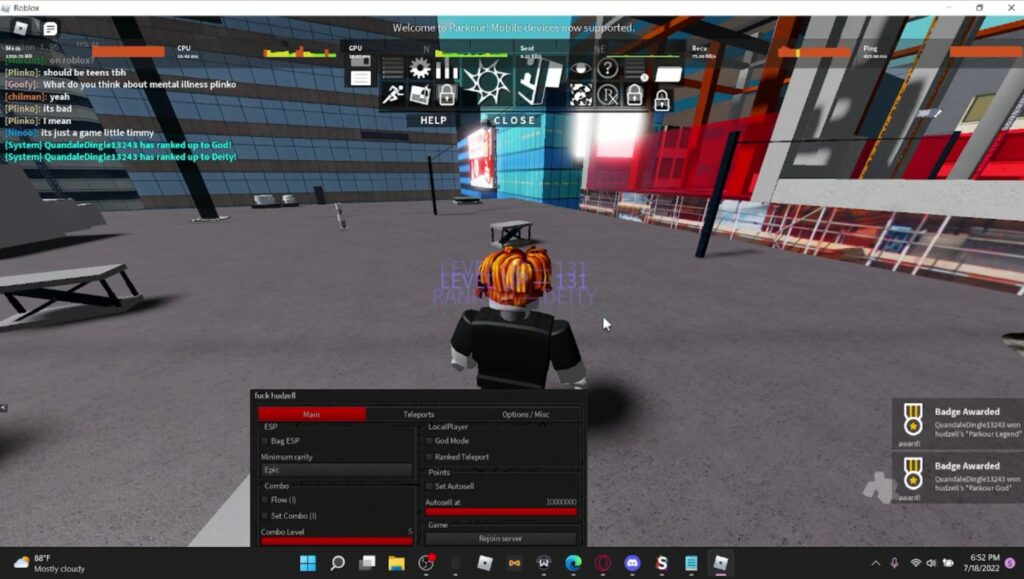 Prior to executing scripts in a game on Roblox, one will need to employ the services of a reliable Roblox exploit. From Krnl, Fluxus, Synapse X and more, there are a plethora of them.
So assuming you do not have one downloaded yet, simply jump into our previous post detailing the best Roblox script executor and/or exploit and find yourself something that works.
Once installed, simply go ahead and jump into Roblox, then fire up Parkour as well as the downloaded exploit. Next up, copy and paste any of the scripts listed above into the box found within the executor.
Once done, click on the Attach/Inject button followed by Execute and the script GUI will pop-up. Now go ahead and enable the hacks you prefer.